Reasons to Become a Dental Assistant vs. Dental Hygienist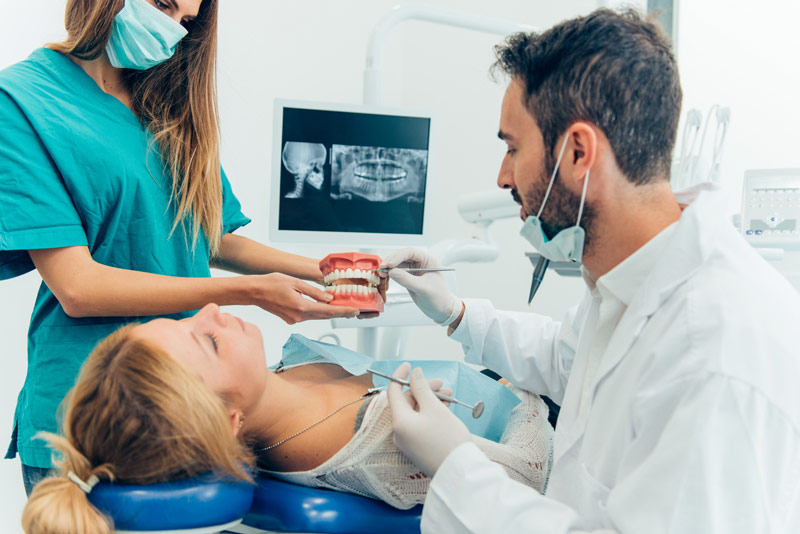 Working in the dental field can be both exciting and challenging at the same time. We all dream of being able to make a difference in the world, but many of us are put off pursuing careers in medicine or dentistry due to having to go through (and pay for) years of schooling to qualify. However, many people don't realize that there are a ton of other job options in the field of dentistry that require far less training. For example, to become a fully qualified dental assistant and provide general supervision, you would need less than a year of training. A licensed dental hygienist who can offer direct supervision will require a degree in dental hygiene from dental school—that can take between two and four years and will require continuing education. Like with most dental professionals, these two roles are easily confused, yet they are very different jobs, which is why it is essential to understand the differences between the two if you are contemplating pursuing a career in either of them.
The Advantages of Becoming a Dental Assistant
Pursuing a career path as a dental assistant in oral hygiene is the perfect opportunity for you to get a taste of what it is like working in the dental field so you can gauge if it is the right environment for you. If you suspect that one day you would like to become a dental hygienist, then starting out as a dental assistant will make it easier for you to further your studies while working in the industry at the same time. Many reputable colleges understand that further education can be expensive so you will often be able to find courses that allow you to continue working as a dental assistant alongside your studies. Plus, even if you decide you don't want to be a dental assistant for the rest of your working life, you will have gained invaluable knowledge and a necessary skill set that you can apply to every other job title in the dental field.
As a dental assistant, you will never find your job repetitive and boring as you will be required to handle a huge variety of tasks. Here are just a few of the duties you will be expected to keep on top of as a dental assistant.After all, a busy office relies on their dental assistants to keep things running smoothly and efficiently.
Directly interacting with patients and answering any questions they have prior to their appointment with the dentist
Sterilizing instruments prior to dental procedures
Assisting the dentist during appointments and procedures
Post-procedure aftercare
Processing lab tests and X-rays
Office admin like scheduling appointments and keeping patient records
There are also many other hands-on tasks that will keep you busy during your working day.
Becoming a Dental Hygienist
The role of a dental hygienist is more patient focused. A dental assistant will be required to help out with a range of office jobs, including patient care, but a dental hygienist is much more hands on. Dental hygienists always work with patients on a one-on-one basis and they are rarely responsible for anything to do with admin, aside from updating patient records. A few of the key job roles include:
Cleaning patients' teeth (removing stains, plaque, and tartar)
Detail oriented mouth work
Taking X-rays
Debriefing the dentist on a patient's oral health
Documenting records
Instructing patients on dental hygiene and oral care
Dental Assistant vs. Dental Hygienist
The two jobs can be similar in certain ways, but they have very distinct traits that set them apart. A dental assistant tends to be much more behind the scenes, whereas a hygienist will be doing hands-on work almost exclusively. When it comes to deciding which role would suit you best you need to weigh up certain options such as the length of training, the total cost of qualifying for a job and also the nature of the work. Many people aren't massive fans of interacting with people all day long, or getting up close and personal with a stranger's mouth. And that's fine; it just means you might be better suited to more of an admin role.
Salary Comparison and Predicted Job Growth
Official figures from the Bureau of Labor Statistics (BLS) state that the average salary of a dental assistant came in at $37,630 last year.
Statistics also show that the average income of a dental hygienist is $74,070 per annum.
Job growth for dental assistants is set to grow a lot faster than other roles. Between 2016 and 2026 it's predicted to increase by 19%.
Job growth for a dental hygienist will also grow to around 20% between now and 2026.
Why Become a Dental Assistant?
Becoming a dental assistant will offer you so many benefits, including an exciting daily work routine and also the ability to learn more about dentistry first hand. A dental assistant training course is going to be your best and fastest option for a well-paid opportunity that will allow you to get your foot in the door in the dental industry. It is also worth noting that while potential employers will obviously require certain qualifications, actual work experience is invaluable. After all, you can study everything to do with dentistry on paper, but putting it into practice is going to give you unrivaled experience that not everyone is lucky enough to have on a resumé.
Final Thoughts
A dental assistant is a highly sought-after position, as it offers job security as well as a good salary that is set to increase quite dramatically over the coming years. For those of you who are still worried that you will miss out on all of the hands-on excitement if you choose this career path over another in the dental field, then rest assured there is no reason to be concerned. Several states are authorizing dental assistants to handle functions like taking dental impressions, applying sealants and handle particular restorations.
Relate Posts to Read:
Dental Hygienist vs. Dentist: What's the Difference?