Homemade Teeth Whitening Programs (that actually work)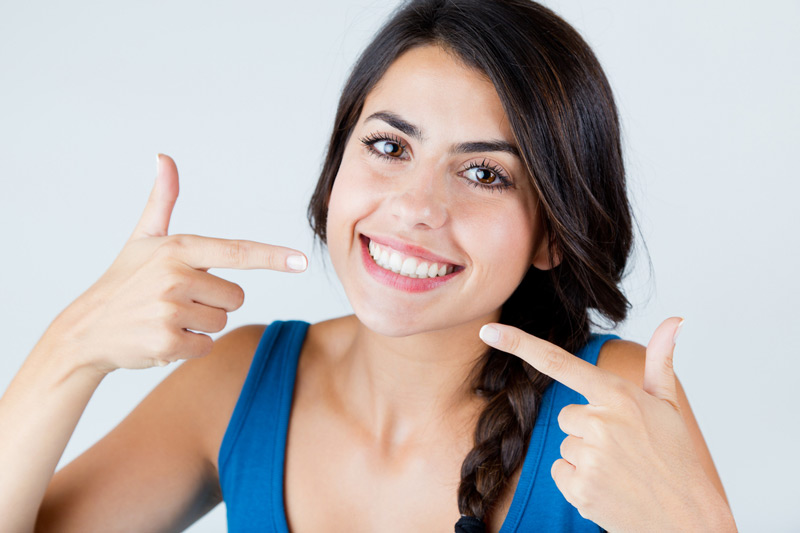 December is a busy time of year and that time of year is here again—time to make sure you are photo-ready throughout the holiday season until everything returns to normal in the New Year. Thanks to social media channels, it's hard for us not to want to obtain that perfect bright white smile that so many people seem to be flooding our news feeds with. The issue is, in the run-up to Christmas, not many people have the disposable income available to be able to pop into see their dentist and splash out on teeth whitening treatment or similar expensive teeth whitening products to get rid of those surface stains. Furthermore, many people—especially those with sensitive teeth—don't want to turn to harsh chemicals in order to make their pearly whites sparkle! Fortunately, with these homemade remedies for teeth whitening, there is an affordable and effective way to make sure that your smile is on point for impending onslaught of holiday photos and may mean fewer visits to the dentist!
Hydrogen Peroxide + Baking Soda
Making a paste out of hydrogen peroxide and baking soda is one of the most effective and oldest homemade teeth whitening processes. You can even use this paste in place of traditional toothpaste and adding a few drops of mint essential oil into the mixture will leave your breath feeling as fresh as your teeth will look. This teethwhitening treatment paste is super easy to make—you simply add a few drops of 3% hydrogen peroxide to store-bought baking soda until a paste forms and then apply to your toothbrush and use as you normally would use toothpaste. While this whitening procedure is effective for dramatically whitening teeth, you shouldn't use it every single day. The reason for this is because both ingredients are mildly abrasive so you should not use it for any longer than five consecutive days. If after this period your teeth aren't quite as white as you would like them to be, take a break for a few weeks before repeating the process.
Strawberry Toothpaste
Strawberries are the preferred fruit of many people around the world and they contain a type of acid, known as malic acid, which effectively dissolves stains on your teeth caused by coffee, red wine, and Tobacco. This DIY toothpaste is easy to make as part of your teeth whitening procedure—simply mash up a couple of strawberries, add a teaspoon of baking soda, and brush your teeth with the mixture for around five minutes before rinsing. A quick floss will get rid of any seeds stuck between your teeth. Because this paste is acidic, don't use it too often or you could ruin your natural tooth enamel. When used sporadically, this strawberry whitening remedy can work wonders for those of you who love a glass of red wine or a sneaky cigarette!
Banana Peel Rub
The inside layer of a banana peel is incredibly rich in potassium, magnesium and other natural minerals that help whiten teeth. A Banana skin's rich minerals get absorbed into your tooth enamel and can have incredible whitening effects, combined with added health benefits. For whiter teeth, the most effective way to use a banana peel for teeth whitening is to rub the inside of the skin on your teeth for a few minutes after you brush and floss. You can do this twice a day, or as often as you like until you see some changes taking place. Who would have thought that bananas were one of the most natural teeth whitening products around?
Apple Cider Vinegar
Is there anything in life that can't be remedied by using apple cider vinegar? Probably, but teeth whitening isn't one of them! Diluted apple cider vinegar added to a natural toothpaste will amp up its ability to eliminate stains and one of the best teeth whiteners out there. As an added bonus, it's alkaline properties will be absorbed into your body via your gums giving you a health boost on top of sparkling white teeth.
Coconut Oil
Oil pulling has become somewhat of a trend since A-list celebrities have started advocating it and it is one of the most effective home remedies for whitening teeth. But many people are put off by the fact that you have to swish the oil around your mouth for a good 20 minutes in order for it to be effective. When time is of the essence, coconut oil pulling can seem like too much of a hassle, so many people miss out on its truly spectacular ability to whiten teeth gently and effectively. Fortunately, there is a far easier way of experiencing all of the benefits that coconut oil has to offer—simply make a paste as follows:
Heat up approximately one cup of coconut oil until it turns to liquid and add two teaspoons of baking soda. If you want to go all out and add some anti-bacterial properties to the mixture, add around 10 drops of natural spearmint essential oil and mix well. You can then use the paste as natural whitening toothpaste, as often as you like—and the best part is, you can still use it once it hardens.
Charcoal
Using activated charcoal to whiten teeth has been one of the major beauty tips of 2018. And while you can use store-bought toothpastes containing activated charcoal, nothing beats making an all-natural charcoal paste to really notice a difference. All you have to do is add a small amount of distilled water to the charcoal until it forms a paste and then brush all of the surfaces of your teeth with it. Leave it on for a few minutes before thoroughly rinsing your mouth out.
Final Thoughts
With such a wide variety of entirely natural and highly effective home programs for teeth whitening, there is no reason to turn to harsh chemicals to enhance your smile. With patience and persistence, you will notice a difference. So, before you rely on expensive (and chemically loaded) over-the-counter solutions for whitening your teeth, try one of the methods above. We promise you won't be disappointed!
Relate Posts to Read:
The Best Daily Teeth Whitening Procedure