Oil Pulling Benefits: Coconut Oil Teeth Whitening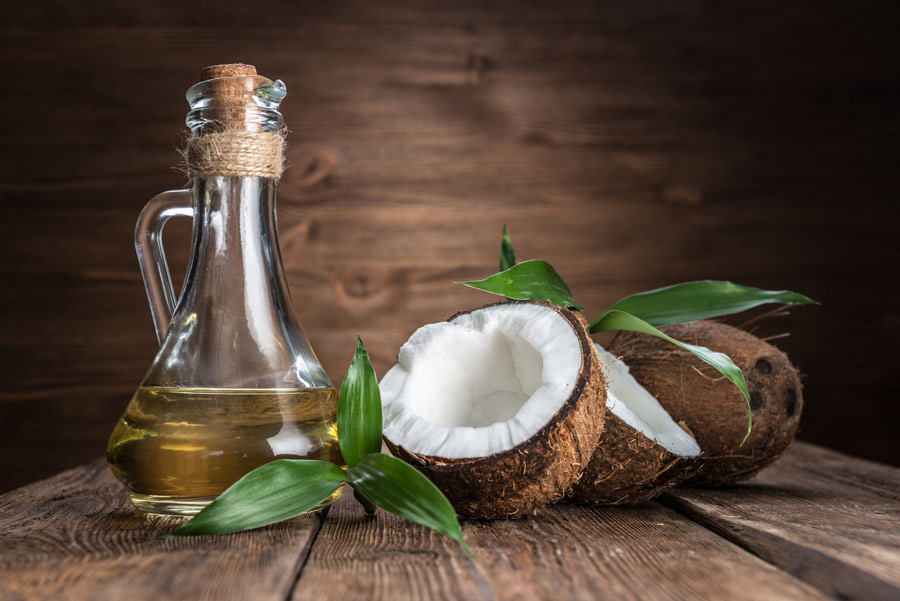 Oil pulling is a new and very popular trend of naturally whitening your teeth, freshening your breath, and overall improving your oral health. To do this, people are using liquid coconut oil as a mouthwash. This isn't a new trend – it can be found in ancient Indian traditions.
So, why do people swear by oil pulling? Does it actually work to freshen your breath, whiten your teeth, and improve your oral health? In this article, we're going to take a closer look at oil pulling and see if the benefits that people claim happen when you do this technique is true.
What is Oil Pulling?
As we mentioned before, oil pulling involves swishing coconut oil in your mouth like mouthwash. In most practices, you will use about one tablespoon of melted coconut oil and put it in your mouth to swish around for 15-20 minutes – yes, you read that right, 15-20 minutes.
While you can use any kind of oil that you would like that is edible, coconut oil for teeth is the most popular. Why? Because it's known to be healthy for your body and it has a pleasant taste that makes it bearable to swish it around your mouth for minutes at a time. Plus, coconut oil has a fatty acid profile that contains lauric acid which has antimicrobial properties.
While some people claim that oil pulling whitens teeth, the American Dental Association says that there isn't enough evidence to show that it does. So, while it might help get rid of the staining bacteria in your mouth and reduce the amount of plaque build-up on your teeth, there isn't a definite answer to if it whitens your teeth.
How Does Oil Pulling Work?
The main benefit of oil pulling is that by doing this, you'll decrease the number of harmful bacteria in the mouth that cause plaque, gum disease, and bad breath. While it's normal to have some plaque on your teeth, it can get out of hand,and it's when this happens that your mouth and breath suffer.
There isn't exact research about how oil pulling works, but it's believed that it "pulls" bacteria from the mouth and kills them. The oil can also help moisturize your gums and help increase your saliva production – all while improving your breath and providing all-natural teeth whitening.
How to do Oil Pulling
There are only a few steps for you to follow if you decide to try oil pulling. In fact, it only takes four easy steps:
Measure out one tablespoon of coconut oil – or any oil that you're using. If you're using coconut oil, make sure that it is liquid for this technique
Swish the oil around in your mouth for 15-20 minutes. While doing this, make sure that you avoid swallowing the oil!You can choose to start by only doing this step for 5 minutes at a time and slowly increasing the duration up to the full time
Spit the oil out of your mouth after your time is up. The best place to spit the oil out is in the trash – this is to avoid a buildup of oil in your plumbing which can lead to a clog
Rinse your mouth out with water
You can repeat these steps a few times each week or daily – whichever works best for you! It's recommended that you try to do this in the morning when you have an empty stomach, this will help you get rid of the buildup of bacteria from during the night and give you a great start to your day. However, you can also choose to do it whenever you have the time.
Benefits
Now that you know what oil pulling is and how to do it, we should look at the benefits of doing it.
Reduce the number of bacteria in your mouth
Did you know that there are around 700 types of bacteria that find homes in your mouth? How about that about 350 of those bacteria can be found in your mouth at any given moment?
While most of these might be helpful bacteria, a lot of them are harmful. Those harmful bacteria are the ones that cause bad breath, gingivitis, and gum disease. But by using coconut oil for teeth, you can get rid of those harmful bacteria and help promote good dental health.
Help get rid of bad breath
If you suffer from bad breath and can't find anything to help get rid of it, then you should try oil pulling. Bad breath is caused by several different things, but one of the most common is bacteria being trapped on the tongue.
Oil pulling is a great and natural way to get rid of those trapped bacteria to help promote good breath and good oral health.
Lower the number of cavities you get
Cavities, which are holes in the teeth caused by tooth decay, are incredibly common – especially in children. They are caused by poor oral hygiene, consuming too much sugar, and a buildup of harmful bacteria that cause tooth decay.
There have been numerous studies done that show that oil pulling can help limit the number of cavities one gets; this is because, as we've mentioned before, it decreases the number of bacteria in your mouth to prevent a buildup.
Cheap and easy to do
Oil pulling is an incredibly simple technique that you can easily incorporate in your daily or weekly regime. Plus, it only requires one ingredient that everyone has in their house: oil.
Most people will use coconut oil, but you can use whatever you have or want. Then all you have to do is use it as a mouthwash for about 20 minutes, and you're good to go!
Final Thoughts
If you're looking for a cheap and easy way to better your oral health, improve bad breath, and help reduce the number of harmful bacteria in your mouth at any time, you should try oil pulling.
Relate Posts to Read:
Homemade Teeth Whitening Programs (that actually work)
Medically Fact-Checked & Written by Our Dental Editorial Team
You can read more about our editorial guidelines by clicking this link and learn more about the Emergency Dentists USA editorial team here.