Top Ten Most Expensive Cities for Dentistry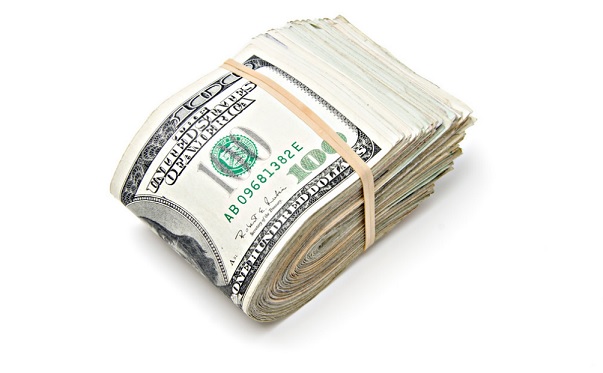 No matter what city you live in, you are going to no doubt run into dental problems at some time. Just like any service, dentistry quickly becomes a necessity, especially if it is a full-on emergency.
To give you a snapshot about what is happening with cities around the nation, we rounded up the top ten most expensive cities for dentistry, so you can gauge where your city lies. If you plan on visiting any of these in the near future, at least you have an idea what you are getting into, and a bit of background as to why they rank high in this category.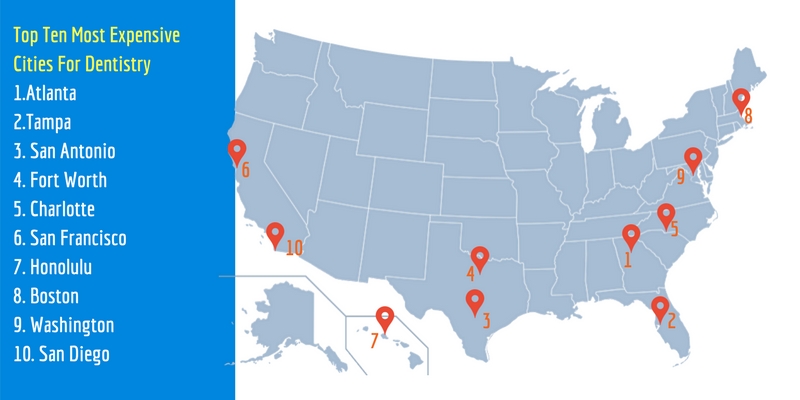 1. Atlanta, GA: It's not just that the highest paid dentists in the nation live here, there are a few other factors for Atlanta coming in at number one. This is a huge hub for many business conferences, and is usually ranked the busiest airport in the US, and sometimes the entire world.
There is a very diverse economy here that spans sectors including media, logistics, and IT. The 17th largest economy worldwide, the 3rd largest concentration of Fortune 500 companies are here, as well as the global headquarters of Coca-Cola, International. A very cosmopolitan location, this is a city you can expect to pay high prices for in the dental realm.
2. Tampa, FL: This city located on the West Coast of Florida near the Gulf of Mexico has a median pay for dentists of around $167,000, and is also a very-well known location to obtain cosmetic dentistry. Although not as much a mecca for the fit-and-fortunate such as Miami or Palm Springs, it is no secret that the residents here always want their teeth to look good.
Ranked as the 5th best outdoor city by Forbes in 2008, this is a very popular destination where many want to live, and prices of many services such as dentistry reflect that. If you are due for a checkup or something like an extraction, expect to pay high in Tampa.
3. San Antonio, TX: Dentists here in this Lone Star State metro area make just as much as they do in Tampa, and this has been the fastest-growing of the largest cities in the US for the past decade. Due to the large number of U.S. Armed forces bases in the area, medical providers such as dentists know that many will consider moving there for vitality and income.
Tourist attractions such as The Alamo and the River walk bring more than 20 million tourists to the city yearly, and this boost to the economy is more than substantial. In areas like this with a lot of character and diversity, you can expect to shell out high prices for urgent or routine dental care.
4. Fort Worth, TX: Another Lone Star State city is not a surprise to make this list, as its neighboring city of Dallas has always been known to be one of the most cosmopolitan in the US and on the globe. Known for the art-deco styled buildings downtown and the natural gas wells within the metro, residents have been migrating here for decades, and you can expect to pay much higher-than-average prices for dental work here.
Employers such as Lockheed Martin have large hubs here, and this will always be a reason for those to flock here. If you are needing services such as braces, other orthodontic work, or emergency dentistry, you will simply have to pay quite a bit out of pocket in Fort Worth.


5. Charlotte, NC: The median salary for a dentist here in Charlotte is even more than Tampa's, and it has long been a hub for those who love being close to the mountains as well as the ocean. This 17th largest city in the US is home of the corporate headquarters of Bank of America, and the east coast operations of Wells Fargo, making it very viable for anyone seeking a steady home and work culture.
Nicknamed "The Queen City", the many shopping and dining options here are no secret, and this allure along with a very laid back and hospitable climate has been fueling growth the last two decades in particular. Anyone visiting here or choosing to call Charlotte home can expect to shell out when it comes to dental care, a necessity to be comfortable at all costs.
6. San Francisco, CA: This birthplace of the UN and picturesque city by the bay has long been known as the most expensive place to buy real estate in the US, even when compared to the Big Apple. Just on this premise alone, it is no surprise that it may offer the resident some of the highest dental care costs in the nation.
A cool but still very favorable climate, its clout as the 13th biggest city in the US, multiple sightseeing opportunities such as Alcatraz and Fisherman's Wharf, and being home to companies such as Weebly and Yelp don't hurt. This is one city where, quite frankly, all costs have soared for two and a half decades, and as far as dental care, there may not be much of a drop in cost within sight.
7. Honolulu, HI: This very large city on Oahu has long been a tourist destination because of its nearly perfect climate: temperatures literally hover around 84 degrees during the day, and it is a mecca for surfing and tourism. Literally everything is expensive here, and it may be particularly difficult to find emergency dental care during the evening.
A tourist economy that brings in over $10 billion annually, this city is bound to charge in the higher-than-average region for medical services. When you locate a dentist in the land of aloha, it simply is not going to be inexpensive.


8. Boston, MA: This center of higher learning has long been known to have costs of living that rival New York, and for good reason: Some of the most prestigious colleges in the nation are here, as well as the opportunity for seeing sights that shaped America's history. Dental costs can be startling here, as practices have high overhead for the lease of space, equipment, and advertising.
Boston is one of the metros in the United States that has so much to offer but is still a hit in the pocketbook: with nearly 2,000 startup companies that call it home, there is huge base in finance and technology, and many businesses are among the most eco-friendly in the nation. If you are expecting to sit in the chair for a root canal or any other dental reason, simply expect to shell out; Boston has never really been inexpensive.
9. Washington, DC: This is the capital of the nation, and home to many who work and commute here from the outskirts of Virginia. No matter what you think about policy-makers and legislation in the nation, you will soon encounter high prices when it comes to dentistry here.
One location in the United States that will always have a high cost to do business and see the dentist in, you should never expect a low price to have a checkup or emergency procedure here. This metro area pulls from some of the most brilliant talent there is in the nationwide pool, and they are professionals from start to finish regarding any dental problem you may have.
10. San Diego, CA: Being in a favorable location as far as climate has made many cities skyrocket in price, and San Diego is definitely not immune. There are many dentistry clinics here, but the price of homes and crowded expanse that surrounds the city has made costs go rapidly up since the early 1980's, when many favored this location even before retirement.
You can expect to have to pay much more than average on a nationwide scale for services such as x-rays, routine checkups, and other dental issues here; even if you have not seen San Diego in the headlines as of late, it's one of those metro areas that has astronomical clout when it comes to comfort and livability.
Medically Fact-Checked & Written by Our Dental Editorial Team
You can read more about our editorial guidelines by clicking this link and learn more about the Emergency Dentists USA editorial team here.