Helping Thousands of People Each Year Find IMMEDIATE Dental Services
Get relief from chipped, cracked or lost teeth, abscesses or toothaches.
Emergency dental surgery, cavities & oral pain.
24 hour services - Includes weekends, nights and holidays
Washington DC Emergency Dental Clinics
We specialize in Washington DC Emergency Dentistry:
Click to go to list of Dentists
Washington DC Table of Contents
Contact Emergency Dentists USA 24 hours a day, 7 days a week! We will help get you connected to an emergency dentist near you in a matter of minutes. We have found dental clinics and offices with extended and emergency hours in your area, so you don't have the additional stress of having to find a dentist during an emergency situation.
Using our referral service is a fast and convenient solution to finding a dental office you can walk into ASAP. When you are in need of treatment, reaching out to individual dentists in the area can take time you may not have. This is why our 100% free referral service can help get you the information you need to alleviate your pain and discomfort.
A few weeks ago, after eating something hard, I broke a wire on my braces. It was a weekend and I had no idea what to do, but the wire was scratching my cheek and gums and causing me pain so I had to do something. I found this website and was able to find emergency information on how to handle a broken braces wire which was amazing and helped with the pain. I then called the free service and they found a dentist who was able to answer my questions, and get me in the next day to get the wire fixed!
Finding A 24 Hour Emergency Dentist in Washington, DC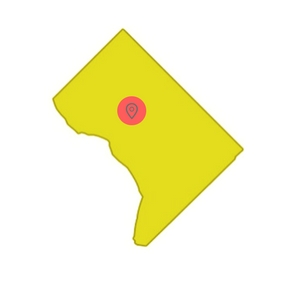 In Washington, DC, there are a few different options available to you when it comes to finding the right dentist to assist with your emergency.
If you are looking for a walk in dental clinic where you will not need to make an appointment, Emergency Dental Care USA in Arlington is your best choice. They are only open Thursday – Sunday, however, they are open extended hours and allow patients to walk in, no appointment necessary.
Through our research, we have found several clinics that are open after business hours. From our list below, Mint Dental and DC Dental Spa are excellent choices as they offer after-hours appointments several days a week.
In the Washington DC area, there are no clinics that are open 24 hours, however DC Dental Spa does have a 24/7 on call service to help in any emergent situation.
Emergency Dentist Listings in Washington, DC
We have done extensive research on walk in, after hours and 24 hour emergency dentists in your area and have compiled a list below of the best local dentists, for easy access.
---
Emergency Dentists USA Referral Service Washington DC
Phone Number: 1 (855) 401-2701
Address: Our Referral Service to Various Dental Offices across Washington DC
Doctors Multiple
Description This is a Washington DC area emergency dental clinic referral service. We can find a local emergency dentist at night or even on the weekends with one phone call to our free hotline! Get help finding an emergency dentist in your area whether you have dental insurance coverage or not.
---
Emergency Dental Care USA – Arlington
Number: (703) 988-7278
If Closed: Call 1 (855) 276-1128 and let our Operator help you find an emergency dentist.
Office: 3801 Fairfax Drive, #24, Arlington, VA 22203
Doctors: Dr. Obeng DDS, Dr. Saba DDS, Dr. Khan DDS, and Dr. Asem Alhenaki DDS
Website: https://www.emergencydental.com/washington-dc-arlington/services/
Description: Emergency Dental Care USA in Arlington has emergency dentists available for convenient same-day appointments. They provide a full range of general, cosmetic and emergency dentistry services. If you are experiencing an emergency on the weekends, this is the best choice because of their extended weekend hours.
Monday, Tuesday, Wednesday: CLOSED
Thursday: 9 AM – 9 PM
Friday: 9 AM – 9 PM
Saturday: 9 AM – 9 PM
Sunday: 9 AM – 9 PM
They accept most dental insurance, contact to discuss your specifi plan
They also accept cash, most major credit cards and have financing options available
---
City Dental DC
Number: (202) 628-7979
If Closed: Call 1 (855) 276-1128 and let our Operator help you find an emergency dentist.
Office: 1221 Massachusetts Ave. NW Washington, DC 20005-5302
Doctors: John Tsaknis, DDS
Website: http://www.dentalbug.com/offices.html
Description: City Dental DC is able to treat a variety of traumatic dental injuries, when a dental emergency occurrs they urge you to contact their office right away and they will get you in as soon as they can. They have 3 locations throughout Washington DC and surrounding areas and have several options and specialists at each location to help better serve their patients.
Monday, Tuesday, Wednesday, Thursday: 8:00 AM – 5:00 PM
Friday: 8:00 AM – 1:00 PM
Saturday: 9:00 AM – 2:00 PM
Friday: 8:00 AM – 1:00 PM
Saturday: 9:00 AM – 2:00 PM
They accept most dental insurance, contact to discuss your specifi plan
They also offer an option to make your payment online
---
DC Dental Spa
Number: (202) 759-2434, on call urgent care call (202) 333-9282
Office: 730 24th St NW, Ste #9 Washington, DC 20037
Doctors: Dr. Rex Hoang and Dr. Marcus Hoang
Website: http://www.dcdentalspa.com/dental-treatments/after-hours-emergency-dental-care
Description: DC Dental Spa is a family owned practice that is driven by passion to help others achieve healthy smiles that last a lifeimte. This clinic is proud to offer after hours emergency care 7 days a week, so you'll never have to wait in excuriating pain before a dentist is available.
Monday and Thursday: 7:00 AM – 4:00 PM
Tuesday and Wednesday: 9 AM – 6 PM
Friday: 7:00 AM – 3:00 PM
24/7 on call services
They accept most dental insurance, contact to discuss your specifi plan
They also accept cash, most major credit cards and have financing options available
---
Mint Dental DC
Phone Number: (202) 529-6468
Address: 329 Rhode Island Ave NE Ste A Washington, DC 20002
Website: http://mintdentaldc.com/dental-services/general-dentistry/emergency-dental-care/
Doctors: Dr. Kassam and Dr. Bradshaw
Description: Mint Dental DC is a one stop shop for all of your dental needs. They deliver state of the art dental care using leading edge technology. With several days of extended business hours, they are a good choice if you need to see an after hours dentist.
Monday: 1 PM – 7 PM
Tuesday: 9 AM – 7 PM
Wednesday: 10 AM – 7 PM
Thursday and Friday: 9 AM – 1 PM
Saturday: 9 AM – 1 PM, Surgery by Appointment Only
They accept most dental insurance, contact to discuss your specifi plan
They also accept cash, most major credit cards and have financing options available
---
How To Prepare For Your Washington, DC Emergency Dental Clinic Visit
Visiting a Washington DC emergency dentist will be similar to a regular dental visit. To be seen right away, make sure you have all paperwork like vital health records and insurance cards handy, and also provide the staff a brief history about your dental background, medication, allergies, etc.
Make sure you arrive at your visit up to 15 minutes early, if at all possible, to fill out any necessary paperwork.
Also you'll want to speak to the front desk about your dental insurance coverage and also make sure to discuss what forms of payment they accept or if they offer financing if needed.
During your dental visit, the dentist will offer you solutions for your discomfort such as pain medication and/or antibiotics. They are capable of performing emergency tooth extractions on he spot if necessary. If they aren't able to perform the procedure that day, they will help you manage your pain until you can get in to have the procedure.
Common 24 Hour Dental Emergencies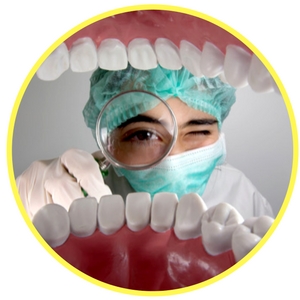 There are several emergency situations where you will want to see an emergency dentist right away. These include soft tissue injuries, broken or damaged braces or wires, abscesses, broken or chipped teeth, or a loose or lost crown.
Here are a few of the more common types of dental emergency situations that many people find themselves running into, as well as some tips on how you can handle these situations should they arise.
"When a 24-hour dental clinic isn't available, it's wise to seek help as soon as you know there's a problem. Don't wait for pain or swelling to escalate to an unbearable level. Most dental problems don't go away on their own."
Abscess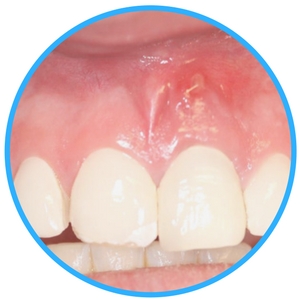 An abscess is a swollen, tender region on the gums, which appears to be dark red in color from a tooth infection. They may appear by the root of your tooth or between your gums and teeth.
An abscess may feel warm and painful when touched. Additional symptoms of an abscessed tooth include a fever, sensitivity to hot or cold liquids and foods, swollen glands in the neck, bitter taste, and a swollen jaw.
An abscess is a serious dental emergency that requires immediate attention. Until you are able to get into an emergency dentist, you can try rinsing out your mouth with a salt water solution a few times each day to help improve the overall pain in your mouth. A solution mixed with ½ teaspoon of salt into 8 ounces of water is beneficial in this situation.
Soft Tissue Injuries
An injury to the tongue, gums, lips, and cheeks is referred to as a soft tissue injury. These types of injuries can result in bleeding in the mouth. The first step with a soft tissue injury is to ensure you stop the bleeding promptly. To do this, you can rinse out your mouth first with a salt/water mixture solution.
A cold compress can be placed on the outside of the mouth or the cheek to help control any bleeding as well as pain associated with the injury.
Loose or Lost Crown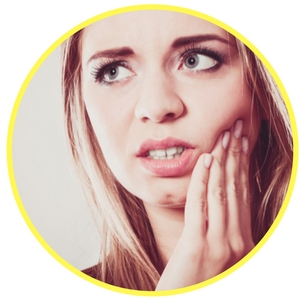 If a crown has completely fallen out of the mouth, it is important to make an emergency dental appointment as soon as possible. Be sure you keep the crown in a cool and safe location so that you may get the best possible chance of having the dentist reinsert it.
Until you are able to get into an emergency dentist, you can try to alleviate any pain and discomfort by applying clove oil to the affected tooth. You can also clean the crown completely and try affixing it to the tooth by using dental cement.
If you find that the crown is completely lost, you can smear dental cement on the top of the affected tooth to help alleviate any pain.
Knocked Out Teeth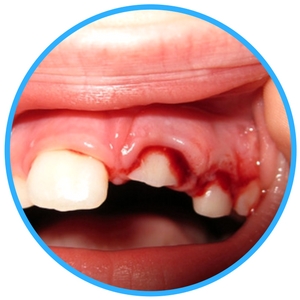 If you have lost a tooth, make sure to pick it up and hold it only by the crown, this is the location on the tooth that is exposed in your mouth. Rinse off the tooth with water, but do not scrub it to get debris off of it.
You can attempt to place the tooth back in place in your mouth, but never force it into place as this may only cause additional damage.
If you are not able to reinsert it in place, you can place the tooth into a small container that is filled with milk or water with a tiny pinch of table salt until you can get in to see an emergency dentist.
Do You Need an Emergency Tooth Extraction?
When you have a tooth that is causing you problems and incredible pain, your dentist may opt to remove the tooth entirely. One of the more common reasons people get teeth extracted is when a tooth becomes impacted in the mouth. Making room in the mouth so that teeth can align properly is another reason many people may get a tooth extracted. Additionally, when you suffer from severe tooth decay to the point they are unable to be repaired, your dentist may choose to extract the teeth entirely.
When you get a recommendation for a tooth extraction from a dentist, it's important to make sure you get it done as soon as possible. Postponing an extraction can lead to additional pain and infections over time.
Some offices allow you to undergo a tooth extraction with only some numbing cream throughout your mouth. Others may offer you the option to use a sedative such as nitrous oxide to help you get through the process of pulling the teeth without too much discomfort.
It's important to not eat or drink anything a few hours before your scheduled tooth extraction. You will also want to arrange for someone to come pick you up and take you home after the procedure is completed. You will experience some pain after the procedure, which is completely normal, as is some swelling in your mouth. You may reduce swelling that takes place by using ice packs on the affected areas.
Initially, you will begin to notice healing changes up to two weeks after you've had surgery, but it can take anywhere from three to six months before your bone and soft tissue are fully healed. Following all of your dentist's instructions should make the healing process easier.
Emergency Room Versus Emergency Dentist

When you experience a dental emergency, knowing what to do when it happens can help equip you to make an informed decision about the best treatment option for you. When dental emergencies are not handled in a timely manner, you may suffer loss of the tooth, additional infections, and other consequences.
Dental emergencies, which involve your mouth or face, should be handled immediately, and may even require emergency room treatment. Fractures, dislocations, or serious abrasions that are severe enough may definitely be something you will want to go to the hospital for treatment. If you have also suffered an impact to the neck or head or are experiencing any difficulty breathing, a hospital may also be a better option.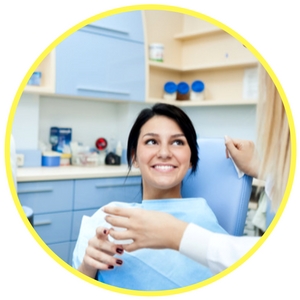 Emergency rooms are only equipped to handle certain dental emergencies or provide antibiotics or pain medication. They are not able to perform emergency extractions or handle abscesses the way a dentist office is. After they have seen you, many emergency rooms will also refer you to see your dentist for a follow up as soon as possible.
If you suffer from an emergency that doesn't include any other bodily injury, the dentist office may be the best place for you to receive treatment. Dentists specialize in the anatomy of the mouth and teeth, so they are more familiar with how to respond and treat emergency dental conditions quickly and efficiently.
Washington DC Dental Association Info
In the Washington DC area, there are several clinics that are open after hours and allow walk in patients. We have created a list above of several of these emergency dental clinics, as an easy reference for you. If you do not have time to call around, we make it even easier by offering our 100% free, 24-hour referral service, Emergency Dentists USA. With one phone call, we can find a local, emergency dentist in your area and can help set up an appointment for you, if necessary.
Checking with your local dental society or association can be beneficial in helping you to verify all certifications from the dental offices you are planning on visiting. Using your local Washington DC Dental Society can also help you to find out more about the potential dentist you are thinking of using.
Medically Fact-Checked & Written by Our Dental Editorial Team
You can read more about our editorial guidelines by clicking this link and learn more about the Emergency Dentists USA editorial team here.