Helping Oakland Residents Find IMMEDIATE Dental Services Everyday.
Get relief from chipped, cracked or lost tooth
Abscess, toothache, mouth pain
Emergency dental surgery
24 hour services - Includes weekends, nights and holidays
Find a Dentist 24/7
Near You IMMEDIATELY
Click or Call Toll-Free
1 (703) 810-3500
Emergency Dentist Oakland California
---
We Specialize in Oakland Emergency Dentistry: Call 24/7: 1 (703) 810-3500
Monday – Friday, See An Oakland Dentist The Same or Next Day/Night You Call!.
Saturday And Sunday, "See An Oakland Emergency Dentist In Hours."
It can happen.  All of a sudden your tooth starts hurting and you realize you need urgent dental care.  If you are looking for emergency dentists in Oakland, California then you are in luck.  There is an abundant of services that are available to you and finding a dentist open on a Sunday or weekend is not impossible. Oakland emergency dental clinics are within your reach, you need only to do a little homework and decide which services is a good fit for whatever your medical condition might be.
Sometimes a toothache can take root and you realize that the pain is not subsiding.  That is not a very fun place to be.  Or maybe the situation involves a chipped or broken tooth and suddenly a 24 hour emergency dentist in Oakland, California becomes a priority in your life.  Finding a weekend dentist in Oakland would be all you could think about.  Well, stop thinking and starting exploring some of the options available to you as you need not have to put up with that pain!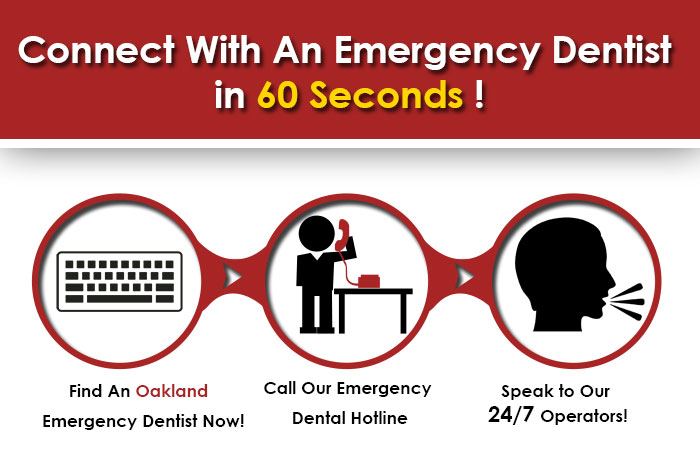 Call 24/7: 1 (703) 810-3500
Urgent Dental Care in Oakland, California
We have taken steps to provide you with a list of dentistry prospects that can help you with your pain management situation.  While your customary dentist office may not be open to you after hours or weekends, finding Saturday or Sunday dentist care in Oakland could be just a phone call away. Also look for emergency dentists in San Francisco.
---
Emergency Dentists USA Referral Service Oakland
Phone Number: 1 (877) 507-0879
Address: Referral Service to many Dental Offices in Oakland
DescriptionThis city near the San Francisco metro area is where many come for high tech jobs in the software industry, and for major sporting events. If a dire dental emergency threatens your stay while you're here, don't hesitate to get in touch with us quickly to get an after hours dentist referral.
---
Laurel Smile Dentistry
Phone Number: 510-530-3317
Address: 3630 Macarthur Blvd. Oakland, CA 94619
Website: www.dentistoaklandca.com/
Doctors: Dr. Mussie Sibhatu
Description: A prosthodontist specializing in advanced procedures and services. They believe doctors and patients become a team when treating an individual's healthcare needs. They listen to understand your concerns and respond with the best treatment plan for you. The professional staff always follows up with each person to make sure that general pain is relieved, problems are resolved and thier health improves.
Mon 10:00 AM – 07:00PM
Tue 09:00 AM – 05:00PM
Wed 09:00 AM – 05:00PM
Thu 07:00 AM – 04:00PM
Fri 09:00 AM – 01:00PM
---
Dr. Immi Song, DDS, MS
Phone Number: 510-528-2220
Address: 1301 Solano Avenue • Suite 101 • Albany, CA 94706
Website: www.isongorthodontics.com/
Doctors: Dr. Immi Song
Description: A welcoming team of professionals that provide high quality orthodontic care to adults and kids in a fun, friendly and caring environment. They pride themselves in paying careful attention to their clients individual needs. For your comfort and convenience, their office is open some weekday evenings and also on some Saturdays.
Monday: 11:00 a.m. – 7:30 p.m. (Lunch 1:00 p.m. – 2:30 p.m.)
Tuesday: 9:00 a.m. – 5:30 p.m. (Lunch 12:00 p.m. -1:30 p.m.)
Wednesday: 7:30 a.m. – 4:00 p.m. (Lunch 12:00 p.m. – 1:30 p.m.)
Thursday: 9:00 a.m. – 5:00 p.m. (Administrative Day)
Friday: 9:00 a.m. – 1:00 p.m. hours (Administrative Day)
Usually the first Saturday of the Month: 8:00 a.m. – 2:00 p.m.
---
Oakland Emergency Dental
Number: 510-282-8642
Office: 2838 Summit Street Oakland CA, 94609
Doctors: Dr. H.R. Hamid
Website: www.oedental.com/
Description: This is one big-city emergency clinic that is open 365 days a year, and they always offer free x-rays during business hours. You can schedule a much-needed appointment by email if you must, and this clinic has seen nearly every kind of emergency need under the sun. Extractions, infection of teeth, severe tooth pain, and the need for a root canal can all be seen here urgently, and the clinic will accept all PPO dental insurance plans. This is truly the late-night, weekend, and after hours dentist clinic of Oakland, an asset that will prove useful when a sudden mishap renders you in much pain and discomfort.
Monday – Friday 8:00 AM – 6 PM
Saturday 8 AM – 4 PM
---
Western Dental: Oakland Emergency Care
Number: 800-579-3783
Office: 530 South Main Street Orange, California 92868
Doctors: Daniel D. Crowley
Website: www.westerndental.com/en-US/dentists/california/oakland/1530-broadway/
Description: This Oakland area after hours and emergency care clinic is open 6 days a week, and can provide assistance with root canal needs, urgent toothaches, wisdom teeth coming in, broken teeth, or broken crowns. This is a bilingual office for those that need English or Spanish, and the staff here has been giving top-notch care to bay area residents for years. When regular scheduled cleanings and plaque removal aren't always taking care of long-term and serious problems, the onset of pain that occurs after this is almost always a signal that you ave to see an emergency professional like this, and fast.
Monday: 9:00am-7:00pm
Tuesday: 9:00am-7:00pm
Wednesday: 9:00am-7:00pm
Thursday: 9:00am-7:00pm
Friday: 9:00am-7:00pm
Saturday: 8:00am-4:30pm
---
LAKE MERRITT DENTAL
Number: 510-834-4321
Office: 1900 Webster St. Oakland, CA 94612
Website: www.lakemerrittdental.com/
Description: This Saturday dentist in Oakland california has everything you need their extensive hours 6 days a ewek from 9am until 6pm make for a very easy choice when you're looking for an emergency dentist. The only thing they lack are Sunday dentist hours!
Monday through Saturday 9:00AM-6:00PM
---
Endo Care – The Endodontic Group Practice of Dr. Ali Rezai
Number: 510-547-7668
Office: 485 34th St., Suite 200, Oakland, CA 94609
Website: http://www.endocaregroup.com/patient-information/scheduling/
Description: The Endo Care dental group offers weekday hours that are fairly limited to normal working hours. However you might be able to squeeze in an emergency dentist appointment at 8am and still make it to work on time during the week. They also offer Saturday dentist hours, simply call ahead.
Monday through Friday from 8:00 a.m. until 5:00 p.m
Every first and third Saturday of the month from 8:00 a.m. to 3:00 p.m. Special arrangements may be made if you require to be seen outside of the scheduled times listed.
---
Emergency Dentist Oakland
The reason you're searching for a walkin dentist in Oakland is irrelevant. What matters is you're likely to be in pain and you want to find a 24 hour emergency dental clinic right away. We have you covered by listing the proper after hours dentist offices in Oakland. You can simply look through each dentist and their hour and match their schedule to your schedule in order to pick the best urgent care dentist available. We have weekday and weekend dentists listed. You can also call our emergency dentist hotline that's open 24 hours a day, 365 days a year and we'll be able to quickly refer you to the best emergency dental clinic near you for free!
 What's the best 24 hour emergency dentist office in Alameda California?