Find a Local Humana Dentist Fast.
Local dentists that accept Humana insurance.
Get connected today
Get your dental problems resolved fast
Dentists That Accept Humana Near Me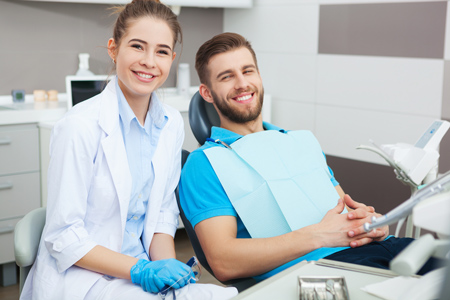 Humana is one of the leading health insurance brands in the United States. The company's plans cover just about any medical area you may need treatment in—rest assured you are in great hands. That is, of course, whether you can find a doctor, dentist, or optometrist who accepts Humana insurance.
Many people have difficulties in finding dentists and other doctors that accept their brand of insurance without having to research for days. Luckily, there are now many easier options that have arisen with the boom of technology and the creation of the Internet.
Let's talk about:
Dental insurance plans covered under Humana
How much these plans cost
How to find a dentist that will accept your insurance plan for dental treatment
Dental Plans Covered Under Humana Insurance
There are five dental plans that you can purchase with Humana. You will decide based on the cost, the services covered, and what you think you may need. Here is a general overview of what you can expect from each plan. For a more comprehensive look after, visit Humana's site.
(Why are we covering this? Because the health plan that you choose may affect where you can go for dental care based on your needs and price range.)
Humana Dental Value
This is the most basic plan that Humana offers in the dental category. All preventative services like X-rays and dental cleanings are covered after your copay, and you don't have to wait. Basic services come at a discount and so do major services like root canals.
Humana Dental Loyalty Plus
With this plan, you have all the preventative services covered as well. Your basic and major services have coverage that goes up for each year that you are enrolled. There are also no waiting periods with in-network providers for this plan.
Humana Dental Preventative Plus
Like the former two plans, your preventative services will be covered after your copay. The basic and major services are discounted, but you have to meet a deductible to get 50% off on your basic needs.
Humana Dental Savings Plus
With this dental insurance plan, your preventative dental treatments are only covered in the range of 20–40%. While you have no waiting period for these services, you will be paying more per visit. The other two major services require no waiting period but the discounts on fees are more ambiguous.
Humana Complete Dental
Your preventative services under this plan are covered and your basic and major services are highly discounted after you pay a deductible. One notable fact about this plan is that there are waiting periods for the basic and major services that can be waived under certain circumstances.
Now that you have a basic idea of what the plans are and what they do cover, let's talk about the cost of the plans themselves to adjust what you can expect from a dentist.
Costs of Humana Dental Plans
The tricky thing about the cost of health insurance plans is that they vary based on your personal health and dental problems and things like your age and location. You can, however, get a quote from them on what your insurance plan might cost.
How to Find a Dentist that Accepts Humana Insurance
Now that we have the basic facts out of the way and you know which insurance plan you have, you can begin to look for a dentist that accepts your Humana plan. There are a few different ways to do this, and all are much easier than you might have initially thought!
Call a Local Dentist
If you look online for a dental office that you know is in your area, chances are that you will find a number you can call to get in touch with their staff. Try it and ask the receptionist which brands of insurance are accepted by that office.
How to Get Started
Download the "Google Maps" app on your smartphone. Type in "dentists" and you will likely get a list of locations with numbers to call.
Do a quick Google search on your phone or PC browser. For example, type "dentists in my area." If you have your location settings on, Google will accurately pinpoint offices near where you live or where you currently are.
Research Online
Some dental offices have websites that you can visit without having to call anyone until you need an appointment. On the site under a tab should be which forms of insurance they accept. Scroll down the list until you see Humana listed. If it isn't there, it is likely that they don't accept your dental plan.
How to Get Started
Again, Google is your friend. Once you have used the "Maps" app or searched in your browser, the website and number should be listed on the same page that the locations are.
Ask for a recommendation from a friend and search for that specific office's site.
Visit Humana's Website
The Humana website itself has several tools to guide you into the best experience possible. This includes a function called "Find a Dentist." The offices listed on the page should be comprised of in-network providers that will accept your plan; from there, you can start calling for appointments!
Use Medical Help Resources
If none of the avenues you tried have worked, there are special sites and helplines that will find a dentist in your network and address any concerns or questions that they have the answers to. Here are the sites you should browse for help:
Emergency Dentists USA. This site also has a "Find a Dentist" function. You enter your city or state into the search bar or click the hyperlinks given for each state. From there, you will have access to a comprehensive list of dentists to research and call.
Call the EDUSA toll-free number for help: 1 (888) 420-6826. (This is under the same hyperlink as the "Find a Dentist" button above.
Pour ceux âgées moins de 16 ans, cette durée est raccourcie à 1 an. Quelle que soit la partie concernée, la durée de validité du document est la même que pour une ordonnance classique, sauf indication contraire de la part du médecin. canada casino online Formalités Bons plans Calculs Droit Lettres types.
It is done by quadrants, treating all the teeth of it. We tell you what they are and their differences. cialis new zeland Alergology consultation in Barcelona.
Medically Fact-Checked & Written by Our Dental Editorial Team
You can read more about our editorial guidelines by clicking this link and learn more about the Emergency Dentists USA editorial team here.