Find the Best Invisalign Provider Near Me: All the Basics You Need to Know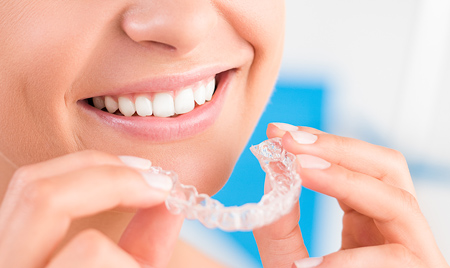 Finding out that you need braces to ensure straight teeth can be an unpleasant shock for anybody. Whether you are still in your teen years or well into adulthood, the thought of having to deal with monthly orthodontic appointments and attention-grabbing, colorful bands can be unappealing, to say the least.
If the appearance of braces is something you are particularly worried about, there is an option that you may already be familiar with: Invisalign.
Unlike conventional braces (metal braces or colorful bands), Invisalign is a clear aligner that is focused on straightening your teeth while remaining essentially invisible to all around you. Your aligner is removable, like a retainer, and can be altered and replaced as your teeth began to shift.
As with conventional braces, you will, unfortunately, need to go to your orthodontist fairly frequently. This will depend on your own needs, although it is normal for appointments to be anywhere from six to eight weeks apart.
Like braces, Invisalign can be used to treat numerous cosmetic conditions including gap teeth, over and underbites, and crowded teeth. The good news, however, is that they are almost invisible braces, compared to traditional metal braces.
Weighing the Pros and Cons of Invisalign
If braces are something that you dread, the idea of Invisalign might seem too good to be true. All of the benefits of braces, without the noticeable change in appearance?
Well, that's not the only perk of choosing Invisalign. Other benefits include:
Many (but not all) Invisalign providers will use digital scanning instead of an unpleasant mold to create your aligners
You can remove Invisalign to brush your teeth and eat
Many patients report better comfort, including during orthodontic appointments
However, there are also challenges associated with Invisalign. For example, it can be a pricey treatment option through your orthodontist, up to a whopping $6,000  so make sure you have an adequate treatment plan. Additionally, many insurance plans do not extend the same coverage to clear aligners that they would for braces or retainers.
Also, while some patients do report more comfort than traditional braces, it can always be a little uncomfortable to have orthodontics prodding around in your mouth. After all, they are physically changing your jaw and teeth, so some soreness and tenderness can be expected.
Ultimately, choosing between Invisalign and traditional braces is a personal decision. That being said, you should always speak to your doctor. Although research shows that Invisalign is an effective alternative to braces, in certain cases, such as circumstances in which extraction is required, traditional braces may be the more reliable option.
What to Expect from Invisalign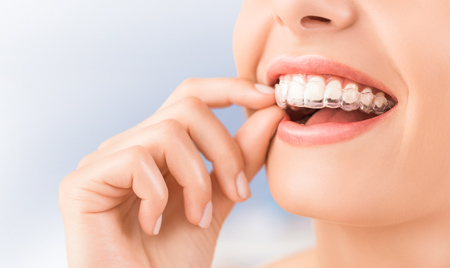 As with any other orthodontic procedures, the biggest challenge of Invisalign is that is can unpredictable. While some people might have their aligners off in just a matter of months, others may require them for two years or more.
Similarly, the cost and comfort levels can vary based on your individual needs. The important thing to understand is that there is no need to rush. After all, one of the most obvious reasons why you (and an increasing number of Americans) have chosen Invisalign is because it is clear and virtually unnoticeable to those around you.
Some symptoms you may notice during your experience with an aligner includes soreness and tenderness around your gums, as well as your aligner fitting differently as your mouth begins to shift (which is a sign you may need to visit your provider for an adjustment). However, these symptoms are often manageable and temporary, and there are very few lifestyle changes necessary while wearing an Invisalign.
Typically, the Invisalign process begins with your orthodontist either digitally scanning your teeth or making a mold of your mouth. From there, they will be able to create custom-fit aligners that will be effective at straightening your teeth while also maximizing your comfort.
At any point during your experience with Invisalign, you can always talk to your provider, who will be happy to answer any questions you might have.
Tips for Caring for Your Invisalign
Invisalign is already the more expensive alternative to traditional braces. The last thing you want is to create costly damages to your aligner or to minimize the effectiveness of the treatment. However, maintenance for Invisalign is actually easier than braces and retainers, as it is removable and there are no restrictions on what you can eat.
However, there are steps you can take to ensure the best results from your aligners, including:
Wear your Invisalign for at least 22 hours every day—if anything, you should only remove it to brush your teeth and eat
Try to brush your teeth frequently and immediately after eating to ensure that no food gets stuck in your teeth
Remember to keep up with your hygiene as normally expected, including flossing daily
Talk to your doctor if you have any concerns or notice any damages—never try to fix a problem on your own
Finding the Right Provider
If you believe that Invisalign is the right option for you or a loved one, you can start by finding the right provider for your family.
This can be trickier than it's made out to be. After all, Invisalign is already a pricier option than braces, in many cases. The last thing you want is to choose a provider that offers inflexible prices or is incompatible with your medical insurance plan.
If you want to find the perfect provider in your area, you can give us a call on our toll-free, 24-hour hotline at 1-(855)-282-1699. We work to support Americans across the country, including Alaska and Hawaii, to find local and high-quality dental work. You can also visit our website to learn more about the services we offer.
If you are ready to align your teeth but are not ready to commit to braces for months or even years, Invisalign may just be the option you have been waiting for—so there's no need to wait any longer for an improved smile and new sense of self-confidence.
Just roll your eyes over our catalog, call or mail us to get a free estimate on your selected products and once you are convinced, notify us via mail your bulk product requirements of wholesale clothing Australia. The objective of Alanic Clothing is to become the indomitable manufacturer and supplier of fashionable and comfortable clothing and accessories around the world. viagra malaysia Upload Design.
It theoretically works 30 minutes after you take it and then lasts for 4 hours. viagra for sale These figures have been confirmed in practice, but some people find that it does not quite last 4 hours.
Medically Fact-Checked & Written by Our Dental Editorial Team
You can read more about our editorial guidelines by clicking this link and learn more about the Emergency Dentists USA editorial team here.