User Voted Top 10 Dentists In Los Angeles
In the past at E-Dentists USA we've run some polls and features on dentists and dental blogs across the nation. Recently we decided we wanted to get a little more specific and do some feature articles on a few dentist in more geographically focused areas. We'd like to recreate the success we've had in the past doing polls for our users to vote on their favorite dentist or favorite dental blog. So, with that in mind, we decided to start on the west coast.
A month ago we started by running a poll on the California / Los Angeles pages of our site to see who wants to vote for the top dentists in Los Angeles. We've been getting a solid amount of votes in so far and we've chosen the top 9 dentists (from the voting) and we're going to allow you to vote on which is the BEST!
I decided this deserved more than just a poll on one of our pages, so I'm writing this blog post on it to get a little more attention and votes. In this article we'll be showing you the new poll, allowing you to vote and see results as well as going through and doing a summary on each featured dental website.
So without further ado, here is the poll, please pick your favorite of the TOP 9 Dentist in Los Angeles!
Looking for a Dentist open on Saturday and Sunday? Check us out!
Voting Done! Meet the Winners!!
Westwood Dental Care
Westwood Dental Care
10921 Wilshire Blvd, Suite 601
Los Angese, CA 90024
Website: http://www.westwooddentalcare.com/
Facebook: Westwood Dental Group
Westwood Dental Care offers "High Tech, Gentle Touch!" dentistry. Serving patients in a warm and friendly environment. They care for their patients like only family can! One of their top features is One Visit Dentistry, which is so important in today's hectic world. Come in and get all of your dental needs met in a single visit performing such procedures like "Crowns & Inlays" in usually as little as one visit!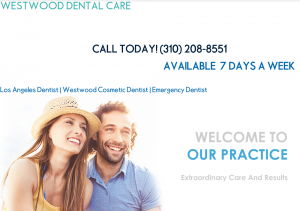 They offer a solid team of dentists, including Dr. Ebi Nikjoo for cosmetic and general care dentistry, Dr. Dave Corradi, Periodontist, and Dr. Teresa Do and Dr. Joyce Stein general dentists. So you know you will be able to get an appointment with a dentist for your needs!
One attribute our clients are always looking for in a dentist is are they open 7 days a week? Well at Westwood Dental Care you can be assured they are! If you're in Los Angeles and seeking a dentist look them up!
That 7 day a week schedule, as well as their professional care is why Westwood Dental Care has been voted one of the Top 10 Dentists in Los. Angeles!
---
And 2nd Place Goes To
River Dentistry
River Dentistry
Dr. Charles Huang
404 S. Figueroa St, Suite 207
Los Angeles, CA 90071
Website: http://riverdentistry.com/
Facebook: River Dentistry
River Dentistry is one of the top full service downtown Los Angeles Dental offices. They offer affordable and painless dentistry, in a comfortable enviroment, where the staff will make you feel at home! They offer emergency services, which is a huge plus we always look for here at emergencydentistsusa.com. The Spa-Like environment at River Dentistry will amaze you.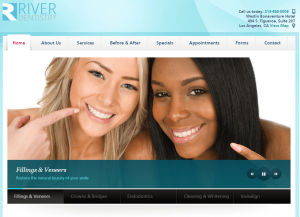 Dr. Huang offers a variety of dental care options, including root canals, extractions and cosmetic dentistry. They are accepting new patients, and your initial appointment with Dr. Huang will include a thorough exam, digital x=rays and a comprehensive consultation on your dental health. Emergency dentistry can also be had at the office of Dr. Huang, which we always are glad to see a dentist offering as a service to their clients with busy schedules!
Welcome Dr. Huang to our E-Dentists USA Top 10 Dentist in Los Angeles list, as voted by our everyday users!
---
And 3rd Place Goes To
Samaritan Dental Arts
Samaritan Dental Arts
Dr. Alan Zabolian
1127 Wilshire Blvd #918
Los Angeles, CA 90017
Website: http://www.samaritandentalarts.com/
Facebook: Samaritan Dental Arts
At Samaritan Dental Arts, Dr. Alan Zabolian DDS. is dedicated to the highest standards in medicine, and to unparalleled quality patient care at his dentist office. Dr. Zabolian is one of the premier cosmetic dentists in Downtown Los Angeles. The staff at Samaritan Dental Arts, wants to see you smile and they offer 10% off at your next visit, simply visit their website and you'll see the deal!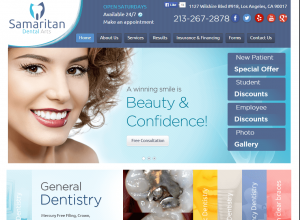 The Samaritan Dental Arts commitment is to the highest level of dental care. Each patient has a specific goal and the staff here are going to help you reach that goal in a professional and technically advanced manner. They have a family friendly office and provide the highest quality care Los Angeles has to offer. Visit their website prior to visiting and you can print out the forms required in order to be prepared before your visit.
The Samaritan Dental Arts office, because of these characteristics has been voted by our users as one of the Top 10 Dental Offices in Los Angeles!
---
Los Angeles Dentists
Shervin M. Louie
Shervin M. Louie DDS
321 N Larchmont Blvd #1010
Los Angeles, CA 90004
Website: http://www.smileinla.com/
Facebook: Shervin M. Louie DDS
Utilizing the latest techniques in Cosmetic Restorative Dentistry, Dr. Louie offers comprehensive dental care in a comfortable and inviting environment. The Dr's website is amazing and inviting, immediately you can see how beautiful the interior of the office is. They are located in an area easily accessed from these neighborhoods, Hollywood, Larchmont Village, Hancock Park, Windsor Square, Mid – Wilshire, Koreatown, Park La Brea, West Hollywood, Beverly Hills, Melrose, Fairfax, Wilshire Center, and Los Angeles Downtown.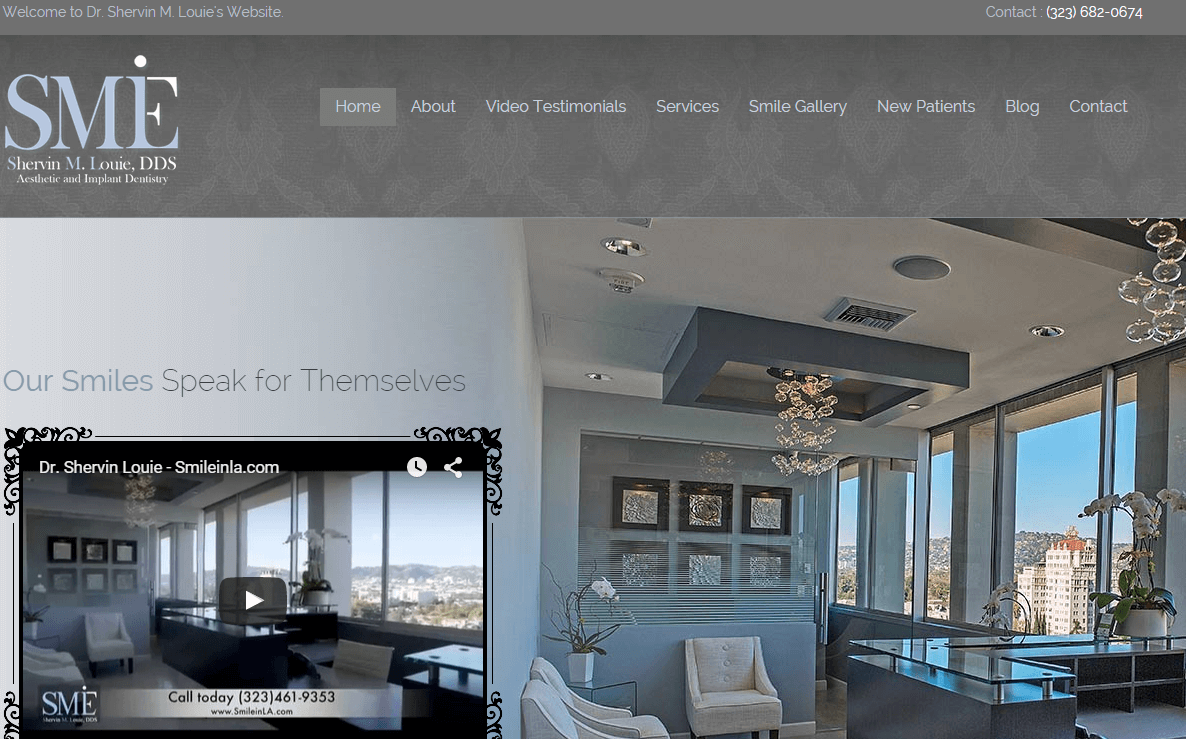 The convenience and comfort provided by the location and staff at Dr. Louie's office are above par on all counts. They offer email requests for appointments on their website, reflecting their concern with modern day communication standards, not everyone has time to make a phone call for everything anymore!
Dr. Louie also offers emergency dental care which is important to us here at emergencydentistsusa.com and the voters reflected that by placing him in the top 10 dentist in Los Angeles!
Please welcome Dr. Louie into the E-Dentists USA's Top 10 Dentists in Los Angeles listing, per the voting of our users!
---
Sunset Center for Dental Excellence
Sunset Center for Dental Excellence
Dr. Chaves
9201 Sunset Blvd. # 609
West Hollywood, California 90069
Website: http://www.sunsetcenterfordentalexcellence.com/
Facebook: Sunset Center For Dental Excellence
The Sunset Center offers a variety of dental procedures and treatments, including but not limited to general dentistry, family and cosmetic dentistry. They include Zoom! Whitening! Which will whiten your teeth and remove years of staining from coffee, sodas and wine! A very important procedure to offer in Los Angeles, where we all know you gotta have a beautiful smile!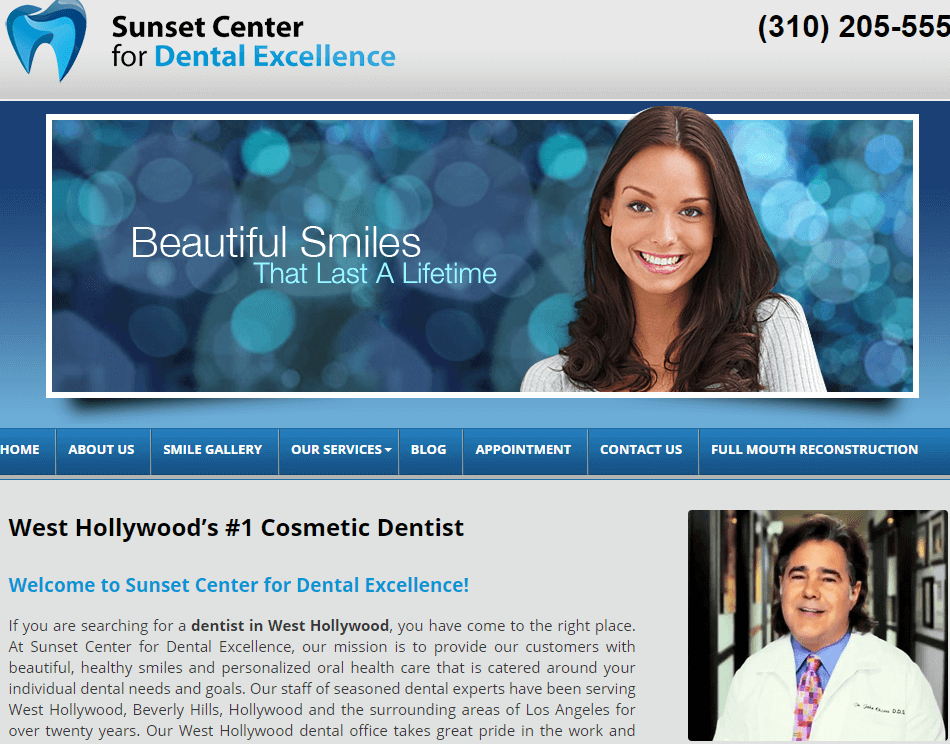 An excellent, well organized online presence greets you when you arrive at website for Sunset Center For Dental Excellence. Dr. Chaves is a locally and nationally renowned cosmetic and general dentist. He's even been featured on Comedy Central! Must have a sense of humor, always a good thing in a dentist!
The Sunset Center's offerings and environment have given them the advantage needed to be voted into the Top 10 Dentist in Los Angeles list here at Emergency Dentists USA!
---
Zahkor Dental Group
Zahkor Dental Group
Dr. Mansour Zakhour
10921 Wilshire Blvd. Suite 904
Los Angeles, CA 90024
Website: http://dentalwestwood.com/
Facebook: Zahkor Dental Group
Dr. Zahkor carries a degree from USC School of dentistry and will handle whatever your dental care needs with a high level of dental professionalism. He is a member of the ADA and CDA and has spent time as a volunteer for the USC dental mobile clinic, treating underprivileged children and adolescents, helping youth get the dental care that they need.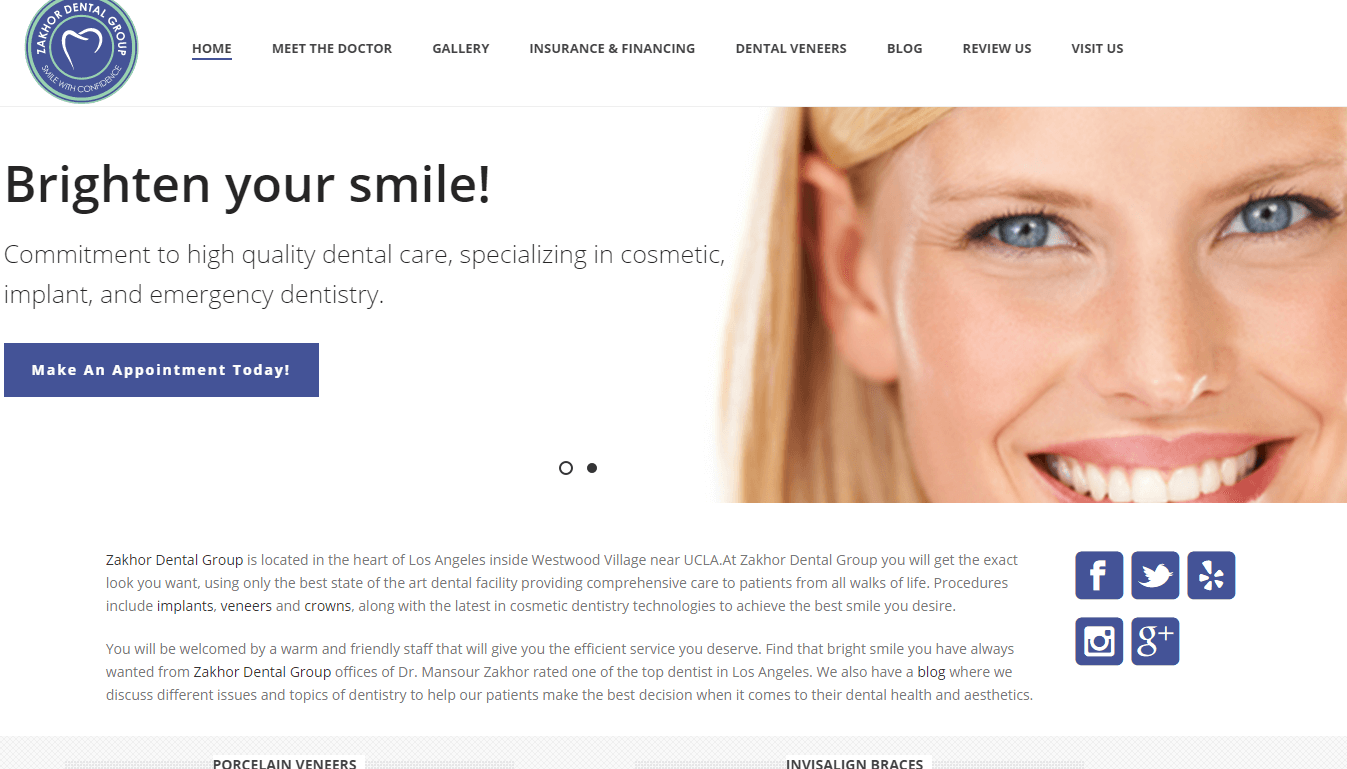 The Zahkor Dental Group is in the heart of Los Angeles, inside Westwood Village near UCLA. They use only the best state of the art dental techniques and equipment. You will be welcomed by a warm and friendly staff and treated to efficient, professional and comfortable service!
Welcome Dr. Zahkor to the E-Dentists USA Top 10 Dentists in Los Angeles list as voted by our users!
---
Dr. Arthur Kezian
Dr. Arthur Kezian
443 N. Larchmont Blvd
Los Angeles, CA 90004
Website:http://www.drkezian.com/
Facebook: Dr. Kezian
Dr. Arthur Kezian's office offers a small, friendly atmosphere that puts their patients at ease. You won't find a crowded waiting room or have trouble finding an appointment time with their dental staff. They offer cosmetic dentistry, root canal therapy, dental veneers and more! According to their website "When you walk in to Dr. Kezian's office you are the most important person!" The friendly staff creates a trusting and patient enviroment in which to have your dental procedure.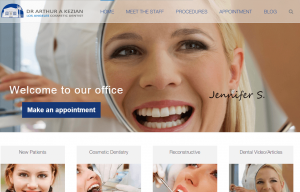 Dr. Kezian's mission is to provide his patients with the very best dental care in the most supportive and nurturing manner possible. They promote long term dental-health through focusing on your tooth care and dental habits to improve your smile!
The experience you will have at this dentist office will be second to none, upon arrival you will be offered a bottle of spring water or juice and given the option of a movie or tranquil music to listen to during your visit! Amazing!
This is the type of office environment we like to see in our Top 10 Dentists in Los Angeles Poll and this is Why Dr. Kezian made the list!
---
Dental Care of Beverly Hills
Dental Care of Beverly Hills
Dr. Lalezarian
414 N Camden Dr, Suite 626
Beverly Hills, CA 90210
Website: http://www.dentalcareofbeverlyhills.com/
Facebook: Dental Care of Beverly Hills
At Dental Care of Beverly Hills, you can find treatment for a variety of dental problems you may be facing. Dr. Lalezarian will treat you in a professional and caring manner and can work with you to resolve issues such as dental crowns, root canals and dental implants. Not to mention Dental Care of Beverly hills offers emergency dental services. They understand that dental issues can arise at any time, day or night, and they want to be there to help.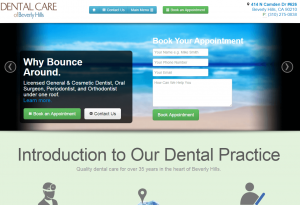 They also offer a full array of cosmetic dental treatments, such as Zoom! Teeth Whitening, porcelain veneers and Invisalign. Their staff is there to make sure you have the most comfortable experience possible during your visit. 98.9% of patients who visit Dental Care of Beverly Hills would refer friends and family to them, that is an amazing statistic, almost NO bad reviews for Dr. Lalezarian!
This is why his clients and users of our site have voted him one of the Top Dentists in Los Angeles!
---
John Chu, D.M.D
John Chu, D.M.D.
1016 Fair Oaks Avenue
South Pasadena CA, 91030
Website: http://www.johnchudmd.com/
Facebook: John Chu, D.M.D
John. Chu. D.M.D. has worked hard to build an exceptional team of dedicated, caring and experienced professionals committed to the dental health of you and your family. Your comfort and confidence are important at John. Chu. D.M.D., the dentist will provide an excellent level of care in a comfortable, anxiety free environment. They offer a full range of treatment options, personalized perfectly for your specific dental goals.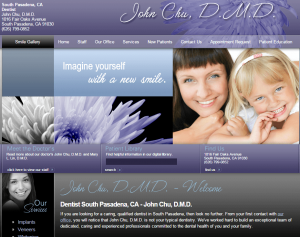 They offer emergency dental care options and understand when it comes to an emergency it's important to get in to see the dentist as quickly as possible and will make every possible accommodation with their schedule to see you soon! They also offer Cosmetic Dentistry, Dental Implants, Dentures, Dental Crowns and Root Canals.
Their goal is to help you achieve and maintain a beautiful smile. At E-dentists USA we think that's important, as do our visitors who've voted Dr. Chu one of the top 10 dentists in Los Angeles!
---
Z Dental Group
Z Dental Group
6320 Commodore Sloat Dr
Los Angeles, CA 90048
Website: http://www.zdentalgroup.com/
Facebook: Z Dental Group
One of our favorite characteristics of Z Dental group is their hours! They offer appointments in the evenings and weekends, and express their ability to accomodate you at anytime, on both their website and their facebook page. Our users are especially interested in after hours and weekend appointments.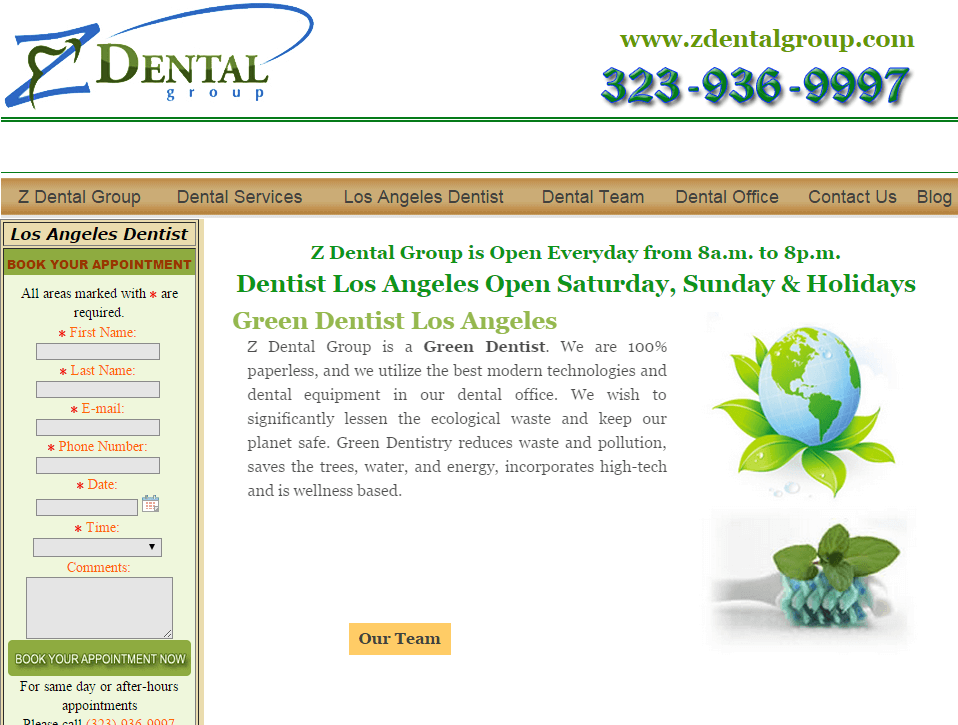 Z Dental Group has a newly remodeled dental office that puts their clients at ease from the moment they enter the building. They provide dentistry with an unparalleled amount of professionalism and technical expertise. As they say on their website "You don't have to be a celebrity to be treated right!"
Z Dental Group is a great choice for any new patient as their reviews can attest. Z Dental Group has achieved their way into the Top 10 Dentists in Los Angeles listing!
---
Thank you for reading our Top 10 Dentists in Los Angeles article, our users have put their voices to use and voted for their favorite dentists in the Los Angeles area!