Helping Anchorage Residents Find IMMEDIATE Dental Services Everyday.
Get relief from chipped, cracked or lost tooth
Abscess, toothache, mouth pain
Emergency dental surgery
24 hour services - Includes weekends, nights and holidays

Emergency Dentist in Anchorage, AK- Find A 24-Hour Dentist Now
Table of Contents
Emergency Dentists USA has you covered when it comes to finding an Anchorage emergency dentist when you need immediate dental care. A comprehensive listing of 24-hour dental offices along with dentists who offer after hour care makes it simple to find the right dentist for your broken tooth, painful toothache, or damaged braces. With walk-in appointments available or evening and weekend hours, your Anchorage emergency dentist is standing by to help you when you need dental care the most.
Emergency Dentists USA provides up-to-date information on emergency dentists in Anchorage and a helpful 24-hour hotline that connects you to a live operator. Need help selecting the right dentist for your emergency? Emergency Dentists USA has the help you need without the hassle of searching for an Anchorage emergency dentist on your own. This is especially important if you are new to the Anchorage area or visiting family friends on vacation.
Finding A 24 Hour Emergency Dentist in Anchorage, Alaska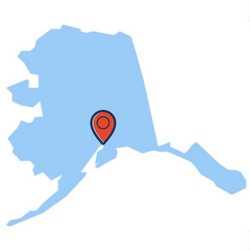 Searching for an emergency dentist in a city that is new to you is definitely not the route that you want to take when you are in pain from a terrible toothache. Emergency Dentists USA offers an extensive listing of Anchorage emergency dentists who are ready to see you when you need them most.
Walk-in dental clinics – Walk-in dental clinics like Peak Health Dentistry at Gentle Care offer emergency services without the hassle of waiting days or even weeks for a dental appointment. Walk-in services are available during their regular office hours.
Emergency 24-Hour Dental Clinics – Specializing in being available 24-hours a day, emergency 24-hour dental clinics like Alaskan Dental Group offer access to an emergency dentist regardless of the time of day or night.
After Hours Dentists – providing dental care after normal business hours or on the weekends is what makes an after hour dental clinic important for anyone who works a job that begins at 9 a.m. and ends at 5 p.m. After hour dental clinics like Frost Dental even provide weekend hours for anyone needing an appointment outside of standard office hours.
Emergency Dentist Listings in Anchorage, Alaska
Emergency Dentists USA makes it simple to choose the right Anchorage emergency dentist for your dental emergency. Located below are a selection of the best emergency dentists in the Anchorage area with details that include office hours, locations, and even services that are provided. Choosing an Anchorage emergency dentist does not have to be a hassle when you simply scroll below and select the dentist who suits your needs and your schedule.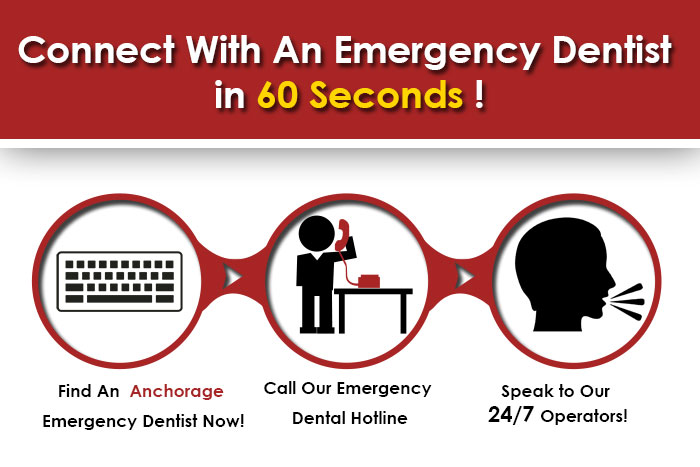 ---
Emergency Dentists USA Referral Service Anchorage
Phone Number: 1 (855) 401-2701
Address: Referral Service to a lot of Dental Offices in each corner of Anchorage
DescriptionThis city known for a snowy backdrop and a location where many come to begin cruises on the Pacific. Don't trust on the standard 9 to 5 operations in town to get you through an emergency, and get in touch with our referral service to see a late night dentist practitioner immediately! Easily find Alaska emergency dentists with our service.
---
Alcan Dental Group
Address: 2819 Dawson Street  Anchorage, AK 99503
Phone Numbers:(907) 562-4774
If Closed: Call 1 (855) 276-1128 and let our Operator help you find an emergency dentist.
Website: www.alcandentalanchorage.com
Description:
Offering family dentistry with a gentle touch, this 24 hour emergency dentist in Anchorage, AK is prepared to address your urgent after hours or weekend dental complications. Dr. Scott Laudon, DMD, is one of those rare dentists open on Saturday or Sunday in Anchorage if your situation calls for it.  They advertise they can accommodate same day appointments as well as accept new patients and children are welcomed.  They have been providing quality dental care in Anchorage, AK.  With their commitment to stay at the forefront of all new things related to the dental field and ability to perform a wide variety of dental procedures, this is one prospect worthy of further review.
---
South Anchorage Dental Center
Number: 907-248-7275
If Closed: Call 1 (855) 276-1128 and let our Operator help you find an emergency dentist.
Office: 9170 Jewel Lake Rd, Anchorage, AK 99502
Doctors: Dr. Broc W. Brimhall
Website: http://www.southanchoragedental.com/
Description: This state is one that is no stranger to harsh climate and those who aren't able to get around the easiest. That's why a clinic that truly is open 24 hours a day is so valuable around here, and such a welcome sight if tooth pain has been ailing you for days. Billed as the fastest after hours service in Anchorage, root canals, extractions, broken teeth or those injured in vast outdoor adventures are all welcome here.
Hours of Operation:
Monday-Tuesday: 8:00am-7:00pm
Wednesday-Thursday: 8:00am-4:00pm
Friday: 8:00am-2:00pm
Saturday: 8:00am-2:00pm
---
Anchorage Midtown Dental Center
Number: 907-562-6456
Office: 2805 Dawson St #101, Anchorage, AK 99503
Doctors: Dr. Guy Burk
Website: http://www.anchoragemidtowndental.com/
Description: The Anchorage midtown dental center has excellent hours of service, you will be able to find a Saturday dentist or Sunday dentist appointment with them in Anchorage from 8am til 5pm. Their hours during the week, however, are also limited to 8am to 5pm so it will be difficult to get to them after or before work each day.
Hours of Operation:
Monday-Sunday: 8:00am-5:00pm
---
Peak Health Dentistry at Gentle Care
Number: 907-337-0304
Office: 6611 Debarr Road, Anchorage, AK 99504
Doctors: Dr. Mark A. Just
Website: http://m.mainstreethub.com/peakhealthdentistry
Description: The Office of Peak Health Dentistry is great for Monday and Thursday nights. You can find them in the office for a walkin dentist appointment until 7pm each of those weeknights. They don't have any weekend hours though, but that's why we give you a large selection of urgent care dentist to choose from so you can have one available anytime!
Hours of Operation:
Monday: 7:00am-7:00pm
Tuesday: 7:00am-5:00pm
Wednesday: 10:00am-5:00pm
Thursday: 8:00am-7:00pm
Friday: 7:00am-3:00pm
---
Alaska Premier Dental Group
Number: 907-337-0404
Office: 6611 #100 & #, 200 Muldoon Rd, Anchorage, AK 99504
Doctors: Dr Brian Kruchoski
Website: http://www.smilealaska.com/
Description:Being open until 6pm Monday through Thursday, this dentist office provides after hours dentist appointments for those of us who have to work 9 to 5. You can rush over to the office after work and get whatever emergency dental procedure done that you need taken care of.
Hours of Operation:
---
Dan Kiley, DDS
Number: 907-562-9209
Office: 4050 Lake Otis Pkwy #100, Anchorage, AK 99508
Doctors: Dr. Dan Kiley
Website: http://www.lakeotisdental.com/
Description: Dr Dan Kiley is an excellent choice if you're struggling to find an emergency dentist on a Wednesday because you can find an apppointment at this office until 6pm, however the rest of the days in the week are pretty limited.
Hours of Operation:
Mon-Tue-Thurs: 8:00am-5:00pm
Wed: 8:00am-6:00pm
---
Frost Dental
Number: 907-885-0681
Office: 3024 Mountain View Dr #107, Anchorage, AK 99501
Doctors: Dr. Gentry Toone
Website: http://thefrostdental.com/
Description: Frost dental is a great option for a Saturday dentist in Anchorage. You can find them in their office from 9am til 3pm on Saturdays, as well as until 6pm most weekdays. This office is a great all around option if you are looking for urgent care dentist work done asap. They are accepting new patients, call ahead to schedule your visit!
Hours of Operation:
Monday-Friday: 9:00am-6:00pm
Saturday: 9:00am-3:00pm
---
How To Prepare For Your Anchorage, Alaska Emergency Dental Clinic Visit
Visiting your Anchorage emergency dentist is similar to visiting your regular dentist. Most emergency dentists perform routine care including x-rays and examinations along with more extensive emergency services.
Gather your recent dental x-rays and any paperwork necessary for your appointment with your Anchorage emergency dentist. This will make it simple to get into that dental office and out of pain.
Try to arrive at least 15 minutes prior to your Anchorage emergency dental appointment. This makes it easy to get that paperwork filled out and ask any questions that you might have prior to seeing the dentist.
Ensure that your selected dentist takes your payment method. Most Anchorage emergency dentists accept cash, personal checks, credit cards, and a variety of dental insurances. Some dentists even offer low interest dental payment plans.
Check to be sure your Anchorage emergency dentist accepts your dental insurance. Choosing a dentist who is outside of your dental network may cost you additional fees.
Bring a current list of your medications to the Anchorage emergency dentist visit. Make sure to inform the staff if you have an allergy to any type of medication.
Do you have intense dental anxiety or fear? Anchorage emergency dentists are used to patients with fear of dental visits. The dental office staff can help to calm your anxieties.
Quality of Urgent Care Dentists In Anchorage, Alaska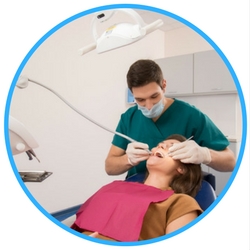 Wandering the beautiful parks of Anchorage makes visiting the state of Alaska an extraordinary experience. There is so much to do and see, including the Anchorage Zoo, zipline adventures over gorgeous glaciers, and the exciting Anchorage Museum. The city houses a population of just over 300,000 people and is known for its variety of cultural sites and spectacular views. Anchorage is the largest city in the state of Alaska and is sometimes known as the Crossroads of the World.
Guests and tourists from all over the world come to Anchorage to take advantage of the gorgeous scenery, enjoy adventures like dog sledding or glacier and wildlife cruises, or spend time hiking and ice climbing. With all of these outdoor activities, sometimes a dental emergency simply pops up and makes it impossible to enjoy your Alaskan vacation. Keep in mind that if your dental emergency comes from a fall or a sports injury, you definitely want to visit a local Anchorage hospital to have an emergency room physician ensure that you are well enough to visit a dentist.
Although healthcare costs in Anchorage are high, the selection of excellent medical care facilities makes it easy to get good healthcare services regardless of where you are in the city. There is a shortage of physicians and nurses in the state of Alaska, but this is changing rapidly as new graduates are encouraged to begin their careers in the Crossroads of the World.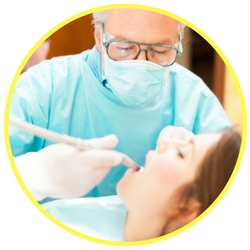 Anchorage does have a selection of excellent hospitals that are standing by to provide emergency medical and dental care 24-hours a day and seven days each week. The best hospital in the city as ranked by US News is Alaska Native Medical Center. Located on Diplomacy Drive, this hospital provides 150 beds and an active emergency department.
Other great hospitals in Anchorage include Alaska Regional Hospital and Bartlett Regional Hospital. Although you have to travel a bit to reach these outlying hospitals, they both offer emergency services for accidents or falls that include injury to your teeth or gums.
If you are unable to contact an Anchorage emergency dentist for your toothache or lost crown, you can visit any of the Anchorage hospitals to see an emergency room physician who can help to alleviate your pain and refer you to an excellent Anchorage dentist.
Common 24 Hour Dental Emergencies
There are plenty of common 24-hour dental emergencies that could potentially ruin your visit to the beautiful city of Anchorage. With an excellent listing of Anchorage emergency dentists right here on Emergency Dentists USA, there does not have to be an interruption in your Alaskan adventure.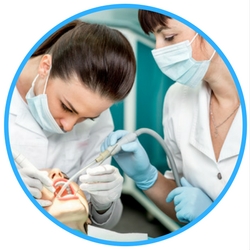 Common 24-hour dental emergencies include painful toothaches that may wake you in the middle of the night or even a dangerous abscess. Other common 24-hour dental emergencies include a lost crown or a loose crown, damaged or broken braces and wires, lost fillings that may or may not be painful, and teeth that are broken or even knocked out completely.
Whether you have something caught between your teeth, a chipped tooth or even a soft tissue injury of the mouth, you have an Anchorage emergency dentist standing by to help you get right back to your Anchorage visit, vacation, or life as quickly and as painlessly as possible.
Remember that EmergencyDentistsUSA.com is a website for informational purposes only. This website should never be used as a substitute for seeing a medical professional. Since every situation is unique, you should always see an Anchorage emergency dentist for any of the common dental emergencies listed below.
Abscess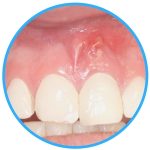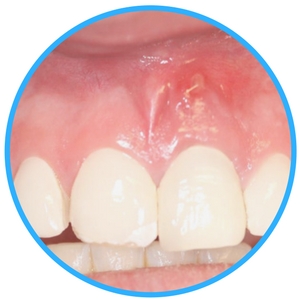 An abscess is an infection that occurs in the gums between the teeth or in the surrounding tissues. This type of abscess can be dangerous because the infection spreads easily to the bone of the jaw.
Rinse your mouth several times each day with a mixture of warm water and ½ teaspoon of salt to draw the pus from the infection to the surface of the gum. Your dentist may treat the abscess with antibiotics. It is extremely important to visit your Anchorage emergency dentist as soon as possible if you suspect that you have an abscess before that abscess spreads to other areas of the mouth.
Loose or Lost Crown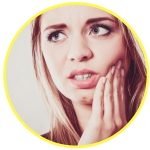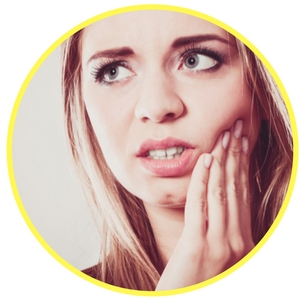 A crown might become loose or even fall out when you are chewing sticky foods like candy. Sometimes a crown will become loose if the tooth below the crown has decayed. You might feel pain when the crown falls out because the damaged tooth is then exposed to the foods that you eat and drink. If you are able to find the crown, rinse it carefully and fill it with an over-the-counter dental cement. Place the crown over the tooth if possible. Be sure to visit your Anchorage emergency dentist as soon as possible to repair the crown or replace it.
Emergency Toothache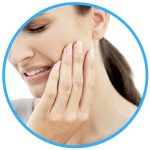 An emergency toothache is one of the most common and painful dental emergencies. A toothache might be caused by a lost filling or a tooth that has decayed to the point where the sensitive interior is exposed. If you have a painful toothache, rinse your mouth with warm salt water and use a cold compress to reduce pain and swelling on the outside of the mouth. Make an appointment to see your Anchorage emergency dentist as soon as possible to relieve the pain and find the underlying cause of the toothache. Never place a painkiller like aspirin in the mouth between the gum and cheek, as this can cause burns to the gums.
Objects Caught in Teeth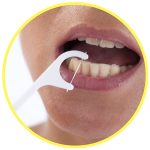 Objects caught in the teeth can be quite painful because they put pressure on the teeth and gums. Rinse your mouth thoroughly and floss gently to remove the object caught in your teeth. If you are unable to remove the object by rinsing and flossing, do not use a pin or other sharp object to probe the area. This can damage the gums further. Make an appointment to see your Anchorage emergency dentist as soon as possible to ensure that anything caught between your teeth is removed and that there is no damage to the tooth or gum.
Tooth Trauma Caused by an Accident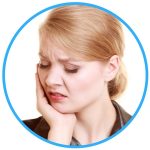 Tooth trauma caused by an accident may result from a fall, a sports injury or even a car accident. The damage can include cracked, chipped, or broken teeth. If you are able to find pieces of the chipped or broken teeth, or even a whole tooth, rinse these pieces carefully and bring them with you to your Anchorage emergency dentist. He or she might be able to repair the teeth. If your accident results in an injury to any part of the body, especially the head, it is extremely important to visit your hospital emergency room to ensure that you have no broken bones or other dangerous injuries.
Do You Need an Emergency Tooth Extraction?
You might need an emergency tooth extraction if you have a tooth that has decayed to the point where a dentist is no longer able to repair it. You might also need an extraction if a tooth is crowding other teeth or growing at an abnormal angle. Waiting to have your emergency tooth extraction can cause the tooth to decay even more, making the situation more complicated and even more painful.
When you visit your Anchorage emergency dentist for a tooth extraction, he or she will begin your visit with an examination and an x-ray. The dentist chooses a local anesthetic or a general anesthetic to numb the area of the tooth.
He or she then selects a special tool to pull the tooth out of the gum. The area is often stitched closed and packed with dampened gauze to stop any bleeding. These stitches are designed to dissolve over time. Full healing generally occurs within one to two weeks of the emergency tooth extraction.
During the healing period, it is important to follow your dentist's instructions carefully. Avoid eating hard foods or drinking through a straw. It is also recommended that you avoid smoking or drinking alcohol during the healing process.
Emergency Room Versus Emergency Dentist

Heading to the hospital emergency room rather than your Anchorage emergency dentist is a great idea if you have tooth damage that has resulted from a car accident, sports injury or a fall. If you suspect that you might have an injury to other parts of the body, going straight to the ER is an important step.
If your damage is only to your teeth, your Anchorage emergency dentist should be your first choice for tooth repair. Most hospital emergency rooms are not equipped to treat dental emergencies and visiting the ER for a dental emergency might cause you to end up with two medical bills, since you will most likely be required to follow up with a dentist once you leave the ER.
An emergency room physician can confirm that you have no injuries other than tooth damage, select appropriate medications if necessary and refer you to an Anchorage emergency dentist for the actual repair of your teeth.
FAQ
The wire on my braces broke, should I cut it the rest of the way off?
No. Cutting the broken wire on your braces can cause the repair of the braces to be more complicated and costly. Use the eraser end of a pencil to push the wire into a more comfortable position in your mouth, or cover the end of the wire with a cotton ball or orthodontic wax. Visit your Anchorage emergency dentist to repair the braces.
What is plaque and why is it bad?
Plaque is a sticky substance that adheres to the teeth due to improper brushing and flossing. Plaque eventually hardens into tartar that is more difficult to remove from the teeth. Bacteria found in the plaque secrete acids that actually cause tooth decay.
Are electric toothbrushes better than manual brushes?
Electric toothbrushes are better than manual toothbrushes if you have dexterity problems that affect the use of your hands. Used correctly, electric toothbrushes and manually toothbrushes are equally good for removing plaque.
I've recently been diagnosed with diabetes. Are there any dental problems that are associated with this disease?
Yes, there are dental problems that are associated with diabetes. Because diabetes can reduce the supply of blood to the gums, the gums can weaken and are less likely to hold teeth in place correctly. Diabetes can also cause a dry mouth that makes the risk of tooth decay higher.
Why don't my dentures seem to fit anymore?
Your dentures might not fit anymore because of bone loss. When teeth are not implanted in the gum and bone, the bone around the teeth eventually disappears. This means that changes to the bone structure of your jaw will allow the dentures to loosen and even make them uncomfortable. Dental implants are an excellent solution to this problem.
24 Hour Dentist Anchorage Options
With its gorgeous scenery and friendly locals, Anchorage is a wonderful place to visit or even to call home. Step away from the hustle and bustle of big city life to visit the Tony Knowles Coastal Trail and admire the amazing wildlife or spend a day learning at the Alaska Native Heritage Center.
The chilly climate makes it easy to spend time outdoors if you love skiing, snowboarding or even spending time exploring the beauty of this winter wonderland. With plenty of Anchorage emergency dentists at your fingertips, there is no reason that a painful toothache or a broken tooth should end your enjoyment of Alaska.
Dr. Laudon at Alcan Dental Group offers emergency dental services for those times when a toothache wakes you in the middle of the night or on a Saturday. You can visit Peak Health Dentistry at Gentle Care for a walk-in visit with a kind and experienced dentist who understands your emergency and works hard to treat you like family. Alaska Premier Dental Group provides after hours dental appointments until 6 p.m. on weekdays, making it simple to get that dental care you need without missing a day at the office. Plenty of Anchorage emergency dental solutions make Anchorage a perfect place for treating your dental ailment.
When you select a new dentist, it is important to check his or her credentialing and ensure that the dentist is licensed to practice in Alaska. You can use the American Dental Association website located here: www.ada.org to search for your Anchorage emergency dentist and check the credentialing. You can also use the Alaska Dental Society website located here: www.akdental.org to verify your dentist's credentials and even get information about his or her dental practice. Anchorage has its own dental society located here: http://www.anchds.org/. The website offers information regarding dental care and local dental services.
Your local Anchorage hospital emergency department is open 24-hours per day and seven days per week to address dental emergencies when you are unable to contact an Anchorage emergency dentist.
Remember that Emergency Dentists USA is a website designed for informational purposes only and should not be used to replace the advice of an actual medical professional. If you are having an emergency and cannot reach a dentist, call 911 or visit your nearest hospital emergency room to ensure immediate response and safety.