Helping Bellevue Residents Find IMMEDIATE Dental Services Everyday.
Get relief from chipped, cracked or lost tooth
Abscess, toothache, mouth pain
Emergency dental surgery
24 hour services - Includes weekends, nights and holidays

Emergency Dentist in Bellevue, WA – Find A 24-Hour Dentist Now
Table of Contents
Emergency Dentists USA makes it easy for you to choose a great Bellevue emergency dentist no matter what type of dental emergency you encounter. From a broken tooth to a painful toothache, Bellevue emergency dentists are standing by to get you out of pain quickly, and back on the road to a fun vacation. The unique service provided on the EmergencyDentistsUSA.com website gives you the choices you need to select an excellent Bellevue emergency dentist without the hassle of driving around the city searching for an office that is open. Our convenient listing of Bellevue emergency dentists is simple to scroll through, offers a large selection of competent and friendly dentists, and gives you both office hours and driving directions.
Use our 24-hour emergency dental hotline to speak with a live operator who can assist you in choosing a dentist and even set up that first appointment. Pick a walk-in dental office or select an after hour dentist with office appointments that suit your schedule.
Finding A 24 Hour Emergency Dentist in Bellevue, Washington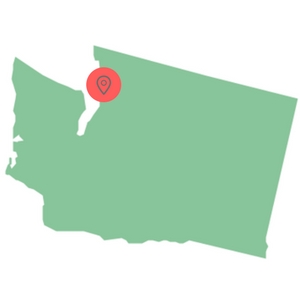 While you spend time wandering the gorgeous grounds of the 53-acre Bellevue Botanical Gardens, worrying about a cracked tooth definitely destroys the ambiance. No one wants to spend a weekend in pain with a toothache or an abscess that gradually worsens. Luckily, Emergency Dentists USA has a great selection of Bellevue emergency dentists to provide you with dental service right now.
– Walk-in dental clinics – Dental clinics that allow patients to come in without an appointment are tough to find. Bellevue Emergency Dentist accepts walk-in patients and handles your emergency with care.
– Emergency 24-Hour Dental Clinics – Clinics that specialize in being open 24 hours a day are not available in Bellevue, but there are great hospital emergency rooms that provide medical and dental care 24-hours a day and seven days a week.
– After Hours Dentists – After hours dental offices like Factoria Dentistry provide appointments after normal business hours or on the weekends. You can see Dr. Chihab on Saturdays from 8 a.m. until 2 p.m. when your dental emergency strikes on a weekend.
Emergency Dentist Listings in Bellevue, Washington
Emergency Dentists USA is an excellent resource for anyone seeking a dentist while visiting an unfamiliar city. From walk-in dental clinics to 24-hour emergency dental services, our convenient dental listings are the perfect answer for your painful dental problem. Simply scroll through the listings below and choose the Bellevue emergency dentist with a location that is close to your home or hotel. You can also use our 24-hour dental emergency hotline to speak with a live operator who can assist you in choosing a new Bellevue emergency dentist.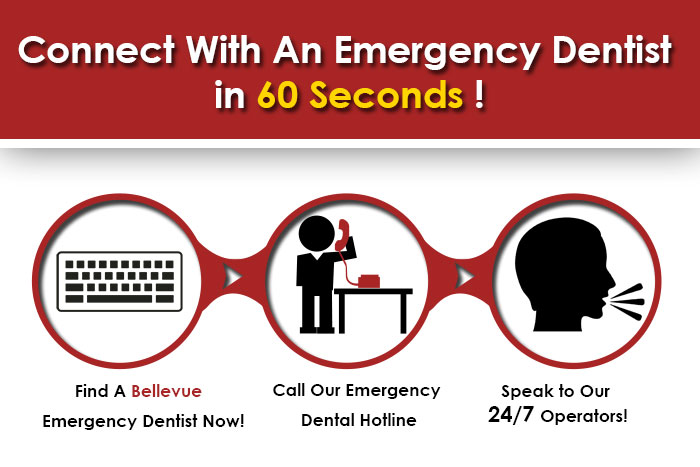 ---
Brookside Dental
Website: brooksidedental.com
Address: 13715 Bel Red Road Bellevue, WA 98005
Telephone: (425) 643-2818
Description:
This dental clinic certainly has a history on this site. We ranked them as one of the eight best dental websites online right now. Last we checked they were ranked number one in our user poll. Anyways, expect top quality care from Brookside Dental with hours that can definitely fit into your schedule. Their email responses are timely and are willing to take on any emergency you may have come by. We highly recommend Brookside Dental.
Monday 8 am to 6 pm
Tuesday 8 am to 6 pm
Wednesday 8 am to 6 pm
Thursday 8 am to 6 pm
Friday – Closed
Saturday – Closed
Sunday – Closed
---
Bellevue Emergency Dentist
Address: 12453 Bel-Red Rd Suite 200, Bellevue, WA 98005
Telephone: 425-527-9279
Website: bellevueemergencydentist.com
Description:  Dr. Matt Rafie is all too glad to be your dentist open on Saturday in Bellevue, Wa when bad news on the dental front comes a visiting.  Open throughout the week and on Saturday from 9 am to 2 pm, this dental facility is well primed to handle an assortment of problems that might plague you such as a lost filling, chipped tooth, an acute toothache, teeth that are decayed, wisdom tooth that is broken or sore.  These types of ailments make up many of the problems people have when them come visit Dr. Rafie, but whatever your issue is be assured this clinic desires to be your walk in dentist in Bellevue, Wa of choice.
---
Factoria Dentistry
Address: 4301 Factoria Boulevard S.E., Suite B, Bellevue, WA, 98006
Telephone: 425- 747-8788
Website: factoriadentistry.com
Description:  Yet again we have been able to locate a dentist who is offering to be your Bellevue dentist for Saturday emergencies given that they office hour run from 8:00 am to 2:00 pm.  A weekend dentist in Bellevue is sometimes a godsend if you are in an accident and suffer from an oral injury.  Having a qualified dental ER oral physician look at you and get you back up on your feet without pain is a must when you are struck down.  This clinic describes themselves a  friendly and family oriented location in South Bellevue and with Dr. Chihab's exceptional training and experience of over 12 years, you can be certain that you will get the immediate care necessary.
How To Prepare For Your Bellevue, Washington Emergency Dental Clinic Visit
– Most emergency dental clinic visits are similar to regular office visits. Bellevue emergency dentists perform routine dental care like cleanings along with more complicated dental procedures.
– Gather your recent dental x-rays and examinations to bring with you to visit your Bellevue emergency dentist. These records can help your new dentist to choose a care plan that benefits you.
– Arrive 15 minutes early to facilitate filling out paperwork. This also allows you time to ask questions regarding your dental procedure. Remember to arrive early enough to ensure that you feel relaxed in your new Bellevue emergency dental clinic.
– Make sure you know how you're going to pay and if the dentist accepts your form of payment, cash, credit, or insurance. Most dental clinics also offer low-interest payment plans for larger dental services.
– Choose a Bellevue emergency dentist who is in your dental insurance network. This can save you money when the time comes to pay your dental bill.
– Just like any medical visit, make sure you know if you have any allergies to medicines. Bring a current list of your medications with you to visit your new Belleview emergency dentist.
– Do you have intense dental anxiety or fear? Let the Bellevue dental office staff know if you need special consideration when visiting the dentist. The office staff is trained to help you to deal with dental anxiety and fear.
Quality of Urgent Care Dentists In Bellevue, Washington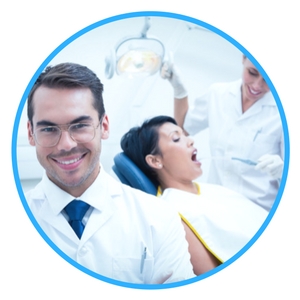 Bellevue is located just across Lake Washington from the large city of Seattle. The city of Bellevue is home to almost 150,000 residents and was ranked the second best place to live by USA Today in 2014. With towering buildings and serene lakeview shops, Belleview is both inviting and exciting for visitors.
Spend a little time at the Bellevue Downtown Park to enjoy waterfalls, blooming gardens and 21 acres of grassy common areas that are perfect for afternoon strolls and picnics. Wander over to the KidsQuest Children's Museum for a little fun and an exceptional learning experience that makes it an amazing place for families with children. Fishing, bicycling, and hiking all within the shadow of the Olympic Mountains means that Bellevue has plenty to offer for lovers of the outdoors who want to enjoy the natural beauty of the state of Washington.
Dealing with a dental emergency while you are on vacation is definitely not a task that makes anyone happy. Bellevue, the city of "the beautiful view," has a large selection of emergency dentists who provide great dental care regardless of the type of emergency that you are suffering. If the emergency strikes late at night or on a Sunday, the city of Bellevue also offers hospitals that are open 24-hours a day and seven days a week to treat your dental problem promptly.
When a dental emergency includes a fall, a car accident, or even a sports injury, it is important to go straight to a Bellevue hospital to ensure that your injuries are not dangerous to your health. Visit Overlake Hospital and Medical Center on 116th Avenue for quick treatment in the case of an emergency. This hospital is regionally ranked number nine in the state of Washington and number seven in the Seattle metro area. It is also ranked high performing in several adult medical procedures or conditions. Overlake Hospital and Medical Center has a great emergency department that is open regardless of the hour of day or night.
You can also head to the University of Washington Medical Center located in nearby Seattle for a dental emergency. Attached to the University of Washington, this medical center is ranked number one in the state of Washington and offers prompt care for dental and medical emergencies at any time of the day or night. Nationally ranked in 11 adult specialties, this Bellevue area hospital is a great choice for anyone with a dental problem that needs to be addressed immediately.
Common 24 Hour Dental Emergencies
Bellevue is a gorgeous city to explore and enjoy while you are in the state of Washington. With so many things to do and see, getting sidetracked by a dental emergency means missing out on those fun days with family and friends. Emergency Dentists USA provides a convenient listing of Bellevue emergency dentists who are standing by to deal with your common dental emergency.
Some of the most common dental emergencies include painful toothaches or an abscess that makes it uncomfortable to chew. You might also experience a cracked or chipped tooth, a broken tooth, or a tooth that is knocked out completely. A common dental emergency might include brackets or braces that are loose or have a wire that is broken. You might encounter a lost filling or a loose or lost crown while visiting the city of Bellevue. A soft tissue injury to the mouth or lips might also cause you to seek a dentist on an emergency basis. Bellevue emergency dentists are always available to help you get out of pain quickly.
Reading advice on the EmergencyDentistsUSA.com website is not a substitute for seeking advice from a medical professional. Every emergency situation is unique and you should visit a dentist for any of the dental situations listed below.
Abscess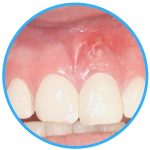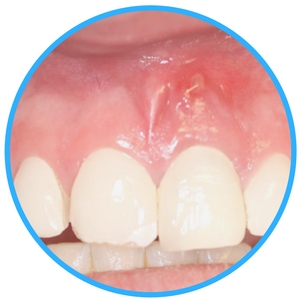 An abscess sometimes begins as a painful lump on the gum between the teeth or below the teeth. This lump is actually an infection that can spread quickly to other areas of the mouth, including the bone of the jaw. Use a solution of salt water to rinse your mouth several times to draw the pus toward the surface of the gum. Do not use any type of sharp object to poke the gum in the area of the abscess. Visit your Bellevue emergency dentist as soon as possible to treat an abscess as this type of dental emergency becomes dangerous quickly.
Lost Filling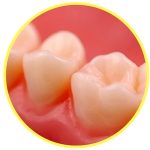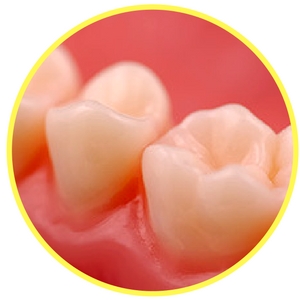 A lost filling is a common dental emergency that sometimes occurs when a person is eating. This type of dental emergency might not be painful because the tooth decay has not reached the sensitive portion of the tooth. Use a small piece of sugarless gum to fill the hole where the filling was located and visit your Bellevue emergency dentist as soon as possible to have the filling replaced. Do not use gum with sugar to fill the cavity, as this can cause pain. You can also choose over-the-counter dental cement to fill the cavity until you can see your dentist.
Emergency Toothache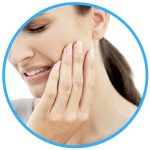 An emergency toothache can become so painful that it is difficult to think of anything but the pain. Rinse your mouth with water and floss between your teeth to remove any food or debris that might be causing the pain. Do not place aspirin or any other painkiller between your tooth and cheek as this can cause chemical burns to the soft tissue of the mouth. Do not use a pin or any other sharp object to probe between the teeth. Visit your Bellevue emergency dentist as soon as possible to relieve the pain of an emergency toothache.
Broken or Loose Braces & Wires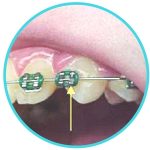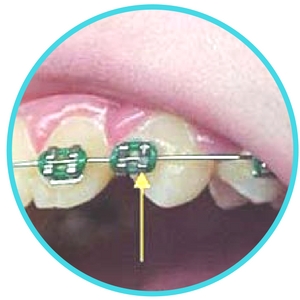 Broken or loose braces and wires can be both painful and embarrassing. This type of dental emergency requires quick treatment. Do not cut a broken wire. Simply use the eraser end of a pencil to push the wire into a more comfortable position. You can also cover the sharp end of the wire with a cotton ball or a small amount of orthodontic wax to protect your gums and cheeks. Use dental wax to attach loose braces to the teeth. Visit your Bellevue emergency dentist as soon as possible to have the broken or loose braces and wires repaired.
Do You Need an Emergency Tooth Extraction?
An emergency tooth extraction is a procedure that you might need if you have a tooth that has decayed to the point where a dentist is no longer able to repair the tooth. It is important to have that tooth extracted as soon as possible to avoid any complications and to lessen the need for medications. Your Bellevue emergency dentist usually begins the emergency extraction by taking an x-ray of the tooth and then performing an examination of the tooth. He or she will choose a local or a general anesthetic to ensure that you are comfortable throughout the extraction procedure.
A special dental tool is used to pull the tooth out of the gum, and the gum is then stitched closed with a type of suture that dissolves over time. This means that you will not need to have the stitches removed from the gum. A small piece of gauze is placed over the gum to stop any bleeding, and full healing usually occurs within one to two weeks. It is important to follow any instructions given by your Bellevue emergency dentist. Take medications as directed, and avoid eating hard foods or drinking from a straw for the first few days after the extraction. Also, try to avoid drinking alcohol or smoking until the gum is fully healed.
Emergency Room Versus Emergency Dentist

Heading to the emergency room for a painful toothache means spending time in the waiting room, seeing a physician who is not a dentist, and possibly getting a huge bill from the hospital. Unless your dental emergency includes a fall, a sports injury, or an accident that might have damaged any other part of your body, your Bellevue emergency dentist is the best choice to remedy that dental emergency. In general, an emergency dentist charges less than a hospital emergency room and offers all of the services that you need in order to get out of dental pain quickly.
Always go straight to a hospital emergency room if your dental emergency includes an accident, a fall or a sports injury. You could have a more dangerous medical problem like a concussion that requires immediate attention from a trained physician. This is especially important if your fall or injury includes a broken bone or a head injury.
FAQ
When will my child get his first tooth?
Every child grows and matures at a different rate. In general, your child will get his or her first tooth between the ages of three months and 14 months. Most children get their first tooth at about six months of age.
My child's baby teeth have cavities. Why should they be filled if they're just going to fall out in a few years?
If your child's baby teeth have cavities, they require the same dental care and attention as your adult teeth. Because the baby teeth are above the adult teeth in the gum, the tooth decay can continue beyond the baby teeth to the adult teeth below. Children with cavities in their baby teeth might also require a change in diet or in tooth care in order to protect those teeth. Your dentist can recommend ways to keep your child's teeth healthy.
What are sealants and why are they done?
Sealants are protective coatings that are applied to the teeth. These coating bond to the chewing surface or the crown of the tooth, and protect the tooth from damage that is caused by eating and drinking. Sealants are often applied once a child has his or her adult molars to protect those teeth as the child reaches adulthood.
My dentist says I have a cavity and that I need a filling. But why doesn't my tooth hurt?
Your tooth might require a filling if the tooth has begun to decay. This tooth decay might not be painful because the sensitive portion of the interior of the tooth has not been affected at this time. Your dentist tries to catch tooth decay quickly so that you do not experience the pain of a tooth that has decayed to the sensitive pulp.
What is a root canal?
A root canal is a dental process that includes the removal of the infected pulp of the tooth. A small hole is drilled into the tooth and the infected pulp is cleaned away. An inert material is injected into the tooth and the hole in the tooth is filled. This process is not painful and provides protection for the tooth.
24 Hour Dentist Bellevue Options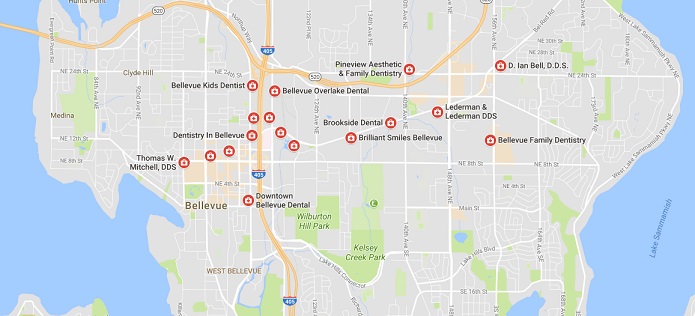 Bellevue is a perfect location for spending a weekend enjoying beautiful views of the mountains of Washington State. Getting stuck with a dental emergency makes it tough to appreciate that vacation, but there are excellent Bellevue emergency dentists standing by to take care of your dental problem.
Visit Factoria Dentistry for a wonderful after hours dentist who makes it his primary goal to keep your teeth healthy and your smile happy. Open on Saturdays from 8 a.m. until 2 p.m. and offering weekday appointments too, Dr. Chihab is an excellent choice when it comes to selecting a new Bellevue emergency dentist.
Bellevue Emergency Dentist offers walk-in dental appointments for those terrible dental emergencies that just will not wait. You can even see Dr. Matt Rafie on a Saturday from 9 a.m. until 2 p.m. for help with that painful dental problem that occurs on the weekend.
Brookside Dental makes it easy to handle that abscess or broken tooth by offering office appointments from 8 a.m. until 6 p.m. on Monday through Thursday. Closed on Friday, Saturday and Sunday, this dental office opens early and stays open late to cater to dental problems that strike in the evening or in the morning.
When your dental emergency includes an accident, a sports injury, or a fall, Bellevue hospitals are open 24-hours a day and seven days a week to ensure that you get immediate medical care. Local hospitals are a great choice for any dental emergency that might include other bodily injuries.
Use the American Dental Association's website to ensure that your new Bellevue emergency dentist has the proper licensing and credentialing to treat your dental emergency. You can also use the Washington State Dental Association's website to check on local dentists, learn more about tooth care and get tips on choosing dental products to protect your teeth.
This Emergency Dentists USA portal is a website for information only, and should be not used to replace the actual advice of a medical professional. If a patient is having an emergency and cannot reach a dentist, call 911 to assure immediate response and safety.
Looking for an appointment with a 24 hour emergency dentist in Washington DC?