Find Top Rated Orthodontic Dentists Specializing in Dental Braces Near You
Dentists Who Put on, Remove and Maintain Braces
Dental Braces Emergencies
Braces Dentist Near Me – Find an Emergency Orthodontist Near You
Why Choose an Emergency Braces Dentist or Orthodontist
Some of the reasons that a person might choose to visit a braces dentist or an orthodontist are purely cosmetic. A patient might have a tooth that is slightly crooked and he or she may want to improve that smile. A person might be suffering with a lack of self-esteem due to a smile that is not quite perfect, and your local orthodontist understands these problems. For many patients, visiting an orthodontist or a braces dentist has nothing to do with just smiling. Many patients find that their teeth are crowding their jaw and causing pain, teeth are not fitting well in a narrow upper jaw, or teeth have been damaged due to a finger or thumb habit as a child. A person might choose an orthodontist due to a severe overbite, underbite, or even severe mouth breathing that is uncomfortable and embarrassing. Whether your dental problem is cosmetic or painful, an orthodontist near you can change your smile completely.
Selecting an orthodontist or a braces dentist near you rather than choosing to visit your regular dentist is a simple choice. Although your general dentist has an education that allows him or her to perform most dental services with great skill, an orthodontist is a specialist who has extra education. A typical orthodontist has almost two more years of training than a general dentist. He or she has to complete a rigorous orthodontic residency program that is accredited by the state. Orthodontists near you are also specially trained in areas that include the movement of teeth and the development of facial structures. Many orthodontists prefer to begin their work when a patient is young and the teeth are still forming, making it easier to complete large changes more quickly. Your orthodontist is also trained to realign teeth on teens and adults.
"Orthodontic treatment is usually associated with children and young people, because it is somewhat easier to move teeth when the patient is still growing. But this doesn't mean adults can't benefit from orthodontics, too."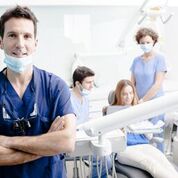 FAQ
What is Emergency Orthodontics?
Orthodontics is a special type of dentistry that is designed to treat, prevent, and diagnose abnormalities in the position of the teeth and jaw. An orthodontist uses special appliances like braces to move teeth into proper alignment to create a better smile and a more comfortable patient.
Is There an Age Limit For Orthodontics?
No. There really is no set age limit for a patient who requires braces. In fact, almost one-fourth of the orthodontic patients are adults.
Do Crooked Teeth Correct Themselves Over Time?
No. Once the adult molars have erupted, the jaw no longer grows over time. This means that permanent teeth are in position once they break through the gum. They do not move into a better position over time unless they are manipulated by an orthodontist.
Are There Different Types of Braces?
Yes. There are many different types of braces. Some of the most common of these dental appliances include traditional braces, ceramic braces, clear or removable aligners, Damon braces, and palatal expanders. There are even braces that are almost invisible because they are attached to the inside of the teeth closest to the tongue.
How Long Do I Have to Wear Braces?
The length of time that you will need to wear your braces varies depending on your exact dental situation. On average, a patient wears braces for about 12 to 30 months. Some of the latest orthodontic technologies allow for faster changes in the mouth, shortening the time required for braces to about 15 to 18 months.
Let Us Help Find a Braces Dentist Near You
Whether you are 6 or sixty, finding a braces dentist or an orthodontist nearby is definitely not a search that you want to begin without a little background information. Luckily, the Emergencydentistsusa.com website has done the research for you when it comes to choosing a nearby braces dentist or orthodontist. Just log onto our comprehensive website and browse the local orthodontists who are standing by to straighten those teeth and create an amazing smile. The Emergencydentistsusa.com website provides you with a convenient listing of orthodontists near you with all of the information that you need to set up that first appointment. You can find office hours, services provided, and even driving directions at your fingertips when you visit our website. We have hand-selected local orthodontists who offer a variety of options when it comes to correcting your bite or creating a cosmetically beautiful smile. Do not suffer with crooked teeth or an uncomfortable bite, Emergencydentistsusa.com has the nearby orthodontist that you need to get your very best smile.
Call Our Toll-Free Dentist Finder Hotline
When you need some extra help selecting the right orthodontist or braces dentist, you can also use our 24-hour dentist finder hotline. Just call the toll-free number and get connected with a caring agent who can help you decide which local orthodontist is right for your dental situation. Your agent is able to help you to choose a dentist, and can offer driving directions that make your trip a breeze. He or she can even help you to set up that first appointment, so that you do not have to do it alone. The dentist finder hotline is always toll-free and is open every day of the week.
Preparing for Your Orthodontist Appointment
Your first visit with your local orthodontist or braces dentist will be a consultation. Sometimes you are referred to an orthodontist by your general dentist and sometimes you choose to visit an orthodontist because of your own dental problems. Your nearby orthodontist will want to explain the best treatment for your particular dental situation and often uses the consultation visit to determine what you expect from the dental treatment.
Remember to bring your dental insurance card with you to your first appointment. You will also need to produce a photo ID and any necessary copayment for that first orthodontic consultation. Keep in mind that many dentists and orthodontists offer payment plans or credit plans for patients who require extensive services. This is especially true when you are getting a new set of braces to straighten your smile. Try to arrive at least 15 minutes prior to your appointment to fill out the new patient paperwork. You can also use this time to ask any questions that you might have for the dentist.
You should also check to ensure that your new local orthodontist is properly licensed and credentialed to perform dental services in your state. You can do this by entering his or her name into the search box on the Dental Association website for your state. You can also see current licensing and credentials by visiting the dental office. Most dentists keep this type of licensing information on display in the office.
Medically Fact-Checked & Written by Our Dental Editorial Team
You can read more about our editorial guidelines by clicking this link and learn more about the Emergency Dentists USA editorial team here.