Helping Thousands of People Each Year Find Dental Services
Emergency dental surgery, cavities, general dental care.
Find immediate help, no insurance required.
Get relief from chipped, cracked or lost teeth, abscesses or toothaches.
Emergency Dentists Cedar Rapids IA
24 Hour Dentists Cedar Rapids, IA
Emergency dentists are as essential in a city as any other type of emergency facility. Emergency dentists are open 24/7, giving one the chance to visit the dentist either in the middle of the night for a chipped tooth or to visit the dentist during the weekends, when normal dental clinics are closed. Being patient until the morning or waiting for the dentist until after the weekend is over may not always be the wisest solution, as dental problems may signal to some other major underlying issue. Also, for those who happen to work during the weekdays and cannot afford to visit a dentist during those times, emergency dentists also offer them a great opportunity to visit during the weekends, for a routine dental checkup.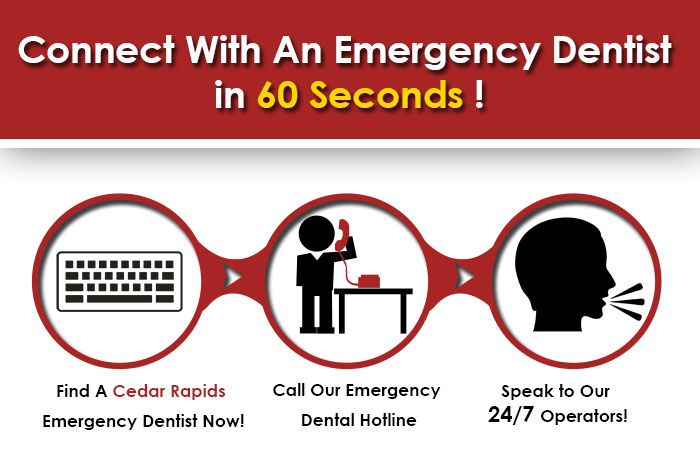 Emergency Dental Cedar Rapids
For those living in the second largest city in the state of Iowa, they know the value of emergency dentists, being a city of around 255,000 people. It is only obvious that emergency dentists would be highly prized in a city as populated as such, since there has to be someone to look after the emergency dental issues of the population.
It is best to know some of the names and numbers of the emergency dentists nearby, as you never know when you might need them. That is why we have made a list of a few places where you could go to if you have an emergency. You can get emergency dental help in Iowa fast.
List of Emergency Dentists
---
Emergency Dentists USA Referral Service Cedar Rapids
Phone Number: 1 (855) 401-2701
Address: Referral Service to multiple Dental Offices in Cedar Rapids
Description When traveling through the Cedar Rapids, there are many ways in which a dental emergency could quickly present itself. If you're having a dental emergency it's important to get help fast. Call our hotline and we'll help you find a dentist near you fast!
---
Cedar Rapids Smile Center, PLC
Address: 1260 3rd Ave SE, Cedar Rapids, IA 52403
Telephone: (319) 362-7334
Website: cedarrapidssmilecenter.com
Description:
Monday 7:30am – 6pm
Tuesday 8am – 5pm
Wednesday 7:30am – 5pm
Thursday 8am – 6pm
Friday 7am – 1pm
Saturday Closed
Sunday Closed
---
Family SmileCare Center PLC
Address: 1630 32nd St NE, Cedar Rapids, IA 52402
Telephone: (319) 362-8657
Website: familysmilecarecenter.com
Description:
A family dentistry located at 1630 32nd St., it offers specialist care,such as Pediatric Dentistry, Cosmetic Dentistry, and Oral Surgery for Tooth Veneers, Tooth Whitening, Tooth Extraction, Dental Implants, and Sedation Dentistry, etc.
Monday 7am – 6pm
Tuesday 7am – 6pm
Wednesday 7am – 6pm
Thursday 7am – 6pm
Friday Closed
Saturday Closed
Sunday Closed
---
Spring Valley Dental Care
Address: 3605 Center Point Rd NE # B, Cedar Rapids, IA 52402
Telephone: (319) 294-2281
Website: springvalleydentalcare.com
Description:
Spring Valley Dental Care has been the community dental practice of Cedar Rapids for over 20 years, offering a state-of-the-art care in a personal and comfortable environment. Dr. John McGrane and his friendly team have years of experience treating a wide variety of dental needs, such as restorative care, cosmetic treatments or straightening teeth with invisalign.
Monday 7:30am – 4pm
Tuesday 7:30am – 4pm
Wednesday 7:30am – 4pm
Thursday 7:30am – 4pm
Friday Closed
Saturday Closed
Sunday Closed
---
Lindale Dental Care
Address: 3730 1st Ave NE, Cedar Rapids, IA 52402
Telephone: (319) 362-2313
Website: lindaledentalcare.com
Description:
They provide services, such as Bonding, Cosmetic Contouring, Crowns and Bridges, Implants, Grafts, Root Canal Therapy, Extractions, Dentures, Veneers, Whitening, etc.
Monday 7:15am – 6pm
Tuesday 7:15am – 6pm
Wednesday 7:15am – 6pm
Thursday 7:15am – 6pm
Friday 7:15am – 3pm
Saturday Closed
Sunday Closed
"Over the years, I have had patients show up in my office stating they woke up and their face was swollen. This was their first sign of a problem. It is never a good idea to ignore swelling or think that it will get better as the day progresses. It won't. It will only get worse. Take swelling around the face and mouth very seriously. Call a dentist immediately. If you don't know where you should go, call the Emergency Dentists USA 24/7 hotline. We are ready to assist in your search."
Medically Fact-Checked & Written by Our Dental Editorial Team
You can read more about our editorial guidelines by clicking this link and learn more about the Emergency Dentists USA editorial team here.