Helping Thousands of People Each Year Find Dental Services
Emergency dental surgery, cavities, general dental care.
Find immediate help, no insurance required.
Get relief from chipped, cracked or lost teeth, abscesses or toothaches.
Cosmetic Dentist El Paso – Find The Best Cosmetic Dentistry in TX
Cosmetic Dentistry In El Paso Texas
While plenty of people go to the dentist for the sake of dental health exclusively, many more people are primarily interested in cosmetic dentistry. To a large extent, cosmetic dentistry is interwoven into American culture in general, and this page is to help you find a cosmetic dentist in El Paso, TX.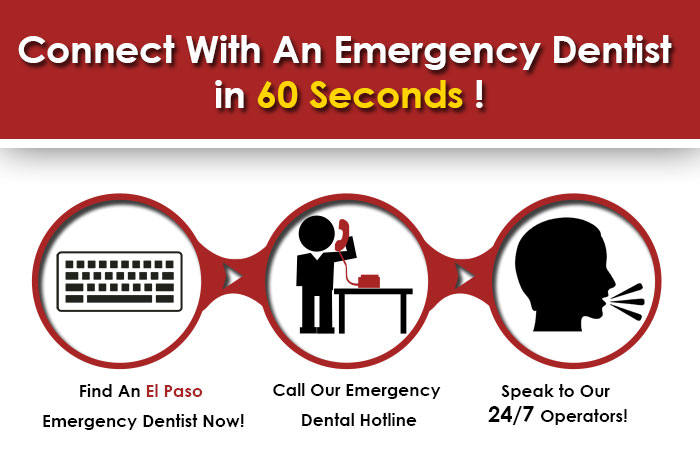 Getting braces during one's adolescent years is practically considered a rite of passage in the United States. Many people will regularly get teeth-whitening procedures performed in a culture that prizes having unnaturally white teeth. Few people have naturally blindingly white teeth, and having teeth that are slightly tinted is normal. However, cosmetic dentistry is popular enough to have made the abnormal more normal than what is genuinely normal.
People have many options when it comes to cosmetic dentistry. Plenty of individuals will choose to get their teeth capped if they have uneven teeth or teeth that appear to be irregularly shaped in any way. There is a sort of prototypical smile that a lot of people aspire to in one way or another, and cosmetic dentists will try to replicate that prototype through capping people's teeth, among other things.
Some people will get certain teeth removed altogether if they are sufficiently damaged or askew, and they will have new teeth added to their mouths to create the illusion of symmetry. Other people might try to get their elongated teeth filed down to a more manageable size, or they might get sharper edges filed down to the point that they are no longer sharp. Many seemingly insurmountable dental problems are, in fact, fixable.
Cosmetic Dental El Paso
Choices for a Cosmetic Dentist El Paso TX
Picasso Smiles
Picasso Smiles is a dental office that can help with all sorts of different cosmetic dental procedures. People can get gaps in their teeth filled in while also repairing cracks in their teeth, decayed sections in their teeth, and uneven dental bites. Individuals will walk in with a smile that is falling apart and decaying, and they will walk out with a white and even smile. People may have decaying teeth for all sorts of reasons, and they may be concerned that young and healthy teeth are a thing of the past for them. In fact, the appearance of decayed teeth is fixable today, and Picasso Smiles can use their proverbial artistry to make old teeth new again.To schedule an appointment, call Picasso Smiles at (015) 587- 6453
Sunny Smiles
Sunny Smiles El Paso Adults and Kids Dentistry is another great option for the people who are looking for a great cosmetic dental service in the area. Like Picasso Smiles, they offer standard dentistry as well, in addition to the services that skirt the line somewhat. People can get veneers, tooth whitening, crowns, fillings, bridges, full dentures, and partial dentures through them. This is another dental service that can transform a person's smile and his or her life. Children are in need of cosmetic dentistry at times as well, and this particular service is able to serve all age groups more effectively than many other dental services.The office is located on 1788 N Zaragoza Rd, El Paso, TX 79936 and they can be reached at (915) 849-9000.
Dr. Spivack, D.D.S
Dr. Spivack, D.D.S. is a dentist with his own practice, and yet he has managed to carve out the sort of reputation that is normally only reserved for the sort of larger practices that manage to attract a lot of dentists and a lot of patients. He certainly has managed to attract a lot of patients in his own right. His office offers both cosmetic dentistry and what he refers to as restorative dentistry. Essentially, these services are separated by the recognition that some dental problems are inherent, and some of them come with the passing of time. He's a dentist who will be able to correct problems from both categories.The office is located on 8815 Dyer St, El Paso, TX 79904, United States and they can be reached at (915) 755-7697.
Additional Cosmetic Dental Considerations
Some people might actually need new replacement teeth when they go to cosmetic dentists. In this regard, there is certainly some overlap between cosmetic dentistry and standard dentistry. When people have gaps in their mouths where teeth should be, it can make it that much more likely that they will develop terrible tooth infections. Indeed, other cosmetic dental procedures can cause all sorts of health improvements for patients who might be at risk for infections as a result of their askew teeth. However, these people are often still going to be interested in the cosmetic aspects of the procedure, and they would take advantage of them regardless of the health benefits.
Stop in and visit the El Paso Dental Society. 
When people visit a cosmetic dentist El Paso TX, they will have multiple goals in mind. Some people are trying to ward off the effects of time, since lots of people develop problems with their teeth as they age. Discoloration becomes more common with age, as does tooth loss. Teeth can start to seemingly disconnect from one's jaws altogether, and this is a process that can be prevented with cosmetic dentistry in some cases. Other people are at the opposite stage in their lives, and they are trying to make their relatively new adult teeth as fashionable and aesthetically pleasing as possible, since plenty of people get the short end of the stick with regards to the appearance of their teeth. The people who are looking for the best cosmetic dentist El Paso TX will have multiple goals in mind, and they are going to have particularly high standards for their teeth.
This year is the 53rd Annual El Paso Dental Convention!
Medically Fact-Checked & Written by Our Dental Editorial Team
You can read more about our editorial guidelines by clicking this link and learn more about the Emergency Dentists USA editorial team here.