Helping Durham Residents Find IMMEDIATE Dental Services Everyday.
Get relief from chipped, cracked or lost tooth
Abscess, toothache, mouth pain
Emergency dental surgery
24 hour services - Includes weekends, nights and holidays

Emergency Dentist in Durham, NC – Find A 24-Hour Dentist Now
Table of Contents
Wandering the beautiful city of Durham and getting interrupted by a terrible toothache is no one's idea of a good time. There is definitely nothing worse than being in pain when you are new to the city or simply taking a vacation in North Carolina. Emergency Dentists USA understands how difficult it is to find a great Durham emergency dentist when you have no idea where to begin looking. Luckily, our easy-to-use and convenient dental directory highlights the best Durham emergency dentists and even gives you driving directions so that you can get on the road to recovery quickly.
Use our 24-hour hotline to speak to a friendly and knowledgeable operator who can assist you in choosing the right Durham emergency dentist, and can even help you to make an appointment. Our selection of emergency dental clinics with after hours availability makes it simple to arrange an appointment that suits your needs and follows your schedule.
Finding A 24 Hour Emergency Dentist in Durham, North Carolina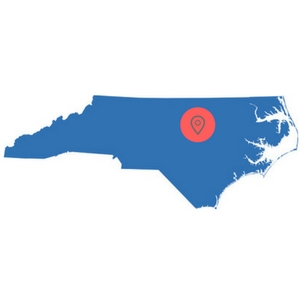 The selection of a great emergency dentist is not a hassle when you browse the Durham emergency dentists listed for you on Emergency Dentists USA. Each dental clinic offers unique office hours designed to make it simple for you to get those routine cleanings out of the way, or to get emergency service when you need it. Weekend appointment make it simple to get the dental services that you need, even when an emergency strikes beyond standard office hours.
– Walk-in dental clinics – Dental clinics that allow patients to come into the office without an appointment are not advertised in Durham, but Research Triangle Dental has Saturday hours that make it simple to get an appointment even on the weekend.
– Emergency 24-Hour Dental Clinics – Dental clinics that are open 24-hours a day are not found in Durham, but there are several excellent hospitals with 24-hour emergency departments that are able to handle your dental emergency regardless of the hour.
– After Hours Dentists – After hours dentists like Eric Davis DDS are available beyond normal business hours. This dental clinic has office hours on Saturday until 1 p.m. for your convenience.
Emergency Dentist Listings in Durham, North Carolina
Emergency Dentists USA has combed the Durham area for great emergency dentists who offer office hours that are designed to suit your needs. Our convenient listing provides everything that you need to make an appointment to handle that dental emergency. From office hours to driving directions, Emergency Dentists USA has you covered in your dental emergency. Use our 24-hour hotline when you need help making a dental appointment, and a friendly operator will give you advice in choosing a Durham emergency dentist.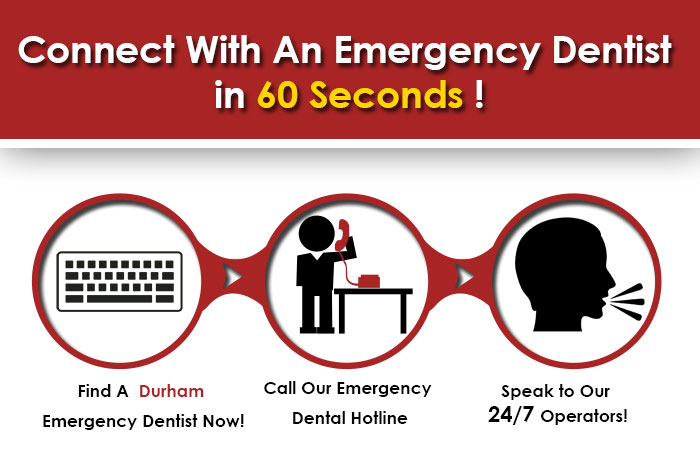 ---
Emergency Dentists USA Referral Service Durham
Phone Number: 1 (855) 401-2701
Address: Referral Service to many Dental Offices located inside Durham
DescriptionOn your visit to Durham, the last thing you want is to be weighed down with a large dental burden, and we understand the pain you go through during this. So instead of skimming through dental listings that may be closed, just pick up the phone and let us connect you with someone who can give you X-rays and diagnose your problem immediately!
---
Research Triangle Dental
Website: rtdental.com
Address: 2615 S Miami Blvd, Durham, NC 27703
Phone Number: (919) 596-7447
Description: Research Triangle Dental in Durham is open on Monday from 730 AM until 6PM, and Tuesday and Wednesday from 730 AM until 7PM. They are thankfully also available on Saturdays from 730AM until 2PM, and have a 4-star reputation in the city. Pay the folks at Research Triangle a visit if you need anything ranging from routine cleanings to emergency services like extractions, and you can be assured that you'll be in the best of professional hands.
Office hours:
Monday 7:30 am to 6 pm
Tuesday 7:30 am to 7 pm
Wednesday 7:30 am to 7 pm
Thursday 7:30 am to 6 pm
Friday 7:30 am to 6 pm
Saturday 7:30 am to 2 pm
Sunday – Closed
---
Eric Davis, DDS, PLLC
Website: www.davisdental2003.com
Address: 1822 East NC Hwy 54, Suite 100 Durham NC 27713
Phone Number: (919) 806-8060
Description: Eric Davis's dental office is open Monday and Tuesday from 8 AM until 430 PM, and Wednesdays they stay open later until 6 PM. They are also open on Saturdays from 8AM until 1PM, to assist with any sudden emergencies that may come up. A true benefit for those who have busy schedules or surprises come up during the weekend hours, visiting on Saturday will provide the ultimate in freedom for you schedule.
Office hours:
Monday 8 am to 4:30 pm
Tuesday 8 am to 4:30 pm
Wednesday 9 am to 6 pm
Thursday 8 am to 4:30 pm
Friday 8 am to 1 pm
Saturday 8 am to 1 pm
Sunday – Closed
---
Dr. Jean Woods, DDS
Website: communitysmilenc.com
Address: 1728 Fordham Blvd #125, Chapel Hill, NC 27514
Phone Number: (919) 942-6313
Description: This is a Chapel Hill clinic that prides itself on staying open later during the week for those who lead incredibly busy lives. You can visit here on Monday and Tuesday until 7 and 8 PM respectively, 8PM on Wednesday, and 7PM on Thursday. You may be in need of a standard procedure such as a cleaning or an emergency like an extraction, and you can accomplish either here in confidence.
Office hours:
Monday 9 am to 7 pm
Tuesday 10 am to 8 pm
Wednesday 10 am to 8 pm
Thursday 9 am to 7 pm
Friday – Closed
Saturday – Closed
Sunday – Closed
---
How To Prepare For Your Durham, North Carolina Emergency Dental Clinic Visit
– Just like your regular dental office, your Durham emergency dentist performs routine x-rays and examinations along with more complicated dental procedures. Visiting your Durham emergency dentist is similar to visiting your regular dentist.
– Gather your recent dental records along with any x-rays or examinations that might be pertinent to your treatment. Bring these with you to visit your new dentist.
– Arrive at least 15 minutes before your appointment to fill out paperwork and ask any questions you might have regarding your upcoming treatment.
– Ensure that your Durham emergency dentist accepts your payment type. Most dental clinics take cash, credit cards, personal checks and some even offer low-interest financing for larger procedures.
– Check to see if your new dentist accepts your dental insurance. Choosing an "in-network" dentist could save you money in the long run.
– Let the Durham emergency dentist know if you are allergic to any medications. Bring a list of your current medications with you to the dental visit.
– Do you have intense dental anxiety or fear? Notify the receptionist of your fears. He or she will be able to explain your procedure and make you feel better about the whole dental visit.
Quality of Urgent Care Dentists In Durham, North Carolina
On your visit to "the Bull City" you might encounter one of many common dental emergencies. Luckily, Emergency Dentists USA has you covered when it comes to choosing a great Durham emergency dentist without missing the best parts of the city of Durham.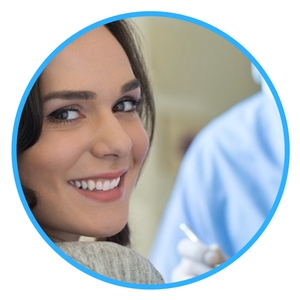 Called the "Bull City" after a popular advertising campaign for the largest production crop in North Carolina, the Brightleaf tobacco plant, Durham provides a glimpse of the history of the south combined with the excitement of a cultural centerpiece. Take a walk through the gorgeous Duke Chapel located on the campus of Duke University and enjoy the gorgeous Gothic Revival architecture and the echoing pipe organs.
Explore the Nasher Museum of Art to view over 10,000 sculptures and paintings, or wander the Eno River State Park with its thousands of acres of North Carolina wilderness. Camping, canoeing, hiking, and fishing are just a few of the activities available to visitors of the park, and Durham's lovely weather means year-round enjoyment.
When visiting the "Bull City," it is good to know that Durham has some of the best nationally ranked hospitals in the entire state of North Carolina. With a dental emergency that stems from an accident or a fall, it is always a great idea to head to a hospital emergency room to allow a physician to ensure that you have not received a concussion or other injury.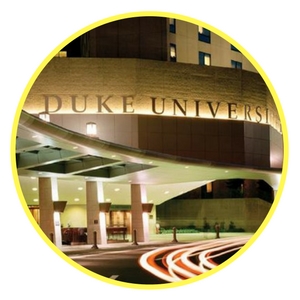 Durham's Duke University Hospital offers visitors access to a 24-hour emergency department with a national ranking in 13 specialties. The hospital is located on Erwin Road in the heart of Durham and features over 3,000 doctors in a variety of specialties. This hospital is known for its trauma center and makes an excellent choice for anyone with a dental emergency.
Duke Regional Hospital and Duke Raleigh Hospital also provide 24-hour emergency departments that are capable of handling almost any dental emergency that crops up during your visit to the city. Although hospital emergency departments generally do not employ a dentist, the emergency department physician is able to examine your injury, offer medications if necessary and let you know exactly when you should see a Durham emergency dentist. Both of these hospitals provide access to emergency services regardless of the time of the day or night.
Common 24 Hour Dental Emergencies
Tripping over a curb on your way across town is definitely a way to cause one of many common 24-hour dental emergencies. Falls and auto accidents often result in dental emergencies that require the assistance of an emergency room physician. A knocked out tooth that results from a fall will also require the services of a Durham emergency dentist once you are sure that you have no other injuries from the fall. Other common dental emergencies included chipped or broken teeth along with soft tissue injuries of the lips, the tongue, and the cheeks.
Common 24-hour dental emergencies can occur at any time, and they are often painful. Other common dental emergencies include a toothache, something caught between the teeth, loose, or lost crowns and lost fillings. You might also encounter a bracket or a wire that is loose or broken on your braces or even an abscess that is quite painful.
Reading advice on the EmergencyDentistsUSA.com website is not a substitute for seeing a medical professional. Every situation is unique and you should always see a dentist for any of the situations listed below.
Abscess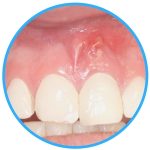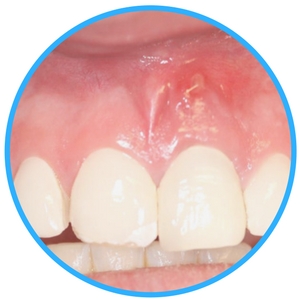 An abscess is a dental emergency that is actually an infection. This type of infection occurs below the tooth or in the gum between the teeth. The abscess is dangerous because it can spread from one area of the mouth to the bone below the teeth or even to other soft tissues of the mouth. If you have an abscess, rinse your mouth several times each day with salt water. This will draw the pus from the infection toward the surface of the mouth. Contact your Durham emergency dentist as soon as possible to ensure that the abscess does not spread.
Loose or Lost Crown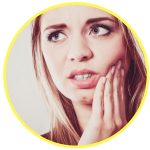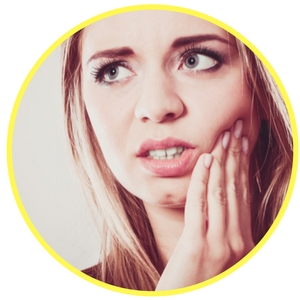 A lost or loose crown is often caused by eating sticky foods like taffy. If you are able to find the crown, rinse it thoroughly with water and coat the inside of the crown with dental adhesive. Place the crown back over the tooth if possible as this will protect the tooth and help you to avoid pain. If you are unable to place the crown over the tooth or have lost the crown completely, you should bring the crown with you to visit your Durham emergency dentist as soon as possible. Left untreated, the tooth below the crown will continue to decay and could become quite painful.
Chipped or Broken Tooth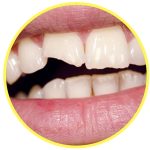 A chipped or broken tooth is a very common dental emergency, especially when associated with a sports injury. If you might have damage to any other part of your body, visit the closest hospital emergency room for treatment prior to seeing a Durham emergency dentist.
Gather any pieces of the tooth and rinse them carefully with water. Rinse your mouth with water and use a cold compress to lessen pain and swelling. Moistened gauze can be pressed against areas that are bleeding. Bring the chips or broken portions of the tooth with you to the dental office for your tooth repair.
Knocked Out Teeth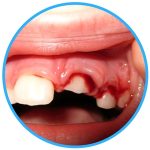 A knocked out tooth can be an embarrassing dental emergency. If the tooth is knocked out in an accident, make sure you visit a local emergency room to ensure that you do not have a head injury. Gather the tooth and hold it only by the crown. Rinse it carefully with plain water and place it back into the gum if possible. If you are unable to place it in the gum, store it in a container of milk or Save-a-Tooth. Bring the tooth with you to visit your Durham emergency dentist. Use moistened gauze and cold compresses to lessen pain, bleeding and swelling.
Do You Need an Emergency Tooth Extraction?
You probably need an emergency tooth extraction if your tooth has decayed beyond the point where a dentist is able to fix the tooth. You might also need an emergency tooth extraction if your tooth is crowding other teeth in your mouth. Waiting to have the extraction rather than having that tooth pulled immediately means your procedure could be more complicated and might even require more medication.
Your Durham emergency dentist begins the extraction by first taking an x-ray of the tooth and performing an examination. Then, he or she chooses a general or local anesthetic so that you remain comfortable during the procedure. A special dental tool is used to pull the tooth from the gum, or the tooth is broken into small pieces and then removed. The dentist uses a type of suture that dissolves over time to close the gum, and applies gauze to the area to stop any bleeding. Full healing usually occurs within one to two weeks of the procedure.
It is important to follow your dentist's instructions following the procedure. If you are given medications, take them as directed. Avoid smoking, drinking from a straw, or eating hard foods for the first few days following the tooth extraction.
Emergency Room Versus Emergency Dentist

If your dental emergency stems from a fall, a car accident, or a sports injury, you should visit the nearest hospital emergency room as soon as possible to be evaluated by a doctor. This is important because you might have a head injury that a Durham emergency dentist is unable to treat.
Unfortunately, the hospital emergency room is not the best place to have your painful toothache addressed because most hospitals do not provide dental services. Heading to the ER for a toothache means waiting in the lobby, being examined by a doctor and being stuck with the emergency room bill.
Your Durham emergency dentist should be your first choice for a dental emergency that does not come from an accident or injury. He or she is trained to treat all dental emergencies and can even replace teeth that are lost. The hospital emergency room does not provide tooth care in most cases.
FAQ
What should I do if my tooth gets knocked out?
If your tooth gets knocked out, rinse the tooth with plain water and place it back into the gum if possible. Do not touch the root of the tooth. If you are unable to place it into the gum, save the tooth in a container of milk or Save-a-Tooth for your Durham emergency dentist visit.
What are my options for replacing a missing tooth?
There are several options for replacing a missing tooth including a dental implant or a dental bridge. A dental implant is considered to be the most natural looking of the tooth replacement techniques as the implant is connected directly to the bone.
What is plaque and why is it bad?
Plaque is a sticky substance that builds up on teeth that are not brushed and flossed properly. Plaque contains bacteria that causes tooth decay and eventually hardens to form tartar that is extremely difficult to remove from the teeth.
What is in amalgam (silver) fillings, and are they safe?
Amalgam or silver fillings are actually made from a combination of metals that include copper, tin and silver along with mercury. Amalgam fillings are the longest-lasting of all of the filling materials and are considered safe for teens and adults.
How much radiation do I get from a dental x-ray and how does it compare to other medical procedures?
You get very little radiation from a dental x-ray. In fact, the radiation dosage from dental x-rays is similar to that of a short airplane flight. The dental x-ray radiation dosage is 0.005 mSv which is less than one single day of background radiation.
24 Hour Dentist Durham Options
Whether you have spent the day hiking the trails at Eno River State Park or wandering the halls of the Bennett Place to admire the Civil War site, a terrible toothache is the type of interruption that destroys your fun. Luckily, Emergency Dentists USA provides a great selection of Durham emergency dentists who are standing by to get you out of pain and on the road to recovery in a flash.
Choose Research Triangle Dental for your dental emergency and meet their well-trained and friendly staff. Open on Tuesday and Wednesday from 7:30 a.m. until 7 p.m. and on Monday, Thursday and Friday until 6 p.m. Research Triangle Dental has after hours appointments designed to suit your needs. Even Saturday appointments are available for those who are unable to wait until the weekend is over to address that tooth problem.
Dr. Eric Davis DDS has office hours until 6 p.m. on Wednesdays and from 8 a.m. until 1 p.m. on Saturdays to accommodate those after hours appointments. His office is also open on Monday, Tuesday and Thursday from 8 a.m. until 4:30 p.m. for anyone with an early morning toothache. Friday hours end at 1 p.m. for this East North Carolina Hwy 54 dental clinic.
Dr. Jean Woods at Community Smile NC has office hours until 8 p.m. on Tuesday and Wednesday with hours until 7 p.m. on Monday and Thursday. The office is closed on Friday and on the weekends.
When you choose a new Durham emergency dentist, it is always important to ensure that he or she has the proper licensing and credentials to service your tooth issue. You can use the American Dental Association's website located here: www.ada.org to check any dentist by name or location. You can also choose the North Carolina Dental Association website located here: www.ncdental.org to check out local dentists and learn about upcoming dental events.
This Emergency Dentists USA portal is a website for information only, and should be not used to replace the actual advice of a medical professional. If a patient is having an emergency and cannot reach a dentist, call 911 to assure immediate response and safety.