Elk Grove, CA Emergency Dental Offices
This city just south of Sacramento has a population of around 160,000, and is the fastest growing city in the nation during the year 2014. Apple Computers, Kaiser Permanente, and high tech company ALLDATA are prime employers here that are driving migration and economic interest in this area. Our portal is an amazing one stop place to locate a 24 hour emergency dentist Elk Grove CA , if you are staying here and are suddenly taken down by immense tooth pain. We have worked hard to compile a network of reliable late night dentist clinics, and Elk Grove is within that network!
We want you to be able to enjoy landmarks here such as Surf Extreme, where you can ride on one of the nation's largest surfing and body board simulators, and have fun on their large trampoline area. If a sundden throbbing tooth or abscess threatens to have black clouds loom over your stay here, you will need an Elk Grove emergency dentist quickly, because you and your family don't want to be held up by pain. If you cannot reach any of these dentists right away, don't hesitate to use our hotline that serves as a referral service for a walk in dentist near you.
Elk Grove after hours dentist listings
While you are visiting or planning to reside here, there are many great things to see like the Upstream Winery, American River Recreation tours, and beautiful Miwok Park. These dentists are vetted by Emergency Dentists USA, and will be able to offer you the fastest path to relief if dreaded pain threatens to keep you down. We understand that no one wants to have to watch their wife or children moaning in bed at the sudden onset of an infection or worse; and want to provide that immense relief for you that comes with a skilled after hours dental clinic.
---
Elk Grove Emergency Dentists USA Referral Service
Description: By using this quick and easy hotline, you can obtain the best emergency dentist 24 7 that will know whether an extraction, x rays, or medication will be needed to quell your hurting and get you back on the mend. Knowing we are here for you is so much better than having to skim through listings finding the right practitioner as the pain gets worse by the second. Don't wait another minute to get on the path to instant relief!
---
Elk Grove Dental
Number:(916) 512-6021
If Closed: Call 1 (855) 276-1128 and let our Operator help you find an emergency dentist.
Office:7915 Laguna Blvd. Suite 105 Elk Grove, CA 95758
Doctors:Dr. Thomas Tinney
Website:http://www.dentist-elk-grove.com/
Description: This Elk Grove area dentist will perform emergency services for patients, as he understands the dire need of anyone experiencing shooting pain overnight. He graduated from the University of The Pacific School of Dentistry, and gleaned much experience as a respected Air Force dentist. He is a certified instructor at the Texas Institute for Advanced Dental Studies, and has category II certification through the Academy of Laser Dentistry. He had greatly enjoyed being a traveling rest home dentist, and his patients claim his personal touch in service is top notch.
---
Boulevard Family Dentistry
Number:(916) 685-2141
If Closed: Call 1 (855) 276-1128 and let our Operator help you find an emergency dentist.
Office:8880 Elk Grove Boulevard, Elk Grove, CA 95624
Doctors:Dr. Gjerde
Website:http://boulevardfamilydentistry.com/
Description: Listed as an area dentist with after hours availability, this is a local provider of excellent care. Whether it's a root canal, emergency extraction, or problem analysis that needs to quickly take place, they will be there to help you with a courteous smile. Doctor Lee Gjerde earned his bachelors from The University of California at Irvine, and then earned his doctorate at UCLA. He has been serving here happily in Elk Grove since 1978, and has much continuing education under his belt that gives him the knowledge he needs to practice effectively. When he's not here, he loves hiking, photography, and horseback riding in the great outdoors.
---
Archie Dental Group
Number:(916) 691-6020
Office:8013 Laguna Blvd Suite 2, Elk Grove, CA 95758
Doctors:Dr. Archie
Website:http://www.archiedentalgroup.com/
Description: This emergency capable practice is in downtown Sacramento with a satellite office in Elk Grove, and is a perfect choice if you suddenly find yourself in need of a dentist open on the weekend. Striving daily to provide top notch dental and emergency care to the entire family, Doctor Archie graduated right here from Sacramento State University, and acquired her doctorate at the University of California in San Francisco. She was a past president at the Sacramento Chapter of the National Dental Association, and also a former Examiner for the California State Board of Dental Examiners.
Finding a 24 hr dentist Elk Grove CA
This vibrant and diverse inland California city is a fantastic location to explore places like Pins n Strikes bowling headquarters, Musical Mayhem Productions, or take a ride on a balloon from the Napa Valley Aloft Balloon Rides. We would love to provide you the best portal to locate an emergency dentist in Elk Grove CA if you are here and suddenly encounter one of the worst things to have to endure: serious dental pain. If you want to further investigate any of these dentists before you schedule, you can visit The California Dental Association .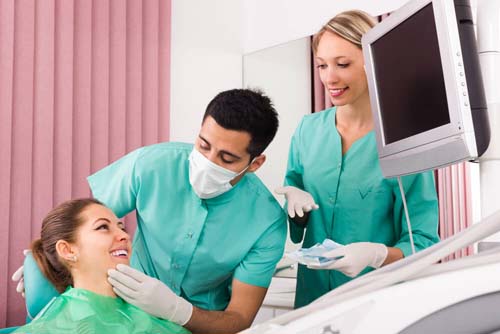 ---