Helping Thousands of People Each Year Find Dental Services
Emergency dental surgery, cavities, general dental care.
Find immediate help, no insurance required.
Get relief from chipped, cracked or lost teeth, abscesses or toothaches.
Emergency Dentist Aloha, OR – Find a 24 Hour Dentist
When you visit Aloha, OR, you have a lot of places to go and things to see. You do not want to be stuck cooped up in your hotel room with a toothache. From the Tualatin Hills Nature Park to the Reserve Vineyards and Golf Club, there are so many activities to participate in. Unfortunately, the reality is that tooth pain can occur at any time and you never know where you will be. But, there are answers for you right here in Aloha. Whether new to the city or just here temporarily, you will find that there are dental specialists ready to answer your call for help.

Emergencydentistsusa.com has worked hard to put together a list of available dentists and specialists in Aloha for you. All you need to do is take a look at the list and choose a dentist who is nearby to your location. One of the nice things about our list is that it is not limited to a specific type of dentist and you will find all types of dentists from orthodontists to periodontists and even oral surgeons. Should you be in a rush or not have time to look at the list, do not hesitate to call our toll-free dentist finder hotline.

Each one of our team members is trained to help you quickly identify the nearest dentist or specialist that meets your needs. We can schedule your first appointment for you and provide you with directions to the office as well. We do advise that you arrive at least 15 minutes prior to your appointment time. This way, you will have an opportunity to fill out the new patient paperwork. You should also make sure to bring your valid identification, insurance card, your copayment, and a list of medications and allergies with you.
Emergency Dental Office Aloha, OR
When you need to find a dentist in Aloha, OR, it can be difficult and that is why we are here to help. You are able to choose from a number of dentists and specialists to include pediatric options, family dentists, periodontists, orthodontists, and more. Patients will often have their first appointment at a general dentist unless they have been referred specifically to a specialist, which is common in situations where wisdom teeth need to be removed.
Walk-in dental clinics – walk-in dental clinics offer dental visits without the hassle of making an appointment or waiting days or weeks to see the dentist.

Emergency 24-Hour Dental Clinics – this type of dental clinic has a dentist available 24-hours per day and seven days per week.

After Hour Dentists – an after hour dental clinic offers services outside of the standard 9 a.m. to 5 p.m. office hours. After hour dental clinics often include weekend or evening appointments.
Nevills Family Dentistry
Phone Number: (503) 649-3232
Address: 18540 SW Vincent St., Aloha, OR 97078
Website: http://nevillsfamilydentistry.com/
Doctors: Dr. David E. Nevills, DMD, Megan L. Nevills, DMD
Description: Nevills Family Dentistry is committed to making sure that all of our patients feel as comfortable as possible when they are here. We offer you a full range of services to include preventative care down to cosmetic restorations. We sit down with each one of our patients and go over their current dental health and what treatment options are available to them. We truly care about our patients and we work with you to setup a payment plan to ensure you can receive the treatment you need.  
Mon 8:00 AM – 2:00 PM

Tue 8:00 AM – 5:00 PM

Wed 8:00 AM – 5:00 PM

Thu 8:00 AM – 5:00 PM

Fri 8:00 Am – 2:00 PM
Smith Dental
Phone Number: (503) 575-1337
Address: 18635 SW Farmington Rd., Aloha, OR 97007
Website: www.hillsborofamilydentistry.com
Doctors: Dr. Ryan Smith, DDS
Description: Smith Dental is a family-friendly dental office that is prepared to see you and your family and provide you with a comfortable atmosphere. We provide you with convenient scheduling that meets your needs and fits into your schedule. Our office is clean and equipped with the latest technology to ensure that your appointment is pain free and as relaxing as possible. Your smile matters to us and we will ensure you receive the services needed to have a healthy smile.
Mon 7:30 AM – 6:30 PM

Tue Closed

Wed 7:30 AM – 6:30 PM

Thu 7:30 AM – 6:30 PM

Fri 7:30 AM – 6:30 PM
Bronitsky Family Dentistry
Phone Number: (503) 649-5665
Address: 17952 SW Blanton St., Aloha, OR 97007
Website: http://brodental.com/
Doctors: Dr. Erica Bronitsky
Description: Whether you are experiencing a dental emergency or you need a dental checkup, Bronitsky Family Dentistry is here for you. We offer a wide range of dental services to ensure that your needs are always met. Our dentist is not only compassionate, but she cares about the health of your smile.
Mon 8:00 AM – 5:00 PM

Tue 8:00 AM – 5:00 PM

Wed 7:00 AM – 3:30 PM

Thu 8:00 AM – 12:00 PM

Fri Closed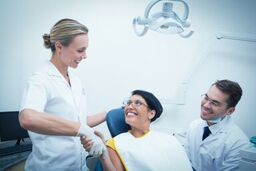 24 Hour Emergency Dentist Aloha
If you find yourself in pain and your tooth has been hurting for more than an hour or two, it is time for you to seek out emergency dental care. This is because pain is often the first sign of a serious problem. If you have been involved in an accident, it is important that you visit your local urgent care center or emergency room to ensure there are no serious injuries.
Before you visit your new chosen dentist, you should take a look online to verify their credentials, certifications, and licenses. To do this, you should visit the Oregon Dental Association and search the dentist's name. In addition, you can also ask the receptionist to provide you with this information.