Helping Thousands of People Each Year Find Dental Services
Emergency dental surgery, cavities, general dental care.
Find immediate help, no insurance required.
Get relief from chipped, cracked or lost teeth, abscesses or toothaches.
Emergency Dentist Berkeley, NJ – Find a 24 Hour Dentist
Berkeley is a township seated in Ocean County in New Jersey. With a population of over 30,000 people, it's not really a small place to visit or live. With so many different options for entertainment in the area, you don't have time to even look for an emergency dentist when a situation arises. So if you are just visiting or live locally, searching for a dentist who offers dental services, the search for just the right dentist can seem a bit overwhelming. But it really doesn't have to be.
Emergencydentistsusa.com has put together a comprehensive list of dentists with emergency services in Berkeley. The list features details of the available of emergency dentists in the area such as their location, office hours as well as payment options accepted.
If you are not able to get online to review the listings, you can always call our toll-free dental finder number. Our friendly, highly trained specialists will be available to help provide you with the same details and even can schedule the appointment for you. They are there to help guide you through the process smoothly.
Don't forget that for your first appointment you'll want to make sure you arrive at least 15 minutes in advance so that you can fill out any required new patient paperwork. You'll want to make sure you take with you, a valid photo ID, insurance cards and even a copayment if necessary.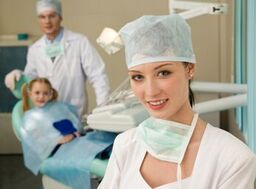 Emergency Dental Office Berkeley, NJ
The good news is that there are quite a few options for highly qualified emergency dentists in Berkeley. Not only are there many dentists available but you have the ability to select the type of dentist that suits your needs. There are three different types of emergency dentists in Berkeley. They include:
Walk-in dental clinics – walk-in dental clinics offer dental visits without the hassle of making an appointment or waiting days or weeks to see the dentist.

Emergency 24-Hour Dental Clinics – this type of dental clinic has a dentist available 24-hours per day and seven days per week.

After Hour Dentists – an after hour dental clinic offers services outside of the standard 9 a.m. to 5 p.m. office hours. After hour dental clinics often include weekend or evening appointments.
Encore Dental of Lacey
Phone Number: 609-549-6925
Address: 335 U.S. 9 Lanoka Harbor, NJ 08734
Website: www.encoredentaloflacey.com
Doctors: Dr. Marc Buttacavoli DMD, Dr. Frank Cattanese DMD, Dr. Christopher Emma DMD, Dr. Michael Massaro DMD, Dr. Thomas J McDonald
Description: Emergency dental services are available on Saturday's for limited hours when you need them the most. They also offer many routine procedures such as tooth extractions, x-rays, sealants, cleanings, fluoride treatments, and more.
Mon 9:00 AM – 6:00 PM
Tue 9:00 AM – 6:00 PM
Wed 9:00 AM – 6:00 PM
Thu 9:00 AM – 6:00 PM
Fri 9:00 AM – 6:00 PM
Sat 9:00 AM – 2:00 PM
Cedar Creek Dental
Phone Number: 732-269-1046
Address: 950 Atlantic City Blvd #13 Bayville NJ 08721
Website: www.cedarcreekdentaloffice.com
Doctors: Dr. Jessica Bramlette, Dr. Lara Hartleben
Description: Cedar Creek Dental offers many different services from routine cleanings, bridges, crowns, extractions, dentures and even emergency services when you require them.
Mon 9:00 AM – 500 PM
Tue 9:00 AM – 5:00 PM
Wed 9:00 AM – 5:00 PM
Thu 9:00 AM – 5:00 PM
Fri 9:00 AM – 5:00 PM
Holiday Dental Associates
Phone Number: 732-269-8555
Address: 730 Jamaica Blvd Toms River NJ 08757
Website: www.drjohnrperagine.com
Doctors: Dr. John Peragine
Description: Whether you are in need of routine services like cleanings, or you require more significant emergency services such as a tooth extraction, Holiday Dental Associates offer all of these and more.
Mon 8:30 AM –3:00 PM
Tue 8:30 AM –3:00 PM
Wed 8:30 AM – 5:30 PM
Thu 8:30 AM –3:00 PM
Fri 8:30 AM –1:00 PM
24 Hour Emergency Dentist Berkeley
If you've been battling a painful tooth that doesn't seem to let up, even with preventative measures, it might be time to get it checked out. It's important to remember not to ignore a toothache. There are some serious dental conditions that can arise if you do not receive prompt treatment.
Before you go to any new appointment, you will want to review and verify any qualifications and certifications that the emergency dentist of your choosing may have. You can do this easily by visiting the New Jersey Dental Association and doing a quick search for the dentists name. This allows you to verify any information you may require.