Helping Thousands of People Each Year Find Dental Services
Emergency dental surgery, cavities, general dental care.
Find immediate help, no insurance required.
Get relief from chipped, cracked or lost teeth, abscesses or toothaches.
Emergency Dentist Methuen, MA – Find a 24 Hour Dentist
Whether you've just moved to the growing, bustling city of Methuen, MA or you've come on vacation to enjoy the outskirts of Methuen and all that nature has to offer, one thing that you don't want is a toothache interrupting your plans. With an almost 55-acre pond called Forest Pond that offers fishing and other water sports, you just simply can't afford to have down time when you're in this beautiful area.
Emergencydentistsusa.com has compiled a list of available dentists in the Methuen, MA area. You can scroll through them and view the dentist's office hours, the insurances that they accept, and see some of the services that they offer. If you don't have internet, then you can call our free dentist finder hotline.
Emergency Dental Office Methuen, MA
If you're already in pain and looking for a dentist that will see you because it's an emergency, the last thing you want to do is drive for miles looking for an office. Methuen does have a variety of dentist offices available, so we'll be able to help you determine which one will suit you best. Most emergency dental offices are general dentists that will see you and then if you need to see a specialist, they will refer you from there.
Walk-in dental clinics – walk-in dental clinics offer dental visits without the hassle of making an appointment or waiting days or weeks to see the dentist.

Emergency 24-Hour Dental Clinics – this type of dental clinic has a dentist available 24-hours per day and seven days per week.

After Hour Dentists – an after hour dental clinic offers services outside of the standard 9 a.m. to 5 p.m. office hours. After hour dental clinics often include weekend or evening appointments.
Albert J. Sandler DMD
Phone Number: (978) 683-3343
Address: 386 Merrimack St, Methuen, MA 01844
Website: www.methuencosmeticdentist.com
Doctors: Albert J. Sandler, DMD
Description: The office of Albert J. Sandler provides compassionate dental care to each of their patients. They use the most up-to-date technology to ensure that their patients are receiving the absolute best dental care possible. All patients are fully informed about any and all procedures that may be necessary to provide them with the most beautiful smile possible.
Mon 8:00 AM – 7:30 PM
Tue 8:00 AM – 7:30 PM
Wed 8:00 AM – 1:00 PM
Thu 8:00 AM – 5:00 PM
Fri Closed
P. M. Gangi DMD Inc.
Phone Number: (978) 655-9181
Address: 13 Branch St, Methuen, MA 01844
Website: www.drpaulgangi.com
Doctors: P.M. Gangi, DMD, Alex A Miele, DMD
Description: The office of Dr. Paul Gangi is pleased to offer dental services to the entire family. This is great since you can schedule appointments for yourself and your children all within the same time frame to avoid multiple trips to the dentist. They also provide cosmetic dentistry to ensure each of their patients have a beautiful smile.
Mon 7:30 AM – 5:00 PM
Tue 7:30 AM – 6:00 PM
Wed Closed
Thu 7:30 AM – 5:00 PM
Fri 7:30 AM – 5:00 PM
Sat 7:30 AM – 5:00 PM
Pleasant Valley Dental Health
Phone Number: (978) 685-2511
Address: 380 Merrimack St, Methuen, MA 01844
Website: http://methuendentist.com/
Doctors: Dr. Wainwright, Dr. Upite
Description: Pleasant Valley Dental Health is glad to provide their patients with a friendly and comfortable atmosphere. They offer complete dental care all within one convenient location. With a combination of restorative and preventative dental care, each patient will be sure to have the brightest smile possible when they choose this office.
Mon 8:00 AM – 6:00 PM
Tue 8:00 AM – 6:00 PM
Wed 8:00 AM – 12:00 PM
Thu 8:00 AM – 6:00 PM /li>
Fri 8:00 AM – 12:00 PM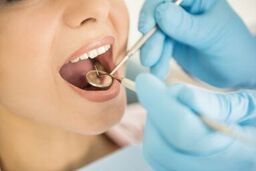 24 Hour Emergency Dentist Methuen
If you've suddenly got a toothache that just won't go away, it's time for you to go to an emergency dentist. If your pain has been caused by some sort of trauma to your mouth and face such as a sports accident, then visit ER or urgent care first so they can rule out any broken bones or a concussion. Once you do that, head straight to an emergency dentist to have your mouth checked.
If you're going to a dentist for the first time, be sure to check out their credentials and certifications. You can do this easily online before your first appointment. Enter the doctor's last name on the Massachusetts's Dental Society website. If you want to check when you go to your appointment, ask the receptionist and they will be able to point you in the right direction.