Helping Thousands of People Each Year Find Dental Services
Emergency dental surgery, cavities, general dental care.
Find immediate help, no insurance required.
Get relief from chipped, cracked or lost teeth, abscesses or toothaches.
Emergency Dentist Middletown, PA- Find a 24 Hour Dentist
Located on the edge of the Susquehanna River, Middletown, Pennsylvania is a lovely and historic small town. Wandering Union Street to view the little shops and restaurants allows visitors and locals to appreciate the beauty of this quiet village. Home of the Hershey's Chocolate World Museum, Middletown is a great place to take care of that sweet tooth. Luckily there are plenty of excellent emergency dentists in this area, especially if your sweet tooth gives you a toothache.
The Emergencydentistsusa.com website is the perfect place to get started on that search for a new Middletown emergency dentist. Our convenient website makes it easy for you to scroll through a hand-selected list of dentists and click on the office that suits your dental needs. From orthodontists to general dentists to surgeons, the comprehensive list of Middletown dentists provides every option that you need to make a great choice. Just click on the dental office that you choose and view information like office hours, driving directions, and services provided.
When you do not have access to the internet or just need a little more help picking out a new dentist, our toll-free dentist finder hotline is always available for your service. Call the dentist finder hotline and speak with a caring agent who refers you to an excellent emergency dentist, provides driving directions, and even helps you to set up that first dental appointment. Remember to bring your dental insurance card, a photo ID card, and your copayment if your dental insurance requires one when you visit your new dentist. You should try to arrive at least 10 to 15 minutes early to fill out any necessary new patient paperwork.
Emergency Dental Office Middletown, PA
The town of Middletown is a wonderful place to enjoy the beauty of Pennsylvania. Luckily, there are also plenty of emergency dentists standing by to help you when you encounter a dental emergency. Scroll down to take a look at three of the top dentists in the Middletown area.
Walk-in dental clinics – walk-in dental clinics offer dental visits without the hassle of making an appointment or waiting days or weeks to see the dentist.

Emergency 24-Hour Dental Clinics – this type of dental clinic has a dentist available 24-hours per day and seven days per week.

After Hour Dentists – an after hour dental clinic offers services outside of the standard 9 a.m. to 5 p.m. office hours. After hour dental clinics often include weekend or evening appointments.
Benko and Benko Dental
Phone Number: 717-361-1025
Address: 1325 Vine St., Middletown, PA 17057
Website: www.benkodental.com
Doctors: Dr. Benko Sr., Dr. Benko, Jr., Dr. Mask
Description: Providing general dentistry, cosmetic services, tooth extractions, and dental implants, Benko and Benko Dental is a full-service dental clinic. A friendly office staff and a relaxed atmosphere makes even the most nervous of patients feel welcome. Financing for dental services is available and office hours make it simple to get a great dental appointment scheduled quickly.
Mon 8:00 AM – 5:00 PM
Tue 8:00 AM – 6:00 PM
Wed 8:00 AM – 5:00PM
Thu 8:00 AM – 6:00 PM
Fri 8:00 AM – 5:00 PM
Samuel E. Selcher DMD
Phone Number: 717-944-0426
Address: 700 Spring Garden Drive, Middletown, PA 17057
Website: www.selcherdental.com
Doctors: Dr. Selcher
Description: Working hard to offer preventative dental care, restorative services and cosmetic dental options, Samuel E. Selcher DMD is a great dental clinic for the entire family. A kind and caring staff and a variety of dental options makes this office the perfect choice for anyone with a dental emergency. Dr. Selcher even offers late evening hours for patients who need an evening appointment.
Mon 8:00 AM – 5:00 PM
Tue 12:00 AM – 8:00 PM
Wed 8:00 AM – 5:00 PM
Thu 8:00 AM – 5:00 PM
Fri 7:00 AM – 12:00 PM Every Other Week
Aspen Dental
Phone Number: 717-686-9349
Address: 4265 Union Deposit Rd, Harrisburg, PA 17111
Website: www.aspendental.com
Doctors: Dr. Desai, Dr. Talati, Dr. Hamati, Dr. Bhalaria, Dr. Khandhadiya, Dr. Gowducheruvu
Description: Flexible hours and a variety of general and specialist services make Aspen Dental a great choice for families with children. This dental clinic provides preventative care, restorative dental options, and cosmetic dental procedures with a schedule that suits your needs. Aspen Dental is also open for emergency dental care with same-day appointments in most cases.
Mon 10:00 AM – 7:00 PM
Tue 9:00 AM – 6:00 PM
Wed 10:00 AM – 7:00 PM
Thu 9:00 AM – 6:00 PM
Fri 8:00 AM – 3:00 PM
Sat By Appointment Only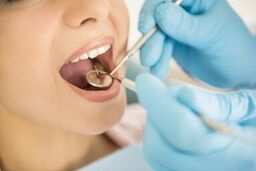 24 Hour Emergency Dentist Middletown
A painful toothache or a broken tooth can definitely ruin any day. Visit your Middletown emergency dentist if you have dental pain that lasts for more than about one to two hours. If your dental emergency stems from an accident like a fall, you should head straight to a local hospital emergency room or urgent care center to receive prompt medical care. Then, you can head to your Middletown dentist to have that dental problem cared for in a professional and caring atmosphere.
Log onto the Pennsylvania Dental Association website to view the current licensing and credentials for the Middletown emergency dentist that you have chosen. You can access the website and click on the search box to find the information that you need. Just type your dentist's name into the search box and press enter. You can also find the current licensing and credentialing information at the dental clinic by speaking with the receptionist. Many dentists keep this information on display for their patients to view.