Helping Thousands of People Each Year Find Dental Services
Emergency dental surgery, cavities, general dental care.
Find immediate help, no insurance required.
Get relief from chipped, cracked or lost teeth, abscesses or toothaches.
Emergency Dentist Monroe, NJ – Find a 24 Hour Dentist
The pretty township of Monroe in New Jersey is home to almost 40,000 residents. Featuring fun outdoor adventures at Jamesburg Park with plenty of space for hiking the trails and seeking wildlife, Monroe is a wonderful place for a family vacation. Although it is not a large city, Monroe does have plenty to offer when it comes to dental care. When you have a dental emergency and need to see a professional quickly, Monroe offers general dentists, orthodontists, dental surgeons, and periodontists who are standing by to get you out of pain and on the road to recovery quickly.
The Emergencydentistsusa.com website is the perfect starting point on your search for a new Monroe emergency dentist. Our comprehensive listing of Monroe dental offices includes all of the information that you need to make a good dental choice. Scroll through our comprehensive listing of dental clinics and click on the dental office that provides the services that you need. Read about the insurances accepted, find driving directions, and check out office hours on the Emergencydentistsusa.com website.
When you do not have access to the internet or need a little extra help choosing a new Monroe emergency dentist, use our toll-free dentist finder hotline to speak with a caring agent who is standing by to help you now. This dentist finder hotline is available 24-hours a day and your agent can give you all of the information that you need to select an excellent dentist. From driving directions to setting up the first appointment for you, our dentist finder agents offer the services that you need to make your appointment run smoothly.
Emergency Dental Office Monroe, NJ
When a dental emergency strikes, no one wants to be waiting days or even weeks for a dental appointment. Scroll down to select one of the three best dental offices in Monroe. Each of these dental clinics has been hand-chosen for your convenience.
Walk-in dental clinics – walk-in dental clinics offer dental visits without the hassle of making an appointment or waiting days or weeks to see the dentist.

Emergency 24-Hour Dental Clinics – this type of dental clinic has a dentist available 24-hours per day and seven days per week.

After Hour Dentists – an after hour dental clinic offers services outside of the standard 9 a.m. to 5 p.m. office hours. After hour dental clinics often include weekend or evening appointments.
Monroe Dental Group
Phone Number: 609-655-3551
Address: 18 Centre Drive, Suite 102, Monroe Township, NJ 08831
Website: www.monroedental.net
Doctors: Dr. L. Klein, Dr. A. Klein, Dr. Macapodi
Description: Convenient Saturday hours and a caring staff make Monroe Dental Group one of the first choices for families who require excellent dental care. Early morning and late evening appointments are available for patients who need to work around a schedule, and dental services include routine cleanings, x-rays, cosmetic dentistry, and restorative dental care. With three great dentists on staff, Monroe Dental Group is the right choice for your dental emergency.
Mon 8:30 AM – 7:00 PM
Tue 8:30 AM – 5:15 PM
Wed 8:30 AM – 5:15 PM
Thu8:30 AM – 5:15 PM
Fri 8:30 AM – 5:15 PM
Sat 8:30 AM – 12:00 PM
George Lambrinos DMD
Phone Number: 732-446-6533
Address: 557 Englishtown Road Suite #13, Monroe Township, NJ 08831
Website: www.drlambrinos.com
Doctors: Dr. Lambrinos
Description: Catering to children and adults and voted one of the top dentists in New Jersey for four years, Dr. Lambrinos provides kind and caring service for any dental emergency. From routine dental care to restorative and cosmetic procedures, Dr. Lambrinos is a great choice for emergency dental services. A friendly staff is always on hand to provide you with great customer service.
Mon 8:00 AM – 6:00 PM
Tue 11:00 AM – 8:00 PM
Wed 9:00 AM – 5:00 PM
Thu Closed
Fri 8:00 AM – 3:00 PM Every Other Friday
Sat 8:00 AM – 3:00 PM Three Saturdays Per Month
Monroe Dental Arts
Phone Number: 609-662-4406
Address: 337 Applegarth Road Suite 8A, Monroe Township, New Jersey 08831
Website: www.dentalartsmonroe.com
Doctors: Dr. Virdee
Description: Convenient office hours on Saturday and a caring staff make Monroe Dental Arts a premier dental office for families in the area. Dr. Virdee provides restorative care, routine cleanings and x-rays, and cosmetic dental services as well as orthodontics. Your dental emergency is handled quickly and your comfort is a priority at Monroe Dental Arts.
Mon 9:00 AM – 5:00 PM
Tue 9:00 AM – 5:00 PM
Wed 9:00 AM – 5:00 PM
Thu 9:00 AM – 5:00 PM
Fri 9:00 AM – 2:00 PM
Sat 8:00 AM – 2:00 PM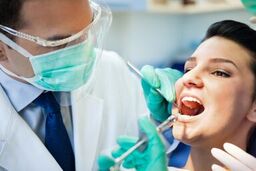 24 Hour Emergency Dentist Monroe
A painful dental emergency often begins at the worst possible time. Spending your vacation with an aching tooth is definitely not fun. If your tooth pain persists for more than an hour or two, it is time to make an appointment with your Monroe emergency dentist. Toothache pain that begins with an accident like a fall or a car accident requires a visit to the hospital emergency room or a local urgent care center. Tooth damage that comes from an accident could include more dangerous injuries that are life threatening. To ensure that you are healthy enough for a visit to the dentist, visit your medical doctor first. Your Monroe emergency dentist is able to repair broken teeth, take care of your painful abscess, and even fix that lost filling.
Selecting a new Monroe emergency dentist means gathering information like the dentist's current license and credentials. You can find these documents on display at the dental clinic by speaking with the dental receptionist. You can also view these documents on the New Jersey Dental Association website. Just log onto the website and enter your dentist's name in the search box. Click enter to view current licensing and credentials.