Helping Thousands of People Each Year Find Dental Services
Emergency dental surgery, cavities, general dental care.
Find immediate help, no insurance required.
Get relief from chipped, cracked or lost teeth, abscesses or toothaches.
Emergency Dentist Pittsfield, MI – Find a 24 Hour Dentist
Pittsfield township has a wide array of interesting places to see and visit. This area is home to the University of Michigan, Ann Arbor Hands-On Museum, and more. Whether you are strolling through the campus or enjoying the Matthaei Botanical Gardens, a toothache is a nuisance you may be tempted to ignore. A pain in your tooth though needs to be treated as soon as possible to prevent further complications from arising. Pittsfield has many dentists and specialists available to help you.
Emergencydentistsusa.com has compiled a list of local dentist and specialists in the Pittsfield area. The list has both general dentists and dental specialists available on it. If you need to find a quality dentist, look over the list, select the dentist that fits your needs, and give them a call to set an appointment. If you want further assistance call our toll-free dentist finder hotline.
A call to our hotline connects you with one of our team members. They are there to assist you in finding the dentist that best fits your needs in the area you need them. We can help you through the process and will even set up your first appointment for you. Arrive a minimum of 15 minutes early to your appointment and plan to fill out paperwork. You will want to bring along your picture ID, insurance card, and an accepted payment method. It is also wise to bring a list of your current medications and a list of any allergies you have.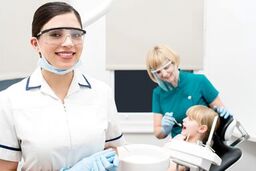 Emergency Dental Office Pittsfield, MI
The Pittsfield area has much to offer in dental options for you. You are able to select from general dentists to any specialist you might require. If you have a toothache, a general dentist is who you want to consult first. They can determine the severity of your issue and can refer you to a specialist if they feel you require one.
Walk-in dental clinics – walk-in dental clinics offer dental visits without the hassle of making an appointment or waiting days or weeks to see the dentist.

Emergency 24-Hour Dental Clinics – this type of dental clinic has a dentist available 24-hours per day and seven days per week.

After Hour Dentists – an after hour dental clinic offers services outside of the standard 9 a.m. to 5 p.m. office hours. After hour dental clinics often include weekend or evening appointments.
Ann Arbor's Dentist
Phone Number: 734-547-3469
Address: 606 W. Stadium Blvd Ann Arbor, MI 48103
Website: www.annarborsdentist.com
Doctors: Dr. W. Keith Dobracki
Description: Ann Arbor's Dentist is a state-of-the-art dental practice that goes beyond general dentistry. They strive for excellence in holistic, preventative care, and cosmetic dentistry services. They work with dental anxiety and provide same-day dentistry. Special appointments are available by request.
Mon 7:00 AM – 8:00 PM
Tue 9:00 AM – 7:00 PM
Wed 8:30 AM – 6:00 PM
Thu 7:00 AM – 7:00 PM
Fri 8:00 AM – 6:00 PM
Sat 9:00 AM – 5:00 PM
Walcott Dental
Phone Number: 734-994-3700
Address: 1910 Packard Road Ann Arbor, MI 48104
Website: www.walcottdental.com
Doctors: Dr. Brett Walcott, Dr. Wayne Walcott
Description: Walcott Dental is committed to providing you quality care in a comfortable setting. They have dentists that listen to you and respond. They offer a wide variety of services such as veneers, crowns, bridges, and much more. They accept most traditional insurance plans. They offer flexible payment plans as well.
Mon 8:00 AM – 8:00 PM
Tue 8:00 AM – 6:00 PM
Wed 8:00 AM – 6:00 PM
Thu 8:00 AM – 8:00 PM
Fri 8:00 AM – 1:30 PM
Arbor Dental
Phone Number: 734-975-0500
Address: 2301 Platt Road, Suite 200 Ann Arbor, Michigan 48104
Website: www.arbor-dental.com
Doctors: Dr. Jaffer, Dr. Preeti lyer
Description: Arbor Dental provides excellent dental care for your entire family. They offer extensive adult and pediatric oral care, dental implants, sedation, whitening, invisalign, and much more. They offer 24 hour emergency service. The office works with most insurance plans and offer flexible payment options.
Mon 8:00 AM – 5:00 PM
Tue 8:00 AM – 5:00 PM
Wed 8:00 AM – 7:00 PM
Thu 8:00 AM – 5:00 PM
Fri Closed
Sat 8:00 AM – 1:00 PM
24 Hour Emergency Dentist Pittsfield, MI
A persistent toothache that lasts longer than an hour requires treatment. There could be a serious issue lurking and getting prompt treatment could prevent further complications. If the pain you are feeling is from an accident, go to the nearest ER for treatment first.
Before you go to a new dentist, do your research and make certain their license and credentials are valid. It takes only a minute when you go through the Michigan Dental Association website. Simply type the dentist's name in the search bar and the information is there for you.