Helping Thousands of People Each Year Find Dental Services
Emergency dental surgery, cavities, general dental care.
Find immediate help, no insurance required.
Get relief from chipped, cracked or lost teeth, abscesses or toothaches.
Emergency Dentist Puyallup, WA – Find a 24 hour dentist
Puyallup Washington is a small community located approximately 10 miles Southeast of Tacoma. Puyallup is loosely translated to mean "generous people" from the Puyallup language of the tribes who originally resided in the area. Puyallup is the home to the Washington State Fair which is located in Pierce County. Puyallup is also the host to Washington's infamous Daffodil parade which takes place in Tacoma. The Daffodil parade takes place in the midst of daffodil season, and features Junior and Senior high school marching bands, car clubs, veteran groups, and many more people from the surrounding communities. Whether you are new to town or just visiting, Puyallup has a multitude of activities for everyone of all ages. Unfortunately however, tooth pain and dental emergencies can strike at any time. During these times, Puyallup has emergency dentists available to get you feeling better and back on your feet.
When you want to find an emergency dentist in the Puyallup WA area, turn to emergencydentistsusa.com. We have worked to compile a list of dentists and dental specialists in the local area and provide them to you. The only thing you need to do is view the list and choose the dentist you wish to visit and give them a call. If you are in a rush or you cannot view the list right now, but you still need to identify a dentist, please call our toll-free dentist finder hotline. We will be happy to assist you.
Our team is trained to listen to your needs and help you identify the dentist or dental specialist for your individual needs. We will look for nearby options and let you know which dentists are close by and their hours of operation. All you need to do is tell us which dentist you would like to visit and we will schedule your first appointment for you. We do suggest that you arrive about 20 minutes prior to your scheduled appointment time and that you bring a picture ID, your insurance card, and any applicable copayment you may have.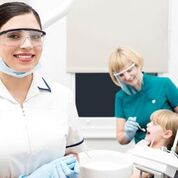 Emergency Dental Office Puyallup, WA
If you are new to Puyallup WA or just visiting our wonderful attractions, you may not know where to look for a dentist that can accommodate your individual needs. You may be worried that your options are limited in a new town. Fortunately, Puyallup has many dentists and specialists, ranging from general dentistry, oral surgeons, cosmetic dentistry, orthodontists, and many more. Before you consult a specialist, you will need to consult with your general dentist first. If he or she sees the need for you to visit a specialist, your new general dentist will be happy to refer you to one that can meet your needs.
Walk-in dental clinics – walk-in dental clinics offer dental visits without the hassle of making an appointment or waiting days or weeks to see the dentist.

Emergency 24-Hour Dental Clinics – this type of dental clinic has a dentist available 24-hours per day and seven days per week.

After Hour Dentists – an after hour dental clinic offers services outside of the standard 9 a.m. to 5 p.m. office hours. After hour dental clinics often include weekend or evening appointments.
Woodland Dental Center
Phone Number: 253-200-1363
Address: 8012 112th St Ct E Suite 160 Puyallup WA 98373
Website: www.woodland-dentist.com/emergency-dental-care
Doctors: William S Wiggins DDS
Ryan J Hanks DDS
Cameron R Stroyan DMD
Description:Woodland Dental Center has the latest technology available to assist in the accurate diagnosis and treatment of dental emergencies. Drs Hanks and Wiggins are experienced in most aspects of dentistry and nearly all emergencies can be treated in office without the need for outside referrals. The doctors and staff at Woodland Dental Center are available for phone calls after normal business hours 24 hours a day 7 days a week. When an emergency happens outside of normal business hours please call 253-200-1361 and a member of our on-call team will be happy to assist you.
Mon 8:00 AM – 4:00 PM
Tue 7:00 AM – 6:00 PM
Wed 7:00 AM – 4:00 PM
Thu 7:00 AM – 6:00 PM
Fri 7:00 AM – 4:00 PM
Sat Closed
Gental Dental
Phone Number: 253-200-1381
Address: 5610 176th Street East Suite D108
Puyallup, WA 98375
Website: www.interdent.com/gentle-dental/locations/wa/puyallup/5610-176th-st-e-dentist-office
Doctors: Charmaine Felix, D.D.S. General Dentist, Drew Lawhorne D.D.S. General Dentist, Jinju Song D.M.D. Pediatric Dentist, Michael Dyriw, D.D.S., M.S. Endodontist, Tripti Pawar B.D.S., M.S.D. Orthodontist
Description: Gentle Dental, Puyallup offers late evening office hours on Mondays, Tuesdays, and Thursdays. We are also open Saturdays for your convenience. We accept all major dental insurance plans as well as options including convenient payment plans for our patients who do not have dental insurance. Our caring practice also offers specialty services including pediatric, orthodontists, and periodontists eliminating the need for outside referrals. Gentle Dental makes it easy to obtain all of your dental services in one convenient location.
Mon 8:00 AM – 7:00 PM
Tue 8:00 AM – 7:00 PM
Wed 7:00 AM – 4:00 PM
Thu 8:00 AM – 7:00 PM
Fri 8:00 AM – 5:00 PM
Sat 8:00 AM – 2:00 PM
Puyallup Smiles and Orthodontists
Phone Number: 253-888-7777
Address: 16870 Meridian Ste 160 Puyallup WA
Website: www.puyallupsmilesdentistry.com
Doctors: Brian Bienstock DDS
Peter Chong DDS
Phil Kaiser Oral Surgeon DDS
Daniel Schruth Periodontist DDS, MS
Jessica Koby DMD
Jung Won Kim DDS
Description: Our friendly and knowledgeable staff at Puyallup Gentle Dental is committed to providing our patients with comprehensive care using the most advanced and proven technology in the field of dentistry. We offer a multitude of services including but not limited to emergency dental, pediatric, orthodontics, and periodontists. In most instances our patients can have all of their dental needs obtained at Puyallup Gentle Dental, eliminating the need for referrals.
Mon 8:00 AM – 7:00 PM
Tue 8:00 AM – 7:00 PM
Wed 8:00 AM – 7:00 PM
Thu 8:00 AM – 7:00 PM
Fri 7:00 AM – 4:00 PM
Sat 8:00 AM – 2:00 PM
24 Hour Emergency Dentist City
Dental emergencies and tooth pain can strike at the most in opportune times and when it does, the pain can take your breath away. In Puyallup we have several emergency dentists that can help fix the underlying problem resulting in excruciating pain and get you back on your feet again. If the pain lasts longer than a few hours and is the result of an accident, please call one of our emergency dentists or get to a hospital emergency room right away.
As with any dentist, you should always check their certifications and credentials to ensure that they are up-to-date on their training and any specialized training they may have received. You can view the list of credentials for your new Puyallup dentist by visiting the Washington State Dental Association website. If you don't have time to wait or no access to the web, just ask the receptionist at the dentist of your choosing and they will be happy to assist you in viewing your new dentists certifications and credentials.
Medically Fact-Checked & Written by Our Dental Editorial Team
You can read more about our editorial guidelines by clicking this link and learn more about the Emergency Dentists USA editorial team here.