Helping Fontana Residents Find IMMEDIATE Dental Services Everyday.
Get relief from chipped, cracked or lost tooth
Abscess, toothache, mouth pain
Emergency dental surgery
24 hour services - Includes weekends, nights and holidays

Emergency Dentist in Fontana, CA – Find A 24-Hour Dentist Now
Table of Contents
The city of Fontana in California makes a great place to spend time in the gorgeous California climate. When a dental emergency strikes, Emergency Dentists USA has the right Fontana emergency dentist for your dental problem. From after hours dental clinics with hours that extend into the evening until 7 p.m., to dental clinics with openings on Saturdays, Fontana emergency dentists on Emergency Dentists USA are standing by to treat your dental emergency right now.
Emergency Dentists USA makes it simple to choose a great Fontana emergency dentist. Simply scroll through our convenient listings to select a dentist with office hours that suit your needs or with a location that is near your hotel or home. Dental Check out our 24-hour dental emergency hotline to obtain help from a live operator who is standing by to help you to choose an excellent dentist or even make that first dental appointment.
Finding A 24 Hour Emergency Dentist in Fontana, California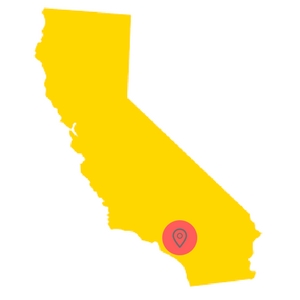 Emergency Dentists USA makes it easy to get great dental care regardless of where you are located. Our comprehensive listing of Fontana emergency dentists offers you a great dentist located near your home or offering hours that suit your needs.
Walk-in dental clinics – Dental clinics that allow patients to come in without an appointment are not easy to find. Fontana has excellent hospitals with 24-hour emergency departments that never require an appointment to treat your dental emergency.
Emergency 24-Hour Dental Clinics – Clinics that specialize in being open 24 hours a day are not available in Fontana. There are great 24-hour hospital emergency rooms that are always open to cater to your dental emergency.
After Hours Dentists – Regular dental offices that offer after-hours dental care are common in Fontana, making it simple to get great dental care on your schedule. Pick Sierra Dental Group if you need a dental appointment on a Saturday.
Emergency Dentist Listings in Fontana, California
Emergency Dentists USA makes it easy to choose an amazing Fontana emergency dentist regardless of your dental emergency. When you are in dental pain, you definitely do not want to be wandering a strange city searching for a great dentist. Emergency Dentists USA has a convenient listing of after-hours dental clinics located below. Simply scroll through our listings and choose a dentist right now.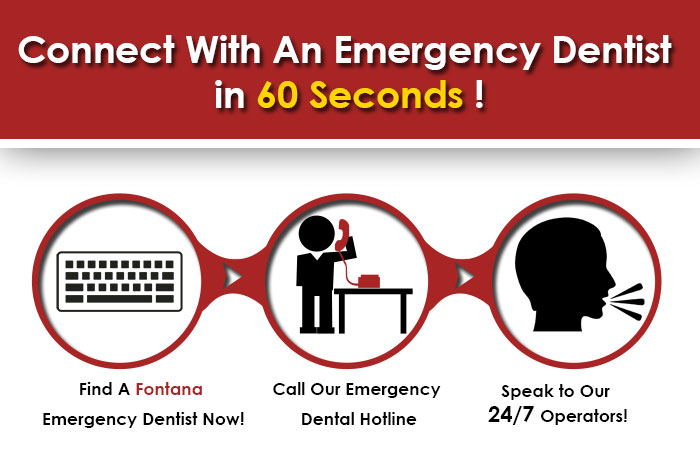 ---
Emergency Dentists USA Referral Service Fontana
Phone Number: 1 (855) 401-2701
Address: Referral Service to numerous Dental Offices serving in Fontana
Description When you encounter serious dental problems, there is nothing like knowing that a warm and gentle professional will see you soon! At the first sign of an aching tooth, you can use our hotline to see just how well we can fix you up, and marvel at how quickly we can locate an after hours pro for you.
---
Southridge Dental Group
Address: 14050 Cherry Ave., Suite A,Fontana, CA 92337
Phone: 909-743-6005
Website: dentistfontana.com
Description: 
This facility consists of three quality, experienced dentist who are delighted to service patients from Rancho Cucamonga, Rialto, Ontario, Riverside, San Bernardino, and Mira Loma. With bilingual staff, this clinic is glad to offer a walk in dentist Fontana, CA service for those facing critical dental emergencies. An after hours dentist in Fontana, CA is quite a nice thing to locate when pain comes upon you.
With office hours running through the evening and dentistry appointments available through Saturday, one should give this office a good look. Doctor Howard Glassman is the lead dentist and started the Dental Group back in 1988 and has been successfully delivering weekend dentist services to Fontana residents. With the level of expertise at this location, you are able to get the fullest, most comprehensive dental care irrespective of the complexity of your condition.
Monday 9am-6pm
Tuesday 9am-6pm
Wednesday 9am-6pm
Thursday 9am-6pm
Friday 9am-1pm
2nd Saturday of the Month 8am–2pm
Sunday Closed
---
Triangle Dental Group
Address: 14305 Baseline Ave Fontana, CA 92336
Telephone: (909) 355-1700
Website: www.triangledental.com
Description:
Triangle Dental Group is an ideal emergency dentist for those who live in Fontana, California for a number of reasons. First off, they offer high quality care that quite honestly most dentists won't offer. With four dentists, five specialists and an office manager you can rest easy knowing that your problems will get taken care of by a very professional staff. You may want to consider visiting the emergency section of their website as they will walk you through what to do if you are experiencing an emergency.
Monday 8:30am-5:30pm
Tuesday 10am-7pm
Wednesday 9am-6pm
Thursday 8:30am-5:30pm
Friday 7am-3pm
Saturday 8am–2pm
Sunday Closed
---
Sierra Dental Group
Address: 11201 Sierra Ave Suite 1F, Fontana, CA 92337, EE. UU
Telephone: (909) 355-3299
Website: www.smilestudio.com/fontana-dentist.php
Description:
Whether you are suffering from a painful abscess or a simple lost filling, Sierra Dental Group is standing by to relieve your pain and get you back on the road to recovery. With 10 dental professionals at the Fontana, California location, Sierra Dental Group provides excellent dental care quickly. Saturday office hours and evening hours on Wednesdays make it simple to see a wonderful dentist without the hassle of waiting days or weeks for an appointment. Dr. Phil J. Ra, one of the amazing Sierra Dental Group dentists, is a holder of the very prestigious Fellowship of the Academy of General Dentistry and was one of the very youngest dentists to graduate with a Doctor of Dental Surgery degree in the history of USC.
Monday 9am-5pm
Tuesday 10am-6pm
Wednesday 7am-7pm
Thursday 10am-6pm
Friday 9am-5pm
Saturday 8am–2pm
Sunday Closed
---
Bright Now! Dental
Address: 16135 Sierra Lakes Pkwy #200, Fontana, CA 92336
Telephone: (909) 356-2006
Website: www.brightnow.com/locations/dental-office/10280
Description:
With offices all over the United States, Bright Now! Dental provides a friendly and caring environment for your dental needs. Whether you are suffering from a cracked tooth or a painful toothache, Bright Now! Dental offers dental services at competitive prices with office hours to suit your needs. Open until 7 p.m. on most weekdays and offering Saturday hours, this dental clinic employs a caring staff including office manager, Christina Gonzalez. The Bright Now! Dental office in Fontana has three wonderful dentists including Dr. Gary Gorrell, Dr. Jerson Vasquez, and Dr. John Abdelmessih. Each dentist was trained in California with specialties like orthodontics, implant dentistry and even cosmetic dentistry.
Monday 8am-5pm
Tuesday 10am-7pm
Wednesday 10am-7pm
Thursday 10am-7pm
Friday 9am-6pm
Saturday 8am–6pm
Sunday Closed
---
How To Prepare For Your Fontana, California Emergency Dental Clinic Visit
– Most emergency dental clinic visits are similar to regular office visits. Fontana emergency dentists offer routine services like x-rays and cleanings along with more complicated procedures.
– Have your paperwork, health records, and insurance information ready. These items can help your new dentist to determine the best treatment for your dental emergency.
– Arrive 15 minutes early to facilitate filling out paperwork. Arriving early ensures that you have plenty of time to ask questions about your procedure.
– Make sure you know how you're going to pay and if the dentist accepts your form of payment, cash, credit, or insurance. Some Fontana emergency dental clinics offer low-interest payment plans for patients who require extensive dental treatment.
– Make sure you know if your insurance is accepted at this dentist. Choosing a dentist who participates in your dental network saves you money.
– Just like any medical visit, make sure you know if you have any allergies to medicines. Bring a list of your current medications with you to visit your new Fontana emergency dentist.
– Do you have intense dental anxiety or fear? Let the office staff know about your fears. They can help you to feel more relaxed during your dental procedure.
Quality of Urgent Care Dentists In Fontana, California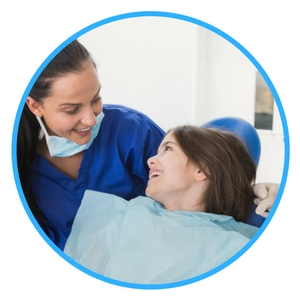 With lovely views of the Santa Ana River to the west of the city, Fontana, California welcomes tourists to enjoy the pleasant California weather and the beauty of this historic town. A little over 200,000 residents call Fontana home, with an economy that is based on large trucking companies and product distribution centers.
The city has a variety of pretty parks that offer athletic fields, skating rinks and even hiking trails for those with an eye for adventure. The Center Stage Theater with its gorgeous Art Deco design offers live theater productions along with movies that entertain guests from all over the world. Hiking Mount Jurupa is a wonderful way to spend the day, and visitors to the city definitely appreciate the gorgeous views of the urban sprawl below. From the Auto Club Speedway to the Sluggerville Batting Cages, Fontana provides fun for visitors and residents alike.
The medical care in the city of Fontana is rated well. When a dental emergency occurs that stems from an accident like a fall or a sports injury, Fontana's great hospitals make it simple to find excellent care without the worry of searching for an open dental clinic regardless of the hour. Kaiser Fontana is a 420-bed hospital that was founded in 1943.
Catering to the Fontana population, this historic facility was originally designed to provide healthcare for the Kaiser Steel Mill in Fontana. Expanding to its current location on Sierra Avenue, Kaiser Fontana now provides a teaching hospital for medical residents in the family practice specialty along with excellent care for anyone with a dental emergency that might include a broken tooth from a car accident or a sports injury.
Other great hospitals in the Fontana, California area include the Community Hospital of San Bernardino. This 343-bed facility operates a 24-hour emergency department that does not require an appointment when you have a dental emergency. The Community Hospital of San Bernardino is rated among the top 10 percent of hospitals in California for maternity care and received a five star HealthGrades rating. Located on Medical Center Drive, the hospital is easily accessed from the Fontana area when you have a dental problem like a broken tooth from a car accident or even a knocked out tooth from a fall or sports injury.
Common 24 Hour Dental Emergencies
A huge number of common dental emergencies can make it tough to enjoy a vacation in the beautiful state of California. From a simple but painful toothache to a dangerous abscess, 24-hour dental emergencies can strike at any time of the day or night. Luckily, Emergency Dentists USA has a convenient listing of Fontana emergency dentists that are standing by to care for your dental problem. From a terrible toothache to an abscess that is potentially dangerous, Fontana emergency dentists offer the services that you need to get out of pain quickly.
Common dental emergencies include soft tissue injuries to the mouth, tongue and lips along with broken or knocked out teeth. A chipped tooth or a lost filling can also be a common dental emergency that strikes at any hour. You may encounter a loose or lost crown, a bracket or wire that is broken on your braces or even an item that is caught between your teeth that makes you uncomfortable. These common dental emergencies are handled quickly by our Fontana emergency dentists.
Reading advice on the EmergencyDentistsUSA.com website is not a substitute for seeing a medical professional. Every situation is unique and you should see a dentist for any of the situations that are listed below.
Soft Tissue Injuries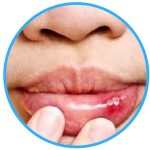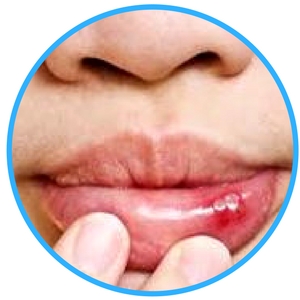 Soft tissue injuries of the mouth include damage to the tongue, the lips or even the cheeks. This type of injury can occur from a fall or even from a car accident. Place a cold compress on any area outside of the mouth to lessen swelling and pain. Use a moistened piece of gauze to apply pressure to any areas of the mouth that are bleeding. Pressure should be applied for at least 10 minutes to slow the bleeding. Visit your Fontana emergency dentist as soon as possible to treat your soft tissue injuries.
Lost Filling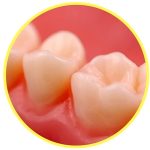 A lost filling is a dental emergency that can become quite painful if the cavity or hole in the tooth is left exposed. Use a piece of sugar-free gum to fill the cavity and to protect the surface of the tooth from food debris. Do not use gum with sugar in it, as this can cause pain when it touches the exposed interior of the tooth. Visit your Fontana emergency dentist as soon as possible to have the filling replaced and to protect your tooth.
Loose or Lost Crown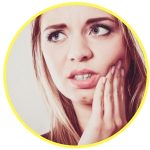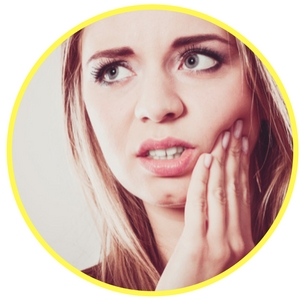 A loose or lost crown often occurs when you chew sticky foods like gum or taffy. If you are able to find the crown, rinse it with water and fill it with toothpaste or over-the-counter dental cement. Place the crown over the top of the exposed tooth and apply gentle pressure. If the crown is simply loose, try to keep the crown in place until you are able to visit your Fontana emergency dentist. He or she will be able to repair the crown or replace it.
Emergency Toothache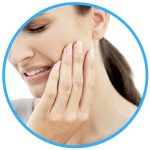 An emergency toothache is the most common of all dental emergencies. This often occurs when a tooth is decayed or when there is some type of object caught between the teeth. Use a cold compress outside of your mouth to lessen swelling and pain. Never place an aspirin or other painkiller between the cheek and tooth as this can cause chemical burns to the soft tissue of the mouth. Rinse your mouth with water and floss gently to remove any debris. Visit your Fontana emergency dentist as soon as possible to treat your toothache.
Do You Need an Emergency Tooth Extraction?
You might require an emergency tooth extraction if you have a tooth that has decayed beyond the point where a dentist is able to fix the tooth. You might also require this type of dental procedure if your tooth is crowding other teeth in your mouth. It is important not to delay the procedure as this can cause complications including pain.
Your dentist begins your procedure by first taking an x-ray of the tooth and performing an examination. He or she choose a local or general anesthetic to ensure that you do not feel pain throughout the tooth extraction. A special dental tool is used to pry the tooth from the gum, and the gum is stitched closed using a type of suture that dissolves over time. The gum is then covered with a small piece of gauze to control any bleeding. Full healing usually occurs within one to two weeks.
Following your emergency tooth extraction, it is important to take any medications as prescribed by your dentist. Avoid eating solid foods or drinking from a straw for at least a few days after the extraction. Try to avoid smoking or drinking alcohol until the gum is completely healed. Options for replacing your extracted tooth might include a dental implant or a dental bridge depending on the location of the extraction.
Emergency Room Versus Emergency Dentist

Visit a hospital emergency room if your dental emergency stems from an accident like a fall or sports injury that might include a dangerous concussion or other injury. Try not to head to the emergency room if you are suffering from a toothache or other common dental emergency. Most hospital emergency rooms are not set up to treat dental problems like a broken tooth or even a simple toothache, and heading to the ER for this type of treatment becomes quite expensive.
FAQ
What should I do if my tooth gets knocked out?
If your tooth gets knocked out, try to find the tooth. Rinse it carefully with plain water and hold it only by the crown avoiding the root. Place the tooth into a small container of milk or Save-a-Tooth and visit your Fontana emergency dentist as soon as possible.
Are electric toothbrushes better than manual brushes?
Electric toothbrushes are better than manual toothbrushes if you have a dexterity issue that causes you to be unable to handle a manual toothbrush correctly. When used appropriately, both manual and electric toothbrushes do an excellent job removing plaque.
What causes bad breath?
Bad breath has a variety of causes including tooth decay or improper tooth care. Plaque that builds up on teeth contains a large number of bacteria that excrete a type of acid that damages teeth and causes foul odors. Smoking and drinking alcohol or taking certain medications can also cause bad breath.
My dentist says I have a cavity and that I need a filling. But why doesn't my tooth hurt?
Your tooth might not hurt because the tooth decay has not reached sensitive internal pulp of the tooth. Your dentist tries to ensure that your tooth decay is captured and repaired early to protect you from the pain that is caused when a cavity reaches the sensitive portion of the tooth.
What is a root canal?
A root canal is a dental procedure that begins with a tiny hole in the tooth. The infected interior of the tooth is removed through the hole and the interior of the tooth is cleansed. The pulp of the tooth is replaced with an inert material and the hole is closed.
24 Hour Dentist Fontana Options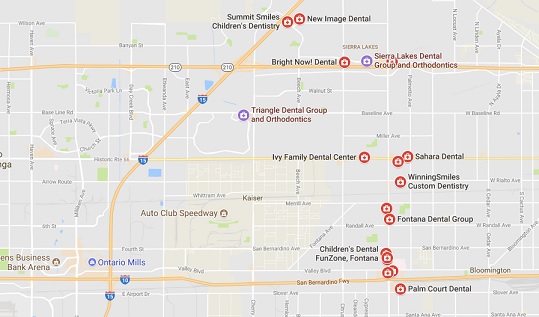 Any visit to Fontana, California means plenty of fun in the sunshine and outdoor beauty of the city. When your vacation is interrupted by a terrible toothache or other common dental emergency, there are plenty of options for dental care that suits your needs.
Visit Sierra Dental Group to see one of the excellent dentists who are available for dental emergencies on Monday through Saturday. Evening hours on Wednesdays extend until 7 p.m., and Saturday hours make it simple to get that tooth extracted before the new work week begins. Your dental health is their first concern, and the well-trained dentists and friendly staff mean that your care is always exceptional.
Triangle Dental Group is an after hours clinic with service available until 7 p.m. on Tuesdays and Saturday hours that begin at 8 a.m. and end at 2 p.m. Friendly dentists and a state-of-the-art clinic make Triangle Dental Group a great choice for any dental emergency that interrupts your vacation.
Southridge Dental Group is open until 6 p.m. on Monday through Thursday with office hours on Saturday every other weekend. This excellent dental office provides emergency care along with routine dental services and offers a bilingual staff.
If you are experiencing a dental emergency that comes from a fall or sports injury, the great Fontana hospital emergency rooms are standing by 24-hours a day to treat your dental problem. When you cannot make it to see a Fontana emergency dentist, the hospital ER is your next best choice.
A new dentist should be properly credentialed and licensed for the state of California. Use the American Dental Association's website to ensure that your new dentist is licensed for your area. The California Dental Association website offers excellent dental information along with great tips for total tooth care.
This Emergency Dentists USA portal is a website for information only, and should be not used to replace the actual advice of a medical professional. If a patient is having an emergency and cannot reach a dentist, call 911 to assure immediate response and safety.