Helping Thousands of People Each Year Find Dental Services
Emergency dental surgery, cavities, general dental care.
Find immediate help, no insurance required.
Get relief from chipped, cracked or lost teeth, abscesses or toothaches.
Greensboro, NC Emergency Dental Clinics
We specialize in Greensboro Emergency Dentistry:
Click to go to list of Dentists
Table of Contents
Emergency Dentists USA has you covered when it comes to finding a caring Greensboro emergency dentist for your dental emergency. Our comprehensive listing of emergency dentists includes dental clinics that offer after hours services so that you can get prompt care for that nagging toothache or painful abscess. From appointments as early as 7 in the morning to as late as 6 in the evening, Greensboro emergency dentists work hard to cater to your scheduling needs.
Check out our 24-hour dental hotline that makes it simple to find help when you need it. A live operator answers your calls, helps you to select a great emergency dentist and even offers scheduling advice if required.
When dental pain first starts, make sure to get on this site and find an emergency dentist right away before it gets worse. I made the mistake of not doing that and I suffered! Emergency Dentists USA is a super helpful site and their staff is wonderful at finding a dentist for you quickly!
Finding A 24 Hour Emergency Dentist in Greensboro, North Carolina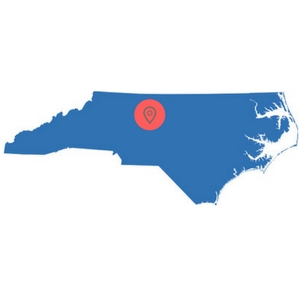 Finding a great 24-hour emergency dentist in Greensboro, North Carolina is as simple as scrolling down through our extensive listing of kind and caring dentists. With office hours, driving directions and even services listed, Emergency Dentists USA provides exactly the information that you need to make a good decision about your dental care.
There are several different types of clinics and it's easier to see what you need when you understand what they are. Walk-in dental clinics like DeVaney Dentistry of Oak Ridge provide great care without the hassle of waiting weeks for a dental appointment. A dental clinic that is open 24-hours per day is not common, but there are several Greensboro hospitals with emergency rooms that cater to your needs regardless of the hour. After hours dentists offer regular dental care before or after the standard workweek hours, Friendly Family Dentistry has extended hours and even has Saturday hours.
Emergency Dental Listings in Greensboro, North Carolina
Emergency Dentists USA has gathered a comprehensive listing of Greensboro emergency dentists to provide you with dental care when you need it most. Located below you will find after hours dental clinics, emergency dental services, and even walk-in dental clinics. Use our 24-hour dental hotline to access a live operator who will direct you to a great dentist and even help set up an appointment.
---
Emergency Dentists USA Referral Service Greensboro
Phone Number: 1 (855) 401-2701
Address: Connected To Various Dental Offices across Greensboro
Doctors Multiple
Description Call to be connected with the perfect dentist for you. Greensboro is a large city and we have the connections to find a dentist to fit your needs, and can get you an appointment immediately. Find North Carolina 24 hour dentists today.
---
Piedmont Oral And Maxillofacial Surgery Center
Phone Number: (336) 273-1000
If Closed: Call 1 (855) 276-1128 and let our Operator help you find an emergency dentist.
Address: 2105 Braxton Lane, Suite 102, Greensboro, NC 27408
Website: piedmontoral.com
Description: Here at the Piedmont Oral and Maxillofacial Surgery Center, you can visit on Saturday from 8AM until 1PM, when facing an emergency. Located on Braxton Lane in Greensboro, this clinic is where you can take your family to be seen and given proper care. The entire staff here will be on hand to make sure your experience is excellent, and that you are pain-free and happy when you leave.
Monday: 8 am to 5 pm
Tuesday: 8 am to 5 pm
Wednesday: 8 am to 5 pm
Thursday: 8 am to 5 pm
Friday 8 am to 5 pm
Saturday: 8 am to 1 pm
Sunday – Closed
---
AK Sharda DMD – Friendly Family Dentistry
Phone Number: (336) 851-2200
If Closed: Call 1 (855) 276-1128 and let our Operator help you find an emergency dentist.
Address: 5510 W Friendly Ave, Greensboro, NC 27410
Website: www.drsharda.com
Description: Here at Family Friendly Dentistry, they are open on Saturdays to provide those with busy schedules an opportunity to get all of their needs taken care of. You can see them here on Saturdays from 9AM until 2PM, and on weekdays from 8:30 AM until 5:30 PM. You may need help with urgent root canal therapy, the potential for an extraction, or a tooth that has been knocked out: come see the folks at Dr. Sharda's office for immediate relief and a proper diagnosis.
.
Monday: 8:30 am to 5:30 pm
Tuesday: 8:30 am to 5:30 pm
Wednesday: 8:30 am to 5:30 pm
Thursday – Closed
Friday: 8:30 am to 5:30 pm
Saturday: 9 am to 2 pm
Sunday – Closed
---
DeVaney Dentistry of Oak Ridge
Phone Number: (336) 643-5515
Address: 1580 Highway 68 North, Oak Ridge, NC 27310
Website: drdevaney.com
Description: This clinic encourages you to call or contact them if you have a dental episode such as cracked or broken tooth. They open as early as 7 am and can treat you same day in most situations. They pride themselves in creating a relaxing dental office environment to promote relaxation and are determined to do whatever is necessary to alleviate your pain.
Monday: 7 am to 4 pm
Tuesday: 7 am to 4 pm
Wednesday: 7 am to 4 pm
Thursday: 8 am to 4 pm
Friday: 8 am to 4 pm
Weekends – Closed
---
Dentalworks Greensboro
Phone Number: (855) 644-6443
Address: 3724 Battleground Ave Ste A Greensboro, NC 27410
Website: www.dentalworks.com
Description: This emergency dental office is always ready to make sure they see patients as quickly as possible, and that everyone who walks in the door has their dental needs met to the highest level of their satisfaction.
Monday: 8 am to 5 pm
Tuesday: 8 am to 6 pm
Wednesday: 8 am to 6 pm
Thursday: 8 am to 6 pm
Friday: 8 am to 1 pm
Weekends – Closed
---
Lane & Associates Family Dentistry
Phone Number: (336) 295-1285
Address: 5923 West Friendly Avenue Greensboro, NC 27410
Website: www.lanedds.com/offices/greensboro
Description: Lane and Associates Family Dentistry's friendly and competent staff is always available to help with all types of dental issues, understands if the patient has dental anxiety, and are skilled and detail-oriented individuals.
Monday: 8:30 am to 5 pm
Tuesday: 8:30 am to 5 pm
Wednesday: 8:30 am to 5 pm
Thursday: 8:30 am to 5 pm
Friday: 8:30 am to 5 pm
Weekends – Closed
---
Preparing For Your Greensboro, NC Emergency Dental Clinic Visit
Visiting your Greensboro emergency dentist is similar to visiting your regular dentist. Most emergency dentists provide services like x-rays and examinations along with emergency procedures like a tooth repair.
Gather your recent dental records including x-rays or examinations to bring with you to your dental visit. This ensures that your new dentist is able to choose the right plan for your dental care.
Arrive at least 15 minutes prior to your emergency dentist appointment. This gives you plenty of time to ask questions about your procedure and fill out the necessary paperwork.
Ensure that the dentist that you choose accepts your form of payment. Most dental clinics accept check, cash, credit cards and some even offer low-interest payment plans for those who need extensive dental work. Also, check to see if they accept your specific dental insurance plan.
Let the emergency dentist know if you have allergies to any medications. Bring a list of your current medications with you to the visit.
24 Hour Dental Emergencies That Are Most Common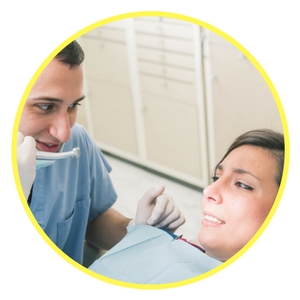 Dental emergencies strike when they are least expected and send us frantically searching for an emergency dentist to alleviate the pain or fix the problem. From a lost filling to a tooth that has been knocked completely out of your mouth, dental emergencies can be both painful and embarrassing. Anyone who encounters this type of emergency definitely wants to find the right dental clinic to provide care as soon as possible.
Reading advice on the EmergencyDentistsUSA.com website is not a substitute for seeing a medical professional. Since every situation is unique, you should see a dentist for any of the common dental emergencies described below.
Chipped or Broken Tooth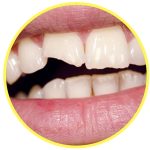 A chipped or broken tooth is definitely a common dental emergency that can even become very painful if left untreated. If you are able to find the pieces of the tooth, gather them to bring with you to see your emergency dentist as soon as possible. Rinse your mouth with water and use a cold compress to reduce any swelling or pain on the outside of the mouth and the lips. A moistened piece of gauze can be applied to any areas that are bleeding inside of the mouth. You might also use a moistened tea bag to stop the bleeding.
Objects Caught in Teeth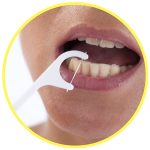 Objects that are caught in teeth can be quite painful. Rinse your mouth with water and then gently floss the teeth to remove any debris. Sometimes the object might be a piece of food, bone or even wood from a toothpick. Never use a pin or other sharp object to pry between the teeth. If flossing and rinsing the mouth does not remove the object, visit an emergency dentist as soon as possible to ensure that the object does not damage your gum or teeth. Applying a cold compress to the outside of the mouth can help to lessen the pain or any swelling.
Tooth Trauma Caused by an Accident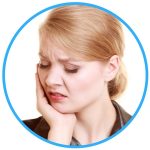 Tooth trauma might come from a sports injury, a fall or even a car accident. This type of trauma should be addressed first by a hospital emergency room physician to ensure that you do not have broken bones or a head injury. Tooth trauma that comes from an accident could involve chipped or broken teeth, a tooth that is knocked out or even soft tissue injuries to the mouth.
Do You Need an Emergency Tooth Extraction?
An emergency tooth extraction is most often performed when a tooth decays beyond the point where an emergency dentist can fix the tooth. Sometimes a tooth extraction is performed when a tooth is crowding other teeth in the mouth. If you need an emergency tooth extraction, your dentist will generally begin the procedure with an x-ray and examination of the tooth. He or she then chooses a general or local anesthetic to ensure that you are comfortable for the procedure. A special tool is used to remove the tooth from the gum, and the gum is stitched closed with stitches that dissolve over time. Gauze is placed over the gum to control any bleeding, and the patient is sent home.
Waiting to have your tooth extracted can cause you additional pain and might even make the procedure more complicated. If a tooth requires extraction, it is best to have it done as soon as possible by a Greensboro emergency dentist of your choosing.
After the procedure, follow all of the dentist's instructions carefully. Avoid drinking from a straw or eating solid foods for the first few days following the procedure. Also, avoid drinking alcohol or smoking during the healing period. Your gums should fully heal within one to two weeks.
Emergency Room Versus Emergency Dentist

Choosing to visit the emergency room at a hospital for a painful toothache is an option if you are unable to reach your Greensboro emergency dentist, or if your toothache began with a fall, a car accident or a sports injury. Unfortunately, most hospital emergency rooms are not designed to treat dental emergencies and you will often end up heading to a dentist following your ER visit. This means two sets of bills for the same dental problem, along with a wait in the ER waiting room and a hospital visit that probably will not end your toothache.
An emergency dentist has the equipment and the training to take care of any dental emergency. With plenty of after hours and walk-in dental clinics in the Greensboro area, it is important to choose a dentist rather than the hospital ER for most dental emergencies as this will save you time and money.
Greensboro Emergency Dental Information
Greensboro's emergency dentists offer plenty of extended office hours to suit your needs regardless of when the emergency strikes and Emergency Dentists USA shares all of the information that you need to make a great decision when it comes to choosing a new dentist.
Check out your Greensboro dentist online at the American Dental Association website located here: www.ada.org to ensure that he or she has all of the current licensing and credentialing.
You can also choose the North Carolina Dental Association's website located here: www.ncdental.org to get excellent information about dental services in your area and locate the right dentist for your current needs.