Helping Greensboro Residents Find IMMEDIATE Dental Services Everyday.
Get relief from chipped, cracked or lost tooth
Abscess, toothache, mouth pain
Emergency dental surgery
24 hour services - Includes weekends, nights and holidays
Find a Dentist 24/7
Near You IMMEDIATELY
Click or Call Toll-Free
1 (336) 790-5641
Call 24/7: 1 (336) 790-5641
Searching for an emergency dentist in Greensboro, NC? This is the appropriate website to suit your needs. We provide a 24 / 7 emergency dental recommendation service phone line which can hook you up with a 24 / 7 dental professional in Greensboro. Make sure you call today and spend 2 minutes talking to our reps and you will be surprised how quickly and effortlessly you're able to get the best emergency dentist near you. Additionally we offer an emergency dental professional directory that you can use to attempt to get in touch with after hours dentists directly.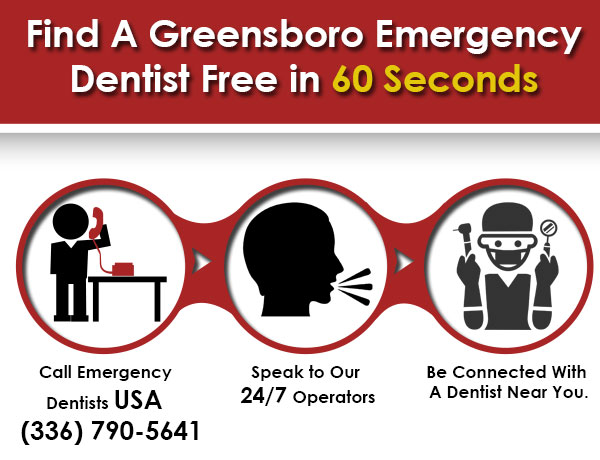 Call 24/7: 1 (336) 790-5641
Generally, when you are confronted with an unexpected dental hardship such as severe gum or tooth nerve pain, the idea is that you can escape the clutches of such pain. You figure if you just take a couple of aspirin and tough it out until the regular dentists office is open you should be OK. The trick here is not so much trying to figure out how to stem the discomfort another 24 hours or couple of days. Rather, what you should be asking is can you find a dentist open on Saturday in Greensboro or one who is available to take your appointment at a moments notice.
Well, we have great news for you and yes it involves a solution to your suffering. It starts with doing a little homework on choosing a 24 hour dentist in Greensboro, North Carolina.
After Hours Dentist in Greensboro
This is exactly what you need when you are on the other end of a broken or chipped tooth or some accident that requires the best in dentistry. We took a close look at who is available and what hours they offer treatment to those who have urgent needs. This involves dental emergency clinics open on weekends, evenings, and sometimes 365 days a year. We have good news for you and encourage that you take a look at some of the practices out there that can accommodate you when you most need it.
---
Emergency Dentists USA Referral Service Greensboro
Phone Number: 1 (877) 507-0879
Address: Connected To Various Dental Offices across Greensboro
Doctors Multiple
Description Call to be connected with the perfect dentist for you. Greensboro is a large city and we have the connections to find a dentist to fit your needs, and can get you an appointment immediately.
---
DeVaney Dentistry of Oak Ridge
Address: 1580 Highway 68 North, Oak Ridge, NC 27310
Website: drdevaney.com
Phone Number: (336) 643-5515
Description:
One place to start if you are looking for a place that can handle walk in dentist Greensboro area traffic is this facility. They encourage you to call or contact them if you have a dental episode such as cracked or broken tooth. They open as early as 7 am and can treat you same day in most situations. Plus they have some other goodies such as their willingness to wave the examination fee and multiple payment methods. They pride themselves in creating a relaxing dental office environment to promote relaxation and are determined to do whatever is necessary to alleviate your pain. Dr. DeVaney has been practicing and performing a variety of dental procedures, such as root canals, for over 12 years. And if an extraction is necessary, every precaution is taken to ensure it is pain free. In closing, this practice reinforced that they know emergencies will occur and will do everything possible to accommodate you the same day you call.
Monday 7 am to 4 pm
Tuesday 7 am to 4 pm
Wednesday 7 am to 4 pm
Thursday 8 am to 4 pm
Friday 8 am to 4 pm
Weekends – Closed
---
Dentalworks Greensboro
Address:3724 Battleground Ave Ste A Greensboro, NC 27410
Website: www.dentalworks.com
Phone Number:(855) 644-6443
Description:
It may be a chipped tooth, lost filling, potential abscess, lingering toothache, or any other number of dental emergency situations keeping you from enjoying your stay in North Carolina. This emergency dental office is always ready to make sure they see patients as quickly as possible, and that everyone who walks in the door has their dental needs met to the highest level of their satisfaction. Head doctor Beatriz Aguero graduated from Chapel Hill School of Dentistry in 1996, and is an amazing asset to the dental community with her bilingual skills, patient-centered and caring approach, and even is a skilled drummer in a local rock band.
Monday 8 am to 5 pm
Tuesday 8 am to 6 pm
Wednesday 8 am to 6 pm
Thursday 8 am to 6 pm
Friday 8 am to 1 pm
Weekends – Closed
---
Lane & Associates Family Dentistry
Address: 5923 West Friendly Avenue Greensboro, NC 27410
Website: www.lanedds.com/offices/greensboro
Phone Number:(336) 295-1285
Description: Lane and Associates Family Dentistry is open every weekday from 8:30 AM until 5PM, and is a great local choice for those in Greensboro needing help with root canal therapy, issues such as abscessed teeth, and general checkups. The friendly and competent staff here is always available to help with all types of dental issues, understands if the patient has dental anxiety, and has been skilled and detail-oriented from the ground up for many years.
Monday 8:30 am to 5 pm
Tuesday 8:30 am to 5 pm
Wednesday 8:30 am to 5 pm
Thursday 8:30 am to 5 pm
Friday 8:30 am to 5 pm
Weekends – Closed
---
AK Sharda DMD – Friendly Family Dentistry
Address: 5510 W Friendly Ave, Greensboro, NC 27410
Website: www.drsharda.com
Phone Number:(336) 851-2200
Description: Here at Family Friendly Dentistry, they are open on Saturdays to provide those with busy schedules an opportunity to get all of their needs taken care of. You can see them here on Saturdays from 9AM until 2PM, and on weekdays from 8:30 AM until 5:30 PM. You may need help with urgent root canal therapy, the potential for an extraction, or a tooth that has been knocked out: come see the folks at Dr. Sharda's office for immediate relief and a proper diagnosis.
.
Monday 8:30 am to 5:30 pm
Tuesday 8:30 am to 5:30 pm
Wednesday 8:30 am to 5:30 pm
Thursday Closed
Friday 8:30 am to 5:30 pm
Saturday 9 am to 2 pm
Sunday Closed
---
Piedmont Oral And Maxillofacial Surgery Center
Address: 2105 Braxton Lane, Suite 102, Greensboro, NC 27408
Website: piedmontoral.com
Phone Number:(336) 273-1000
Description: Here at the Piedmont Oral and Maxillofacial Surgery Center, you can visit on Saturday from 8AM until 1PM, when issues from the weekend activities taking place can cause many emergencies. Located on Braxton Lane in Greensboro, this clinic is where you can take your family to be seen and given proper care. The entire staff here will be on hand to make sure your experience is excellent, and that you are pain-free and happy when you leave.
Monday 8 am to 5 pm
Tuesday 8 am to 5 pm
Wednesday 8 am to 5 pm
Thursday 8 am to 5 pm
Friday 8 am to 5 pm
Saturday 8 am to 1 pm
Sunday – Closed
---
Thanks for browsing our Greensboro Emergency Dentist site. We hope to have given you a fantastic experience through the use of our emergency dentist referral service. Our emergency dental directory and phone referral service were built to help patients just like you to locate a dental professional late at night or on the weekends when you're typically unable to access an everyday dentists office. Lastly we suggest you check the background of any dental professional you're considering going to for the first time. This site is excellent to use for looking at after hours dental practitioners in Greensboro: http://www.ncdentalboard.org/
Who's the best emergency dentist in Fayetteville, North Carolina?