Helping Thousands of People Each Year Find Dental Services
Emergency dental surgery, cavities, general dental care.
Find immediate help, no insurance required.
Get relief from chipped, cracked or lost teeth, abscesses or toothaches.
Holistic Dentist Ann Arbor, MI – Find a Natural Dentist in Ann Arbor
No visit to the city of Ann Arbor is complete without a tour of the Matthaei Botanical Gardens. Acres of gorgeous native plants and landscaped scenery provide a beautiful backdrop for photos and special events. Ann Arbor is one of the larger cities in Michigan, making it a great location for anyone experiencing a dental problem. Choosing a new Ann Arbor holistic dentist is a breeze because this Michigan city provides residents and guests with plenty of options.
The Emergencydentistsusa.com website is a great location to begin your search for a new Ann Arbor holistic dentist. Our hand-selected listing of Ann Arbor dentists is designed to provide you with all of the information that you need to set up a first appointment, find driving directions, and even learn about insurances accepted. All of this information in a single location makes your search for a new dentist a breeze. Scroll through our listing and click on the dentist with services that suit your needs.
When access to the internet is not available, our dentist finder hotline is standing by to help you make a good decision about your new Ann Arbor holistic dentist. Just dial the toll-free number and speak with a caring agent to learn about dental services offered, to get driving directions, and to set up that first dental appointment. Remember to bring your photo ID, dental insurance card, and any necessary copayment with you to visit your new dentist. Arrive at least 15 minutes early in order to have plenty of time to fill out new patient paperwork and to ask any questions that you might have for the dentist.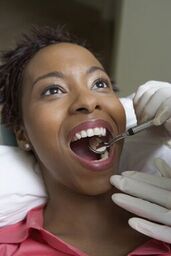 Holistic Dental Office Ann Arbor Listings
The Ann Arbor area is a great place for a vacation even when a dental emergency strikes. Scroll through our top three Ann Arbor holistic dentists below to choose the dentist with services that suit your needs.
Ann Arbor's Dentist
Phone Number: 734-747-6400
Address: 606 W. Stadium Blvd., Ann Arbor, MI 48103
Website: www.annarborsdentist.com
Doctors: Dr. Dobracki, Dr. Bowerman, Dr. Vodopyanov
Description: Cutting out the use of mercury and other metals that can be toxic to the body is the first step when working with a holistic dentist. Ann Arbor's Dentist provides general dentistry, restorative care, and cosmetic dentistry while using only biocompatible materials. Your safety, health, and comfort are the most important factors when you visit this Ann Arbor dental clinic.
Mon 8:00 AM – 7:00 PM
Tue 9:00 AM – 7:00 PM
Wed 10:00 AM – 6:00 PM
Thu 9:00 AM – 5:00 PM
Fri 9:00 AM – 2:00 PM
Sat 9:00 AM – 2:00 PM
Arbor Dental
Phone Number: 734-975-0500
Address: 2301 Platt Rd #200, Ann Arbor, MI 48104
Website: www.arbor-dental.com
Doctors: Dr. Jaffer, Dr. Iyer
Description: Treating everything from general dental conditions to TMJ, Arbor Dental is a full-service dental clinic. A caring staff and state-of-the-art technology mean that patients are treated to the best in holistic dental care. From teeth whitening to sedation dentistry, whatever you require is available to you at Arbor Dental.
Mon 8:00 AM – 5:00 PM
Tue 8:00 AM – 5:00 PM
Wed 8:00 AM – 7:00 PM
Thu 8:00 AM – 5:00 PM
Fri 8:00 AM – 3:00 PM
Sat 8:00 AM – 1:00 PM
Enspire Dental
Phone Number: 734-663-6777
Address: 3100 W Liberty Rd Ste A, Ann Arbor, MI 48103
Website: www.enspiredental.com
Doctors: Dr. Brown, Dr. Harlock, Dr. S. Bunek, Dr. Farah, Dr. J. Bunek
Description: With a heartfelt commitment to excellent dentistry and patient comfort, Enspire Dental has passionate dentists standing by to care for your dental problem. General dentistry, cosmetic and restorative care, and surgical dentistry are all provided at this Ann Arbor dental clinic. Using biocompatible materials and providing a comfortable atmosphere are what set Enspire Dental above the rest.
Mon 8:30 AM – 6:00 PM
Tue 8:30 AM – 6:00 PM
Wed Closed
Thu 8:00 AM – 7:00 PM
Fri 8:00 AM – 2:00 PM
Sat 9:00 AM – 2:00 PM
Holistic Dentist Ann Arbor
A patient who selects a holistic dentist is one who is informed and who finds whole body health to be important. When you choose a new holistic dentist, you do not have to being your dental journey over again. This simply means that you are taking an active interest in finding dental products that are biocompatible and are committed to whole body health. Most holistic dentists also work hard to reduce their impact on the environment by choosing office items that are recyclable or that are compatible with the environment.
Any time you choose a new dentist, it is important to check with the Michigan Dental Association to ensure that your dentist is licensed and credentialed for your state. Just log onto the website and enter your dentist's name in the search box. When you click the "enter" button, you will see current licensing and credentials for each dentist that you choose. You can also find this information at the dental office by speaking with the dental receptionist. Many dentists keep their current licensing on display.
Medically Fact-Checked & Written by Our Dental Editorial Team
You can read more about our editorial guidelines by clicking this link and learn more about the Emergency Dentists USA editorial team here.