Helping Thousands of People Each Year Find Dental Services
Emergency dental surgery, cavities, general dental care.
Find immediate help, no insurance required.
Get relief from chipped, cracked or lost teeth, abscesses or toothaches.
Holistic Dentist Antioch, CA – Find a Natural Dentist in Antioch
Located in the San Francisco Bay area and home to over 100,000 residents, Antioch is a picturesque California town. Visitors delight in the bevy of beautiful parks and the famous Big Break Regional Shoreline. Hikers, boaters, and anyone who loves the ocean enjoys the Antioch history and outdoor activities. When you suffer from a dental problem like an abscess or a terrible toothache, Antioch also has a good selection of holistic dentists who are standing by to get you out of pain quickly.
The Emergencydentistsusa.com website makes it easy to begin the search for a great holistic dentist. Just log onto our website, and scroll through the hand-selected listing of Antioch holistic dentists. Click on the dentist with office hours or services that suit your needs, and set up your first appointment. You can find office hours, driving directions, and even insurances accepted right on our convenient website. Use Emergencydentistsusa.com to find a great Antioch dentist now.
Use our 24-hour dentist finder hotline to find a great dentist when you do not have access to the internet. A caring agent is standing by to answer your call, and to help you to choose a new Antioch dentist. Always toll-free, our dentist finder hotline is designed to give you all of the information that you need to make an informed decision. Driving directions, office hours, and insurance information are all provided. Remember to bring your dental insurance card, your photo ID, and any necessary copayment with you to your first appointment.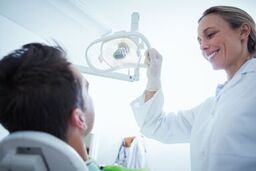 Holistic Dental Office Antioch Listings
A bustling city with plenty to entertain the whole family, Antioch is a great place to vacation. When a dental emergency strikes, scroll down to see our top three Antioch holistic dentists.
Miller and Simarro Dental Care
Phone Number: 925-754-6020
Address: 5201 Deer Valley Rd #3b, Antioch, CA 94531
Website: www.millerandsimarrodentalcare.com
Doctors: Dr. R. Simarro, Dr. Miller, Dr. N. Simarro,
Description: Three caring dentists provide a variety of holistic dental services at Miller and Simarro Dental Care. From mercury-free fillings to low radiation digital x-rays, this convenient dental office offers a huge selection of services in a single location. Cosmetic dentistry, general and family dentistry, and a wide range of exciting dental technologies are all available at Miller and Simarro Dental Care.
Mon 7:30 AM – 4:30 PM
Tue 7:30 AM – 4:30 PM
Wed 7:30 AM – 4:30 PM
Thu 7:30 AM – 4:30 PM
Fri 7:30 AM – 1:00 PM
Dental Care of Antioch
Phone Number: 925-754-2145
Address: 3432 Hillcrest Ave, Antioch, CA 94531
Website: www.dentalcareofantioch.com
Doctors: Dr. Mirzaagha, Dr. Corselli, Dr. Ghobrial
Description: Choosing to pursue the highests standards in dental care makes Dental Care of Antioch an excellent choice for your dental emergency. This Antioch dental office provides biocompatible dental materials for both cosmetic and general dentistry services. Achieving your optimum dental health is the goal at Dental Care of Antioch.
Mon 8:00 AM – 5:00 PM
Tue 8:00 AM – 5:00 PM
Wed 8:00 AM – 5:00 PM
Thu 8:00 AM – 5:00 PM
Fri 8:00 AM – 4:00 PM
Loveridge Dental Group
Phone Number: 925-427-0123
Address: 1270 E Leland Rd #101, Pittsburg, CA 94565
Website: www.concorddentalgroup.com
Doctors: Dr. Sani, Dr. Bui, Dr. Villano, Dr. Aujla, Dr. Andrews, Dr. Thondokulam, Dr. Horst
Description: From periodontists to orthodontists and everything in between, Loveridge Dental Group provides you with the services that you need for optimum dental health. Biocompatible materials and office practices that lower the impact on the environment make this dental office a perfect choice for anyone seeking a holistic dentist. A caring staff and state-of-the-art technology ensure that you are given the best care possible.
Mon 9:00 AM –6:00 PM
Tue 9:00 AM –6:00 PM
Wed 9:00 AM –6:00 PM
Thu 9:00 AM –6:00 PM
Fri 9:00 AM – 6:00 PM
Sat 8:30 AM – 3:00 PM
Holistic Dentist Antioch
The decision to choose a holistic dentist in Antioch does not mean that you are going to have to begin your dental journey all over again. This decision just means that you are paying more attention to the materials that are used in your health care. Biocompatible materials and earth-friendly office practices make holistic dentists a great choice for anyone who is concerned with their own whole-body health and with the state of the environment. Your Antioch holistic dentist is able to perform all of the standard dental services along with the inclusion of more body-friendly products.
The California Dental Association website is an excellent resource when it comes to settling on a new Antioch holistic dentist. This website provides a search box where you are able to enter the dentist's name. Just press the "enter" button and you can view all of your new dentist's current licensing and credentials. Always select a dentist who is licensed to perform dental services in your home state. You can also view licensing and credentialing documents at the dental clinic. Most dentists keep a copy of their current licensing on display.