Helping Thousands of People Each Year Find Dental Services
Emergency dental surgery, cavities, general dental care.
Find immediate help, no insurance required.
Get relief from chipped, cracked or lost teeth, abscesses or toothaches.
Holistic Dentist Arlington, VA – Find a Natural Dentist in Arlington
The city of Arlington is home to about 230,000 residents and sits just south of Washington D.C., making it the bedroom community for many D.C. workers. Arlington covers about 26 acres and is a prominent city in the history of the United States. Visitors from all over the world come to visit the Arlington National Cemetery, The Tomb of the Unknown Soldier, and the Pentagon Memorial. When a dental issue strikes in this pretty and historic town, holistic dentists are always available to meet your dental needs. From periodontists to dental surgeons, the choices are many when it comes to dental offices in Arlington.
The Emergencydentistsusa.com website is an excellent starting and ending point when it comes to choosing a new holistic dentist in Arlington. Our extensive listing of Arlington holistic dentists includes general dentists along with specialized dental offices. Simply scroll through the list of dentists and click on the office that interests you. You can then peruse the office services, take a look at office hours and even see driving directions to make your first trip a breeze. Emergencydentistsusa.com also gives you dental office insurance options, payment options, and interesting information about the office itself.
Use our 24-hour dental hotline to speak with a caring agent who can help you to choose a great Arlington dentist, even when you do not have internet access. Just call our toll-free hotline and get driving directions, appointment times, or even set up your very first appointment. Remember to bring your photo ID, your dental insurance card, and any necessary copayment with you to visit the dentist. Arrive at least 15 minutes prior to the appointment time to ask any questions that you might have, and to fill out the new patient paperwork.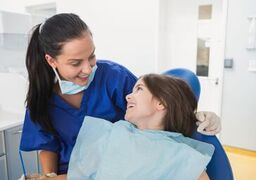 Holistic Dental Office City Listings
Arlington makes it easy to find an excellent holistic dentist regardless of your dental situation. Just scroll down below to see the top three dentists on our list.
Fairlington Dental
Phone Number: 703-671-1001
Address: 4850 31st St S a, Arlington, VA 22206
Website: www.fairlingtondental.com
Doctors: Dr. Rogers
Description: With over 26 years of dental experience, Dr. Rogers has the knowledge to understand your dental problem, treat you with care, and offer you exceptional options when it comes to dental management. This caring dental office is designed to offer you state-of-the-art technology in a setting that is pleasant. Fairlington dental officer general dental services, cosmetic services, and restorative care.
Mon 7:00 AM – 3:30 PM
Tue 7:00 AM – 3:30 PM
Wed 7:00 AM – 3:30 PM
Thu 7:00 AM – 3:30 PM
Fri 7:00 AM – 3:00 PM
DC Smiles
Phone Number: 202-912-9200
Address: 908 New Hampshire Ave NW Suite 200, Washington, DC 20037
Website: www.dcsmiles.com
Doctors: Dr. Singer, Dr. Maur
Description: DC Smiles is a great choice for anyone with a dental emergency or anyone seeking a new holistic dentist. Extensive office hours and access to two caring dentists make this dental clinic easy to fit into your schedule. From cosmetic care to restorative services, DC Smiles is a full-service dental clinic.
Mon 8:00 AM – 5:00 PM
Tue 8:00 AM – 5:00 PM
Wed 8:00 AM – 5:00 PM
Thu 8:00 AM – 5:00 PM
Fri Closed
Whole Health Dental Center
Phone Number: 703-385-6425
Address: 7115 Leesburg Pike, Falls Church, VA 22043
Website: www.wholehealthdentalcenter.com
Doctors: Dr. Liao
Description: With a strong focus on whole body care, Dr. Liao promotes wellness through preventative dental services. This friendly and focused office offers education in mouth-body connections that create a healthy future. Cosmetic services, restorative care, and general dentistry are all available at Whole Health Dental Center.
Mon 9:00 AM –5:00 PM
Tue 9:00 AM – 12:00 PM
Wed 9:00 AM –5:00 PM
Thu 9:00 AM –5:00 PM
Fri 9:00 AM – 2:00 PM
Sat 9:00 AM – 6:00 PM
Holistic Dentist Arlington
Choosing a holistic dentist means beginning a journey of total body wellness. You do not have to start all of your dental services over again, but you do get to choose a dentist who works with biocompatible products and who protects the environment. From mercury-free fillings to digital x-rays that offer less radiation, a holistic dentist strives to give you the best in whole body care. Most holistic dentists perform the same types of services that are offered in a standard general dental office, but do so with less intrusive materials and products.
Use the Virginia Dental Association's website to access your new holistic dentist's current licensing and credentials. This service allows you to choose a dentist who is licensed in your state. You can also find this information in your new dentist's office. Many dentists keep their current licensing and credentials on display at the office. Just speak with the dental receptionist prior to your first dental appointment.
Medically Fact-Checked & Written by Our Dental Editorial Team
You can read more about our editorial guidelines by clicking this link and learn more about the Emergency Dentists USA editorial team here.