Helping Thousands of People Each Year Find Dental Services
Emergency dental surgery, cavities, general dental care.
Find immediate help, no insurance required.
Get relief from chipped, cracked or lost teeth, abscesses or toothaches.
Holistic Dentist Birmingham, AL – Find a Natural Dentist in Birmingham
The city of Birmingham is the biggest city in Alabama. With well over 200,000 residents, this southern town is known for its delicious barbecue, great music, and an exciting history. Visitors to Birmingham are delighted by the strange statues throughout the town, gorgeous gardens, and interesting cobblestone streets. Luckily, visitors always have access to some great holistic dentists in Birmingham. From general dentists to specialists, this southern city has a wide selection of dentists available to anyone who needs dental work.
The Emergencydentistsusa.com website is the perfect location to begin your search for a new holistic dentist in Birmingham. Just log onto this convenient website and scroll through our hand-selected listing of holistic dentists. Click on the dentist who offers the services that you require, and go ahead and set up your first dental appointment. Find important information like office hours, insurances accepted, services offered, and even meet the dentists through our comprehensive website.
When you do not have access to the internet or need just a little more help choosing a great holistic dentist, use the toll-free dentist finder hotline. Speak with a friendly agent who is always available to help you pick out a new dentist, set up your first dental appointment, and offer you driving directions. Remember to head to your first dental appointment with your photo ID, dental insurance card, and any copayment that might be due at the time of service. Arrive early to fill out the new patient paperwork.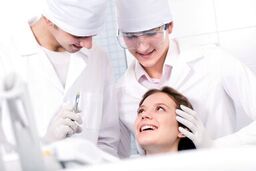 Holistic Dental Office Birmingham Listings
Birmingham is a southern city with plenty of spice. When a dental emergency strikes, Birmingham is a great place to be, with a variety of holistic dentists available to you. Check out our top three holistic dentists by scrolling down.
Koch Aesthetic Dentistry
Phone Number: 205-933-0323
Address: 2311 Highland Ave #323, Birmingham, AL 35205
Website: www.kochaesthetics.com
Doctors: Dr. Koch
Description: Providing excellent care for your beautiful smile, Koch Aesthetic Dentistry is designed to make your dental needs a priority. Dr. Koch has been in the Birmingham area for over 10 years, with a caring staff and an office that is both friendly and full-service. From cosmetic dentistry to restorative care, Koch Aesthetic Dentistry is the right choice for your family.
Mon 8:00 AM – 5:00 PM
Tue 8:00 AM – 5:00 PM
Wed 8:00 AM – 5:00 PM
Thu 8:00 AM – 5:00 PM
Fri Closed
Greystone Smile Design
Phone Number: 205-981-7775
Address: 140 Village St #203, Birmingham, AL 35242
Website: www.greystonesmiledesign.com
Doctors: Dr. Buchanan
Description: Boosting your confidence and creating a dazzling and healthy smile, Greystone Smile Design is your full-service dental clinic. From cosmetic dentistry to complete restorations, this dental office is a great choice for all ages. Dr. Buchanan is always ready to provide you with the excellent care you deserve.
Mon 8:00 AM – 5:00 PM
Tue 8:00 AM – 5:00 PM
Wed 8:00 AM – 5:00 PM
Thu 7:00 AM – 2:30 PM
Fri Closed
Dr. Doug Lewis
Phone Number: 205-933-2460
Address: 1018 17th St S, Birmingham, AL 35205
Website: www.douglewisdmd.com
Doctors: Dr. Lewis
Description: Cleanings, restorations, one visit crowns, and periodontics are all provided by a friendly dentist at Dr. Doug Lewis's office. This family dentistry clinic is a great place for adults and children, with office hours designed to suit your needs. Placing emphasis on a healthy smile, Dr. Lewis cares about each and every one of his patients.
Mon 7:00 AM – 4:00 PM
Tue 7:00 AM – 4:00 PM
Wed 7:00 AM – 4:00 PM
Thu 7:00 AM – 4:00 PM
Fri 8:00 AM – 12:00 PM
Holistic Dentist Birmingham
Choosing a holistic dentist in Birmingham does not mean that you have to begin all of your dental treatments over again. This type of choice just means that you are paying more attention to the chemicals and products that are used in your dental care. From the removal of amalgam fillings to x-rays that are completely digital, a holistic dentist provides you with a more biocompatible type of dental care. Selecting a holistic dentist in Birmingham puts you in the position to take control of your total body health.
Any time you choose a new dentist, holistic dentist, or even a dental surgeon, it is a smart idea to check with the Alabama Dental Association's website to ensure that your new dentist is properly licensed. Just log onto the website and enter your dentist's name into the search box. Click "enter" and view current licensing and credentialing documents right online. You can also find this information by visiting the dental office in person prior to your first appointment. Just check with the dental receptionist to take a look at current licensing.
Medically Fact-Checked & Written by Our Dental Editorial Team
You can read more about our editorial guidelines by clicking this link and learn more about the Emergency Dentists USA editorial team here.