Helping Thousands of People Each Year Find Dental Services
Emergency dental surgery, cavities, general dental care.
Find immediate help, no insurance required.
Get relief from chipped, cracked or lost teeth, abscesses or toothaches.
Holistic Dentist Bloomingdale, IL – Find a Natural Dentist in Bloomingdale
Bloomingdale Township is one of the oldest villages in DuPage County, Illinois. This picturesque town was a stagecoach stop in the days when travelers were heading out west, and now is home to about 30,000 residents. The center of town is filled with restored homes, small businesses, and shops that are located right on the site of the original settlement. A giant indoor mall houses over 150 shops, drawing visitors from all over the area. Bloomingdale is also a great place to be when you need a new holistic dentist, because there are plenty to choose from here in Illinois.
The Emergencydentistsusa.com website makes the perfect starting point on any search for a new holistic dentist. Just log onto our comprehensive website and scroll through the listing of holistic dentists in Bloomingdale. Click on the dentist that offers services that suit your needs and set up your first dental appointment. On the Emergencydentistsusa.com website you can find dental office hours, driving directions, and insurances accepted along with any information that you might require to make a dental appointment today.
Need a little more help getting that dental appointment scheduled? Call our toll-free dentist finder hotline to speak with a caring agent who can answer your questions, schedule your dental appointment, and even give you driving directions. Remember that you need to bring your dental insurance card, photo ID, and any applicable copayment with you to visit your new holistic dentist. Arrive at least 15 minutes early to fill out the necessary new patient paperwork.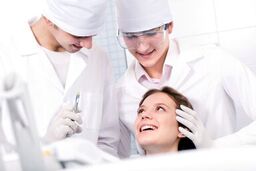 Holistic Dental Office Bloomingdale Listings
Pretty farms and plenty of outdoor fun await anyone visiting Bloomingdale. When a dental problem arises, there are a great variety of holistic dentists in this township. Just scroll down to see our top three dentists below.
Comprehensive Dentistry of Bloomingdale
Phone Number: 630-529-2522
Address: 183 S Bloomingdale Rd #200, Bloomingdale, IL 60108
Website: www.comprehensivedentistry.com
Doctors: Dr. C. Levato, Dr. S. Levato, Dr. Abadilla, Dr. Samrie
Description: Over 30 years of dental experience makes Dr. C. Levato a true expert in comprehensive dentistry. A visit to this Bloomingdale holistic dental office means access to four caring dentists and a staff that caters to your dental anxiety. From mercury-free fillings to low-dose digital x-rays, Comprehensive Dentistry of Bloomingdale has you covered regardless of your dental problem.
Mon 7:00 AM – 8:00 PM
Tue 7:00 AM – 8:00 PM
Wed 7:00 AM – 8:00PM
Thu 7:00 AM – 8:00 PM
Fri 7:00 AM – 2:00 PM
Pure Dental Spa
Phone Number: 630-423-3604
Address: 108 E Lake St #1, Bloomingdale, IL 60108
Website: www.puredentalspa.com
Doctors: Dr. R. Patel, Dr. A. Patel, Dr. P. Patel, Dr. Mehta, Dr. Lee, Dr. Foxson
Description: A large office with dentists who offer a variety of specialties makes Pure Dental Spa a great choice for anyone seeking comprehensive dental care. This full-service dental clinic provides dental surgery, general dentistry, cosmetic services, orthodontics, and restorative care. Visit Pure Dental Spa to begin your dental journey with a staff and doctors who care.
Mon 9:00 AM – 7:00 PM
Tue 9:00 AM – 7:00 PM
Wed 9:00 AM – 12:00 PM
Thu 12:00 PM – 7:00 PM
Fri 8:00 AM – 5:00 PM
Sat 8:00 AM – 2:00 PM
DentalWorks-Bloomingdale
Phone Number: 630-295-8203
Address: 366 Army Trail Rd #310a, Bloomingdale, IL 60108
Website: www.bloomingdale.dentalworks.com
Doctors: Dr. Janabi, Dr. Chung, Dr. Alalwi
Description: DentalWorks of Bloomingdale is a great choice for anyone seeking a full-service holistic dental office. Three caring dentists and a friendly staff make each visit a pleasure. Digital x-rays, state-of-the-art technology, and services from general dentistry to oral surgery are available at DentalWorks of Bloomingdale.
Mon 9:00 AM – 6:00 PM
Tue 8:00 AM – 12:00 PM
Wed 9:00 AM – 6:00 PM
Thu 10:00 AM – 7:00 PM
Fri 9:00 AM – 5:00 PM
Sat 8:00 AM – 2:00 PM
Holistic Dentist Bloomingdale
Selecting a holistic dentist rather than a standard general dentist does not mean that you have to start your dental journey from the beginning. This type of choice simply means that you are focusing on your total well being rather than just your dental health. A holistic dentist differs from a standard dentist in many of the materials that are used during your dental service. A holistic dentist avoids the use of amalgam fillings that contain mercury, chooses low-dose radiation digital x-rays, and often works to provide an office that does not impact the environment in a negative way.
Anyone who is choosing a new dentist needs to ensure that he or she is properly licensed and credentialed before setting up that first visit. The Illinois Dental Society website is the perfect place to check this information prior to your dental appointment. Just log onto the website and enter your dentist's name in the search box. View documents that include current Illinois licensing and credentials. You can also find this information in most dental clinics. Just speak with the dental receptionist when you visit the office.
Medically Fact-Checked & Written by Our Dental Editorial Team
You can read more about our editorial guidelines by clicking this link and learn more about the Emergency Dentists USA editorial team here.