Helping Thousands of People Each Year Find Dental Services
Emergency dental surgery, cavities, general dental care.
Find immediate help, no insurance required.
Get relief from chipped, cracked or lost teeth, abscesses or toothaches.
Holistic Dentist Boston, MA – Find a Natural Dentist in Boston
Searching the city of Boston, MA for a holistic dentist definitely can be a hassle, especially when you are experiencing dental pain. One of the most densely populated cities in the state, Boston is also one of the very oldest cities in the United States. Filled with universities and colleges, Bean Town makes an excellent location for exploring the history of America and enjoying the arts, entertainment, and food that make this eastern city famous.
Emergencydentistsusa.com gives you the quick access that you need to find a holistic dentist in Boston. With a simple mouse click, you can choose from our comprehensive listing of holistic dentists, check out their office hours, choose a dental office location, and even learn more about the procedures that are offered in each office. Choose a great Boston holistic dentist by clicking on the office nearest your location or select a dentist who accepts your preferred method of payment. A great selection of holistic dentists in Boston is always at your fingertips on the Emergencydentistsusa.com website.
When you just do not have time to go online and search through our convenient website, we also offer you a toll free dentist finder hotline. Pick up the phone and speak with one of our well-trained and friendly customer service agents who will be happy to help you choose a great holistic dentist in Boston. Once you select the dentist that you want, our agents can even help you to set up your first appointment and provide you with driving directions to find the office quickly. When you visit your new holistic dentist for the first time, remember to bring your driver's license or another valid ID, your dental insurance card, and any insurance copay that could be due after your appointment. Try to arrive at least 15 minutes prior to the appointment time to fill out new patient paperwork.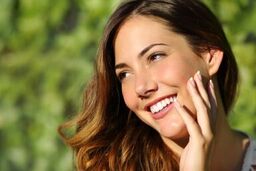 Holistic Dental Office Boston Listings
There are plenty of choices when it comes to selecting a holistic dentist in Boston. This bustling city offers a wide variety of dental offices that provide both routine dental services and emergency procedures for anyone experiencing a dental problem.
Harmony Boston
Phone Number: 617-423-5982
Address: 410 TREMONT STREET, BOSTON MA 02116
Website: www.harmonyboston.com
Doctors: Dr. Yuko and Dr. Mayr
Description: Featuring two of only four S.M.A.R.T. certified dentists in the entire state of Massachusetts, Harmony Boston makes choosing a holistic dentist simple. Offering mercury-free and fluoride-free alternatives to the standard dental therapies, this holistic dental clinic also provides patients with routine dental services like cleanings and crowns.
Mon 8:00 AM – 6:00 PM
Every Other Tue 8:00 AM – 1:00 PM
Wed 8:00 AM – 2:00 PM
Thu Closed
Fri 8:00 AM – 6:00 PM
Sat 8:00 AM – 5:00 PM
Dental Wellness
Phone Number: 617-868-1516
Address: 1842 Beacon Street, Suite 305, Brookline, MA 02445
Website: www.bostondentalwellness.com
Doctors: Dr. Iveta Iontcheva-Barehmi
Description: With comprehensive dental services that include bio-ceramic implants, Dental Wellness provides an excellent alternative to metal dental products. Dr. Iveta is certified to place zirconia implants as well, saving patients a trip to Europe in search of this type of dental therapy.
Mon 10:00 AM – 5:00 PM
Tue 10:00 AM – 5:00 PM
Wed 10:00 AM – 5:00 PM
Thu 1:00 P.M. – 6:00 PM
Fri 10:00 AM – 5:00 PM
Sat 10:00 AM – 3:00 PM
Dental Health and Wellness Boston
Phone Number: 617-742-1220
Address: 31 State Street #7, Boston, MA 02109
Website: www.dentalhealthandwellness.com
Doctors: Dr. Smith, Dr. Budd
Description: Founded by Dr. Jill Smith, Dental Health and Wellness Boston provides visitors and residents of the city with holistic dental services designed to meet all dental needs. With options that include restorative dentistry and cosmetic dentistry, this holistic dental clinic offers Britesmile and Six Months Smiles. Friendly and caring dentists at this office include Dr. Budd, who provides restorative dental procedures and lectures on oral appliances.
Mon 10:00 AM – 7:00 PM
Tue 10:00 AM – 7:00 PM
Wed 8:30 AM – 5:30 PM
Thu 10:00 AM – 7:00 PM
Fri 9:00 AM – 6:00 PM
Sat 9:00 AM – 6:00 PM
Holistic Dentist Boston
Selecting a Boston holistic dentist means that you can make decisions regarding your dental care that improve your life and protect your health. Utilizing materials that are less damaging to the environment, holistic dental offices provide both routine dental care services and emergency dental care if necessary.
Choosing your Boston holistic dentist is easier when you are able to check certifications and licensing online. Use the Massachusetts Dental Association's website to access the state records regarding licensed and certified holistic dentists in the Boston area. You can also view current certifications and licensing inside your new dental office by asking the receptionist to share them with you.
Medically Fact-Checked & Written by Our Dental Editorial Team
You can read more about our editorial guidelines by clicking this link and learn more about the Emergency Dentists USA editorial team here.