Helping Thousands of People Each Year Find Dental Services
Emergency dental surgery, cavities, general dental care.
Find immediate help, no insurance required.
Get relief from chipped, cracked or lost teeth, abscesses or toothaches.
Holistic Dentist Brookhaven, NY- Find a Natural Dentist in Brookhaven
Located on the shoreline of the Atlantic and stretching from the north to the south shore of Long Island, Brookhaven shares some of the most beautiful views in the state of New York. Guests from all over the world appreciate the picturesque ferries, the multitude of art centers and museums, and the exciting jazz festivals. Looking for a holistic dentist in Brookhaven does not have to interrupt your enjoyment of the area because there are plenty of excellent dentists serving Long Island.
The Emergencydentistsusa.com website provides just the information that you need to make an great decision about your new holistic dentist. Simply scroll through our convenient listing of Brookhaven holistic dentists and select the office that is closest to your home or that offers office hours to suit your needs. Click on a specific dental office and check out the hours of operation, the services that are offered, the billing procedures and insurances accepted, and learn about the dentist that you have chosen.
When you do not have time to scroll through a list of dentists or need a new holistic dentist right now, our 24-hour hotline is staffed with kind and caring agents to help you to choose a new holistic dentist. Speak with an agent now to learn more about your new dentist or ask our agent to make your first appointment for you. Remember to bring your dental insurance card, your photo identification card, and any necessary copayment with you to your first dental appointment. You should arrive at least 10 to 15 minutes early in order to fill out any new patient paperwork.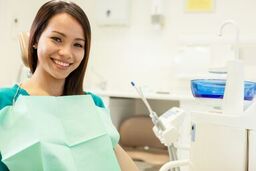 Holistic Dental Office Brookhaven Listings
Brookhaven is a gorgeous city on Long Island with several excellent holistic dentists who are standing by to address your dental problems. Located below are three of the top holistic dentists in the Brookhaven area.
Holistic Smiles
Phone Number: 631- 474-7477
Address: 1303 Main St #2, Port Jefferson, NY 11777
Website: www.holisticsmiles.com
Doctors: Dr. Fazio
Description: Specializing on comprehensive biocompatible dental care in an atmosphere of compassion, Holistic Smiles invites you to replace those amalgam fillings with biocompatible composite materials that are free of mercury. Visit the office for routine cleanings, fillings, dental x-rays, or to address that emergency toothache pain.
Mon Closed
Tue 9:00 AM – 6:00 PM
Wed 9:00 AM – 6:00 PM
Thu 9:00 AM – 6:00 PM
Fri 9:00 AM – 1:00 PM
Sat 9:00 AM – 1:00 PM
Brookhaven Dental Care
Phone Number: 631-289-9425
Address: 500 Medford Ave., Suite 9, Patchogue, NY 11772
Website: Brookhavendentalcare.com
Doctors: Dr. Dene
Description: Cosmetic dentistry, restorative dentistry, and restorative dentistry are all available at Brookhaven Dental Care. The use of biocompatible dental appliances, safe digital x-rays, and a kind and friendly staff make this dental clinic a great choice for anyone with a dental emergency and a preference for holistic dentistry.
Mon Closed
Tue 9:00 AM –5:00 PM
Wed 9:00 AM –5:00 PM
Thur Closed
Fri Closed
Sat 8:00 AM – 2:00 PM
Total Dental Care
Phone Number: 631-924-8155
Address: 699 Middle Country Road, Middle Island, NY 11953
Website: www.totaldentalcare.com
Doctors: Dr. Zatcoff, Dr. Quitoni, Dr. Barrett, Dr. Golub, Dr. Elmissir, Dr. Parli
Description: With a huge variety of dental services under one roof, Total Dental Care prides itself in being a one-stop dental office. From implants to cosmetic dentistry to routine dental care, this office provides all of the dental services that you require without ever having to leave the building.
Mon 9:00 AM – 7:30 PM
Tue 9:00 AM – 7:30 PM
Wed 9:00 AM – 7:30 PM
Thu 9:00 AM – 7:30 PM
Fri 9:00 AM – 6:30 PM
Sat 8:00 AM – 4:00 PM
Holistic Dentist Brookhaven
When you choose a holistic dentist in Brookhaven, you are taking control of your health by selecting a dentist who works to choose only biocompatible materials and safe dental practices. This does not mean that you have to begin your entire dental journey again, but it does mean that your new dentist is aware of the impact that amalgam fillings might have on your health. A holistic dentist offers dental services that are comparable to a standard dentist with an emphasis on whole body health.
When you choose your new Brookhaven holistic dentist, it is important to check his or her current licensing and credentials. You can do this by speaking with the office receptionist as many offices display current licensing right in the reception area. You can also access the New York Dental Association website to check any New York area dentist's current licensing information. Simply type the dentist's name into the search box, and view the information that you have selected.
Medically Fact-Checked & Written by Our Dental Editorial Team
You can read more about our editorial guidelines by clicking this link and learn more about the Emergency Dentists USA editorial team here.