Helping Thousands of People Each Year Find Dental Services
Emergency dental surgery, cavities, general dental care.
Find immediate help, no insurance required.
Get relief from chipped, cracked or lost teeth, abscesses or toothaches.
Holistic Dentist Manhattan, NY – Find a Natural Dentist in Manhattan
The heart of New York City, Manhattan is bordered by three rivers and is just 22.7 square miles total. The "Big Apple" is home to some of the country's most famous landmarks including the Empire State Building, the Brooklyn Bridge, and Times Square. With Broadway plays and musicals, plenty of shopping adventures, and iconic buildings, Manhattan is a favorite for visitors from all over the world. It is also a great city to find a new holistic dentist. From holistic general dentists to specialists, the "Big Apple" has the dentist that you need today.
The Emergencydentistsusa.com website is the perfect starting point in your search for a new holistic dentist in Manhattan. Just log onto our comprehensive website to scroll through the hand-selected listing of holistic dentists. Click on the dentist with services that suit your needs, and set up your very first appointment. The Emergencydentistsusa.com website also provides important information like office hours, driving directions, and insurances accepted so that your questions are answered before you head to your new dentist's office.
When you need a little more help choosing a new dentist, call our 24-hour dentist finder hotline. Speak with a caring agent who can help you to select a dentist, set up your first appointment, and even offer you driving directions. All of these services are always toll-free. Remember to bring your dental insurance card and a photo ID with you to your first dental visit. You should arrive at least 15 minutes early to fill out the new patient paperwork and to ask any questions that you might have for the dentist.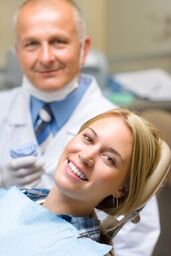 Holistic Dental Office Manhattan Listings
Discovering the city of Manhattan means spending time wandering Central Park and maybe taking in a Broadway play. This great city also has a large selection of holistic dentists who are standing by to create your best smile. Scroll down to see a few of our top holistic dentists below.
Tribeca Center for Holistic Dentistry
Phone Number: 212-732-2200
Address: 17 Park Pl, New York, NY 10007
Website: www.holistic-dentists.com
Doctors: Dr. Gross
Description: With a spa-like feel, the Tribeca Center for Holistic Dentistry makes each visit special. From mercury-free fillings to low radiation x-rays, this general dental clinic provides all of the services that you need for a healthy smile. Over thirty years of experience and a caring staff mean that you are in good hands at Tribeca Center for Holistic Dentistry.
Mon 9:00 AM – 4:00 PM
Tue 9:00 AM – 7:00 PM
Wed 9:00 AM – 7:00 PM
Thu 9:00 AM – 7:00 PM
Fri 9:00 AM – 4:00 PM
Dentistry for Health NY
Phone Number: 212-973-9425
Address: 120 E 56th St, New York, NY 10022
Website: www.dentistryforhealthny.com
Doctors: Dr. Winick
Description: For over 20 years, Dr. Winick has worked to ensure that your dental health and your whole body wellness go hand-in-hand. From the removal of amalgam fillings to the creation of a bright new smile, this dental office provides all of the services that you need in a single location. Educating patients and providing a warm and comfortable environment set this dental office apart from the rest.
Mon 10:00 AM – 8:00 PM
Tue 10:00 AM – 8:00 PM
Wed 10:00 AM – 8:00 PM
Thu 10:00 AM – 8:00 PM
Fri 10:00 AM – 5:00 PM
The Brand Wellness Center
Phone Number: 212-947-0073
Address: 19 W 34th St #1022, New York, NY 10001
Website: www.thebrandwellnesscenter.com
Doctors: Dr. Brand
Description: This natural and holistic dental family provides caring services for families in the Manhattan area. From comprehensive dental care to restorative services and cosmetic options, Dr. Brand offers biocompatible dental care in a safe and comfortable setting. Lasers, ozone, and even computerized x-rays are among the state-of-the-art technologies shared with patients at the Brand Wellness Center.
Mon 10:00 AM – 5:00 PM
Tue 11:00 AM – 7:00 PM
Wed Closed
Thu 10:00 AM – 5:00 PM
Fri 11:00 AM – 7:00 PM
Holistic Dentist Manhattan
The selection of a holistic dentist in Manhattan does not mean that you need to start all of your dental services over again. This simply means that you are taking a more active interest in your dental health, and how this affects your entire body. Many patients report that they have health issues that stem from the use of amalgam or mercury fillings. A holistic dentist offers you an alternative to those materials that may cause damage to your body. Many holistic dentists also work to create a smaller impact on the environment, making a holistic dental office a "green" alternative to a standard general dentist.
Any time you choose a new holistic dentist, it is important to ensure that your dental choice is properly licensed and certified in the state of New York. You can use the New York State Dental Association website for this purpose. Just log onto the website and enter your dentist's name in the search box. You can then view important licensing and credentialing documents right online. You can also see these types of documents by visiting the dental office prior to your first appointment. Most dentists keep a copy of their current licensing and credentials right in the office.
Medically Fact-Checked & Written by Our Dental Editorial Team
You can read more about our editorial guidelines by clicking this link and learn more about the Emergency Dentists USA editorial team here.