Helping Thousands of People Each Year Find Dental Services
Emergency dental surgery, cavities, general dental care.
Find immediate help, no insurance required.
Get relief from chipped, cracked or lost teeth, abscesses or toothaches.
Holistic Dentist Portland, OR – Find a Natural Dentist in Portland
Whether you just purchased a home in Portland or you are here to site see for a couple of days, there is plenty to see and do. Unfortunately, tooth pain may arise while you are here and you may find yourself skipping a trip to the Oregon Zoo or to the Oregon Museum of Science and Industry. Before you count yourself out for fun activities, know that there are natural dentists in Portland who are ready to see you and help you.
The team at emergencydentistsusa.com has worked hard to gather a list of all available natural dentists in Portland. We invite you to take a look at the list and identify a dentist that you want to visit. Our list is available to you 24 hours a day and you can look for a dentist whenever you need one. Should you be in a rush and not have time to scroll through the list, call our toll-free dentist finder line.
Our team will assist you in looking for a natural dentist in Portland. We know that you run a busy ship and that is why our team is prepared to schedule your first appointment for you as well. We do recommend that you arrive to your appointment early to fill out paperwork and that you have your ID, insurance card, and copayment handy.
Holistic Dental Office Portland Listings
Holistic dentists in Portland do exist and they are ready to help you and provide you with the care you need. Fortunately, there are many options for holistic dental providers and you can receive the dental procedure you need from gum disease treatment to dental implants and more.
Blodgett Dental Care
Phone Number: 503-894-5802
Address: 522 SE Belmont Street, Portland, OR 97214
Website: www.blodgettdentalcare.com
Doctors: Kelly J. Blodgett, DMD
Description: Blodgett Dental Care is prepared to work closely with you to ensure your teeth and gums are healthy. Dr. Blodgett offers holistic care and approaches dentistry as an art. She uses the latest in dental technology to ensure your experience is as peaceful as possible. We offer a wide range of dental services from preventative care to sleep apnea treatment and even cosmetic procedures.
Mon 9:00 AM – 6:00 PM
Tue 7:00 AM – 4:00 PM
Wed 7:00 AM – 4:00 PM
Thu 9:00 AM – 4:00 PM
Fri Closed
Mint Dental Works
Phone Number: 503-254-1323
Address: 1401 SE Morrison St., Suite 108, Portland, OR 97214
Website: www.mintdentalworks.com
Doctors: Dr. Jason E. McMillan, Dr. Angela Justice
Description: At Mint Dental Works, we provide you with an unforgettable dental experience and we mean that in the best possible way. We are the country's first Leadership in Energy and Environmental Design office and we are committed to holistic dental care. While here, you will receive personalized, comprehensive care and treatments to ensure you have a healthy smile for life.
Mon 8:00 AM – 5:00 PM
Tue 8:00 AM – 5:00 PM
Wed 8:00 AM – 5:00 PM
Thu 8:00 AM – 5:00 PM
Fri 8:00 AM – 5:00 PM
Arborview Dental
Phone Number: 503-465-4848
Address: 10011 SE Division St., Suite 309, Portland, OR 97266
Website: www.arborviewdentalcenter.com
Doctors: Dr. Douglas K. Matz, DMD
Description: At Arborview Dental, we focus on holistic dental care and we offer you a wide variety of option for treating any dental condition that may arise. At our practice, we will remove any toxic dental materials that exist in your mouth and replace them with more natural options. Our holistic approach includes non-mercury and non-amalgam fillings, cavitation, TMJ therapy, chelation, sensitivity testing, and more.
Mon 9:00 AM – 6:00 PM
Tue 9:00 AM – 6:00 PM
Wed 9:00 AM – 6:00 PM
Thu 9:00 AM – 6:00 PM
Fri Closed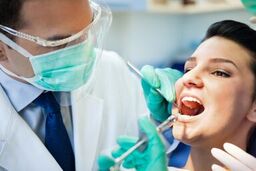 Holistic Dentist Portland
Deciding to visit a holistic dentist in Portland is one of the first steps to healthier teeth and gums. You have been through the ringer when it comes to traditional dental care and you are ready for a better, more natural option and that is okay. This decision will be one that we are confident that you are happy with.
Before you visit a new holistic dentist in Portland, just like any new health provider, you should verify the dentist's credentials and licenses. You can do this when you arrive in the office by asking the front receptionist to see the licenses or you can search the dentist's name on the Oregon Dental Association website.