Home
/
Holistic Dentists
/
Holistic Dentist Virginia Beach, VA – Find a Natural Dentist in Virginia Beach
Helping Thousands of People Each Year Find Dental Services
Emergency dental surgery, cavities, general dental care.
Find immediate help, no insurance required.
Get relief from chipped, cracked or lost teeth, abscesses or toothaches.
Holistic Dentist Virginia Beach, VA – Find a Natural Dentist in Virginia Beach
Whether you plan to spend the day at the beautiful, sandy white beach or you have made arrangements to visit the Virginia Aquarium, you do not have time to deal with a toothache. While toothaches are unfortunate, they are a part of life and can happen spontaneously. Instead of accepting that your vacation is ruined, take a moment to check out all of the natural dentist options in Virginia Beach.
The team at emergencydentistsusa.com has worked hard to compile you a list of available Virginia Beach natural dentists. Our list is comprehensive and includes all specialties within the dental field from oral surgeons to endodontists and more. All you need to do is take a look at the list and choose a dentist.
If you find yourself in a rush and you cannot look at the list, call our free dentist finder hotline. Our team will assist you in locating a nearby dental provider who specializes in natural treatments. We can schedule your first appointment for you and provide you with directions to the office. We do recommend that you have your valid ID and insurance card on you for your first appointment, as well as your copayment. We also suggest that you arrive about 15 minutes prior to your schedule appointment time to fill out paperwork.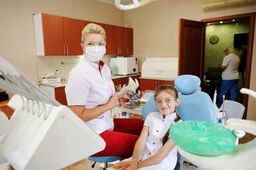 Holistic Dental Office Virginia Beach Listings
Whether you are new to the area or just passing on by, you may be scared when tooth pain arises. Where will you go? Who can you turn to? Fortunately, there are many holistic dentists in Virginia Beach who are ready to help you. These dentists specialize in procedures such as root canals, chelation, and more. Take a moment to check out our favorite three options below.
Horwitz & Dorfman
Phone Number: 757-481-3699
Address: 2142 Great Neck Square, Virginia Beach, VA 23454
Website: www.abbeyhorwitzdds.com
Doctors: Abbey Horwitz, Darren Dorfman
Description: At Horwitz & Dorfman, we will provide you with the best dental treatment in all of Virginia Beach. We are committed to a holistic approach and we offer some of the fastest procedures to include CEREC crowns, which are placed the same day. In addition to our speedy services, our prices are affordable and we treat dental work like an art form. We will sculpt your smile and we know that you will be proud to show it off.
Mon 7:30 AM – 5:00 PM
Tue 7:30 AM – 5:00 PM
Wed 7:30 AM – 5:00 PM
Thu 7:30 AM – 5:00 PM
Fri 8:00 AM – 12:00 PM
Partners in Dental Health
Phone Number: 757-481-7392
Address: 2245 W Great Neck Rd., Virginia Beach, VA 23451
Website: www.partnersindentalhealth.com
Doctors: Dr. Dean Kent, Dr. Matthew Kent, Dr. Keenan Davis, Dr. John Kent
Description: At Partners in Dental Health, we care about your smile and the approach in which we provide dental care. We work closely with you and your family to provide a full range of care right here under one roof to all patients 1 to 101. We do offer a holistic approach in which we do not perform any procedures that use toxic substances. All of our fillings are mercury free, so you have nothing to worry about. Our team is ready to answer all of your questions!
Mon 8:00 AM – 5:00 PM
Tue Call for appointment
Wed 8:00 AM – 5:00 PM
Thu 8:00 AM – 5:00 PM
Fri Call for appointment
Schrumpf and Herman Family Dentistry
Phone Number: 757-467-8181
Address: 1300 Kempsville, Rd., Ste. 1, Virginia Beach, VA 23464
Website: www.schrumpfdds.com
Doctors: Dr. Gregory A. Schrumpf, DDS, FAGD, Dr. Barry L. Herman, DMD
Description: At Schrumpf and Herman Family Dentistry, we are ready to provide your entire family with comfortable and affordable dental care. We want you to know that you can come to us when you need dental care and our holistic approach encompasses your entire health. From general to children's dentistry, complex surgeries, and reconstructive procedures, we are here for you. You can fall back in love with your smile – just pick up the phone.
Mon 8:00 AM – 5:00 PM
Tue 8:00 AM – 5:00 PM
Wed 8:00 AM – 5:00 PM
Thu 8:00 AM – 5:00 PM
Fri 8:00 AM – 5:00 PM
Holistic Dentist Virginia Beach
If you are after a holistic dentist in Virginia Beach, you will be happy to know that they exist and are found everywhere in the area. These natural dentists practice in a manner that encompasses your physical, emotional, and spiritual health. From amalgam-free fillings to the latest tools that are biocompatible, you will be in the best hands.
Before you visit any new natural dentist in Virginia Beach, you should verify their credentials and licenses to ensure that they are licensed to provide you with the care you need. To do this, you can inquire with the receptionist at the front desk or you can perform a search of the dentist's name on the Virginia Dental Association website.
Medically Fact-Checked & Written by Our Dental Editorial Team
You can read more about our editorial guidelines by clicking this link and learn more about the Emergency Dentists USA editorial team here.