Home
/
Holistic Dentists
/
Holistic Dentist Washington, D.C. – Find a Natural Dentist in Washington, D.C.
Helping Thousands of People Each Year Find Dental Services
Emergency dental surgery, cavities, general dental care.
Find immediate help, no insurance required.
Get relief from chipped, cracked or lost teeth, abscesses or toothaches.
Holistic Dentist Washington, D.C. – Find a Natural Dentist in Washington, D.C.
The capital of the United States, Washington, D.C., is located along the Potomac river in the eastern portion of the country. Washington D.C. is home to the government of the United States and a large number of interesting historic buildings, museums, and theaters that attract visitors from around the world each year. Searching for a holistic dentist in this bustling city might seem like a daunting task, but Washington, D.C. actually offers a great selection of holistic dentists that are always standing by to help you with any of your dental needs.
The Emergencydentistsusa.com website is designed to simplify your search for a Washington, D.C. holistic dentist by putting all of the information that you need right at your fingertips. Simply scroll through our comprehensive listing of D.C. dentists and click on the dental office that suits your needs. By selecting a specific dental clinic, you can scroll through information that includes office hours, staff information, dental specialties, driving directions, and much more. Select your holistic dentist and set up your appointment simply and conveniently.
When you do not have access to the internet and need a holistic dentist quickly, you can also speak with a kind and caring dental finder agent. This toll-free dental hotline can be utilized to help you to choose a new holistic dentist or even to set up your very first holistic dental appointment. Remember that you need to bring your current dental insurance card, a photo identification card, and any necessary copayment with you to visit your new dentist. Try to arrive at your appointment about 10 minutes early to complete the necessary paperwork.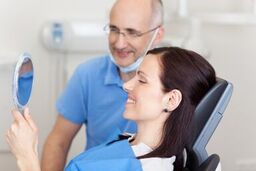 Holistic Dental Office Washington, D.C. Listings
The hustle and bustle of Washington, D.C., can be intimidating when you are suffering from a terrible toothache and are searching for a new dentist. Take a look below to see three of the top holistic dentists in the area.
DC Smiles
Phone Number:202-912-9200
Address: 908 New Hampshire Ave NW Suite 200, Washington, DC 20037
Website: www.dcsmiles.com
Doctors: Dr. Singer, Dr. Maur
Description: Servicing the entire Washington, D.C. area along with Alexandria, DC Smiles offers comprehensive dental care with a holistic approach using only biocompatible dental materials. Two excellent dentists provide all of the emergency, routine, restorative, and cosmetic dental care that you need regardless of your current dental problem.
Mon 8:00 AM – 5:00 PM
Tue 8:00 AM – 5:00 PM
Wed 8:00 AM – 5:00 PM
Thu 8:00 AM – 5:00 PM
Fri 8:00 AM – 5:00 PM
DC Dental Spa
Phone Number: 202-759-2434
Address: 1325 18th Street NW Ste #203, Washington DC 20036
Website: www.dcdentalspa.com
Doctors: Dr. Rex Hoang, Dr. Marcus Hoang
Description: With office hours designed to suit your dental needs and a unique spa-like experience, DC Dental Spa invites patients to finally enjoy their holistic dental experience. Routine dental care, safe digital x-rays, and mercury filling removal are all available at this full service dental office located in the heart of the capital city.
Mon 7:00 AM – 6:00 PM
Tue 7:00 AM – 6:00 PM
Wed 9:00 AM – 8:00 PM
Thu 7:00 AM – 6:00 PM
Fri 7:00 AM – 3:00 PM
Pahlavani Dental
Phone Number: 202-797-0090
Address: 402 Rhode Island Ave. NW, Washington, D.C., 20001
Website: www.pahlavanidental.com
Doctors: Dr. Pahlavani
Description: Dedicated to reducing dental office waste and to treating patients with biocompatible materials, Dr. Pahlavani works hard to ensure that your holistic dental experience is a great one. From removing those old mercury fillings to full-mouth restorations, this dental office provides a one-stop location for all of your dental needs.
Mon 9:00 AM – 5:00 PM
Tue 9:00 AM – 5:00 PM
Wed 9:00 AM – 5:00 PM
Thu 9:00 AM – 5:00 PM
Fri 9:00 AM – 5:00 PM
Holistic Dentist Washington, D.C.
Making the choice to turn from a standard dentist to a holistic dentist does not mean that you have to start your dental journey all over again. This type of decision simply means that you are taking an active interest in your whole body health, and that you care about what gets put into your body. Holistic dentists offer the same variety of services that a standard dentist does, but they utilize materials that are considered safe for both people and the environment. These types of materials are often referred to as biocompatible materials.
Whenever you choose a new dentist in Washington, D.C., it is a great idea to verify the dentist's current licensing and credentials. This can be accomplished by speaking with the receptionist at the dental clinic and viewing the licensing documents right inside the dental office. You can also access the Washington D.C. Dental Association on their website. This online option allows you to choose the dentist that you like and observe the licensing by adding the dentist's name in a simple search box.
Medically Fact-Checked & Written by Our Dental Editorial Team
You can read more about our editorial guidelines by clicking this link and learn more about the Emergency Dentists USA editorial team here.