Helping Hunstville Residents Find IMMEDIATE Dental Services Everyday.
Get relief from chipped, cracked or lost tooth
Abscess, toothache, mouth pain
Emergency dental surgery
24 hour services - Includes weekends, nights and holidays

Emergency Dentist in Huntsville, AL – Find A 24-Hour Dentist Now
Table of Contents
Emergency Dentists USA makes finding that Huntsville emergency dentist who can fix your broken tooth or treat that terrible toothache a breeze. Our convenient listing of Huntsville emergency dentists provides the location and hours of operation for walk-in dental clinics, clinics that offer after hours appointments and even hospitals that are open 24-hours a day to treat dental emergencies that come from falls or sports injuries. Carefully selected and listed in a simple format, the Emergency Dentists USA Huntsville emergency dentists offer office hours that suit your dental needs regardless of the emergency type.
Emergency Dentists USA has a comprehensive list of Huntsville emergency dentists who are standing by to make your dental emergency a thing of the past. Use our 24-hour dental emergency hotline to speak to a live operator who can assist you in choosing a great dentist and help you to schedule your first appointment.
Finding A 24 Hour Emergency Dentist in Huntsville, Alabama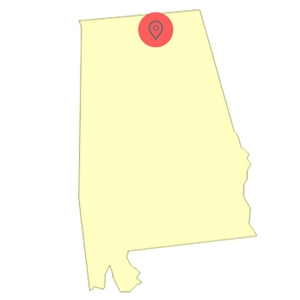 The variety of 24-hour emergency dental listings on Emergency Dentists USA makes it easy to choose a great Huntsville emergency dentist without the hassle of wandering the streets of an unfamiliar city. Our comprehensive listing of emergency dentists provides you with the exact dental experience that you are searching for without the actual search.
Walk-in dental clinics – Dental clinics that allow patients to walk in without an appointment are not common. Dr. Michael Mann at Huntsville Dentists offers walk-in patient services for anyone with a dental emergency.
Emergency 24-Hour Dental Clinics – Clinics that specialize in being open 24 hours a day are not available in Huntsville, but hospital emergency rooms are always open and ready to take in patients with dental problems.
After Hours Dentists – After hours dental clinics are common in Huntsville with many clinics offering evening or early morning appointments along with weekend hours for those who just cannot wait until Monday to see a dentist. Complete Dental shares after hours appointments for anyone with dental needs that are outside of the normal office hours.
Emergency Dentist Listings in Huntsville, Alabama
On Emergency Dentists USA, finding the right Huntsville emergency dentist for your dental needs is a breeze. Simply scroll through the Huntsville emergency dentists listed below and choose the dentist with office hours or an office location that is convenient for you. Use our comprehensive listing to select a great dentist to handle that broken tooth, or call our 24-hour dental hotline to speak with a friendly operator who can help to set up that first dental appointment.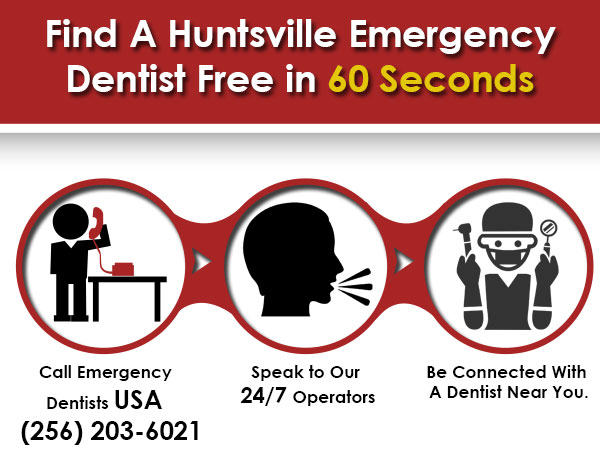 ---
Emergency Dentists USA Referral Service Huntsville
Phone Number: 1 (855) 401-2701
Address: Referral Service to Various Dental Offices across Huntsville
Doctors Multiple
Description Call to be connected with the perfect dentist for you. Huntsville is a large city and we have the connections to find a dentist to fit your needs, and can get you an appointment immediately.
---
Huntsville Dentists
Address: 1111 Gleneagles Drive, Suite A Huntsville, AL 35801
Telephone: 256-824-0020
Website: huntsvilledentists.com
Description:
In a red alert oral health crisis you will want to know where the nearest dental emergency clinics in Huntsville, AL, are located. Dr. Michael Mann may very well be that experienced walk in dentist Huntsville, AL urgent care patients need when the going gets tough.
His clinic reaches out to adults, teens, and children to offer just in time services. They know that seeing a dentist can be an intimidating experience and as each one of us have specialized needs, having a dentist who is willing to get to know each patient and deliver the emergency dental services needed is key. With Huntsville, Decatur, and Guntersville, AL all within a reasonable driving distance to this office, it is worth making the special effort so as to be comfortable and pain free. With an outstanding background in providing general, restorative, and cosmetic dentistry, Dr. Mann is well equipped to treat your ailment. With early morning appointments available, those of you who seek assistance in those early dawn hours, look no further.
Monday 7am-1pm / 2pm-5pm
Tuesday 7am-1pm / 2pm-5pm
Wednesday 7am-1pm / 2pm-5pm
Thursday 7am-1pm / 2pm-5pm
Friday Closed
Saturday Closed
Sunday Closed
---
Complete Dental (Multiple Locations – Your premier dentist open on Saturday in Huntsville, AL)
Address 1: 7540 S. Memorial Parkway, Suite L Huntsville, AL 35802
Address 2: 607 E. Hobbs St. Athens, AL 35611
Address 3: 8263 Madison Blvd., Suite A Madison, AL 35758
Address 4: 1241 Point Mallard Parkway, Suite 105 Decatur, AL 35601
Business Hours: Monday-Friday, 7 a.m.-7 p.m., Saturday, 8 a.m.-1 p.m
Phone: 256-774-7228
Website: mycompletedental.com
Description:
If you are seeking a dentist night clinic in Huntsville AL or locations in Madison, Decatur, and Athens, give the folks at Complete Dental a call as they are waiting and willing to provide you with just in time dentistry services. With 14 years of experience in handling all types of emergency dental matters that can unexpectedly crop up in one's life, this top notch dental practice is in the business of ensuring you get relief from whatever pain you suffer from. Their hours extend to 7 pm during weekdays and they offer Saturday hours and if you are exploring for a Huntsville dentist with Sunday hours, they may be able to address that need if you reach out and let them know about your unique situation.
Monday 7am-7pm
Tuesday 7am-7pm
Wednesday 7am-7pm
Thursday 7am-7pm
Friday 7am-7pm
Saturday 8am-1pm
Sunday Closed
Map Is Not Available
---
Dentistry Today
Address:2801 Memorial Parkway SW, Huntsville, AL
Telephone: 256-529-5179
Website: www.dentistrytodayonline.com
Description:
Suffering from a painful toothache means a sleepless night, especially when you cannot find a dentist open late. Dr. Leslie Barrilleaux and Dr. Darren Barrilleaux are always standing by to solve that dental problem. Office hours that extend until 8 p.m. on Wednesday and Thursday make it easy to see a wonderful Huntsville dentist without suffering for longer than is necessary. The first and only accredited cosmetic dentist in Alabama, Dr. Leslie Barrilleaux has advanced training in both esthetics and cosmetic dentistry. Dentistry Today offers conservative care with the highest quality equipment, materials and techniques.
Monday 8am-5pm
Tuesday 8am-5pm
Wednesday 8am-5pm
Thursday 8am-8pm
Friday 8am-5pm
Saturday 8am-2pm
Sunday Closed
---
Twickenham Family Dentistry
Address: 604 Davis Cir SW Huntsville, AL 35801
Telephone: 256-539-4079
Website: www.hsvdentist.com
Description:
Serving patients from Harvest, Huntsville, Jones Valley, Lacey's Spring, Madison and Redstone Arsenal, Alabama, Twickenham Family Dentistry features Dr. Brian Cook and his friendly and caring staff. With a passion for serving the underprivileged and a lifelong love of family, Dr. Cook treats all of his dental patients with kindness and competence. Twickenham Family Dentistry provides preventative care, restorative services, and cosmetic care along with custom night guards and orthodontics. Whether you are suffering from a painful abscess or hoping to find a new family dentist, Dr. Cook at Twickenham Family Dentistry is there to provide excellent service when you need it.
Monday 7am-3:30pm
Tuesday 7am-4:30pm
Wednesday 7am-1:30pm
Thursday 7am-3:30pm
Friday 10am-4pm
Saturday Closed
Sunday Closed
---
How To Prepare For Your Huntsville, Alabama Emergency Dental Clinic Visit
Most emergency dental clinic visits are similar to regular office visits. Most Huntsville emergency dentists provide x-rays, routine cleanings and even restorative dentistry along with more complicated emergency procedures.
– Have your paperwork, health records, and insurance information ready for your first dental visit. This information helps your new dentist to provide you with the best possible care.
– Try to arrive at least 15 minutes prior to your dental appointment to ensure that you have plenty of time to ask questions and fill out the necessary paperwork.
– Make sure you know how you're going to pay for your dental care. Most Huntsville emergency dentists accept cash, personal checks, credit cards and some even offer low-interest payment plans for more extensive services.
– Make sure you know if your insurance is accepted at this dentist. Choosing a dentist who is in your dental insurance network saves you money.
– Just like any medical visit, make sure you know if you have any allergies to medicines. Bring a current list of your medications with you to see your Huntsville emergency dentist.
– Do you have intense dental anxiety or fear? Let the dental office staff know about your anxiety. They can explain your procedures and ensure that you are as comfortable as possible during your visit.
Quality of Urgent Care Dentists In Huntsville, Alabama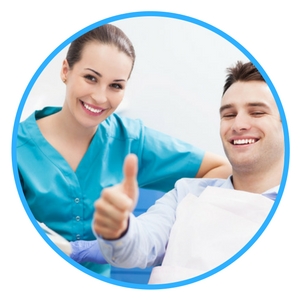 As the second-largest city in Alabama, Huntsville houses over 400,000 residents who enjoy the mild winter climate and the close proximity to the Appalachian region. Tourists come from all over the world to marvel at the exciting U.S. Space and Rocket Center that offers a glimpse of the United States' space program with amazing artifacts dating to its inception. Opened in 1970, the U.S. Space and Rocket Center is also home to two separate space camps that offer challenging programs for adults and children with a love of space exploration.
Wander the Burritt on the Mountain open-air museum and enjoy a true glimpse of Alabama history in a gorgeous mansion. The grounds include exhibits like 1800s cabins, the Joel Eddins House and the Burritt Mansion itself. Hiking trails and farm animals accent the area, making it an exciting visit for families with children and history lovers.
When a dental emergency occurs, especially one that involves an injury like a fall, Huntsville has some great hospitals that provide 24-hour emergency services to ensure that you do not have a life-threatening injury. Select Huntsville Hospital for your dental emergency to access their 24-hour emergency room without an appointment. This hospital has over 900 beds and employs almost 1,400 doctors, making it a perfect location to have that painful dental emergency treated. Ranked number two in the entire state of Alabama, and nationally ranked in seven specialties, Huntsville Hospital is a wonderful choice for patients with a dental emergency that strikes after hours or that includes a painful accident.
Other excellent hospitals in Huntsville include the Crestwood Medical Center on One Hospital Drive. This smaller Huntsville hospital provides care 24-hours a day via the emergency department and employs almost 500 doctors. Crestwood Medical Center is rated high performing in one adult procedure and is ranked well among hospitals in the state of Alabama.
You can also choose Shoals Hospital in nearby Muscle Shoals, Alabama for your dental emergency treatment. The 24-hour emergency department provides excellent care for anyone with a dental emergency that stems from a fall or an accident like a sports injury. Employing almost 100 doctors, this 137 bed medical and surgical facility enables tourists and locals to access great medical care near the Huntsville city center.
Common 24 Hour Dental Emergencies
A variety of common 24-hour dental emergencies make it important to have a great Huntsville emergency dentist at your fingertips regardless of the time of day or night. Emergency Dentists USA provides a comprehensive listing of Huntsville emergency dentists who are available to render treatment exactly when you need it. Whether you are suffering from a painful toothache or an abscess that could become dangerous to your health, common dental emergencies definitely make it tough to enjoy your Huntsville visit.
Some of the most common dental emergencies include lost fillings, chipped or broken teeth and teeth that are completely knocked out of the gum. You might also encounter a dental emergency like an object that is caught between the teeth that causes pain to the teeth and gums. Dental emergencies also include broken wires or brackets on your braces, loose or lost crowns, and soft tissue injuries to the mouth, the lips and the cheeks and gums. Some of these 24-hour dental emergencies might stem from an accident like a fall or a sports injury. Those types of injuries should be addressed by a hospital emergency department as soon as possible.
Reading advice on EmergencyDentistsUSA.com is not a substitute for seeing a medical professional. Each dental situation is unique and you should see a dentist for any of the situations described below.
Lost Filling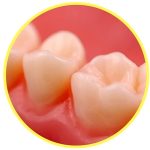 A lost filling is a common dental emergency that can become quite painful. When a filling is lost, the sensitive internal structure of the tooth might be exposed to food particles. You can use a small piece of sugarless gum to fill the hole in the tooth and to protect the tooth from pressure caused by chewing food. Sometimes a lost filling is not painful as the decay has not reached the sensitive portion of the tooth. In either case, it is very important to visit your Huntsville emergency dentist as soon as possible.
Chipped or Broken Tooth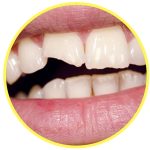 A chipped or broken tooth is one of the most common of all dental emergencies. If you are able to find the broken portion of the tooth, bring that portion with you to the dental office. Rinse your mouth with plain water and use a moistened piece of gauze to control any bleeding. A cold compress on the outside of your mouth can help to lessen the pain or swelling caused by the chipped or broken tooth. Visit your Huntsville emergency dentist as soon as possible to have the tooth repaired.
Objects Caught in Teeth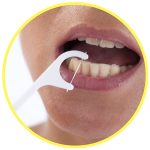 Objects that are caught in your teeth can cause pain when pressure is applied to the tooth or the gum. Rinse your mouth thoroughly with water and floss the area gently to remove any debris that is caught between teeth. Never use a pin or other sharp object to poke between the teeth as this can cause damage to the gum and tooth. Visit your Huntsville emergency dentist as soon as possible to have the object that is caught between your teeth removed safely.
Tooth Trauma Caused by an Accident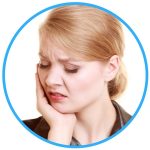 Tooth trauma caused by an accident might come from a sports injury or a fall. This type of trauma can include broken teeth or teeth that are knocked out completely. In most cases, tooth trauma caused by a fall or accident should be evaluated by a hospital emergency room physician to ensure that you do not have more dangerous bodily injuries. Use a cold compress applied to the outside of the mouth to lessen pain and swelling. Visit your Huntsville emergency dentist as soon as possible to have the tooth or teeth repaired.
Do You Need an Emergency Tooth Extraction?
You might require an emergency tooth extraction if your tooth has decayed to a point where a dentist is no longer able to repair the tooth. It is important to have the extraction accomplished as soon as possible in order to lessen the chances of pain and complications. Your dentist will usually begin the procedure by examining the tooth and taking an x-ray of the tooth. He or she then chooses a general or local anesthetic to ensure that you are comfortable throughout the procedure. A special tool is used to remove the tooth from the gum, and the gum is then stitched closed with a type of suture that dissolves over time. A small piece of gauze is placed over the gum to control any bleeding. Full healing usually occurs within two weeks.
Following your emergency tooth extraction, it is important to take any medications prescribed by your Huntsville emergency dentist. Try to avoid drinking from a straw or eating hard foods for the first few days after the procedure. Avoid smoking or drinking alcohol until the gum is fully healed. Following the procedure that are several options for replacing the extracted tooth including a dental implant or a dental bridge depending on the tooth's location.
Emergency Room Versus Emergency Dentist

It is extremely important to visit your hospital emergency room if you have a dental emergency that stems from a fall or a sports injury or accident. This ensures that you have no other more dangerous injuries. Keep in mind that most common dental emergencies can be handled in your Huntsville emergency dental clinic without the added hassle of spending time in the emergency room. Since many emergency rooms are not designed to treat dental problems, you may end up seeing your dentist following the ER visit. This means two bills and a larger expense for a treatment that might not have cost quite as much in your Huntsville emergency dental clinic.
FAQ
What causes bad breath?
Bad breath is often caused by improper dental care including improper brushing and flossing. Tooth decay causes bad breath along with damage to the teeth and gums. Bad breath might also be caused by smoking, drinking alcohol and eating certain foods.
It's been a long time since I've visited the dentist. What do I need to do?
If it has been a long time since you have visited the dentist, it is important to make a dental appointment as soon as possible. Gather any dental records that you might have, and choose a great Huntsville emergency dentist from Emergency Dentists USA.
Why should I have my teeth cleaned twice a year?
You should have your teeth cleaned twice each year in order to ensure that your dentist is able to detect and repair any tooth decay before it becomes a problem. This also allows your dentist to determine whether or not you are brushing and flossing correctly.
When will my child get his first tooth?
Your child will most likely get his or her first tooth between the ages of four months and 14 months. Most children get their first tooth at the age of six months. It is important to being a good brushing and flossing program once those teeth arrive.
What can I do if I have a dry mouth?
If you have a dry mouth, you can chew sugarless gum or suck on sugarless candies to help moisten the mouth. You might also try drinking plenty of water and avoiding smoking and drinking alcohol. Sometimes a dry mouth is caused by a type of medication.
24 Hour Dentist Huntsville Options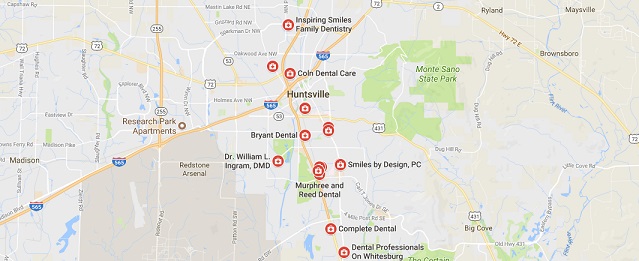 The city of Huntsville celebrates its connection with the space explorations and rockets that make the area famous. Visiting Huntsville means spending time enjoying the myriad of exciting adventures that are available, and no one wants their day interrupted by a terrible toothache or a common dental emergency.
Choose Huntsville Dentists for a dental emergency that strikes early in the morning. Opening at 7 a.m. and offering walk-in patient services, Huntsville Dentists is a friendly and convenient dental clinic that provides routine care along with emergency services. The office closes at 5 p.m. on most weekdays and is closed on Friday, Saturday and Sunday.
Complete Dental has multiple office locations to suit your dental needs regardless of where you are located. Office hours extend from 7 a.m. until 7 p.m. on Monday through Friday with Saturday hours until 1 p.m. Convenient and caring, Complete Dental is a perfect location for treating that terrible toothache.
Dentistry Today and Twickenham Family Dental are also excellent choices when it comes to treating your dental emergency. Dentistry Today offers Saturday appointments until 2 p.m. and Twickenham Family Dental even caters to pediatric dental patients. Family-oriented and focused on great oral health, both of these dental clinics make handling that dental emergency a breeze.
Keep in mind that your hospital emergency room also provides treatment 24-hours a day and seven days a week when you just cannot take any more dental pain.
Choosing a great dentist takes time and effort. Use the American Dental Association's website to ensure that your chosen dentist is certified and licensed in the Huntsville area. You can also access the Alabama Dental Association's website to get great dental care advice and learn more about Alabama dentists.
This Emergency Dentists USA portal is a website for information only, and should be not used to replace the actual advice of a medical professional. If a patient is having an emergency and cannot reach a dentist, call 911 to assure immediate response and safety.
Find the Best emergency dentists in mobile alabama here!