Helping Thousands of People Each Year Find Dental Services
Emergency dental surgery, cavities, general dental care.
Find immediate help, no insurance required.
Get relief from chipped, cracked or lost teeth, abscesses or toothaches.
Lancaster, CA Emergency Dental Offices
We specialize in Lancaster Emergency Dentistry:
Click to go to list of Dentists
Emergency Dentist Lancaster, California
Dental emergencies are common conditions and require you to visit an emergency dentist. Sometimes an emergency happens in the middle of the night or over the weekend and luckily emergency dentists are available at these times. This makes it a lot easier for you to receive treatment quickly before your situation becomes worse.
When I chipped my tooth over the weekend I thought I was going to have to wait forever to get it fixed, but Emergency Dentists USA was able to help me find an emergency dentist. I was able to schedule an appointment in 24 hours!
Lancaster 24 Hour Emergency Dentist Options
We've gathered a list of emergency dentists available in Lancaster, California. Let us help you find the right dentist to treat your dental emergency.
Emergency Dentists USA Referral Service Lancaster
Phone Number: 1 (855) 401-2701
Address: Referral Service to serval Dental Offices in the range of Lancaster
Description When you are writhing with pain that stems from an infection or abscess, you're going to want to find the quickest relief possible. You can find that with our easy to use dental hotline! As soon as you place your call, we'll be on the way to finding you instant relief via a trained emergency dental professional.
---
Lancaster Dental Care Associates
Phone Number:(661) 206-2475
If Closed: Call 1 (855) 276-1128 and let our Operator help you find an emergency dentist.
Address:2030 West Ave. J, Lancaster, CA 93536
Website:www.drsaidara.com
Description: This Lancaster dentist is known for providing emergency care, and is a great choice if you or your child happens to crack a tooth or have a need for the closest emergency dentist.
Monday 8am – 5pm
Tuesday 8am – 5pm
Wednesday 8am – 5pm
Thursday 8am – 5pm
Friday 8am – 5pm
Saturday Closed
Sunday Closed
---
Jonathan Maddatu, D.D.S.
Phone Number:(661) 948-1655
If Closed: Call 1 (855) 276-1128 and let our Operator help you find an emergency dentist.
Address:44841 10th St W, Lancaster, CA 93534
Website:www.rjonathandds.com
Description: This excellent after hours dentist and emergency provider is headed up by Dr Jon.
Monday 9am – 6pm
Tuesday 9am – 6pm
Wednesday 9am – 6pm
Thursday 9am – 6pm
Friday 9am – 5pm
Saturday Closed
Sunday Closed
---
Douglas Weber, D.D.S.
Phone Number:(661) 952-7865
Address:44404 16th St. West, Suite 201, Lancaster, CA 93534
Website:www.dweberdds.com
Description: This emergency dental clinic provides quick care with a perfect and well rounded resume for a Lancaster late dentist choice.
Monday 8am – 7pm
Tuesday 8am – 7pm
Wednesday 8am – 7pm
Thursday 8am – 7pm
Friday 8am – 5pm
Saturday 8am – 5pm
Sunday 8am – 5pm
---
Alan L. Stott D.D.S.
Phone Number:(661) 945-2733
Address: 44439 17th St W, Lancaster, CA 93534
Website: alanstottdds.com
Description: Dr. Stott and his staff can help treat your dental emergency just call to schedule your appointment
Monday 9am – 6pm
Tuesday 7am – 4pm
Wednesday 9am – 6pm
Thursday 7am – 4pm
Friday 8am – 5pm
Saturday Closed
Sunday Closed
---
Let's Prepare For Your Lancaster, CA Emergency Dental Visit
Visiting an emergency dentist in Lancaster will be similar to visiting any other dental clinic.
When you schedule your appointment, be sure to confirm if the office accepts your dental insurance and payment method. If you don't have insurance and need to set up a payment plan, a staff member will be able to help you set one up.
Also, before heading to your appointment it's important to gather any recent dental records. This will help your emergency dentist determine the best kind of treatment for you. Arrive at the dental clinic about 15 minutes early to fill out any necessary paperwork as well.
Be sure to let the office staff know if you have any fear of the dentist so they can help accommodate you to make your appointment as comfortable as possible.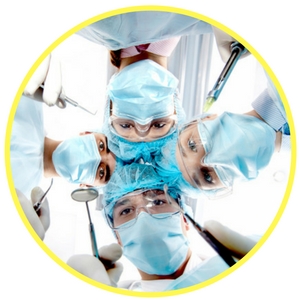 Common 24 Hour Dental Emergencies
Dental emergencies are common and the dental clinics listed on Emergency Dentists USA are equipped to handle them.
Some common dental issues include chipped teeth, lost crowns, and painful abscesses.
Below we will discuss some of these common emergencies and what you can do to try and alleviate the pain while waiting for your dental appointment.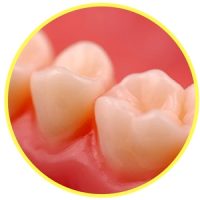 Lost Crown or Filling
If you've lost ones of your crowns or fillings, clean it gently with water and fill it with an over-the-counter dental cement or denture adhesive. Place the crown over the tooth if possible but do not force it on. Left unprotected, the tooth that was under the crown could continue to decay and become quite painful.
Chipped tooth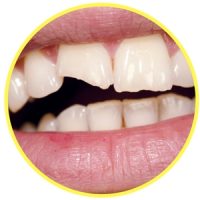 Chipped teeth are one of the most common dental conditions that emergency dentists can easily fix. The first thing you should do when you chip or break your tooth is to rinse your mouth carefully to remove any pieces remaining in the mouth.
If you can, find the chipped or broken tooth and place it in a small container of milk to bring to your emergency dentist. Use a cold compress on the outside of your mouth, cheeks, or lips to reduce swelling and pain. Apply a moistened piece of gauze to any area of the mouth that may be bleeding.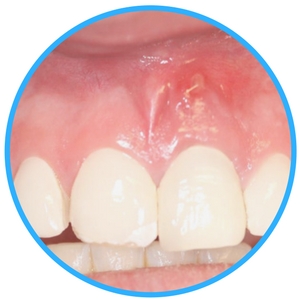 Tooth Abscess
An abscess is a type of infection that occurs between the teeth or in the soft tissue of the gum below the teeth. Left untreated, this infection can spread to the bones of the jaw and other soft tissue areas. Head to an emergency dentist immediately if you notice a pimple-like bump near your gums.
Then, rinse your mouth several times with salt water will help to draw the pus that is created by the infection toward the surface of the tissues. This is a true dental emergency and you should contact your emergency dentist as soon as possible for treatment.
Do You Need An Emergency Tooth Extraction?
An emergency tooth extraction might be caused by an infection of the tooth or by decay that has progressed beyond the point where it might be repaired by an emergency dentist. An emergency tooth extraction might also be caused by teeth that crowd the mouth putting pressure on other teeth.
In most cases, your emergency dentist will take an x-ray of the tooth and perform an examination to determine the best way to extract the tooth. He or she will then numb the area with a local anesthetic. A special dental tool is used to remove the tooth from the gum and sometimes the gum is stitched closed.
Full healing occurs within one to two weeks of the extraction. It is important to follow any instructions given by your Boston emergency dentist during this time period.
Emergency Room Versus Emergency Dentist

If you've experienced a dental emergency, it's important to know whether you should visit an emergency room or an emergency dentist. When visiting a hospital emergency room for a dental emergency, the ER doctor is able to prescribe painkillers and antibiotics as needed, however, they are not usually equipped to handle the actual dental problem. However, if you've experienced any head trauma at all, you need to visit an emergency room to receive the proper treatment.
Lancaster, California Dental Association Information
There are many ways for you to find emergency dental care in Lancaster, CA.
When scheduling an appointment, check with the American Dental Association at http://www.ada.org/en to ensure that the emergency dentist you choose is licensed and certified.
You can also visit the California State Dental Association at https://www.cda.org/ for more information on dental care in California and to search for local California dentists.
Finally, don't forget about our services at Emergency Dentists USA. We are available 24/7 and are committed to helping you find the perfect emergency dentist.
Medically Fact-Checked & Written by Our Dental Editorial Team
You can read more about our editorial guidelines by clicking this link and learn more about the Emergency Dentists USA editorial team here.