Helping Memphis Residents Find IMMEDIATE Dental Services Everyday.
Get relief from chipped, cracked or lost tooth
Abscess, toothache, mouth pain
Emergency dental surgery
24 hour services - Includes weekends, nights and holidays
Find a Dentist 24/7
Near You IMMEDIATELY
Click or Call Toll-Free
1 (901) 410-9290
Emergency Dentist Memphis, Tennessee
---
We Specialize in Memphis Emergency Dentistry: Call 24/7: 1 (901) 410-9290
Monday – Friday, See A Memphis Dentist The Same or Next Day/Night You Call!.
Saturday And Sunday, "See A Memphis Emergency Dentist In Hours."
Do you need to get an appointment with an emergency dentist in Memphis as soon as possible? Are you dealing with dental pain from an abscess, chipped tooth, gum injury or any other dental emergency? Emergency Dentists USA is the right place for you, we have a 24 hour a day 7 day a week hotline that allows you to get an appointment in seconds. Our referral specialists will connect you to an emergency dental clinic near you in Memphis.
We also have listings to help you find the best Memphis Emergency Dentist,  you can scroll down and try to reach one of our listed dentists directly or if that doesn't work call us. Memphis is a beautiful city, of rock and roll and country music. Whether you're here to travel or because this is your home, dental emergencies can strike at anytime. Emergency Dentists USA is here to help by providing 100% free, quick access to emergency dental clinics in Memphis. Call us today!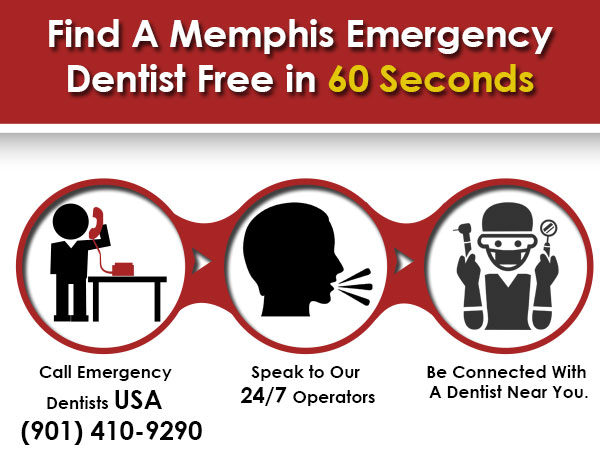 Call 24/7: 1 (901) 410-9290
Emergency Dentist Memphis
We have taken the time to do the research to find the dental practitioners who operate clinics and services that can be there for you in your time of need. You never know when all of a sudden, at the most unexpected time, you can succumb to a dental crisis. Pain is nothing to underestimate and if you have to decide whether to bear pain or take affirmatives steps to get relief, we hope you will take action. Spend a moment browsing the emergency dentists in Memphis, pick the best one for your schedule and call them! Or if you want us to do the work for you, call our 24-7 emergency dental Memphis hotline! Get help finding an emergency dentist without insurance, or with your insurance coverage.
---
Emergency Dentists USA Memphis Referral Service
Phone Number: 1 (877) 507-0879
Address: Our Referral Service to Various Dental Offices across Memphis
Doctors Multiple
Description Call now to get connected with an emergency dentist in Memphis near you. The referral service is 100% free and is open for business 24 hours a day and 7 days a week. It can be very difficult to reach a normal dental office during evening hours, or especially on Saturday and Sunday. Most dentists offices are closed at these times, even emergency dental clinics may not have anyone in the office to handle phone calls. Our operators are standing by to get you connected to a dentist near you even though you may not be able to reach one directly yourself.
---
Emergency Dentist Memphis
Number:901-425-1107
Office:242 Poplar View Parkway, Suite A Collierville, TN 38017
Doctor:Terry S. Hayes, DDS
Website: http://24houremergencydentistmemphis.com/
Description: Call the office of Terry Hayes DDS and speak to them about their hours of service. The hours listed on their site are vague but they do promote themselves as being a 24 hr dentist. They are definitely at least worth giving a call. This dental clinic is a great choice for finding a Saturday dentist in Memphis, simply call today and setup your visit!
Call Us 24 Hours a Day / 7 Days a Week
---
Pediatric Dental Specialties
Phone Number: 901-761-5155
Address: 5040 Sanderlin Avenue Suite 101 Memphis, Tennessee 38117
Website: www.drbradwilkinson.com
Doctors: Dr. Brad Wilkinson is a pediatric dental specialist and emergency dentist in Memphis Tennessee. Dr Wilkinson can see you for your emergency, but specializes in pediatric dentistry which is the practice of dentistry on youth. So if you're child is suffering from tooth pain and you need to see someone fast we suggest you call Dr. Wilkinson. The professional team at Pediatric Dental Specialties is standing by to help you when you are in need. Expect to be treated in a comfortable environment and have professional technically advanced treatment. This office offers you an opportunity to speak to the dentist on the weekends and potentially get a Sunday dentist appointment with Dr. Brad.
Monday – Thursday: 8:00am – 5:00pm
For after-hours emergencies, please call
Dr. Brad at 901-761-5155 and follow the instructions in the voicemail
---
Wohrman Dental Group
Number: (901) 754-8846
Office: 1711 Kirby Parkway Memphis, TN 38120
Doctors: Dr. Tyler Wohrman
Website: http://www.wohrmandentalgroup.com/
Description: Serving the Memphis Community for more than 30 years, this family-owned and operated business specializes in general, sedation, and cosmetic dentistry, but is a great choice for after hours dentist emergencies. This walkin dentist clinic understands that things that happen out of the blue, derailing your weekend plans, and making you and your family feel very insecure. This clinic goes out of their way to keep costs as low as possible, and is a great choice for anyone finding themselves in sudden pain.
Monday – Friday 8 a.m. – 5 p.m
Emergency Services offered Friday, Saturday, and Sunday
Call Dr Tyler directly at Emergency: (901) 619.8103
---
Christ Community Health Services
Number: (901) 701-2720
Office: 2953 Broad Ave. Memphis, TN 38112
Doctors: Dr. Rick Donlon
Website: http://www.christcommunityhealth.org/dental-centers/
Description: There are three emergency dental centers located on Third Street, Broad Avenue, and on Hickory Hill. Their mission is to holistically care for all of our patients, and see to it that any emergency dental situation you run into will be treated in due time, with attention to detail, and by a professional with years of experience and expertise. They offer evening hours 4 days a week and are ready to help with your dental emergency.
Monday 8am – 8pm
Tuesday – Thursday 8am – 7pm
Friday 8am – 5pm
---
Dental Practice of Cordova
Number:(901) 567-7343
Office:1138 N. Germantown Pkwy Cordova, TN 38017
Website: http://www.bestcordovadental.com/
Description: Dental practice of cordova is located in a suburb of Memphis and is not that much of a drive to be seen by a dentist at night or on the weekend.
MONDAY: 6:30 AM – 1:00 PM
TUESDAY: 6:30 AM – 1:00 PM
WEDNESDAY: 7:00 AM – 10:30 PM
THURSDAY: 6:30 AM – 1:00 PM
FRIDAY: 7:00 AM – 10:30 PM
SATURDAY: 6:30 AM – 9:00 AM
---
Memphis is a large city, so there are urgent dental clinics to serve the population there, but they're not always available during evening and weekend hours to take your calls. If you're looking for a weekend dentist in Memphis, simply dial our Memphis 24 hour dentist referral phone number and you'll be on your way to seeing a dentist in no time.
Types of Dental Emergencies
Dental Emergencies can come in many different flavors. Typically you will have pain from a source inside your mouth, such as a toothache, or a knocked out tooth.
Toothaches should be temporarily treated by rinsing the mouth with warm water. Dental floss can be used to remove any food or other objects that may be lodged in between the teeth. If this doesn't relieve the pain we suggest you see an emergency dentist. Our dental listings and referral service have got you covered, if you're searching for relief from a toothache in Memphis, this is the right place to be.
A lost filling is another common urgent care dental situation. Dentists recommend using a piece of sugar free gum to cover the area of the lost filling, this should act as a temporary barrier between your open tooth and air which will cause pain. The sugar free part is important in order to lessen any pain you may feel from sugars interacting with the empty cavity.
We hope we have been able to help you find an emergency dentist in Memphis. Always remember when visiting a new dentist for the first time, check out their credentials here. http://www.memphisdentalsociety.com/
Or check out our post on how to find the best dentist in Memphis TN.