Helping Minneapolis Residents Find IMMEDIATE Dental Services Everyday.
Get relief from chipped, cracked or lost tooth
Abscess, toothache, mouth pain
Emergency dental surgery
24 hour services - Includes weekends, nights and holidays

Emergency Dentist in Minneapolis – Find A 24-Hour Dentist Now
Table of Contents
In a busy city of more than 400,000 people, it can be tough to find just the right emergency dentist for your particular dental problem. Emergency Dentists USA takes the hassle out of searching for a dentist in Minneapolis by offering you a list of excellent emergency dental clinics with hours and services that suit your needs. Waking up in the middle of the night with a terrible toothache is definitely an emergency, and Emergency Dentists USA has done all of the research that you need to find the exact emergency dental clinic to fix your dental problem right now.
Emergency Dentists USA provides information on walk-in dental clinics in Minneapolis along with after hours dental care and 24-hour dental clinics that are available to treat your dental emergency right now. Emergency Dentists USA offers a single location for information that includes office hours, locations and even services that are available at emergency dental clinics in the Minneapolis area.
Finding A 24 Hour Emergency Dentist in Minneapolis, Minnesota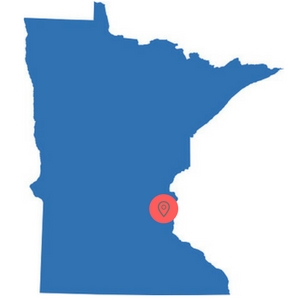 Finding a 24-hour emergency dentist in Minneapolis, Minnesota does not have to be a chore. Spending hours calling dental clinics while your toothache makes you miserable is definitely not the way you want to spend your day. Emergency Dentists USA offers a listing of emergency dental offices in Minneapolis with a variety of dentists ready to fix your dental emergency.
Walk-in dental clinics – walk-in dental clinics offer dental visits without the hassle of making an appointment or waiting days or weeks to see the dentist. Walk-in dental clinics are available in Minneapolis and include Nicollet Station Dental.
Emergency 24-Hour Dental Clinics – this type of dental clinic has a dentist available 24-hours per day and seven days per week. There is an emergency 24-hour dental clinic available in Minneapolis at the University of Minnesota School of Dentistry.
After Hours Dentists – an after hours dental clinic offers services outside of the standard 9 a.m. to 5 p.m. office hours. After hours dental clinics often include weekend or evening appointments. Minneapolis has several after hours dental clinics including Ascent Family Dentistry that has office hours until 7 p.m. on some weeknights.
Emergency Dentist Listings in Minneapolis, Minnesota
Finding the right emergency dentist in Minneapolis is pretty simple when you use the dental listings located on Emergency Dentists USA. We have done all of the work for you when it comes to checking office hours, seeking dental office locations and checking on the type of services offered. Take the time to review the dental offices listed below. If you need help in deciding which dentist is right for your dental emergency, feel free to call our 24-hour dental hotline to reach a live person to assist you.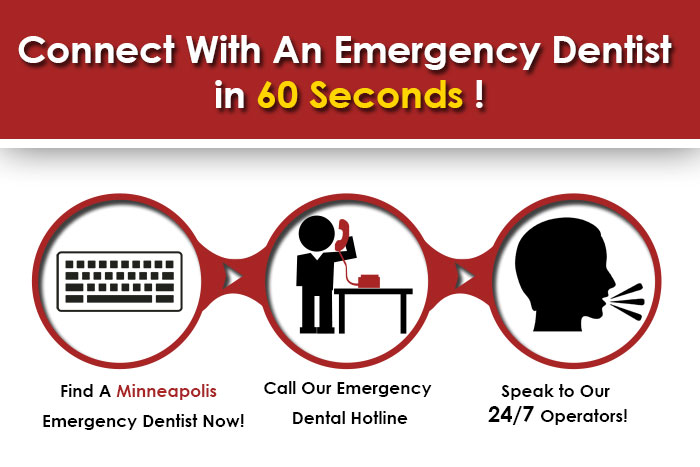 ---
Emergency Dentists USA Referral Service Minneapolis
Phone Number: 1 (855) 401-2701
Address: Referral Service to several Dental Offices inside Minneapolis
DescriptionThe twin cities is a very large metropolitan area, and you may run into the problem of having many dentists be booked out a while when you encounter grave trouble. Once pain hits, don't waste time skimming through listings that may not be open, and call us now to be linked up to a clinic that can help you, even after hours. A great place to find emergency dental care with or without insurance. Easily find Minnesota emergency dentists with our service.
---
Larson Dental
Phone Number: 612.789.2853
Address: 1632 Washington Street NE | Minneapolis, MN 55413
Website: www.larsondental.net
Doctors: Dr. Kim Larson, Dr. Cory Larson, Dr. Devon Halberg
Description: A Northeast Minneapolis dentistry clinic providing their patients with the best care possible, treating them with comfort and always putting their comfortableness first. They provide tooth whitening, preventative and restorative services, implants, Invisalign, sleep apnea treatment, emergency care and more.
Monday: 7:30am-7pm
Tuesday: 7:30am-5pm
Wednesday: 7:30am-3pm
Thursday: 7:30am-5pm
Friday: 7:30am-5pm
Saturdays: 8am-1pm
---
Ascent Family Dentistry
Phone Number: 763-572-8040
Address: 5207 University Ave NE. Columbia Heights, MN 55421
Website: www.ascentfamilydentistry.com
Doctors: Dr. Todd Johnson, Dr. Alexis Simonson
Description: Their goal is to put a smile on your face and ensure you leave their office with the most positive experience. They provide a relaxing atmosphere and are extremely sensitive to each patient's needs. They treat their patients like family. Call this 24 hour dentist in Minneapolis, MN for more information about their emergency services.
Monday – Tuesday 7:00am to 7:00pm
Wednesday 7:00am to 6:00pm
Thursday 7:00am to 4:00pm
Friday 7:00am – 1:00pm
---
Nicollet Station Dental
Phone Number: 612-338-5557
Address: 510 Marquette Avenue, Suite 100, Minneapolis, MN 55402
Website: www.nicolletstationdental.com
Doctors: Scott C. Osborn, D.D.S | Jerry Conroy, D.D.S.
Description: These highly qualified walk-in dentists and staff are very dedicated to providing families with the highest level of dental health care excellence. They are super-committed to ongoing training and education to assure their patients receive the best quality care available.
Office Hours
Mon – Thur 7:00 AM – 6:00 PM
Friday 7:00 AM – 1:00 PM
Saturday 8:00 AM – 12:00 PM
---
The Dental Emergency Room
Number: 612-354-3015
Office: 707 E lake street, Minneapolis, MN 55407
Doctors: Dr. Alkabbani
Website: https://www.dental-er.us/
Description: This convenient walkin dentist clinic located in the heart of the city on Lake Street is open 6 days a week, and is the true city emergency dental practice in Minneapolis. Patient Coordinator Gwen, Clinic Director Yazan, Dental Assistant Ashley, and Lab Tech Randy all provide a standout level of service for those that are coming in for urgent emergency help, and they fully understand how hard it is to handle a severely aching tooth.
24/7 Emergency Response, Call us
---
---
TWIN CITIES DENTAL
Number: 612-294-9407
Office: 11301 Fountains Dr.Maple Grove, MN 55369
Website: http://www.twincitiesdental.com/
Description: This after hours dentist in Minneapolis is there to serve you at least on weeknights. They have urgent care dentist hours up til 6pm on Tuesday, Wednesday and Thursday. The other days of the week they are limited in their emergency dentist services.
Monday: 8:00 AM to 4:00 PM
Tuesday: 9:00 AM to 6:00 PM
Wednesday: 9:00 AM to 6:00 PM
Thursday: 9:00 AM to 6:00 PM
Friday: 9:00 AM to 6:00 PM
---
Nicollet Station Dental
Phone Number: 612.338.5557
Address: 510 Marquette Avenue, Suite 100, Minneapolis, MN 55402
Website: www.nicolletstationdental.com
Doctors: Scott C. Osborn, D.D.S | Jerry Conroy, D.D.S.
Description: These highly qualified walk-in dentists and staff are very dedicated to providing families with the highest level of dental health care excellence. They are super-committed to ongoing training and education to assure their patients receive the best quality care available.
---
University of Minnesota School of Dentistry
Number: (612) 625-4908
Office: 515 Delaware St. SE Minneapolis, MN 55455
Doctors: Dr. Elham Akhlaghi
Website: http://www.dentistry.umn.edu/
Description: This excellent facility that trains so many within the realm of emergency dentistry does provide 24/7 emergency coverage, and you can confer with the resident on call to address your concern. Cracked and broken teeth, severe and persistent toothaches, other emergency issues such as abscesses and periodontal disease, and braces that have come loose are all reasons to visit an after hours clinic here. When you are traveling through a city and don't know where anything is, having an emergency dental contact such as the University School of Dentistry Emergency will make your struggle seem a bit less.
---
How To Prepare For Your Minneapolis, Minnesota Emergency Dental Clinic Visit
A visit to an emergency dental clinic is just like a visit to your usual Minneapolis dentist's office. Most emergency dental clinics offer services that include simple x-rays, cavity fillings, and even crowns or dentures.
Gather your recent dental x-rays and any dental records that you have prior to visiting your Minneapolis emergency dentist. Bring your dental insurance card and your identification card to the dental clinic.
Try to arrive at least 15 minutes before your appointment with your Minneapolis emergency dentist in order to fill out the necessary paperwork. The dental office staff will be able to help you with any questions you have at this time.
Make sure you understand the dental office's financial policies. Ensure that the dentist accepts your form of payment. Most dental clinics take credit cards, cash and a variety of dental insurance brands.
Check to be sure that the dentist you choose accepts your dental insurance. This can make a big difference when it comes to paying the bill after your emergency dental visit.
If you have allergies to any medications, let your Minneapolis emergency dentist know prior to beginning your treatment. Bring a current list of your medications to the visit if possible.
Do you have intense dental anxiety or fear? Being fearful of a dental visit is not uncommon. Let the dental office staff know about your anxiety to allow them time to help prepare you for the dental visit.
Quality of Urgent Care Dentists In Minneapolis, Minnesota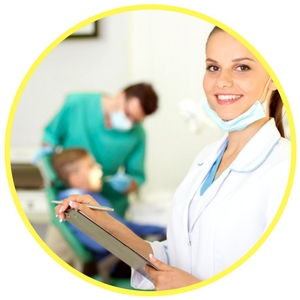 A visit to the "Twin Cities" means delving into the beauty and history of the Mississippi river and the Minneapolis twin, St. Paul. Originally deriving its nickname from the settlements that grew on either side of the Mississippi river, this exciting city provides access to thousands of sparkling lakes, the huge Mall of America, the Frederick R. Weisman Art Museum, and the largest indoor walkway in the United States. Minnesota is an educated state, with Minneapolis recently beating Washington D.C. as the most literate city in the U.S. Minnesota also has the top healthcare system in the United States as ranked by federal studies accomplished in 2012.
With over 400,000 residents and 30 million visitors each year, Minneapolis is a busy city. There are several major hospitals that are highly ranked and include emergency rooms services, making them an excellent solution for handling dental emergencies when you are unable to contact your usual dentist.
Some of the best hospitals in Minneapolis include Abbott Northwestern Hospital, which ranks number one in the Minneapolis area. This hospital features over 650 beds and specializes in adult services. Also listed among the top hospitals in the city are the University of Minnesota Medical Center and Mercy Hospital with its two very large campuses.
Minneapolis is also highly ranked when it comes to dental care, making it one of the healthiest states for older adults as declared by the United Health Foundation. The University of Minnesota School of Dentistry is accredited by the Commission on Dental Accreditation and is ranked number 73 when compared to all colleges in the United States.
The quality of urgent care services and emergency dental clinics in Minneapolis is definitely a bonus when visiting this bustling "Mini Apple." Access to excellent medical and dental care provides peace of mind when you wander the halls of the Walker Art Center or the Minneapolis Sculpture Gardens.
Emergency Dentists USA provides a comprehensive listing of emergency dental clinics in the Minneapolis area, making it simple for you to find the right dentist for your dental emergency. With 24-hour access to a dentist at the University of Minnesota School of Dentistry, there is never a need to suffer with ongoing dental pain while living in or visiting the city of Minneapolis.
Common 24 Hour Dental Emergencies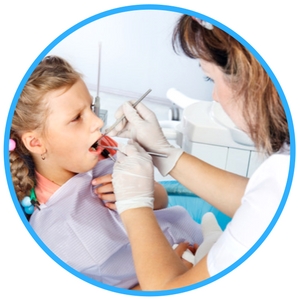 There are a variety of common 24-hour dental emergencies that could pop up at any time and interrupt your visit to Minneapolis or your daily life in the Twin City. Some of these common dental emergencies include a toothache, a lost filling or a lost crown, an abscess, a broken bracket or a broken wire on a set of braces, and even a tooth that is knocked out or broken. Some of these common dental emergencies require treatment right away, regardless of the hour of the day or the day of the week.
Emergency Dentists USA provides an excellent listing of dental clinics with openings available to ensure that your dental emergency is handled promptly by a dental professional. Common dental emergencies can make spending time in the city of Minneapolis unbearable without the help of a great Minneapolis emergency dentist.
Soft Tissue Injuries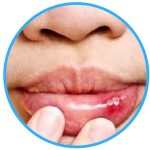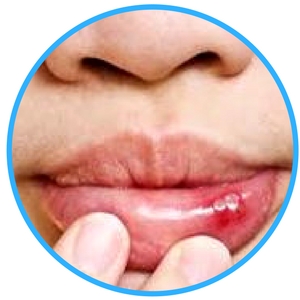 Soft tissue injuries include injuries to areas of the mouth like the cheeks, the tongue, the lips and the gums that can result in bleeding that is difficult to control. Begin treating a soft tissue injury by rinsing your mouth using a solution of mild saltwater. Use a piece of gauze that has been moistened or a moistened tea bag to apply pressure to sites that are bleeding. Hold this pressure for 15 to 20 minutes until bleeding stops. A cold compress applied to the outside of the mouth or cheeks will alleviate pain and help to reduce swelling. Contact your Minneapolis emergency dentist as soon as possible to treat soft tissue injuries.
Lost Filling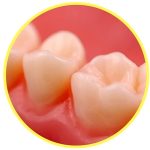 A lost filling is sometimes a painful dental emergency. The filling is placed in a tooth to restore the tooth to its normal function after it has been damaged by decay. A filling also protects the tooth from further decay, so it is important to ensure that lost fillings are replaced as soon as possible. To temporarily replace the filling that is lost, chew a piece of sugarless gum and place the gum into the cavity where the filling was located. You can also fill the hole in your tooth with over-the-counter dental cement. This will protect the exposed interior of the tooth until you are able to contact your Minneapolis emergency dental clinic to have the filling replaced.
Emergency Toothache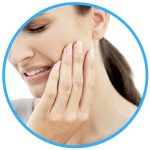 A painful toothache is definitely a dental emergency that is quite common. The first step to treating a toothache is to rinse your mouth with warm water and then use dental floss to dislodge any debris that may be stuck between your teeth. If there is swelling of the mouth, use a cold compress to help to alleviate the pain and swelling. Do not place aspirin or any other type of medication against the gums to control pain. This can actually burn the tissue of the gum and cause more pain. It is important to contact your Minneapolis emergency dentist as soon as possible to treat your toothache.
Lost Crown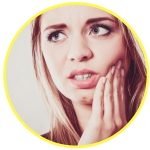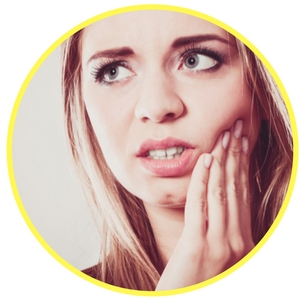 A lost crown requires immediate attention by your Minneapolis emergency dentist. While you are waiting to see your dentist, apply clove oil to the sensitive area of the tooth. Coat the inside of the crown with an over-the-counter dental cement, a denture adhesive or even toothpaste. Place the crown over the tooth and apply gentle pressure to hold the crown in place. If you are unable to replace the crown, remember to bring it with you to your dental appointment. Because the tooth under the crown is damaged, it is important to replace the crown as soon as possible to protect the tooth and restore its normal function.
Do You Need an Emergency Tooth Extraction?
You might need an emergency tooth extraction if you have a tooth that has been severely damaged due to an accident or tooth decay that has not been addressed by a dentist. Waiting to have your tooth extracted means you are much more likely to require painkillers or antibiotics at a higher dose than if you go ahead with the extraction as soon as possible. Waiting to have the extraction can also cause infection that spreads from the affected tooth to other areas of the mouth.
In most cases, a tooth extraction in a dental office begins with an x-ray to see the extent of the damage to the tooth and gum area. Then, a dentist uses a local anesthetic to numb the area. A general anesthetic may be used depending on the type of extraction required. The dentist then uses a special tool to pull the tooth out of the gum or to break the tooth into a few pieces and then remove it. Gauze is applied to the empty socket to control bleeding. Sometimes the dentist will place a few stitches to close the gum. These stitches dissolve over time.
Healing from an emergency tooth extraction generally takes place over one to two weeks. In that time period, patients are encouraged to eat only soft foods. You should not drink from a straw or smoke while the gum is healing, and you should take any medications as prescribed by your dentist. While the area heals, it is a good idea to rinse your mouth with warm saltwater to relieve pain and reduce swelling.
Emergency Room Versus Emergency Dentist

Visiting an emergency room rather than your Minneapolis emergency dentist can be a good idea if you have tooth damage that results from a car accident, sports injury, or a fall. It is always extremely important to ensure that there are no injuries other than tooth damage before you make a dental appointment, but going to the ER for a toothache or a lost filling is probably not the best solution for your problem.
The emergency room physician is not a dentist. He or she can usually treat pain or infection of the mouth and gums, but is not trained to fix the actual damage to your teeth. The emergency room physician might treat your symptoms and then request that you follow up with your local dental office. This means that you will be stuck with the expense of an ER visit along with the cost of a dental visit. Emergency room visits often require a long wait, while visiting your emergency dentist is likely to take less time and could even save you money.
FAQ"
What is plaque and why is it bad?
Plaque is a sticky and soft film that contains bacteria. Plaque builds up on your teeth due to irregular or improper brushing. The bacteria eat sugar and produce an acid that causes damage to your teeth, including decay and gum disease. Plaque eventually hardens into tartar that attaches directly to the enamel on your teeth both above and below the gumline. This is the leading cause of gingivitis and periodontal disease.
Are electric toothbrushes better than manual brushes?
The electric toothbrush and the manual toothbrush are equally good for your tooth brushing routine as long as you are using them properly and managing at least two minutes of brushing twice each day. To brush thoroughly, you will need to cover all surfaces of your teeth. An electric toothbrush can make this process a little easier, especially if you have arthritis or any type of dexterity problem.
What causes bad breath?
Bad breath can have a variety of causes, but it most commonly caused by improper oral hygiene or tooth decay. As the bacteria in your mouth break down small particles of food, a sulfur compound is produced that causes bad breath. You might also have bad breath from eating certain foods, from smoking cigarettes, from taking certain medications or from drinking alcohol.
It's been a long time since I've visited the dentist. What do I need to do?
If it has been a long time since you have visited the dentist, you need to make a dental appointment. Choose a dentist who accepts your insurance and suits your needs. Let the dentist know how long it has been since your last dental visit, and ensure that he or she is aware of any health issues that you may have. Take a list of your current medications with you to your dental visit, and let the staff know if you have intense fear of dental visits so that they can help you become more comfortable.
Why should I have my teeth cleaned twice a year?
You should have your teeth cleaned twice per year to ensure that your brushing and flossing habits are keeping plaque and tooth decay at a minimum. Your dentist has a chance to teach you brushing techniques that are helpful in your particular situation, and to treat any dental issues that arise before they become a problem. Visiting the dentist twice per year also ensures that any damage to your teeth is corrected immediately, making your future visits less costly.
24 Hour Dentist Minneapolis Options"
There are plenty of 24-hour emergency dentist options in the city of Minneapolis. Choose a walk-in clinic like Nicollet Station Dental when you have a dental emergency during normal office hours and just don't have time to wait for an upcoming appointment. With a friendly staff and two highly-qualified dentists, Nicollet Station Dental is there when you need emergency care. Pick an after hours dental clinic when you have a dental emergency after work or on a weekend. Places like Larson Dental and Twin Cities Dental offer evening hours as late as 6 or 7 p.m., and each clinic provides friendly and helpful dental care with procedures that include tooth whitening, Invisalign, and preventative services.
The University of Minnesota School of Dentistry and The Dental Emergency Room offer emergency dental clinic services 24-hours per day and seven days each week. With competent and reliable dentists who are able to ensure that you receive excellent dental care, both of these facilities make Minneapolis a perfect place for anyone who needs urgent dental care.
When choosing a dentist for your dental emergency, make sure to contact the local dental society to verify his or her certification. You can contact the American Dental Association online here: http://www.ada.org/en or the Minnesota Dental Association online here: https://www.mndental.org/. Both websites offer an option to search for your dentist's current licensing and certification. You can also research local dentist services at the Minneapolis District Dental Society.
If you are unable to reach your emergency dental clinic and you have a dental emergency, you can also go to one of several Minneapolis hospitals that offer 24-hour emergency services through their emergency departments. Remember that it is important to visit a hospital if you have tooth damage that is caused by a car accident or other injury that could affect parts of your body other than your teeth.
You can then follow up with your Minneapolis emergency dentists once your health has been cleared by a medical professional. This Emergency Dentists USA portal is a website for information only, and should be not used to replace the actual advice of a medical professional. If a patient is having an emergency and cannot reach a dentist, call 911 to assure immediate response and safety.