Helping Nashville Residents Find IMMEDIATE Dental Services Everyday.
Get relief from chipped, cracked or lost tooth
Abscess, toothache, mouth pain
Emergency dental surgery
24 hour services - Includes weekends, nights and holidays
Find a Dentist 24/7
Near You IMMEDIATELY
Click or Call Toll-Free
1 (615) 645-3693
---
We Specialize in Nashville Emergency Dentistry: Call 24/7: 1 (615) 645-3693
Monday – Friday, See A Nashville Dentist The Same or Next Day/Night You Call!.
Saturday And Sunday, "See A Nashville Emergency Dentist In Hours."
Are you in great oral pain? Is it late at night or the weekend? While you may think there is no way you will be able to get emergency dental care in Nashville Tennessee right now, you can. With an all night dentist or a dentist open on the weekend, you can get the treatment you need to get rid of that pain you're in.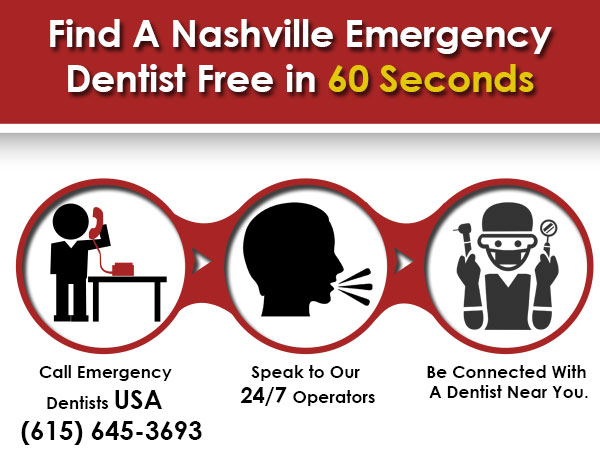 Call 24/7: 1 (615) 645-3693
Before you jump down to see the closest emergency dentist in Nashville, TN, we encourage you to consider these tips.
Research the dentist you are about to use to make sure he or she is one is going to be able to help you.
Call the dentist before heading out to the dental offices open on the weekend or after hours.
Ask for an estimate on how much you'll need to pay with or without insurance.
Consider a couple of emergency dentists before making a decision on just one of them.
Once you find the dentist you would like to use for your dental emergency, go ahead and go to the office. Most dentists offering after hours will have a well-lit parking lot for you to use. This way you can ensure that you remain safe. It's a good idea to have your cell phone with you anyway.
I called your number because I was lost trying to get ahold of a dentist on a Monday night. I don't have the luxury to be able to call and setup an appointment during normal business hours because my job doesn't allow personal phone calls. I had been suffering from a toothache for days. Thanks for helping me get an appointment!
Nashville Emergency Dental Clinics
If you're asking yourself, "Where can I find an emergency dentist near me?" You've come to the right place!
The below directory for 24/7 emergency dentist offices changes regularly. We are always updating it to include new listings. Check back the next time you need a dental office open on Saturday, Sunday, and after hours. We help you find an emergency dentist even without insurance.
---
Emergency Dentists USA Referral Service Nashville
Phone Number: 1 (877) 507-0879
Address: Connected To Various Dental Offices across Nashville
Doctors Multiple
Description This is a telephone directory for an emergency dentist in Nashville, TN. You can simply call them and they will give you a couple of choices for dentists closest to you. All you have to say is "Can I please have a dentist near me open on Saturday?" or whenever you need one.
---
Dental Design Studios: Weekend Emergency
Number: 615-432-2388
Office: 4718 Nolensville Pike Nashville, TN 37211
Doctors: Dr. Andrew Kim
Website: www.dentaldesignstudiosllc.com/nashville-dentist-open-sunday/
Description: This is a Nashville weekend dentist clinic that is geared to see the most dire emergencies, and is in a convenient location right near I-65 and 24. Head Dr. Dentist Andrew Kim focuses daily on finding ways to run his practice at a very low cost, while still providing the luxury of being open on the weekends. This is a town that has lots of live music, industry meetings, and high-tech innovators on the startup front, so knowing where you can receive urgent dental care at any hour is going to benefit you greatly. Root canals, extractions, emergency x-rays, and making sure that infections don't become full-blown are all in the daily itinerary here. This office is a great choice for a Sunday dentist in Nashville.
Monday 10:00am – 5:00pm
Friday 10:00am – 5:00pm
Saturday 10:00am – 5:00pm
Sunday 10:00pm – 5:00pm
---
Vanderbilt Oral Health
Number: 615-322-2377
Office: 1211 Medical Center Drive Nashville, TN 37232
Doctors: Dr. Tyler Ames
Website: www.vanderbilthealth.com/dental/19478
Description: One of the most important things about a clinic's vitality is how satisfied the patients are, and Vanderbilt is an establishment that is heralded by many as being a true top-notch provider of the best in emergency and after hours dentist care. Assistant Professors Taylor Ames, Julie Rezk, and dental hygienist Alexis Forster are all very integral parts of a team that will strive to help diagnose and treat your need for antibiotics, a potential extraction, or other root canal work. Each treatment option will be thoroughly explained, and laid out to its fullest extent so you are comfortable and aware of the next step at every moment. Call here if you're looking for weekend dentist services.
Emergencies
Our oral surgeons are available 24 hours, 7 days a week.
---
David Roach Family Dentistry
Number: 615-270-9051
Office: David Roach Family Dentistry 3824 Bedford Ave Nashville, TN 37215
Doctors:David Roach, D.D.S
Website: www.dentistnashvilletennessee.com/
Description: David Roach Dentistry offers a great selection of hours, they are open til 6pm every weeknight from Monday til Friday. This gives you an opportunity to make it to their office after work! Also they have Saturday dentist in Nashville hours from 8am til 1230.
Mon: 7:00am – 6:00pm
Tue: 7:00am – 6:00pm
Wed: 7:00am – 6:00pm
Thu: 7:00am – 6:00pm
Fri: 8:00am – 6:00pm
Sat: 8:00am – 12:30pm
---
Dr. Robert Pulliam, DMD, MS
Number: 615-920-0556
Office: 4219 Hillsboro Road, #107 Nashville, TN 37215
Doctors:Dr. Robert Pulliam, DMD, MS
Website:www.dentalemergenciesnashville.com/
Description: The dental office if Robert Pulliam lists that his staff is on call 24/7. Give them a call and hopefully you'll reach one of their trained professionals and be able to setup a walkin dentist appointment with them asap.
Our team is on call 24 hours a day, 7 days a week
---
24hrDental.net
Number: 855-202-8725
Office: 104 Kenner Ave Ste 101 Nashville, TN 37205
Website:www.24hrdental.net/search/tennessee/nashville
Description: Nashville has an extensive selection of urgent dental care dentists and this office is yet another great choice which offers a large amount of available hours.
Call us 24 Hours a Day: 855-202-8725
---
Donelson Smiles Dentistr
Number: 615-830-5008
Office: 2340 Lebanon Pike Nashville, TN 37214
Website:www.donelsonsmilesdentistry.com/
Description: The office hours of Donelson Smiles dentistry are a bit more limited than the offices we have listed above. But they do have late hours on Wednesdays until 7pm.
MO 8:30 AM – 6:00 PM
TU 8:30 AM – 6:00 PM
WE 10:30 AM – 7:00 PM
TH 8:30 AM – 5:00 PM
FR 7:30 AM – 4:00 PM
---
Tennessee Family Dental Emergency Services
Number: (615) 200-6460
Office: 15576 Old Hickory Blvd. Nashville, TN 37211
Doctors: Dr. Ryan O'Neill
Website: http://www.tnfamilydental.com/emergency-dentist/
Description: This Nashville clinic is staffed with the best in the business, and Dr. Ryan Oneill was the recipient of a 4.0 GPA during his studies at the University of Alabama at Birmingham School of Dentistry. There is a definite 24-hour dentist availability within the clinic, and a simple call to their emergency number will have them finding assistance immediately. The staff here have also successfully completed mission trips in Asia and South America, preparing them for the many varieties of dental problems they may encounter right here in Nashville.
Driving Directions
---
While these listings are for walk in dentist office in Nashville, TN, you should always call ahead. Since the demand for an emergency dentist is not high, many of them will only come into the office when you call.
Please be attentive when visiting emergency dental offices open on Sunday, Saturday and after hours. Since there isn't anyone around, it's important to by vigilant of your surroundings. If you feel like something is amiss, retreat to your car and drive away.
As you research the dentists we have here, you can check to make sure they are reputable by going to the Nashville Dental Society website. There, you will be able to see if they are part of the American Dental Association. Being a part of that association means that they are abiding by requirements that make them good dentists. It ensures you that the person you are seeing is experienced to work on your teeth.
Don't wait another minute to get the dental care you need. You are in pain and that pain can be easily taken care of just by going to an emergency dentist. While you may not be able to get all of the procedures you need for your teeth right now, you can get some relief from an emergency dentist. He will be able to help you with medication or extractions that will make the pain of your tooth go away. Call some of the dentists above today no matter what time it is or day of the week. They are available for people just like you.