Helping Newark Residents Find IMMEDIATE Dental Services Everyday.
Get relief from chipped, cracked or lost tooth
Abscess, toothache, mouth pain
Emergency dental surgery
24 hour services - Includes weekends, nights and holidays

Emergency Dentist in Newark, NJ – Find A 24-Hour Dentist Now
Waking up in the middle of the night with a terrible toothache makes life absolutely miserable. Spending hours searching for a Newark emergency dentist is not going to make the misery any better. Luckily Emergency Dentists USA offers a comprehensive selection of Newark emergency dentists right here at your fingertips. From walk-in dental clinics that provide a same-day dental service to after hours care that includes hours on the weekends, Newark emergency dentists work hard to provide the type of dental services that you need, no matter what the time of day or night.
Emergency Dentists USA offers an extensive listing of 24-hour dental services in the Newark area with all of the information that you need to make an informed decision when you select your new Newark emergency dentist. Simply scroll to our listing of friendly and helpful emergency dentists and check out their office hours, specialties and even their locations.
Finding A 24 Hour Emergency Dentist in Newark, New Jersey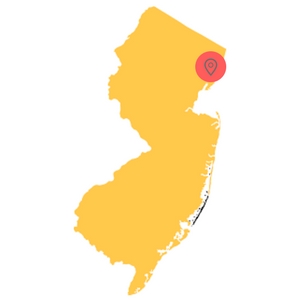 Although there are no official 24-hour dental clinics that offer office hours throughout the day and night, Emergency Dentists USA offers plenty of Newark emergency dentist options when it comes to caring for that dental emergency. From walk-in clinics to after hours dentists, Emergency Dentists USA is exactly what you need to make an informed decision for your dental care needs.
Walk-in dental clinics – This type of dental clinic allows patients to see a dentist right away, without waiting days or weeks for an appointment. Dr. Jones of Jones Dental Associates of Irvington P.C. has a walk-in appointment clinic standing by to help you with your dental emergency.
Emergency 24-Hour Dental Clinics – There are no true 24-hour dental clinics in Newark, but there are dentists who offer emergency access through their urgent care phone numbers. Local Newark hospital emergency rooms make an excellent choice for dental emergencies that occur late at night.
After Hours Dentists – Gentle Dental of New Jersey is open until 9 p.m. every night of the work week. They offer Saturday hours until 3 p.m., making them a true after hours dental clinic.
Emergency Dentist Listings in Newark, New Jersey
With Emergency Dentists USA, you never have to begin that frantic search for the best Newark emergency dentist while you are fighting the pain of a cracked tooth or a broken wire on your braces. Our comprehensive listing of Newark emergency dentists below provides all of the information that you need to make an excellent choice regarding your new emergency dentist in Newark. From walk-in dental clinics to after hours care on your schedule, Emergency Dentists USA provides all of the services that you need by simply scrolling below.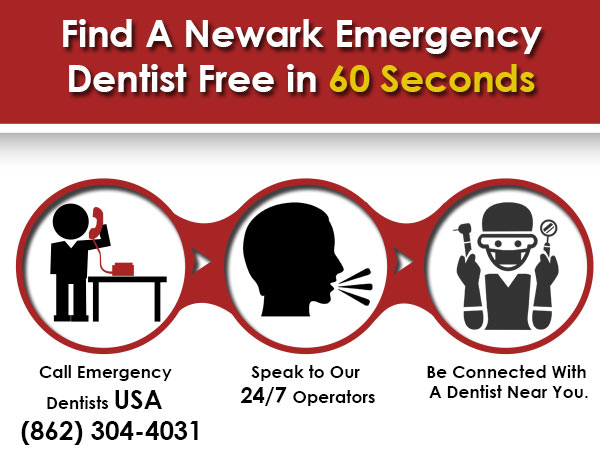 ---
Emergency Dentists USA Referral Service Newark
Phone Number: 1 (855) 401-2701
Address: Referral Service to Various Dental Offices throughout Newark
Doctors Various
Description Call to be connected with the perfect dentist for you. Newark is a large city and we have the connections to find a Newark dentist to fit your needs, and can get you an appointment immediately. Our referral service is the best option for anyone suffering from a dental emergency. We can help you find an emergency dentist in Newark in seconds! Easily find New Jersey emergency dentists with our service.
---
Jones Dental Associates of Irvington P.C.
Number: 862-245-1944
If Closed: Call 1 (855) 276-1128 and let our Operator help you find an emergency dentist.
Office: 1375 Clinton Avenue Irvington, New Jersey 07111
Doctors: Dr. Sivi Jones
Website: http://irvington-dentist.com/
Description: With services including a weekend dentist in Newark, NJ for those emergency dental situations that can so easily crop up in your life, this is a great place to start your search for a competent dental clinic. A dentist open on Saturday in Newark, NJ is always a plus and the operating hours are 9:00 am to 12:00. This facility encourages you to contact their urgent care phone number if you need immediate assistance. Dr. Sivi Jones has been operating his practice for over 20 years and is partnered with Dr. Jacqueline Gaymes. The dentistry practice provides affordable and comprehensive dental care to the people of Hillside, South Orange, Irvington, Newark, East Orange, and Maplewood. If your are seeking a walk in dentist in Newark or any of these areas, give this facility a close look.
Hours of Operation:
Tuesday-Wednesday-Friday: 9:00am-4:00pm
Thursday: 9:00am-6:00pm
Saturday: 9:00am-1:00pm
---
Dental Kidz
Number: 973-639-1000
If Closed: Call 1 (855) 276-1128 and let our Operator help you find an emergency dentist.
Office: 24 Commerce St #1100, Newark, NJ 07102
Doctors: Dr. Lezli Levene
Website: http://www.dentalkidz.com/
Description: This practice is not a fully-fledged 24 hour dentist, but thankfully does have hours that leave them open on Saturday, which is handy for families and busy students that don't have much time. Dr. Levene and the staff are known for being warm, compassionate, caring, and experienced individuals that will be able to help you with your dental emergency in no time flat. Everything from the need for an emergency extraction to help with a constantly re-occurring toothache can be solved here at this great walkin dentist Newark solution.
Hours of Operation:
Tuesday-Friday: 7:00am-5:30pm
Saturday: 7:00am-2:00pm
---
Gentle Dental of NJ
Number: 973-817-8888
Office: 290 Ferry St B2, Newark, NJ 07105
Doctors: Dr. Eugene Bernstein
Website: http://www.getsmile.net/
Description: Gentle Dental is an after hour dentist Newark area professional that is open on Saturdays for your convenience, and is known for their standout treatment of every new patient that walks in the door. Dr Bernstein and his dedicated staff are always on hand to help with any new dental emergency that you encounter: it may be anything from a cracked tooth or broken crown on up to an abscess; they've got you covered. Every incredibly busy individual likes to know that they can locate a Sunday dentist or better:
Hours of Operation:
Monday-Friday: 9:00am-9:00pm
Saturday: 9:00am-3:00pm
---
Dental Health Associates
Number: 973-297-1550
Office: 25 Alling St, Newark, NJ 07102
Doctors: Dr. Vivian Botero
Website: http://www.njdha.com/Locations/Newark
Description: This urgent care dentist is an alternative in Newark for those who find themselves suddenly staring down the threat of heavy pain that they feel they can no longer endure. There is nothing as reassuring as finding out that a chair is open for you in a dental clinic that cares about each and every single patient and boasts years of experience: Let Dr. Botero and the crew make sure that you are taken care of quickly, and know exactly what the future holds for your dental health plan.
Hours of Operation:
Mon-Fri: 8:00am-5:00pm
Sat: 8:00am-2:00pm
---
Chestnut Dental Group
Number: 973-732-3484
Office: 419 Chestnut St #1b, Newark, NJ 07105
Doctors: Dr. Fatima Tavares
Website: http://www.chestnutdentalgroup.com/
Description: When you are doing business or traveling to this east coast city that has one of the busiest airports in the nation, it's good to know that there are weekend dentist options available that will be able to fit your schedule no matter how jam-packed it gets. Here at Chestnut Dental Group, you will be treated as more than just a number, and right away you will be presented a plan for your continued dental health that will have you happy and secure about the future. A Sunday dentist is something that many families and students really yearn to have: Chestnut dentist in Newark is a great addition to your day-planner, as when an emergency hits, you'll have someone reliable on your side.
Hours of Operation:
Mon-Wed-Fri: 1:00pm-8:00pm
Tue: 10:00am-4:00pm
---
ChildSmiles•FamilySmiles
Number: 973-578-8788
Office: 66 Somme St, Newark, NJ 07105
Doctors: Dr. Brooke Skolnick
Website: http://childsmiles.com/
Description: Childsmiles Dentistry is a great option for a Saturday Dentist: they are open from 8-3 on Saturday, and have the experience and dedication to make sure that your needs are met quickly and with attention to detail. Anything from an abscessed tooth, suddenly aching tooth or pain that you cant get rid of can be taken care of here, making all of the pain you have been experiencing stop at once. If you happen to have dental anxiety, they will be overly compassionate as well, making sure that you aren't nervous in the least about any procedures you have to have done here.
Hours of Operation:
Monday-Thursday: 9:00am-6:00pm
Friday: 9:00am-5:00pm
Saturday: 8:30am-3:30pm
---
How To Prepare For Your Newark, New Jersey Emergency Dental Clinic Visit
Emergency dental clinic visits are just like a visit to your regular dentist's office. Newark emergency dentists perform routine dental care services that include routine examinations and x-rays along with more complicated procedures like full mouth restorations.
Gather your recent dental records and x-rays to bring with you to your Newark emergency dentist appointment. This information will help your new dentist to determine the best course of action for your dental emergency.
Try to arrive at least 15 minutes before your scheduled appointment time. This gives you plenty of time to fill out the necessary paperwork and ask questions about your procedure.
Let the Newark emergency dentist know how you plan to pay for your dental procedure. Most dental clinics accept payments in the form of cash, credit cards, personal checks and even offer low-interest payment plans.
Check to ensure that your Newark emergency dentist accepts your dental insurance. Choose a dentist within your dental insurance network will generally save you money.
Let the Newark emergency dentist know if you have allergies to any medications. Bring a list of your current medications with you to the office visit.
Do you have intense dental anxiety or fear? Let the dental office staff know about your fears. They are trained to help soothe those anxieties and make your visit as comfortable as possible.
Quality of Urgent Care Dentists In Newark, New Jersey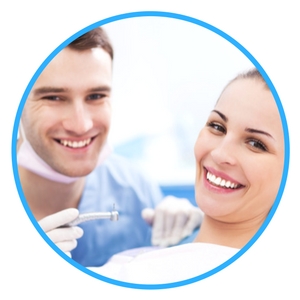 Wandering the walking paths at Branchwood Park in Newark while the cherry blossoms fall is one of the most unforgettable experiences that one can have in a city that prides itself on incredible experiences. Newark is a city of performing arts and 19th century cathedrals, a variety of natural history museums, and parks that provide access to the beauty of Newark's spring and summer weather.
Brick City is fast-paced and is ranked the third oldest city in the United States, giving it plenty of interesting architecture that brings millions of tourists from all over the world each year. Newark's historic riverfront parks and gorgeous sparkling skyline make it simple to lose yourself in the beauty of the city, unless you are hit with a painful dental emergency.
Newark is not known for its excellent healthcare system, but the recent focus of healthcare in the city has changed from treating the sick to encouraging the residents and visitors to spend more time focused on health issues before they become a chronic problem. With a variety of large hospitals available in the Newark area, even Newark tourists are able to receive prompt treatment when a dental emergency strikes. University Hospital on Bergen Street has a 24-hour emergency department standing by to treat a dental emergency the moment it strikes. Physicians are trained to offer items like painkillers or antibiotics to those patients in dental distress, but keep in mind that a hospital emergency room is not a dental clinic. You will most likely need to visit your Newark emergency dentist to complete the actual tooth restoration.
Other great hospitals in Newark include Newark Beth Israel Medical Center established in 1901 as a teaching hospital, and Saint Michael's Medical Center. Each of these hospitals provide 24-hour emergency services for anyone with a nagging toothache, soft tissue injuries to the mouth, or even a knocked out tooth. When you have a dental emergency that comes from a car accident, a fall or even a sports injury, one of the top Newark hospitals is going to be the best place for you to have your injury treated. Although the emergency room physician is not a dentist, he or she is the best resource to choose when you might have injuries other than your broken tooth or crown that has fallen out.
Common 24 Hour Dental Emergencies
There are a large selection of 24-hour dental emergencies that might send you frantically searching for a Newark emergency dentist. Some of these emergencies include falls or injuries from a car accident that might also damage other parts of your body. If you have a tooth knocked out in a car accident, you should definitely head for a hospital emergency room before you visit your Newark emergency dentist.
Common dental emergencies that are treated in dental clinics include painful toothaches, abscesses, broken or chipped teeth, and teeth that are completely knocked out. Partially extruded teeth along with broken or loose braces and wires are also common dental emergencies treated in many Newark emergency dentist offices. You might also seek treatment for an item lodged between your teeth or a soft tissue injury to the gums, cheeks, or even lips that includes tooth damage. Lost fillings and lost or loose crowns are addressed in your Newark emergency dental clinic.
Abscess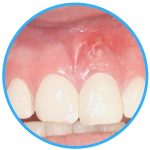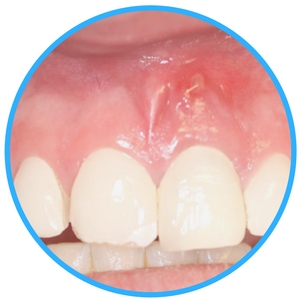 An abscess is one of the most dangerous of all common dental emergencies. An abscess is a type of infection that occurs between the teeth or in the soft tissue of the gum below the teeth. Left untreated, this infection can spread to the bones of the jaw and other soft tissue areas. Rinsing your mouth several times with salt water will help to draw the pus that is created by the infection toward the surface of the tissues. This is a true dental emergency and you should contact your Newark emergency dentist as soon as possible for treatment of your dental abscess.
Knocked Out Teeth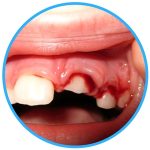 Knocked out teeth are often associated with a fall or accident. A tooth that is knocked out should be grasped by the crown only and rinsed with plain water. Rinse the mouth thoroughly and try to place the tooth back into the gum socket. If you are unable to place the tooth into the gum, you can save the tooth by placing it in a small container of milk or Save-a-Tooth in order to bring the tooth with you to your Newark emergency dentist. The more quickly you bring the tooth to your dentist, the more likely it is that the tooth can be saved.
Objects Caught in Teeth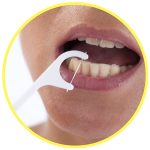 Objects caught in teeth can be quite painful, especially when they place pressure on the gums or surrounding teeth. To remove an object caught in your teeth, first rinse thoroughly with water. Try gently flossing between the teeth in order to remove the debris. If you are unable to remove the object with floss, do not try a sharp object like a pin to scrape between the teeth. This can cause damage to the gum and even chip the tooth. Your Newark emergency dentist can help you to remove the object caught in your teeth without damaging the surrounding tissue or teeth themselves.
Tooth Trauma Caused by an Accident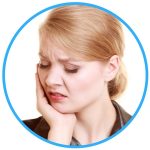 Tooth trauma might be caused by a car accident, a sports injury, or even a fall. This type of accident can damage parts of your body other than your teeth or along with your teeth. Visiting your nearest hospital emergency room is the best course of action when tooth damage is caused by an accident that could affect other parts of your body. If your trauma is localized to just your teeth, then a Newark emergency dentist is the perfect solution for your dental problem. The emergency room physician is not a dentist and cannot repair broken or chipped teeth. He or she can get you stabilized until you can visit your dentist.
Do You Need an Emergency Tooth Extraction?
An emergency tooth extraction is definitely not something anyone wants to add to their daily agenda. You might require an emergency tooth extraction if you have a tooth that has decayed beyond a dentist's ability to repair it. When this occurs, it is important to see your Newark emergency dentist right away because the more quickly the extraction is accomplished, the less likely you are to have painful complications that require the use of medications like antibiotics and painkillers.
Your dentist will begin your extraction procedure by first taking an x-ray of the tooth and performing an examination. He or she will then choose a local or general anesthetic to numb the area around the tooth. A special dental tool is used to pull the tooth from the socket and the gum is sewn shut using stitches that eventually dissolve. The area is packed with a small amount of gauze to control bleeding, and full healing generally occurs within one to two weeks.
It is important to follow any instructions from your Newark emergency dentists during the healing process. Try to avoid smoking, drinking from a straw, drinking alcohol or eating hard foods for the first few days following the procedure.
Emergency Room Versus Emergency Dentist

Deciding when to head to the emergency room and when to visit your Newark emergency dentist for a tooth injury is simple. If you have a tooth injury that comes from a car accident, a sports injury, or even a fall, there could be damage to parts of your body other than your teeth. This means that you should head straight to the hospital emergency room for treatment. Unfortunately, the emergency room physician is not able to fix a broken tooth, so if your dental emergency includes broken teeth or knocked out teeth, you will most likely be referred to a Newark emergency dentist treatment following your trip to the emergency room.
Your standard toothache is best treated in a dental clinic. This type of treatment is generally less expensive and quicker than a visit to the emergency room. You also receive just one bill rather than a separate charge from the hospital ER and from the dental clinic that you were required to visit following your ER diagnosis.
FAQ
What are sealants and why are they done?
Sealants are a special thin coating that is painted over a tooth in order to protect the tooth from decay. The sealant bonds to the crevices in the tooth, protecting it from food debris. Sealants are often done to decrease the chances of requiring fillings later in life.
My dentist says I have a cavity and that I need a filling. But why doesn't my tooth hurt?
Your cavity might not cause you any pain because it has not progressed to the point where it is affecting the sensitive inner structure of the tooth. Once a cavity has become deep enough to affect the interior of the tooth, you will usually feel pain. Cavities should be filled as early as possible to avoid increased decay.
What is a root canal?
A root canal is a dental procedure that is used to repair a tooth with severe decay. A small hole is drilled in the surface of the tooth. The infected pulp is removed from the tooth and the interior of the tooth is cleaned and filled with an inert material. The tooth is then sealed.
What is in amalgam (silver) fillings, and are they safe?
Amalgam or silver fillings are considered to be perfectly safe and have been used for many years. Amalgam fillings are made from a combination of metals including copper, silver, and tin. They are blended with mercury to allow them to remain flexible.
How much radiation do I get from a dental x-ray and how does it compare to other medical procedures?
You get very little radiation from a dental x-ray. In fact, the radiation from a dental x-ray is about the same as background radiation from everyday exposure to the world. The radiation from a dental x-ray is less than that from a short airplane flight.
24 Hour Dentist Newark Options
With beautiful city parks that highlight the history of Newark and its diverse culture, spending a weekend or making your new life in the Brick City just makes sense. Visit museums or take in a symphony on the water while you enjoy the delicious Italian hotdog and take in everything that New Jersey has to offer. With a population of over 300,000 residents, Newark is a friendly city that welcomes tourists with open arms.
A gorgeous hometown with so much to offer means that having your life interrupted by a dental emergency is definitely not an option. Luckily Emergency Dentists USA provides a comprehensive listing of competent and kind Newark emergency dentists to take care of your dental emergency before it ruins your trip.
Step into the lovely lobby at Gentle Dental of New Jersey and have Dr. Bernstein take a look at that broken tooth or loose crown. With office hours that offer evening appointments until 9 p.m. and Saturday hours until 3 p.m., Gentle Dental is an excellent solution for any dental problem that occurs after hours or on the weekend. Choose Dental Health Associates for after hours dental care until 2 p.m. on Saturdays so that you can get your broken tooth fixed without missing a day at work.
Chestnut Dental Group and Child Smiles – Family Smiles both offer evening appointments for anyone seeking care after the normal business hours and Jones Dental Associates of Irvington PC has a walk-in program that means no waiting for a dental appointment that is weeks away.
When you choose your Newark emergency dentist, it is always important to ensure that he or she is licensed and accredited in the New Jersey area. You can use the American Dental Association website located here: www.ada.org to check your new dentist's certifications. You can also use the New Jersey Dental Association website located here: http://www.njda.org/ to check on licensing in the state of New Jersey. Each website offers a search option that allows you to check out your dentist right on the website.
This Emergency Dentists USA portal is a website for information only, and should be not used to replace the actual advice of a medical professional. If a patient is having an emergency and cannot reach a dentist, call 911 to assure immediate response and safety.