Helping Norfolk Residents Find IMMEDIATE Dental Services Everyday.
Get relief from chipped, cracked or lost tooth
Abscess, toothache, mouth pain
Emergency dental surgery
24 hour services - Includes weekends, nights and holidays

Emergency Dentist in Norfolk, VA – Find A 24-Hour Dentist Now
Table of Contents
Emergency Dentists USA is your source for convenient dental access right when you need it. Taking a trip to a new city can be very uncomfortable if you are suffering from a dental emergency like a terrible toothache or a broken tooth. Emergency Dentists USA has the right dentist for your dental emergency at your fingertips 24-hours a day and seven days a week. Use our 24-hour hotline to speak to a live representative who can direct you to an excellent Norfolk emergency dentist and even set up your dental appointment.
Scroll through our Norfolk emergency dentist listings to choose a friendly and reliable Norfolk dentist who has the office hours that suit your dental needs. Offices include after hours dental appointments in the evenings or early in the morning to suit your schedule and emergency dental clinics with 24-hour access to a dentist via an after hours dental hotline that connects you right to the dentist's office.
Finding A 24 Hour Emergency Dentist in Norfolk, Virginia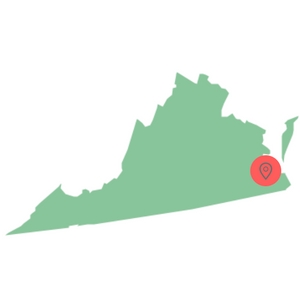 Finding a 24-hour emergency dentist in Norfolk, Virginia does not have to be a part of your dental problem. With a convenient and extensive listing of Norfolk emergency dentists on Emergency Dentists USA, finding the right dentist for your toothache is as simple as scrolling through our listings. Competent and kind dentists are available throughout the day to take care of your dental emergency.
Walk-in dental clinics – Dental clinics that allow patients to walk in without an appointment are tough to find. Partners In Dental Health works hard to make you a dental appointment that suits your needs as quickly as possible.
Emergency 24-Hour Dental Clinics – Most dental clinics are not open 24-hours per day. O'Keefe Family Dentistry offers you an alternative with a 24-hour emergency after hours hotline to connect to the dental clinic.
After Hours Dentists – Providing both routine and emergency care at hours that are convenient to you, The Foleck Center in Norfolk is even open on Saturdays for dental emergencies.
Emergency Dentist Listings in Norfolk, Virginia
Emergency dentists are standing by to treat your dental problem regardless of when it occurs. Our comprehensive listing of Norfolk emergency dentists gives you a great selection of excellent Norfolk emergency dentists to choose from when a dental emergency strikes. From after hours clinics to hospitals with 24-hour emergency departments, you can find the dental care that you need by scrolling through our dental office listings below.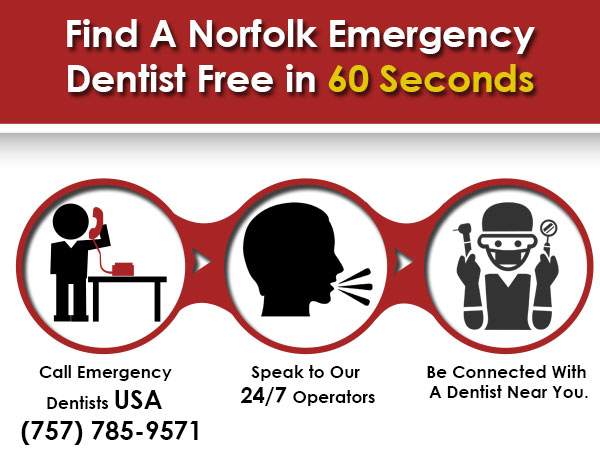 ---
Emergency Dentists USA Referral Service Norfolk VA
Phone Number: 1 (855) 401-2701
Address: Connected To Various Dental Offices across Norfolk
Doctors Multiple
Description Call to be connected with the perfect dentist for you. Norfolk is a large city and we have the connections to find a dentist to fit your needs, and can get you an appointment immediately. You can get emergency dental help in Virginia fast.
---
Partners in Dental Health
Website: partnersindentalhealth.com
Address: 738 E. Bayview Blvd., Norfolk, VA 23503
Phone Number: 757-588-1563
Description:
Three can be the charm and that is what you may have with any one of these three dental locations. If identifying a weekend or walk in dentist in Norfolk is your aim, you are off to a good start. With a week of antibiotics for a severe abscess tooth and waiting for relief, you may be growing weary of the current regiment your doctor has you on. If that is the case and your dental health situation flares up, then consider a clinic with an oral surgeon with an outstanding track record. This practice has stipulated they wish to work with your schedule and set up an appointment that can get you some closure on whatever urgent dental pain you may be experiencing.
Office hours:
Monday 8 am to 5 pm
Tuesday 8 am to 5 pm
Wednesday 9 am to 3 pm
Thursday 8 am to 5 pm
Friday 8 am to 5 pm
Saturday 8 am to 12 pm
Sunday – Closed
---
O'Keefe Family Dentistry
Website: Okeefedentistry.com
Address: 1232 West Little Creek Rd., Norfolk, Virginia, 23505
Phone Number: 757-440-7977
Emergency After Hours Number: (757) 620 1549
Description:
Offering patients in the Hampton Roads area since 1930 quality dental services, the O'Keefe Family Dental practice is determined to provide a 24 hour emergency dentist in Norfolk for those struggling with acute dental pain. Contact the emergency after hours number provided above. Dr. O'Keefe and his staff are quite capable of proving to you a wide range of dentistry services including urgent dentistry care for those that need help now.
Office hours:
Monday 9 am to 6 pm
Tuesday 7:30 am to 4:30 pm
Wednesday 7:30 am to 4:30 pm
Thursday 7:30 am to 3:30 pm
Friday – Sunday – Closed
---
The Foleck Center
Website: www.thefoleckcenter.com
Address: 201 College Place Suite 111 Norfolk, VA 23510
Phone Number: 757-623-0283
Description: The Foleck Center is a Norfolk-based clinic in the College Place area that has Saturday hours to make sure they are able to provide standout service to those that encounter difficulty during the weekend. You can find them here on Saturdays from 9AM until 1PM, and they stay open extra late on Thursdays: you can find them here until 7:30PM then. Whether you have a very intense toothache or other incident such as wisdom teeth coming in improperly, this is a clinic that you can find comfort and star service in.
Office hours:
Monday 8 am to 6 pm
Tuesday 8 am to 5 pm
Wednesday 8 am to 7 pm
Thursday 7:30 am to 6:30 pm
Friday 8 am to 5 pm
Saturday 9 am to 1 pm
Sunday – Closed
---
Kool Smiles
Website: www.mykoolsmiles.com/VA/dentist/North-Norfolk-Little-Creek
Address: 2338 East Little Creek Rd. Norfolk, VA 23518
Phone Number: 757-644-5821
Description: Kool Smiles is a Norfolk-area clinic that has Saturday hours for the busy customer's convenience. You can come here from 9AM until 2PM during Saturdays to get care, and see how you can better your overall dental health. It may be a cracked or broken tooth, aching tooth that may soon become an abscess, or any other type of injury: here is where you can get repair and feel that you are moving forward.
Office hours:
Monday – Friday 9 am to 6 pm
Saturday 9 am to 2 pm
Sunday – Closed
---
How To Prepare For Your Norfolk, Virginia Emergency Dental Clinic Visit
A Norfolk emergency dental clinic is similar to your regular dental office. Each dental clinic offers both routine and emergency services that include x-rays, examinations, cleanings and even full mouth restorations if needed.
Gather any recent dental x-rays and examinations that you may have, and bring them with you to see your Norfolk emergency dentist. This will help your new dentist to determine the best course of treatment for your dental problem.
Try to arrive approximately 15 minutes prior to your dental appointment to fill out the necessary paperwork. You can also use this time to ask questions about your procedure.
Let your Norfolk emergency dental office staff know how you plan to pay for your treatment. Most dental clinics take cash, credit cards, personal checks and even offer low-interest payment plans for more extensive services.
Check to ensure that your Norfolk emergency dentist accepts your dental insurance. This could save you money when the time comes to pay the dental bill.
Let your new dentist know if you are allergic to any medications. Bring a list of your current medications with you when you visit the dentist.
Do you have intense dental anxiety or fear? Let the dental office staff know that you have concerns about your anxieties. They can help to ensure that you understand the procedure.
Quality of Urgent Care Dentists In Norfolk, Virginia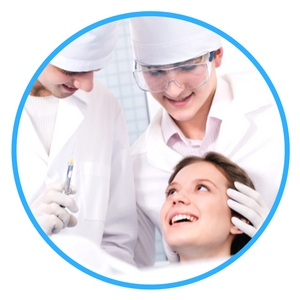 The port city called Norfolk calls to travelers from all over the world with its gorgeous shoreline and its extensive maritime history. With a motto that states "Life, Celebrated Daily," Norfolk provides plenty of fun for tourists and locals alike. The giant Nauticus maritime museum offers a glimpse into the science and the history of sea travel in the United States with access to the beautiful downtown Norfolk waterfront where ships come and go throughout the day. Other attractions in the area include the Chrysler Museum of Art and the Virginia Zoological Park with its roaring lions and gigantic elephants. Visitors to the waterfront enjoy shopping, cruises of the bay and dolphin sightings that delight families.
The city of Norfolk prides itself on its excellent healthcare with a number of quality hospitals that offer 24-hour access to emergency departments that are perfect when you have a dental emergency that stems from an accident, a fall or even a sports injury. Bon Secours-DePaul Medical Center in Norfolk employs over 70 doctors with medical specialties that range from pediatrics to cardiac care. Open 24-hours a day and seven days a week, the emergency department treats patients with medical and dental emergencies regardless of the hour.
The Children's Hospital of the King's Daughters provides treatment for pediatric patients with dental emergencies through their busy emergency department and Sentara Norfolk General Hospital is always available for emergencies that require the expertise of a physician.
Medical care in Norfolk is among the best in the United States with several nationally ranked hospitals. Sentara Norfolk General Hospital is ranked number two in the entire state of Virginia with a national ranking in two specialities. The hospital is located on Gresham Drive and has over 24,000 admissions each year, making it one of the busiest medical centers in the state. Founded in 1888 and employing over 700 doctors, Sentara Norfolk General Hospital is rated high performing in seven procedures and is also ranked number one in the Virginia Beach area among hospitals.
With plenty to do and to see in Norfolk, choosing a great Norfolk emergency dentist should not be a hassle. Emergency Dentists USA offers a convenient listing of excellent Norfolk emergency dentists with office hours to suit your needs right at your fingertips.
Common 24 Hour Dental Emergencies
Common 24-hour dental emergencies range from a painful toothache to an abscess or infection that can affect your entire mouth. With so much to do and see in Norfolk, choosing a Norfolk emergency dentist is probably not one of your major priorities until that emergency strikes. Emergency Dentists USA has the right Norfolk emergency dentist for your dental emergency without the hassle of searching the city for a dentist who can help you now.
Common dental emergencies include toothaches, objects caught between the teeth and chipped or broken teeth. Sometimes a dental emergency like a knocked out tooth comes from a fall or an accident. In that case, there are 24-hour hospital emergency rooms standing by to ensure that you are healthy and safe. Other common dental emergencies include a loose or lost crown or a lost filling, loose or broken braces or wires and soft tissue injuries of the mouth, tongue, cheeks or lips.
Abscess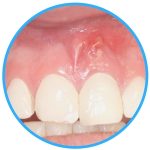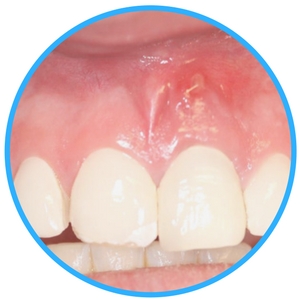 An abscess is a common dental emergency that is often quite painful and can become dangerous if not addressed in a timely manner. An abscess is actually an infection that affects the gum below the tooth or even between the teeth. The infection can spread to parts of the body like the bone of the jaw or soft tissues, making it important to seek help from a Norfolk emergency dentist as soon as possible. To help with the pain of the abscess, you can rinse your mouth with warm salt water several times per day. This draws the pus from the infection toward the surface of the gum.
Loose or Lost Crown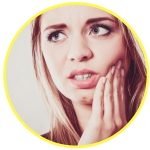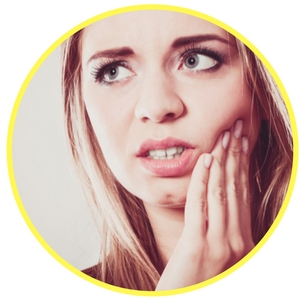 A loose or lost crown is sometimes a painful dental emergency, especially if the crown is lost while you are eating. If you find the crown, rinse it carefully with water and apply over-the-counter dental cement or denture adhesive to the interior of the crown. Place the crown back over the tooth if possible. If it is not possible to place the crown over the tooth, bring the crown with you to see your Norfolk emergency dentist. He or she can fix or replace the crown in a single visit in some cases. A loose crown can also be repaired at a dental clinic.
Emergency Toothache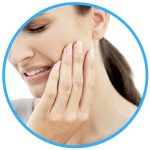 An emergency toothache is a common dental emergency that is generally painful and can definitely ruin a vacation. If you have a toothache, rinse your mouth with water and floss between the teeth gently. This will remove any food particles that could cause the pain. Never place aspirin or another painkiller between the tooth and cheek as this can burn the gum. Use a cold compress on the outside of the mouth to reduce pain and swelling. Visit your Norfolk emergency dentist as soon as possible to find the cause of the toothache and relieve the pain quickly.
Lost Filling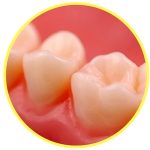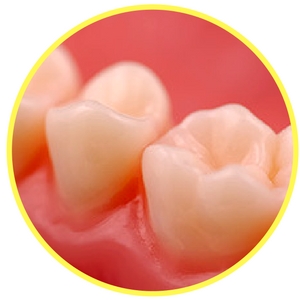 A lost filling is a common dental emergency that can be painful. If a filling is lost, you can replace the filling with a small piece of sugarless gum or over-the-counter dental cement to protect the surface of the tooth from further damage. Try to avoid eating hard foods and do not chew gum with sugar as this can cause pain. A lost filling should be replaced as soon as possible to ensure that the tooth does not continue to decay and become painful or even infected. Your Norfolk emergency dentist can fix the tooth and get you back on the road quickly.
Do You Need an Emergency Tooth Extraction?
You may require an emergency tooth extraction if your tooth has decayed beyond the point where a dentist is able to fix the tooth. You might also need an emergency tooth extraction if your tooth is crowding other teeth in your mouth. It is important to have the extraction accomplished as soon as possible to lessen the healing time and the need for medications following the procedure.
Your Norfolk emergency dentist will generally begin your procedure by taking an x-ray of the tooth and performing an examination. He or she then chooses a local or general anesthetic to ensure that you are comfortable during your visit. A special dental tool is used to remove the tooth from the gum, and the gum is sewn closed using a type of suture that dissolves over time. A piece of gauze is pressed into the gum to control any bleeding. Full healing usually occurs within one to two weeks of the extraction.
After your emergency tooth extraction, you should follow all of your dentist's instructions carefully. Avoid eating solid foods and drinking from a straw for the first few days. Avoid smoking and drinking alcohol during this recovery period. You can choose to have the tooth replaced with an implant or a bridge depending on the location of the extracted tooth.
Emergency Room Versus Emergency Dentist

When your dental emergency comes from a fall or a sports injury or even a car accident, you should visit the hospital emergency room before you head to your Norfolk emergency dentist. This ensures that you have no other injuries that could be life-threatening or dangerous. Visiting the hospital emergency room for a simple toothache is probably not the best plan. Although the hospital emergency room physician can help to alleviate the pain or infection, he or she is not trained to reconstruct damaged teeth. Heading to the hospital for a toothache could mean that you end up waiting in the hospital emergency room, having an examination and then being sent to a dentist anyway. This process becomes a problem when you end up with a large hospital ER bill that could have been avoided by simply going straight to your Norfolk emergency dentist with that toothache or lost filling.
FAQ
What should I do if my tooth gets knocked out?
If your tooth gets knocked out, you should collect the tooth if possible. Handle it only by the crown and avoid touching the roots. Rinse the tooth with plain water and place it back into the gum if possible. Use a small container of milk or Save-a-Tooth to bring the tooth to the dentist if you are unable to place it back into the gum. Visit your dentist as soon as possible.
What are my options for replacing a missing tooth?
There are several options for replacing a missing tooth including a dental implant or a dental bridge. An implant is considered to be the most natural option for replacing a tooth, and the implant is attached directly to the bone of the jaw. A bridge is generally connected to unaffected teeth on either side of the empty gum.
What should I do if I have a dental emergency and can't get a hold of a dentist?
If you have a dental emergency and cannot get a hold of a dentist, you can visit the nearest hospital emergency department to ensure that you are treated quickly. Although a hospital emergency room does not provide tooth repairs, they can help you with medications like antibiotics.
Are electric toothbrushes better than manual toothbrushes?
Electric toothbrushes are better than manual toothbrushes if you have dexterity issues that affect how you are able to hold or use a toothbrush. Manual toothbrushes are equally effective as long as you are brushing your teeth carefully and flossing each time you brush.
Why don't my dentures seem to fit anymore?
Your dentures might not fit anymore because of bone loss in your jaw. When teeth are missing from the jaw, the bone begins to degenerate. This causes the shape of the jaw and the fit of the dentures to change. Dental implants are designed to halt these changes in the bones of the jaw.
24 Hour Dentist Norfolk Options
Whether you are heading out of Norfolk on a gorgeous cruise ship or staying for a few weeks to enjoy the sights, having access to a great Norfolk emergency dentist is definitely a relief when you end up with a dental emergency. Head over to Kool Smiles on East Little Creek Road for their kind and courteous treatment even on a Saturday. With office hours that span the weekdays until 6 p.m. and Saturday hours until 2 p.m., Kool Smiles is definitely available when you need immediate dental care.
After hours dental care is also available at The Foleck Center, which is open early on Thursdays at 7:30 a.m. A friendly and helpful dental staff is also available as late as 7 p.m. on Wednesdays and on Saturdays until 1 p.m. The Foleck Center provides services that range from simple x-rays to emergency extractions with a licensed and qualified dentist. Visit Partners In Dental Health to set up an appointment at your convenience with a practice dedicated to providing excellent care on your schedule. Open Saturdays from 8 a.m. until 12 p.m., Partners in Dental Health is located on Bayview Boulevard.
Virginia also offers a variety of excellent hospitals with emergency departments that are open 24-hours a day to treat dental pain when you are unable to reach a Norfolk emergency dentist. You can always see a physician in one of these great hospitals to help with that toothache pain.
When you select a Norfolk emergency dentist, it is always important to ensure that your dentist is licensed and certified in the state of Virginia. You can use the American Dental Association's website located here: www.ada.org to check on current licensing and to learn more about dentistry. You can also select the Virginia Dental Association's website located here: www.vadental.org to see current regulations on dental licensing in the state of Virginia along with helpful tips for excellent dental care.
This Emergency Dentists USA portal is a website for information only, and should be not used to replace the actual advice of a medical professional. If a patient is having an emergency and cannot reach a dentist, call 911 to assure immediate response and safety.