Helping Oceanside Residents Find IMMEDIATE Dental Services Everyday.
Get relief from chipped, cracked or lost tooth
Abscess, toothache, mouth pain
Emergency dental surgery
24 hour services - Includes weekends, nights and holidays

Emergency Dentist in Oceanside, CA – Find A 24-Hour Dentist Now
Table of Contents
When a dental emergency strikes, there is no one who wants to be stuck in a strange city far from their regular dentist. Emergency Dentists USA is the perfect solution for that dental emergency, because we have the right Oceanside emergency dentist for your cracked tooth, lost filling or broken braces. Our convenient listing of Oceanside emergency dentists includes after hours dental clinics with office hours that begin as early as 7 a.m. and as late as 7 p.m. along with Saturday hours. This makes it simple for you to get that terrible toothache cared for without missing a single day of your vacation. Choose emergency dental clinics that provide sedation dentistry, digital x-rays and even same-day appointments.
Check out our 24-hour emergency dentist hotline to speak with a live operator who helps you to choose a great Oceanside emergency dentist and even sets up that first dental appointment. He or she is familiar with many dental problems and is ready to help you find a solution quickly.
Finding A 24 Hour Emergency Dentist in Oceanside, California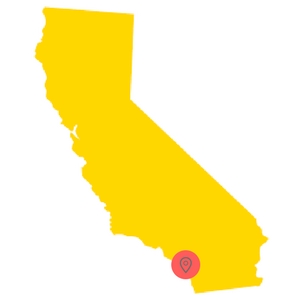 Suffering from a terrible toothache means missing out on the joy of your Oceanside vacation. Emergency Dentists USA provides you with a carefully chosen selection of after hours and emergency dental clinics that are available when you need them for your tooth repair.
Walk-in dental clinics – Dental clinics that allow patients to come in without an appointment are difficult to find in Oceanside. You can always visit a hospital emergency room without an appointment.
Emergency 24-Hour Dental Clinics – Clinics that specialize in being open 24 hours a day are not available in Oceanside. Dr. Reder does offer a dental hotline that allows you to page the doctor for a dental emergency regardless of the time of day or night.
After Hours Dentists – Regular dental offices that are open late, early or on the weekend are definitely a gift for anyone suffering with a dental emergency. South Oceanside Dental Group and Orthodontics is open on Saturday for those weekend dental problems.
Emergency Dentist Listings in Oceanside, California
Emergency Dentists USA has the Oceanside emergency dentist that you need to care for your dental emergency. Our convenient listing of Oceanside emergency dentists makes it simple to choose the dentist located near your home or hotel, or the dentist who offers the services that you need right now. Simply scroll through our comprehensive listing of emergency dental offices and select the dental clinic that suits your needs or call our 24-hour dental hotline for a live operator who helps you to choose a great Oceanside emergency dentist.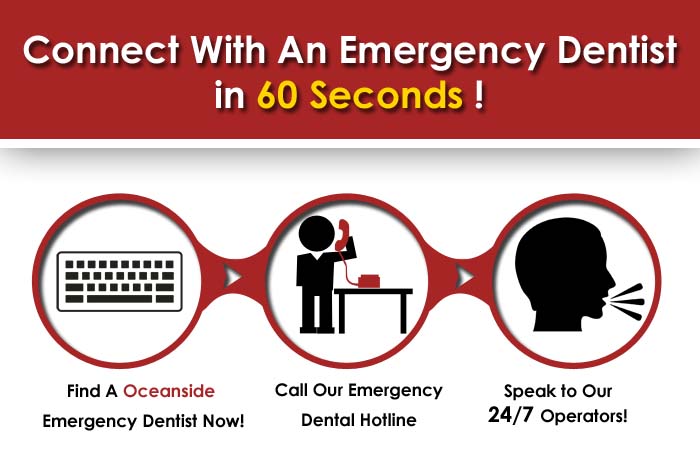 ---
Oceanside Emergency Dentists USA Referral Service
Telephone 1 (855) 401-2701
Directions Our referral service to Oceanside dental clinics.
DDS Different Doctors
Services Call today, Round the clock and 7 nights every week to speak with our emergency dentist Oceanside CA hotline. We can assist you in finding a dental professional with regard to whichever your current dentistry emergency may be. You may be looking for a weekend dentist, or perhaps an after hours evening dentist in Oceanside, we now have your back. Our connections as well as partnerships puts us in direct contact with the very best dental offices with regard to crisis situations throughout the United States
---
South Oceanside Dental Group and Orthodontics
Address: 2484 Vista Way b, Oceanside, CA 92054
Telephone:(760) 439-0334
Website: southoceansidedental.com
Description:
Conveniently located in the Trader Joe's shopping center, South Oceanside Dental Group and Orthodontics cares for your dental emergency with a staff that includes Dr. Sami, the oral surgeon, Dr. Judge, Dr. Deljoui, Dr. Chi, Redford and Dr. Abedi. From full mouth restorations to tooth repairs, this dental office is prepared to care for your dental emergency. State-of-the-art dental technology and a well-trained staff are standing by to handle your chipped tooth, lost filling or painful abscess. Routine dental care like cleanings and x-rays are provided along with more extensive services like veneers, crowns, root canals and orthodontics.
Office Hours
Monday 8am – 6pm
Tuesday 8am – 7pm
Wednesday 8am – 5pm
Thursday 8am – 5pm
Friday 8am – 4pm
Saturday 8am – 5pm
Sunday Closed
---
The Super Dentists
Number:(760) 336-8478
Office:3625 Vista Way, Oceanside, CA 92056
Doctors:Dr. Nazli Keri
Website:http://www.thesuperdentists.com/
Description
The Super Dentists offer pediatric dental care and orthodontics in five locations across the Oceanside area. From routine cleanings and x-rays to Incognito braces, Dr. Hoss and Dr. Keri employ a large selection of specialized dentists who offer their extraordinary services to the Oceanside area. When a dental emergency strikes, The Super Dentists are the heroes that you want by your side. This unique dental office provides after hours appointments as late as 7 p.m. for patients with a dental emergency.
Monday 8am – 5pm
Tuesday 8am – 5pm
Wednesday 10am – 7pm
Thursday 9am – 6pm
Friday 7am – 4pm
Saturday Closed
Sunday Closed
---
Barry Reder, DDS
Number:(760) 941-8511
Office:3230 Waring Ct, Oceanside, CA 92056
Doctors:Dr. Barry Reder
Website:http://kid2fdoc.com/
Description
Dr. Reder, DDS provides the Oceanside area with caring and professional dental services that make it simple to leave with a smile. A 24-hour dental hotline gives you the instructions that you need to page the dentist after hours or on the weekends. From routine dental care like x-rays and cleanings to comprehensive examinations in an emergency situation, Dr. Reder is prepared to handle your dental emergency. Pediatric dentistry is Dr. Reder's specialty, and his wonderful staff is standing by to make you feel comfortable and to restore that smile.
Monday 8am – 5pm
Tuesday 8am – 6pm
Wednesday 8am – 6pm
Thursday 8am – 5pm
Friday 8am – 12pm
Saturday Closed
Sunday Closed
---
North County Cosmetic and Implant Dentistry
Number:(760) 940-2273
Office:4161 Oceanside Blvd #102, Oceanside, CA 92056
Doctors:Dr. Henninger
Website:http://www.ultimatesmiles.com/
Description
With over 40 years of combined dental experience, Dr. Henniger and Dr. Heunergardt offer the cutting edge of cosmetic and restorative dentistry at North County Cosmetic and Implant Dentistry. From sedation dentistry to single day dental services, this Oceanside dental office prides itself on the use of the latest in dental technology offering the most cost-effective dental treatments with digital x-rays and laser dentistry. North County Cosmetic and Implant Dentistry offers sedation dentistry even for routine services, making it a perfect location for anyone with dental anxiety.
Monday 7:30am – 5pm
Tuesday 7am – 5pm
Wednesday 7:30am – 5pm
Thursday 7am – 5pm
Friday Closed
Saturday Closed
Sunday Closed
---
How To Prepare For Your Oceanside, California Emergency Dental Clinic Visit
– A visit to an Oceanside emergency dentist is similar to visiting your regular dentist. Most emergency dental offices also offer routine dental care to include x-rays and cleanings along with more complicated restorative dentistry.
– Have your paperwork, health records, and insurance information ready. This additional information allows your new dentist to choose a treatment solution that works best for your particular dental problem.
– Arrive 15 minutes early to facilitate filling out paperwork. This extra time allows you to ask questions about the procedure and get to know your Oceanside emergency dentist.
– Most Oceanside emergency dental offices accept cash, credit cards, personal checks and even offer low-interest payment plans for more complicated dental procedures. Check with your new dentist to be sure that he or she accepts your form of payment.
– Make sure you know if your insurance is accepted at this dentist. Choosing an in-network dental office can save you money when the time comes to pay that dental bill.
– Just like any medical visit, make sure you know if you have any allergies to medicines. Bring a current list of your medications with you to visit your Oceanside emergency dentist.
– Do you have intense dental anxiety or fear? Let the office staff know that you suffer from dental anxiety, and they can offer you a solution to your dental fears.
Quality of Urgent Care Dentists In Oceanside, California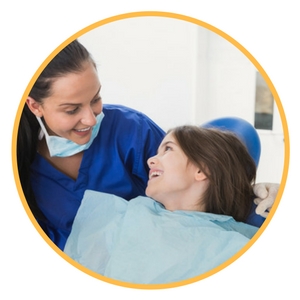 A visit to the gorgeous city of Oceanside in California means spending time exploring California's southern coast with its warm waters, vibrant sunsets and delicious food. Oceanside is one of the largest cities in San Diego county and was originally inhabited by Spanish missionaries in the 1760s.
The city is home to almost 200,000 residents and offers a gorgeous view of the Pacific via the Oceanside Pier. Visitors to the area also love the California Surf Museum located in this city, along with the home that was used in the movie "Top Gun" with Tom Cruise. Oceanside is also a place for anyone who appreciates art with the Oceanside Museum of Art. This modern building is home to exciting adventures like bronze casting workshops and children's programs along with large collections of works of contemporary artists.
Oceanside offers access to exceptional health care services because of its location in San Diego county and its proximity to the largest city in the area. Anyone who is suffering with a dental problem that was caused by an accident, a sports injury or even a fall, requires the services of an emergency room physician as soon as possible. Oceanside offers several great hospitals including Tri-City Medical Center. This medium metro hospital has over 300 beds and employs over 700 doctors.
Tri-City Medical Center is ranked high performing in two adult specialties and plays host to over 70,000 emergency room patients each year. The hospital is a great choice for anyone with a painful dental problem that might include injuries to other parts of the body including a concussion or a broken bone.
Other great Oceanside hospital choices include Scripps Memorial Hospital Encinitas with its 113 doctors and 24-hour emergency department. This hospital is just over ten miles from the city of Oceanside and caters to anyone with a dental emergency that cannot be addressed immediately by a dentist. Keep in mind that many hospital emergency rooms are not really designed to handle routine dental services, so you might end up visiting a dentist following your ER visit. Oceanside also offer access to the Palomar Medical Center in nearby Escondido, California. This hospital is ranked high performing in two adult procedures or conditions and houses over 600 doctors with various specialties. Like Scripps Memorial Hospital Encinitas, Palomar Medical Center offers 24-hour emergency services for both medical and dental problems.
Common 24 Hour Dental Emergencies
Emergency Dentists USA is your premier resource for handling those common 24-hour dental emergencies. Our comprehensive and carefully chosen list of Oceanside emergency dentists provides you with the right dentist for your terrible toothache or your painful abscess. Other common 24-hour dental emergencies that you might encounter include broken brackets or loose braces along with a broken wire, a tooth that is chipped or broken or even a tooth that has been knocked out completely. A partially extruded tooth is another common dental emergency that requires immediate attention from an Oceanside emergency dentist.
You might also head to the dentist with soft tissue trauma to the lips, cheeks or tongue, with a lost filling or a loose or lost crown, or with something that is caught between your teeth. Common dental emergencies can be handled by your Oceanside emergency dentist without the hassle of heading to a hospital for dental care.
Reading advice on the EmergencyDentistsUSA.com website is not a substitute for seeing a medical professional. Since every situation is unique, you should see a dentist for any of the situations below.
Loose or Lost Crown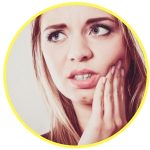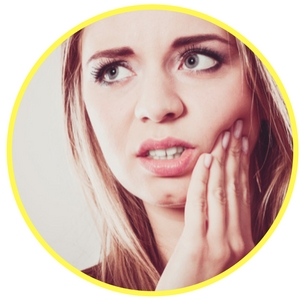 A loose or lost crown is a common dental emergency that often sends a person to the dentist. A crown might become loose if you are chewing foods that are hard or sticky. If you are able to find the crown, rinse it thoroughly with water and fill the crown with toothpaste or over-the-counter dental cement. Place the crown over the damaged tooth to protect the tooth temporarily. Visit your Oceanside emergency dentist as soon as possible to have the crown repaired or replaced.
Emergency Toothache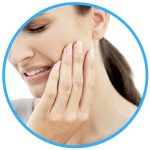 An emergency toothache can be caused by a tooth that has decayed or even by an object that is caught between the teeth. First, rinse your mouth thoroughly with water and floss between your teeth to remove anything that could be stuck between your teeth. Never place aspirin or any other painkiller between the teeth and gum as this can cause chemical burns to the soft tissues of the mouth. Choose a cold compress outside of the mouth to relieve pain and swelling. Visit your Oceanside emergency dentist as soon as possible to relieve the pain of that terrible toothache.
Knocked Out Teeth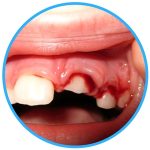 Knocked out teeth are another common dental emergency that can be quite embarrassing. If your tooth is knocked out during an accident or fall, visit the local ER as soon as possible for treatment. Rinse your mouth with water and use a small piece of moistened gauze to apply steady pressure to any area that is bleeding. Find and rinse the tooth if possible. Use only plain water. Place the tooth into a container of milk or Save-a-Tooth and bring it with you to visit your Oceanside emergency dentist as soon as possible.
Objects Caught in Teeth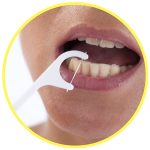 Objects that are caught in teeth can become very uncomfortable. Rinse your mouth with water and floss carefully to remove any visible debris. Do not use a pin or other sharp object to probe between the teeth as this can cause more damage to the gum or tooth. Use a cold compress to lessen pain or swelling by placing it against the outside of the mouth. Visit your Oceanside emergency dentist as soon as possible to have the object removed from between the teeth.
Do You Need an Emergency Tooth Extraction?
You probably need an emergency tooth extraction if you have a tooth that has decayed beyond the point where it can be repaired by a dentist. An emergency tooth extraction should be accomplished as soon as possible in order to minimize the chance of complications and the increased need for medications.
Your Oceanside emergency dentist usually begins the procedure by first taking an x-ray of the tooth and performing an examination. He or she then chooses a type of anesthetic that is used to keep you comfortable during the entire tooth extraction. A special tool is used to pull the tooth from the gum, and the gum is sewn closed with a type of suture that dissolves over time. The dentist then places a small piece of gauze over the gum to stop any bleeding that might occur.
Full healing of your emergency tooth extraction usually occurs within one to two weeks. During this time period, it is important to follow any instructions given by your Oceanside emergency dentist. Avoid eating hard foods or drinking from a straw for a few days. Do not smoke or drink alcohol until the gum is completely healed. Take any medications as directed, and visit your dentist for a follow up appointment if required.
Emergency Room Versus Emergency Dentist

You should definitely head straight to the hospital emergency room if your dental emergency begins with a fall, a sports injury or even an accident. In these cases, you might have injuries to your body that are more dangerous than the actual dental problem. An emergency room physician can ensure that you are healthy enough to visit your Oceanside emergency dentist.
For most common dental emergencies, your Oceanside emergency dentist is the perfect choice for treatment. He or she has the training and equipment to repair your teeth, and often charges less than the hospital emergency department.
FAQ
Are electric toothbrushes better than manual brushes?
An electric toothbrush might be better than a manual toothbrush if you have dexterity issues that affect the way that you are able to hold your toothbrush. Under ordinary circumstances, a manual toothbrush is as effective as an electric toothbrush when you follow a good oral hygiene routine.
What causes bad breath?
Bad breath is often caused by tooth decay due to improper brushing and flossing. Bad breath can also be caused by the types of foods that you eat, certain medications and even drinking alcohol or smoking cigarettes.
It's been a long time since I've visited the dentist. What do I need to do?
If it has been a long time since you have visited the dentist, you should call your Oceanside emergency dentist as soon as possible. It is important to visit your dentist at least twice each year in order to maintain a healthy smile.
Why should I have my teeth cleaned twice a year?
You should have your teeth cleaned twice a year in order to ensure that you are brushing and flossing properly. If plaque is allowed to build up on your teeth, it eventually hardens into tartar that is very difficult to remove. Plaque also causes tooth decay that your dentist recognizes and addresses each time you visit the dental office.
Why don't my dentures seem to fit anymore?
Your dentures might not seem to fit anymore because of bone loss that occurs when teeth are missing from the jaw. Over time, the bones of the jaw tends to lose mass due to the lack of teeth. Dental implants can slow this process.
24 Hour Dentist Oceanside Options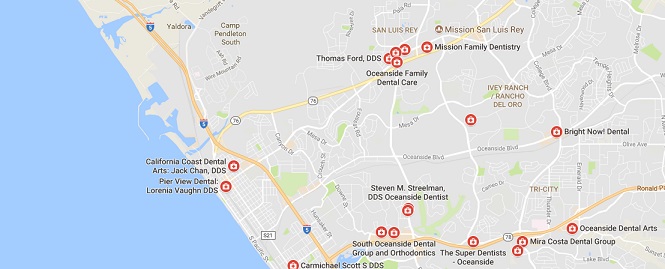 Fun in the sun and sand in Oceanside does not have to be interrupted by a terrible toothache. You have a huge number of options when it comes to having your dental emergency treated quickly.
Visit North County Cosmetic and Implant Dentistry when that terrible toothache takes over your vacation. Kind and friendly dentists and the latest dental technology make it simple to get back on your vacation.
Choose Barry Reder DDS when a pediatric dental emergency strikes. His office includes the latest in dental services like cosmetic dentistry and braces that are almost invisible. Making you comfortable during your dental emergency is Dr. Reder's number one priority.
Select The Super Dentists when you are searching for a superior pediatric dental clinic. Fun and filled with super dentists, this office caters to children with dental emergencies or even those routine tooth examinations.
South Oceanside Dental Group and Orthodontics has the large staff of dentists and variety of locations that make it simple to get that dental problem handled quickly. State-of-the-art technology and non-invasive dental options make this office a perfect choice for anyone with dental anxiety.
The Oceanside hospitals are also standing by to handle your dental problem that comes from a fall, a car accident or even a sports injury. It is always most important to see an emergency room physician if you have this type of dental emergency.
Use the American Dental Association's website located here to ensure that your new Oceanside emergency dentist is properly licensed and certified. This website also offers information regarding dental services across the nation. Use the California Dental Association's website located here for California's local dental information along with tips and tricks to get a great smile.
This Emergency Dentists USA portal is a website for information only, and should be not used to replace the actual advice of a medical professional. If a patient is having an emergency and cannot reach a dentist, call 911 to assure immediate response and safety.