Helping Thousands of People Each Year Find Dental Services
Emergency dental surgery, cavities, general dental care.
Find immediate help, no insurance required.
Get relief from chipped, cracked or lost teeth, abscesses or toothaches.
Emergency Dentist Pomona CA
24-hour dentists Pomona, California
It is important to choose the best emergency dental office that will provide you will good dental care because your teeth need the proper care they need. Here are 3 dental offices you can search for when you need dental services. Finding an emergency dentist is important when you are struggling with dental pain and you want a resolution quickly.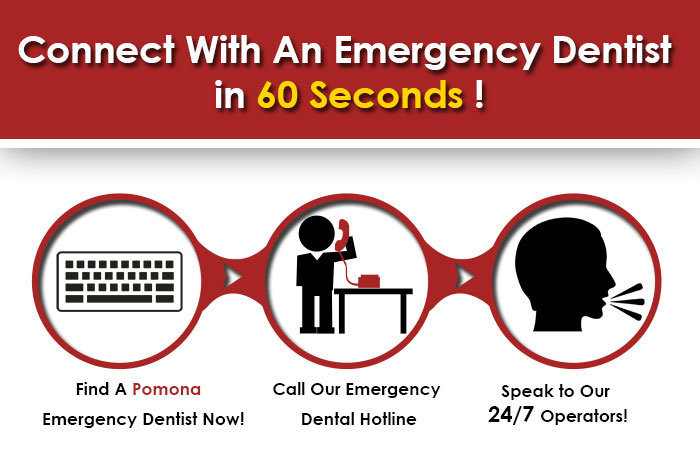 The dentist's offices in our listing all have after hours hotlines which you can call to speak to an appointment manager or possibly a dentist in order to schedule a dental appointment quickly. When struggling with dental pain you don't want to have to wait long and we're here to help!
Emergency Dental Pomona
This is a leading dental practice located in Pomona, Ca and they specialize in cosmetic, family, periodontal, and implant dentistry and orthodontics. The company knows that a great smile boosts confidence and self-esteem and this is what motivates them to keep striving in delivering the best dental care for patients.
They provided services that are for the whole family through their highly skilled and experienced doctors and staff. The comprehensive and advanced technology they use is designed to cater to the whole family. They also provide special dental services to children, adults, and teens to have the perfect and beautiful smile they need.
Their services include veneers, teeth whitening, crowns, root canals, dentures, implants, and periodontal treatment.
Pomona Emergency Dentists
The following is a list of emergency dentists that you can call upon:
---
Emergency Dentists USA Referral Service Pomona
Phone Number: 1 (855) 401-2701
Address: Referral Service to multiple Dental Offices in Pomona
Description When traveling through the Pomona, there are many ways in which a dental emergency could quickly present itself. If you're having a dental emergency it's important to get help fast. Call our hotline and we'll help you find a dentist near you fast!
---
Pomona smiles
Address: 285 W Artesia St, Pomona, CA 91768
Telephone: (909) 622-2150
Website: pomonasmiles.com
Description:
This is a dental office owned by husband and wife Dr. Hermant Joshi and Dr. Madhavi Joshi. They have a wide range of treatments that they offer. They also offer braces and Invisalign to help with the structure of a person's teeth. They have a high quality and comprehensive dental care. If you need a restorative procedure and interested in cosmetic treatment, they will be able to serve you with the best-personalized dentistry service.
Monday 10am – 6pm
Tuesday 10am – 6pm
Wednesday 10am – 6pm
Thursday 10am – 6pm
Friday 10am – 2pm
Saturday Closed
Sunday Closed
---
Sahara dental
Address: 2005 W Holt Ave, Pomona, CA 91768
Telephone: (909) 623-9590
Website: sahara-dental.com
Description:
They have the ability to provide their customers the highest quality of treatment that is available. Their staff is in harmony with each other and works as a team to attend to all of your dental needs. They have experienced doctors who are able to confidently provide you with what you need.
Their main focus is on preventing disease because it is less costly than having to correct problems once they happen. They believe that good dental health is caused by proper nutrition, good oral hygiene, and professional care that is done regularly.
Monday 10am – 7pm
Tuesday 9am – 6pm
Wednesday 9am – 6pm
Thursday 9am – 6pm
Friday 9am – 5pm
Saturday 9am – 3pm
Sunday Closed
---
West Coast Dental of Pomona
Address: 763 Rio Rancho Rd #120, Pomona, CA 91766
Telephone: (909) 766-1922
Website: westcoastdental.com
Description:
Monday 10am – 7pm
Tuesday 9am – 6pm
Wednesday 10am – 7pm
Thursday 9am – 6pm
Friday 8am – 5pm
Saturday 8am – 4pm
Sunday Closed
---
United Dental Group
Address: 2112 S Garey Ave A-1, Pomona, CA 91766
Telephone: (909) 590-5600
Website: udgpomona.com
Description:
Monday 9am – 6pm
Tuesday 10am – 7pm
Wednesday 10am – 7pm
Thursday 10am – 7pm
Friday 9am – 6pm
Saturday 9am – 4pm
Sunday Closed
---
Stop by our page for 24 hour emergency dentists in Escondido California.
Medically Fact-Checked & Written by Our Dental Editorial Team
You can read more about our editorial guidelines by clicking this link and learn more about the Emergency Dentists USA editorial team here.