Helping Thousands of People Each Year Find Dental Services
Emergency dental surgery, cavities, general dental care.
Find immediate help, no insurance required.
Get relief from chipped, cracked or lost teeth, abscesses or toothaches.
Clinical Dentist Review Charlotte – Southview Dentistry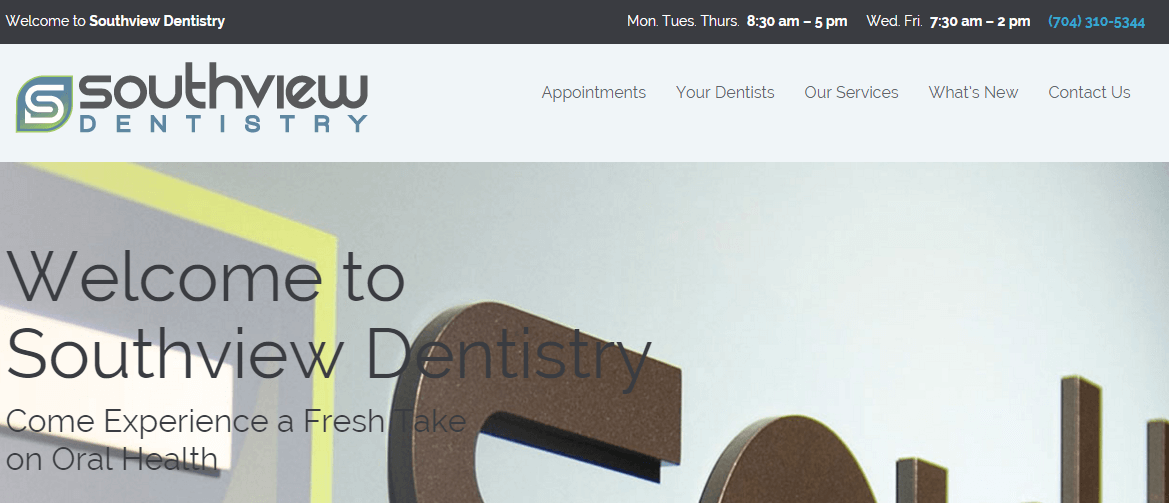 Charlotte NC is a city full of recreational activities such as golf, mountain biking, and jogging, and many of these activities can provide situations for you that require an emergency dentist. Southview Dentistry has been voted "Charlotte's Top Dentist" since 2011 from Charlotte Magazine, an honor that they are proud to have received through hard work and stellar care. Being the best at anything requires quite a bit of positive reviews, compassionate care, and top notch word of mouth. Here are some of the services offered by Southview Dentistry:
Cosmetic Dentistry
Invisalign
Restorative Care
Preventative Care
Tooth Replacements
Extractions
Root Canal Therapy
Tooth Replacement
Many who find themselves in the situation of having a severely aching tooth have to realize that this is an instance where you may have an abscess, which can become a very serious infection. If you happen to have a much busier than average schedule, you definitely want to know exactly when the dentist can see you, and get you diagnosed. Following are the scheduled hours at Southview:
Mon, Tues, Thurs: 8:30 AM – 5:00 PM
Wed- Fri: 7:30 AM – 2 PM
Find an emergency dentist near you in Charlotte NC.
At Southview Dentistry, they are committed to providing a dental experience during which you will receive a high level of comfort, customer care, and overall excellence. This emergency dental clinic has a very modern combination of the latest practice knowledge, upper end of comfort, and most modern technology there is in the industry.
Another thing that the staff here understands completely is the plight of those that may have a fear of the dentist. An average of around 13% of all Americans share this fear, and the team here offers several options that allow you to be sedated to help ease the pain and fear involved for any procedure. Gas treatment, other medications, and the best possible approach from the doctor will immediately make you feel at ease and ready to move ahead with your urgent care dentist visit.
Meet the Staff: Doctors Kelley and Michael Wilson met while in dental school, and they now home one son Hudson, who may occasionally be seen in the halls during a quick visit. Dr. Kelley grew up right here in Charlotte, and headed to the University of Georgia to earn her bachelors. After that, she ended up at the University of North Carolina at Chapel Hill School of Dentistry, and she is an expert at straightening teeth, cosmetic dentistry, and caring for the extremely young patients in the after hours dentist realm.
Dr. Michael Wilson was raised near here in Kings Mountain, North Carolina, and was a member of the marching Tar Heels band at the University of North Carolina at Chapel Hill. He then received his dental degree within the same college, where he was awarded the Board of Governors Scholarship. He gained six years of oral surgery experience helping those in nursing homes and hospitals throughout the entire state, and both of these caring dentists give back to the community by working at the Charlotte Rescue mission. Here there is always a large need for their skilled emergency dental services and, the two have really stepped up to the plate and been very selfless and community centered.