Helping Riverside Residents Find IMMEDIATE Dental Services Everyday.
Get relief from chipped, cracked or lost tooth
Abscess, toothache, mouth pain
Emergency dental surgery
24 hour services - Includes weekends, nights and holidays

Emergency Dentist in Riverside – Find A 24-Hour Dentist Now
Table of Contents
Finding A 24-Hour Emergency Dentist in Riverside, California
Emergency Dentists USA has the expert and caring Riverside emergency dentist that you need to handle that painful toothache or fix that broken crown. With a comprehensive listing of Riverside emergency dental offices, you will find walk-in dental clinics with hours that suit your schedule without forcing you to wait days or even weeks for a dental appointment.
Emergency Dentists USA also offers a selection of dental clinics with after hours appointments that make it simple to get your teeth cleaned or filled without missing a day of work. After hours dental clinics even have weekend hours that cater to anyone who wakes up on Saturday morning with a terrible toothache or a painful abscess.
Use our 24-hour emergency helpline to speak with a live operator who can help you choose the right Riverside emergency dentist for your current dental emergency. Check out our local hospital information for an emergency that occurs when you are unable to connect with a Riverside emergency dentist.
Finding A 24 Hour Emergency Dentist in Riverside, California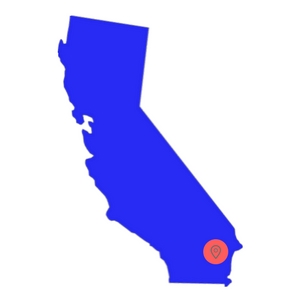 While you are spending time vacationing in Riverside and admiring the largest Mission Revival style building in the United States, Emergency Dentists USA is working hard to get you all of the accurate and convenient information that you need to find the right Riverside emergency dentist for all of your dental needs.
Walk-in dental clinics – Walk-in dental clinics like Smile Maker Dental ensure that you can see a dentist as soon as possible without the hassle of waiting weeks for a dental appointment.
Emergency 24-Hour Dental Clinics – Clinics that specialize in offering appointment availability 24-hours a day are not available in Riverside. There are several excellent hospitals with emergency departments that are open to cater to painful dental injuries.
After Hours Dentists – With evening and weekend office hours, after hours dental clinics in Riverside include Canyon Crest Dental and Ace Dental Group. Offices like these provide dental services on the weekends or later in the evening when most dental offices are closed.
Emergency Dentist Listings in Riverside, California
Emergency Dentists USA is the perfect place to begin your search for a Riverside emergency dentist. By simply scrolling through our comprehensive listing of Riverside dental offices, you can choose the right dentist for your particular dental emergency. Emergency Dentists USA strives to provide all of the information that you need to pick a dentist, set up an appointment and get back to your wonderful Riverside, California vacation.

Call 24/7: 1 (877) 507-0879
---
Emergency Dentists USA Referral Service Riverside
Phone Number:
1 (855) 401-2701
Address: Connected To Various Dental Offices across Riverside
Doctors Multiple
Description Call to be connected with the perfect dentist for you. Riverside is a large city and we have the connections to find a dentist to fit your needs, and can get you an appointment immediately.
---
Redlands Family Dental Center
Number: 909-844-5222
If Closed: Call 1 (855) 276-1128 and let our Operator help you find an emergency dentist.
Office: 1461 Ford St. 101, Redlands, Ca, 92373
Doctors: Dr.Tadha
Website: http://www.myredlandsdentist.com/
Description: This quality care dental facility offers same day emergency services to those patients in need of urgent dentistry attention. While this dental emergency clinic is not in Riverside, it is nearby and can provide you with much needed assistance. Being able to manage patients issues on a weekend or late evenings is advocated as one of their advantages. They also offer a wide range of services which include lumineers, dental sealants, inlays/On lays, venneers, composite fillings, full mouth reconstruction. portrait and cosmetic dentures, children's dentistry, root canals, tooth extractions, dental sedation, bonding, crowns, mini implants for dentures or teeth, periodontal therapy, laser dentistry, oral cancer screenings, sleep apnea, snoring therapy, and many others. The dental team consists of Dr. Tadha, ADA, CDA (Orthodontist, General Dentistry, Implant TMJ), Dr. Yashar (Periodontist/gum and implant specialist), Dr. Finn (Oral Sedation).
Hours of Operation:
Monday-Friday: 9:30am-6:30pm
Saturday: 8:00am-2:00pm
---
Regal Dentistry
Number: 951-846-6260
If Closed: Call 1 (855) 276-1128 and let our Operator help you find an emergency dentist.
Office: 3950 Pierce Street, Suite L, Riverside, California, 92505
Doctors: Dr. J. Joel Manalese
Website: http://www.regaldentistry.net/
Description: There is no doubt that a lot of dental offices are not open on weekends and if you are facing a broken tooth or need relief for your abscess tooth, having access to Saturday or Sunday dentist care in Riverside is critical. At Regal Dentistry, if the occasion arises where you need help with a painful dental matter, they are willing to schedule an appointment for you on a Saturday and of course weekday evenings as may be required.. Dr. Riegel, the attending dentist, has been providing quality dental care to the Riverside community for several years. They make use of state of the art practices that puts the patient's safety first and enables the dental team to provide the best in restorative, preventative, and implant dentistry. Dr. Robert Riegel obtained his general dentistry degree from the University of Missouri back in 1968 and provides a wealth of experience to his patients. He professional affiliations include the American Dental Society, the Academy of General Dentistry, and the California Dental Association.
Hours of Operation:
Monday-Wednesday-Thursday: 9:00am-5:00pm
Tuesday-Friday: 9:00am-6:00pm
Saturday: 9:00am-5:00pm
---
Canyon Crest Dental
Number: 951-777-9855
Office: 5225 Canyon Crest Dr #209, Riverside, CA 92507
Doctors: Dr. Merrihew
Website: http://canyoncrestdental.com/
Description: finding a 24 hour dentist is high on the priority of many's list that moved to Riverside and suddenly find themselves facing dental problems that threaten their entire week, and livelihood. Canyon Crest Dental is open on Saturdays from 8 until 4 PM, a great option for those that need to find a dentist during the weekend when standard clinics are closed. Don't let your dental pain define your week, and come to Canyoncrest for superior health today.
Hours of Operation:
Monday-Friday: 7:00am-6:00pm
Saturday: 8:00am-4:00pm
---
Smile Maker Dental
Number: 951-509-8828
Office: 3858 Tyler St, Riverside, CA 92503
Doctors: Dr Howard Van
Website: http://www.smilemakerdental.net/
Description: A great choice for a walkin dentist that will meet the needs of anyone looking in Riverside for emergency care, Dr. Howard and his staff are well-known for making people smile. You may have to come to the office with the need for an extraction, root canal therapy, or diagnosis for an abscess: everyone here is competent and able to dive in and help you with whatever dental emergency you are facing. Also a great choice for a weekend dentist, the staff at Smiler Maker Dental can see to your comfort immediately and with great efficiency.
Hours of Operation:
Mon-Tue-Thurs-Fri: 9:00am-6:00pm
Sat: 8:00am-2:00pm
---
Riverside Smiles Dentistry
Number: 951-680-0505
Office: 6912 Brockton Ave, Riverside, CA 92506
Doctors: Dr. Akkari
Website: http://www.riversidesmilesdentistry.com/
Description: An urgent care dentist at the top of your scheduling list should be experienced in every situation from root canal therapy to urgent and abscessed teeth: these are dental emergencies that you don't want to put off for very long. Dr. Akkari and his able staff are here on hand to make sure that any sudden pain or other element you are going through can be taken care of right away, and that you will go home without the urgent throbbing pain you came here with.
Hours of Operation:
Mon-Wed: 9:30am-6:30pm
Tue-Thurs: 10:00am-5:00pm
---
Ace Dental Group
Number: 951-682-5777
Office: 3355 Iowa Ave, Riverside, CA 92507
Doctors: Dr. Allen Mossaei
Website: http://www.acedentalgroup.com/
Description: Dr. Allen and his staff have a great location for a weekend dentist clinic in Riverside: they are now open on Saturdays, and you can find them from 8AM- 4PM on that day. The weekends are a time during which patients that don't have as much free time during the week need to be seen, and many of their problems are very urgent. Don't spend your time wallowing in serious pain, and find relief from a competent and proven Saturday dentist now.
Hours of Operation:
Monday-Friday: 10:00am-7:00pm
Saturday: 8:00am-4:00pm
---
Riverside, CA has a lot to offer its residents and visitors. This include urgent dental care open on the weekends. We hope we've been able to help you find an emergency dentist today. Please consider recommending this site to your friends and family in case they need assistance someday. We have lists for just about every city in the United States, so it's likely we have what they need in their time of emergency.
If after your emergency you want to find a regular dentist, you may want to use the one you use for the emergency, or find one on the Tri-County Dental Society website. They have a full list of dentists in Riverside for you to choose from that will likely be able to preserve your oral health.
How to Prepare for Your Riverside, California Emergency Dental Clinic Visit
Similar to a visit to your regular dentist's office, your Riverside emergency dentist visit begins with x-rays and an examination to decide on the best course of action for your dental problem.
Gather any recent dental x-rays or examination records to bring to your Riverside emergency dentist appointment.
Try to arrive at least 15 minutes prior to your dental appointment. This will allow you plenty of time to ask questions about your procedure, fill out the necessary paperwork, and get comfortable with your new dentist.
Check to ensure that your new Riverside emergency dentist takes your preferred form of payment. Most dental clinics accept cash, checks, a variety of dental insurance plans, and many credit cards. Some clinics even offer free or low-interest dental financing.
Check to be sure that your Riverside emergency dentist accepts your dental insurance. This can save you quite a bit of money in the long run.
If you are allergic to any type of medication, mention this allergy to your new dentist. Bring a current list of your medications with you to the dental visit.
Do you have intense dental anxiety or fear? Dental anxiety and fear are very common, and your Riverside emergency dentist staff will be able to soothe your anxieties and help you feel more comfortable at your appointment.
Quality of Urgent Care Dentists in Riverside, California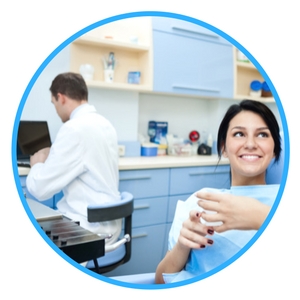 With extensively revitalized emergency medical services and a history of quality medical care, Riverside, California is a great place to visit, even when you have a dental emergency. This city boasts a population of almost 350,000 people, making it the 12th most populous in the state. Founded in the 1870s, Riverside enjoys a long history in the citrus industry and is known for its Mission Revival style architecture.
Visit the Mission Inn Hotel and Spa for a look at the largest building of this style in the United States, or celebrate the amazing California weather in Castle Park with carnival rides and delicious fair food. Choose a day spent hiking in the California Citrus State Historic Park or visit the University of California Riverside Botanic Gardens for some brilliantly colored blossoms. Riverside is home to the March Field Air Museum and several state historic parks that offer a glimpse of early California and its natural beauty.
A dental emergency does not have to cut your visit to the "City of Arts and Innovation" short because Riverside also shares a large number of excellent dental clinics and hospitals that are standing by to get you out of pain and back on the road. The top rated hospital in Riverside is Eisenhower Medical Center. With its number one rating in Riverside, Eisenhower Medical Center also ranks among the top 100 hospitals in the United States.
When you have a dental emergency and are unable to visit a Riverside emergency dentist, this hospital is an excellent choice for emergency care. Keep in mind that most hospital physicians are not dentists and cannot fix that broken tooth. They can offer medication to keep your pain in check until you can reach a Riverside emergency dentist.
Other great hospitals in Riverside include Loma Linda University Medical Center and Arrowhead Regional Medical Center. Both hospitals have emergency departments with hours that make it simple to have your dental emergency addressed even if it occurs in the middle of the night or on the weekend. No matter where you are in Riverside, a great hospital or an excellent dental clinic is just around the corner to help you stay pain-free while you visit this gorgeous California city.
Common 24 Hour Dental Emergencies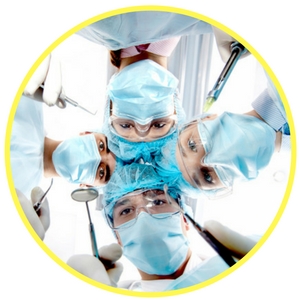 With a variety of common 24-hour dental emergencies that could interrupt your vacation in Riverside, it is good to know that Emergency Dentists USA has you covered with a large selection of Riverside emergency dentists. Whether you have lost a filling or broken a tooth, there is always a dentist nearby to fix your dental emergency or get you right back on track with routine dental care.
Common dental emergencies include broken or loose braces or wires that are broken, loose or lost crowns, partially extruded teeth, or even teeth that are completely knocked out. You might experience a soft tissue injury, a chipped tooth, or an object caught between your teeth that requires the services of a Riverside emergency dentist. Common dental emergencies include painful toothaches that wake you in the middle of the night, and dangerous abscesses that can cause infection to spread to your jaw or even the bones in your face.
EmergencyDentistsUSA.com is not a substitute for seeing a medical professional. Because every situation is unique, you should visit a Riverside emergency dentist for any of the common dental conditions listed below.
Abscess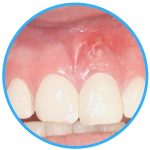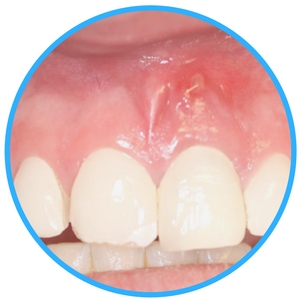 An abscess is a common dental emergency that can be both painful and dangerous if left untreated. An abscess is an infection that forms between the teeth or below the teeth in the gum tissue. This type of infection can spread to other parts of the body when proper dental care is not provided. If you believe you have an abscess, you can rinse your mouth several times per day with warm salt water to bring the pus to the surface of the gum. You need an immediate appointment with your Riverside emergency dentist to determine the cause of the abscess and begin treatment before the infection spreads.
Lost Filling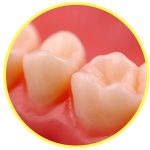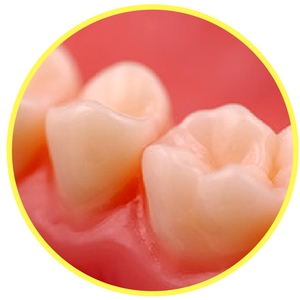 A lost filling might not seem like a dental emergency, but lost fillings can become painful very quickly. When a filling is lost, it is often because the tooth below the filling has continued to decay. This tooth decay could reach sensitive portions of the tooth and cause pain, especially when eating or drinking. If you have lost a filling, use sugarless gum to fill the hole in the tooth. Using gum with sugar could cause pain and encourages the growth of bacterium. Visit your Riverside emergency dentist as soon as possible to get the lost filling replaced.
Emergency Toothache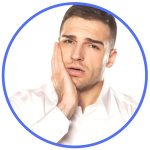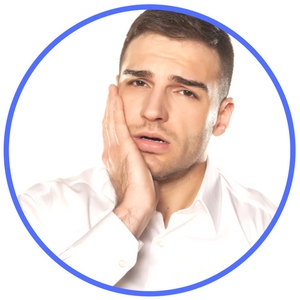 An emergency toothache is one of the most common of all dental emergencies. Toothache pain can be excruciating and a visit to your Riverside emergency dentist is definitely in order when you have a toothache. First, rinse your mouth with water and use dental floss to remove any food that is caught between teeth. A cold compress applied to the outside of the cheek or to the mouth will reduce swelling and pain. Never place any type of painkiller between the cheek and gum to treat toothache pain. This can cause chemical burns to the tissue of the gum or the inside of the cheek.
Chipped or Broken Tooth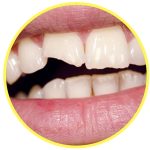 A chipped or broken tooth is a very common dental emergency. If you have chipped or broken a tooth, try to save the pieces of the tooth by placing them in a small container filled with milk. Rinse your mouth with water to remove any remaining pieces of the tooth. Apply a small piece of gauze to any areas of the mouth that are bleeding and continue to place pressure against those areas for at least 10 minutes. A cold compress applied to the cheeks or lips will reduce swelling and help to alleviate some of the pain. Visit your Riverside emergency dentist as soon as possible to have the tooth repaired.
Do You Need an Emergency Tooth Extraction?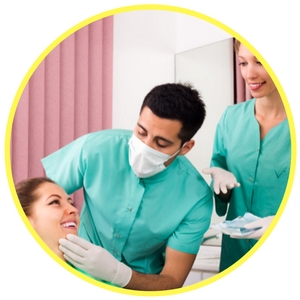 You might require an emergency tooth extraction for a variety of reasons. The most common reason for an emergency tooth extraction is a tooth that is painful and has decayed to the point where it can no longer be fixed by a dentist. Sometimes teeth are extracted because they are crowding other teeth or causing a person's bite to become unbalanced. Your dentist will take an x-ray and perform an examination in order to determine if a tooth requires an extraction.
The extraction begins with a local or general anesthetic that is designed to alleviate the pain. Then, the dentist uses a dental tool to remove the tooth from the gum. The gum is sometimes sewn closed with sutures that are designed to dissolve over time. The area is packed with gauze to control any bleeding, and you are given instructions for care of the gum. Full healing generally occurs within one to two weeks of the extraction.
It is important to avoid eating hard foods or drinking through a straw following your tooth extraction. Take any medications as directed by your Riverside emergency dentist, and avoid smoking or drinking alcoholic beverages. Most people have very little pain following an emergency tooth extraction.
Emergency Room Versus Emergency Dentist


Heading to the hospital emergency room rather than visiting your Riverside emergency dentist can be a good idea if your dental emergency stems from an accident like a fall or a sports injury. A broken tooth that comes from a head injury definitely requires a visit to a hospital emergency room to ensure that you are well enough to have your tooth repaired. Although an emergency room physician is not a dentist, he or she can definitely help to alleviate your dental pain with medication and refer you to a Riverside emergency dentist.
Keep in mind that most dental emergencies do not require a trip to the emergency room. In fact, an ER physician is not trained to repair teeth and you will most likely end up heading to a dental clinic even after the ER visit. To save yourself a hospital emergency room charge along with the time it takes to wait in the emergency room, go straight to your Riverside emergency dentist for a dental emergency. Your emergency dentist is well-equipped to handle a painful toothache, a cracked or broken tooth, and even a lost filling or crown. An emergency dentist can even take care of that dangerous abscess.
FAQ
What should I do if I can't get ahold of my normal dentist after hours and I have an emergency?
If you cannot get ahold of your normal dentist after hours and you have an emergency, you should contact a Riverside emergency dentist listed above. You can also call the Emergency Dentists USA hotline for help with finding an excellent emergency dentist. If you are unable to contact a dentist, call 911 or go to the nearest hospital emergency room.
I have severe mouth pain, do I need to see an emergency dentist or should I wait?
If you have severe mouth pain, you need to see a Riverside emergency dentist as soon as possible. The longer you wait to address a painful dental issue, the more likely you are to require more extensive treatment along with more expensive treatment.
The wire on my braces broke, should I cut it the rest of the way off?
Never cut the wire off of your braces, even if the wire is broken. Use a cotton ball or a bit of orthodontic wax to cover the sharp end of the wire. Use the eraser end of a pencil to push the wire into a more comfortable position in your mouth, and visit your Riverside emergency dentist as soon as possible.
What is plaque and why is it bad?
Plaque is a sticky substance that builds up on teeth that are not brushed properly. Plaque contains bacteria that secrete acids that break down the tooth enamel. When plaque is not removed, it becomes tartar that is extremely difficult to remove.
What causes bad breath?
Bad breath can come from a variety of causes but is most commonly associated with improper tooth brushing, tooth decay, and improper dental hygiene. Bad breath can also be associated with certain types of medications, eating specific foods, and smoking or drinking alcohol.
24 Hour Dentist Riverside Options
Spending time in the gorgeous city of Riverside means enjoying the California sunshine. Exploring the March Field Air Museum, the Mission Inn Museum, and the lovely shores of Lake Hemet make it a perfect vacation for families with children and new residents who want to get to know this "City of Arts and Innovation." A dental emergency does not have to bring a wonderful vacation to a sudden stop because Riverside offers a large selection of expert emergency dentists who are dedicated to caring for you.
Step into the office of Dr. Merrihew at Canyon Crest Dental to repair that broken tooth or get a filling replaced in no time at all. Canyon Crest Dental has the Saturday hours to attend to your dental emergency along with evening hours until 6 p.m. Choose Smile Maker Dental to repair loose braces or have that painful abscess examined on a Saturday until 2 p.m. or on weekdays until 6 p.m. Dr. Howard Van's gentle services provide excellent care for any type of dental emergency that strikes while you are vacationing in Riverside.
When you are unable to contact a Riverside emergency dentist, Riverside hospitals have 24-hour emergency departments that offer medical services no matter what the time of the day or night. Although the emergency room is not designed to treat a broken tooth, a Riverside emergency room physician can help to get you out of pain until you are able to contact your emergency dentist.
Whenever you choose a new dentist, you should check their credentials and licensing through the American Dental Association's website located here: www.ada.org. You can also use the California Dental Association's website located here: www.cda.org to ensure that your new dentist has the proper licensing for the state of California. Both websites offer excellent information regarding dental services and dental health.
This Emergency Dentists USA portal is a website for information only, and should be not used to replace the actual advice of a medical professional. If a patient is having an emergency and cannot reach a dentist, call 911 to assure immediate response and safety.