Helping Thousands of People Each Year Find Dental Services
Emergency dental surgery, cavities, general dental care.
Find immediate help, no insurance required.
Get relief from chipped, cracked or lost teeth, abscesses or toothaches.
Santa Ana, California Emergency Dental Clinics
We specialize in Santa Ana Emergency Dentistry:
Click to go to list of Dentists
Table of Contents
If you are experiencing any type of pain in your mouth from jaw issues to toothaches, you will want to relieve the excruciating pain you have right away. The solution to your pain is an emergency dentist in Santa Ana.
Emergency Dentists USA works closely with dentists in your area and can help you find one that will treat your needs, within minutes. Just make one phone call to our free service and our staff will help to get you into a dentist and out of pain immediately.
I damaged a wire on my braces eating sticky foods I knew I shouldn't have eaten! But luckily this site helped me out with what to do next and I was able to find a dentist from their listings that could get me in the next day to fix the wire.
Finding A 24 Hour Emergency Dentist in Santa Ana, California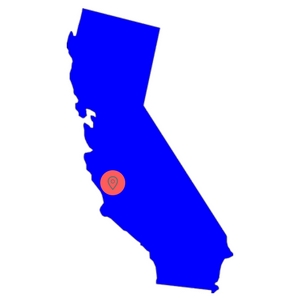 Dental offices typically operate on a Monday through Friday schedule with hours from 9:00 am until about 5:00 pm. Fortunately, there are many dental emergency offices in Santa Ana and they can help you receive the care you need and the pain relief you desire.
These dentists are open after hours throughout the week, usually until about 8:00 pm, and they also offer weekend appointments to ensure that you can be seen when you need to be. Some also allow walkins, they do not need you to wait for a scheduled appointment.
Emergency Dentist Listings in in Santa Ana, California
If you have any type of tooth pain, the last thing you want to do is spend hours online looking for a dentist to meet your needs. All you need to do is take a minute or two of your time and look through the list below.
Once you find an office near you, simply call and schedule an appointment to receive dental care.
Emergency Dentists USA Referral Service Santa Ana
Phone Number: 1 (855) 401-2701
Address: Referral Service to many Dental Offices in the city of Santa Ana
Description At the first sign of cracked tooth or any other emergency dental scenario, immediately call our hotline to be linked up to a seasoned pro. A walkin dentist will give you the convenience of being able to see them whenever works for you, and not just during the standard 9 to 5 hours.
---
7 Day Dental Orange County
Phone: (866) 989-1335
If Closed: Call 1 (855) 276-1128 and let our Operator help you find an emergency dentist.
Website: 7daydental.com
Address 1: 27702 Crown Valley Parkway A2, Ladera Ranch, CA 92694
Address 2: 24310 Moulton Parkway Suite #C1 Laguna Woods, CA 92637
Description: Winner of the Doctor's choice Award for Dentistry during 2014, Dr. Le opened his first office here in 1990. They are known for their very relaxed atmosphere, caring professionals, and willingness to listen to every single concern that you have about your dental health.
Monday – Friday: 9 am to 8 pm
Saturday – Sunday: 8:30 am to 5:30 pm
Location 1
Location 2
---
Irvine Smile Design Emergency Services
Phone: (949) 833-8020
If Closed: Call 1 (855) 276-1128 and let our Operator help you find an emergency dentist.
Website: irvinesmiledesign.com
Address: 16100 Sand Canyon Ave #380, Irvine, CA 92618
Description: This practice is a perfect clinic for those who are suddenly dealing with a dental emergency, as it is open six days a week. When in doubt, give this practice a call, they will be able to see you back to health and figure out the root of your reoccurring pain.
Monday – Saturday: 7 am to 7 pm
Sunday: Closed
---
Santa Ana Dental Group
Phone: (714) 702-1521
Website: santaanadental.com
Address: 715 S Main Street Santa Ana, CA 92701
Description: From the pain of an impending need for a root canal to the persistently aching of a possible abscess, this office actually provides a full-scale emergency exam for just $19. From office manager Sergio to Doctors Ho, Choi, and Doctor Cashman, this practice is fully equipped with the latest technology for comfort and quick access to x-ray diagnostic, as well as the blessing that is years of experience in making sure that patients go home as pain-free as possible.
Monday: 9 am to 7 pm
Tuesday: 9 am to 7 pm
Wednesday: 9 am to 5 pm
Thursday: 9 am to 7 pm
Friday: 9 am to 6 pm
Saturday: 9 am to 3 pm
Sunday: Closed
---
Bristol Family Dental Center
Phone: (714) 540-7101
Website: bristolfamilydentalcenter.com
Address: 2618 S. Bristol St. Santa Ana, CA 92704
Description: Dr. Ruben Begino, DDS, is the leader of the Dental center whose focus is to provide patients of all ages a variety of dental services, including dental emergency care in the Santa Ana area. The doctor is fluent in Spanish and his many years of experience has qualified him to teach at the Bristol Family Dental Assistant School. The practice also provides low-cost financing and zero percent financing to those patients operating under a tight budget.
Monday – Friday: 9 am to 6 pm
Every other Saturday: 8 am to 4 pm
Sunday: Closed
---
Barba Dental Corporation
Phone: (714) 558-6949
Website: barbadental.com
Address: 2010 East 1st Street, Suite 250 Santa Ana, CA 92705
Description: This dental clinic is open every other Saturday from 9:30 AM to 3 PM, and they have the years of experience to make sure that whatever dental ailment you show up with will be taken care of. Barba Dental can handle everything for you from abscesses and urgent pain to x-ray consultations, and make sure that you are sent away pain-free and satisfied.
Monday – Thursday: 9:30 am to 6 pm
Friday: 9:30 am to 4 pm
Every other Saturday: 9:30 am to 3 pm
Sunday: Closed
---
Casa Dental of Santa Ana
Phone: (714) 541-0837
Website: casadentalsantaana.com
Address: 1334 West First Street Santa Ana, California 92703
Description: Casa Dental has a reputation of being the best in the area for pediatric dentistry, making sure that wisdom teeth are coming in properly, and emergency procedures such as extractions. In this state that has such a busy culture, it's great to know that someone is standing by ready to help and that they have a proven track record of excellence.
Monday: 1 pm to 7:30 pm
Tuesday: 9 am to 6 pm
Wednesday: 9 am to 6 pm
Thursday: 7:30 am to 3 pm
Friday: Closed
Saturday: 9 am to 3 pm
Sunday: Closed
---
How To Prepare For Your Santa Ana, California Emergency Dental Clinic Visit
Visiting a local Santa Ana emergency dentist is just like heading into your local general dentist's office.
When you head into an emergency dental office, you may be asked to arrive about 15 minutes prior to your appointment to fill out some paperwork. This paperwork will include a small section about your dental and medical health so that the dentist can understand you a bit more.
Before you head into your emergency dental appointment, you may want to inquire about the estimated cost of the procedure and what types of payments are accepted. This way, you are prepared to pay for your procedures and you know how much it will be.
If you do have dental insurance, now would be the time to let the receptionist know, so that you can receive an updated price quote.
It is important for you to let the dentist know if you are allergic to any medications before the procedure starts.
Common 24 Hour Dental Emergencies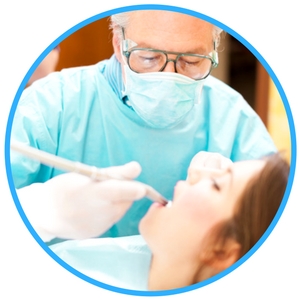 There are a number of dental conditions that may present themselves throughout your life, but not all of them require emergency care and not all of them develop overnight.
Dental emergencies need to be looked at and treated immediately to prevent them from spreading or becoming worse. Allowing a condition to persist can be detrimental to your oral health. Every situation is unique and you should see your local Santa Ana emergency dentist for any of the conditions below.
Loose or Lost Crown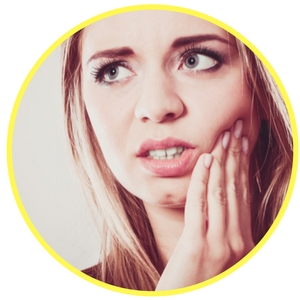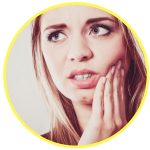 A loose crown often occurs when there has been damage to the area or when a sticky substance was consumed and pulled the crown loose. If you have lost your crown and you experience pain, you should apply clove oil to the affected tooth.
If you have the crown in hand, you can apply a dental cement to it and place it back over the tooth. You should do this when possible, but do not force the cap on.
Broken or Loose Braces & Wires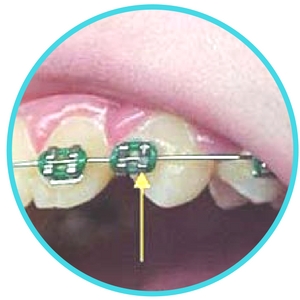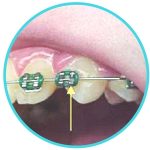 If you do have loose braces, you do not want to simply pull them off, as you may cause problems to your other teeth. You also do not want to cut any loose wires, as you may inhale the piece of metal on accident. You should place a piece of dental wax over an exposed wire until you are able to get in to see an emergency dentist in the Santa Ana area.
Tooth Trauma Caused by an Accident
If you have experienced any type of tooth trauma caused from an accident such as an automobile crash, fall, or sports injury, it is important that you seek immediate dental care. The most commonly seen tooth trauma includes broken teeth, knocked out teeth, severe cuts, and even broken jaws.
If you are in pain after the trauma, you should avoid touching the area, consider taking an over-the-counter pain killer, and place a cold compress on the side of your mouth.
Do You Need an Emergency Tooth Extraction?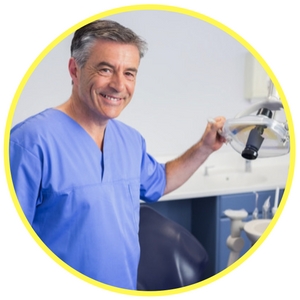 Emergency tooth extractions are often needed in certain situations where the integrity of your tooth may be compromised or when your teeth cannot be saved. While many dentists try to save your tooth first, there are some instances when it simply needs to be extracted to protect the other teeth and provide you with pain relief. Some conditions that require an emergency tooth extraction include:
-Trauma
-Broken or fractured tooth
-Infections
If you need to have an extraction, but you wait to have it performed, you may actually cause more damage to your tooth or the surrounding teeth.
After an emergency extraction is performed, the recovery time will only take about a day or two and you will receive some aftercare instructions from your emergency dentist.
Emergency Room Versus Emergency Dentist


The number of patients that head to the ER yearly for dental problems continues to increase. The problem is that the ER does not know how to treat dental problems.
You would be best served by an emergency dentist in Santa Ana. Emergency dentists are equipped with the tools and equipment needed to ensure you receive the procedure needed and that all of your dental or tooth pain is eliminated.
Some of the times you should go to the ER include when you fall, there is head trauma, you have sustained any type of trauma, or you have been hurt in a sports accident.
Santa Ana Dental Association Information
If you are experiencing dental pain and you cannot find an emergency Santa Ana dentist near you, it is important to give our service a call and let our trained staff find a dentist in your area that can help with whatever emergency you may face.
We do recommend that you look up all new dentists and verify their credentials and licenses for your own protection. You should check the Dental Board of California and the California Department of Consumer Affairs. You can also verify the license and credentials of a dentist by asking to view their certifications or degrees.
Medically Fact-Checked & Written by Our Dental Editorial Team
You can read more about our editorial guidelines by clicking this link and learn more about the Emergency Dentists USA editorial team here.