Helping Santa Ana Residents Find IMMEDIATE Dental Services Everyday.
Get relief from chipped, cracked or lost tooth
Abscess, toothache, mouth pain
Emergency dental surgery
24 hour services - Includes weekends, nights and holidays

E mergency Dentist in Santa Ana, California – Find A 24-Hour Dentist Now
Table of Contents
If you are experiencing any type of pain in your mouth from jaw joint issues to toothaches, you may want to relieve the excruciating pain you have. Over-the-counter medications are nice for a while, but they will wear off and leave you back in the same position you were in previously.
In addition, your body will build up a tolerance to the medication and it will eventually stop working for you. Continued mouth and tooth pain can cause you to miss work and miss out on your social life.
The solution to your pain is a 24-hour emergency dentist in Santa Ana. Below, you will be able to quickly identify Santa Ana emergency dentists who offer around the clock care to help alleviate the discomfort that you may be experiencing. Many of the offices offer late night appointments, are available 24/7, and accept walk-ins.
Don't let your pain consume you and get the relief you need now. Call one of the emergency dentists in Santa Ana below and get seen immediately.
Finding A 24 Hour Emergency Dentist in Santa Ana, California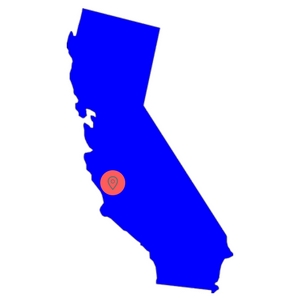 Dental offices typically operate on a Monday through Friday schedule with the inconvenient hours of 9:00 am until about 5:00 pm, with some offices opening and closing a bit earlier or later. Not only are these hours inconvenient for you, you may not have time to get into their office for weeks at a time.
his is not a good solution for you, especially when you are experiencing pain now. Dental and tooth pain does not stop simply because a dental office cannot see you in time. In fact, it will only get worse over time.
Fortunately, there are many dental emergency offices in Santa Ana and they can help you receive the care you need and the pain relief you desire. These dentists are open late throughout the week, usually until about 8:00 pm, and they also offer weekend appointments to ensure that you can be seen when you need to be.
Many patients will turn to after hour dentists when they cannot wait to have their tooth problem addressed. The pain you experience can keep you down and out and when you cannot sacrifice to miss out on events and work, you need to know that there is an option for you and after hours' dentists are the solution.
Emergency Dentist Listings in in Santa Ana, California
If you have any type of tooth pain, the last thing you want to do is spend hours online looking for a dentist to meet your needs. It can be frustrating, especially when you come up empty-handed. Instead of doing that, we have made it simple for you to find the emergency dental care you need. All you need to do is take a minute or two of your time and look through the list below. Once you find an office near you, simply call and schedule an appointment to receive dental care.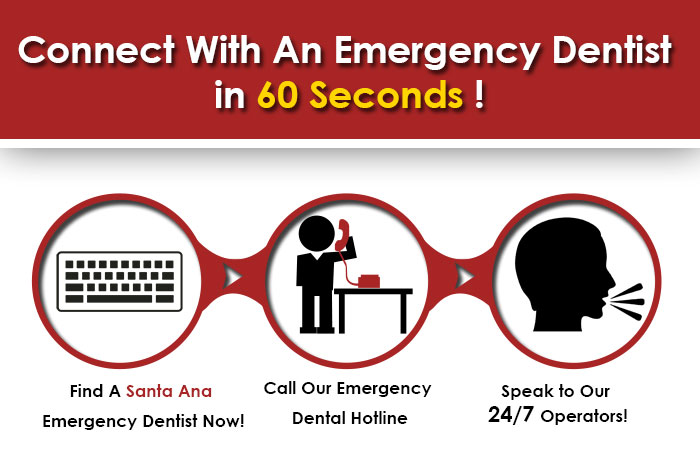 Emergency Dentists USA Referral Service Santa Ana
Phone Number: 1 (855) 401-2701
Address: Referral Service to many Dental Offices in the city of Santa Ana
DescriptionIn a city with such a favorable climate and close proximity to the beach, we know there are many accidents that can happen while surfing, swimming, or riding bikes. At the first sign of cracked tooth or any other emergency dental scenario, immediately call our hotline to be linked up to a seasoned pro. A walkin dentist will give you the convenience of being able to see them whenever works for you, and not just during the standard 9 to 5 hours.
---
7 Day Dental Orange County
Phone: (866) 989-1335
If Closed: Call 1 (855) 276-1128 and let our Operator help you find an emergency dentist.
Website: 7daydental.com
Address 1: 27702 Crown Valley Parkway A2, Ladera Ranch, CA 92694
Address 2: 24310 Moulton Parkway Suite #C1 Laguna Woods, CA 92637
Description:
Winner of the Doctor's choice Award for Dentistry during 2014, Dr. Le opened his first office here in 1990, and this is a dentist that is thankfully open on Sunday as well. In this very busy suburb where many picture traffic jams and the inability to get their daily errands done, it's a huge relief to learn that there are clinics who will stay open this late for you, and provide true after hour dentist functions. They are known for their very relaxed atmosphere, caring professionals, and willingness to listen to every single concern that you have about your dental health.
Monday – Friday 9 am to 8 pm
Saturday – Sunday 8:30 am to 5:30 pm
Sunday – Closed
Location 1
Location 2
---
Irvine Smile Design Emergency Services
Website: irvinesmiledesign.com
Address: 16100 Sand Canyon Ave #380, Irvine, CA 92618
Phone: (949) 833-8020
If Closed: Call 1 (855) 276-1128 and let our Operator help you find an emergency dentist.
Description:
This practice is a perfect clinic for those who are suddenly dealing with a dental emergency, and it is open six days a week. If you encounter an occurrence such as a lost filling, you can lodge a piece of sugarless gum into the filling temporarily, but you still need to see an emergency dentist as soon as possible. Many who live in this busy urban area put emergency dental care off, because they feel that no clinic will have the time to see them. When in doubt, give this practice a call, because they will be able to see you back to health, and figure out the root of your reoccurring pain. An urgent care dentist is the most important contact for you to have within your datebook, because you never know when the dire pain will strike.
Monday – Saturday 7 am to 7 pm
Sunday – Closed
---
Santa Ana Dental Group
Website: santaanadental.com
Address: 715 S Main Street Santa Ana, CA 92701
Phone: (714) 702-1521
Description:
From the pain of an impending need for a root canal to the persistently aching of a possible abscess, this office actually provides a full-scale emergency exam for just $19. From office manager Sergio to Doctors Ho, Choi, and Doctor Cashman, this practice is fully equipped with the latest technology for comfort and quick access to x-ray diagnostic, as well as the blessing that is years of experience in making sure that patients go home as pain-free as possible. We all know how hard a day can become once severe pain sets in, and this practice is dedicated to ridding you of that intense and crippling pain. Perfect for your weekend dentist choice, these seasoned pros will be there for you during your most extreme times of need.
Monday 9 am to 7 pm
Tuesday 9 am to 7 pm
Wednesday 9 am to 5 pm
Thursday 9 am to 7 pm
Friday 9 am to 6 pm
Saturday 9 am to 3 pm
Sunday – Closed
---
Bristol Family Dental Center
Website: bristolfamilydentalcenter.com
Address: 2618 S. Bristol St. Santa Ana, CA 92704
Phone: (714) 540-7101
Description:
Dr. Ruben Begino, DDS, is the leader of the Dental center whose focus is to provide patients of all ages a variety of dental services, including dental emergency care in the Santa Ana area. The doctor is fluent in Spanish and his many years of experience has qualified him to teach at the Bristol Family Dental Assistant School. The practice provides low cost financing and zero percent financing to those patients operating under a tight budget. If you urgent dental crisis leads you to consider this clinic, contact them immediately to explore appointment availability. Dentistry services are offered weekly and on some Saturdays, as well as by appointment for special weekend cases.
Monday – Friday 9 am to 6 pm
Every other Saturday 8 am to 4 pm
Sunday – Closed
---
Barba Dental Corporation
Website: barbadental.com
Address: 2010 East 1st Street, Suite 250 Santa Ana, CA 92705
Phone: (714) 558-6949
Description: This perfect pick for a Saturday dentist is open every other Saturday from 9:30 AM to 6 PM, and they have the years of experience to make sure that whatever dental ailment you show up with will be taken care of. We know that putting your trust in strangers is a big deal, especially if you have been in pain for a few days now. Barba Dental can handle everything for you from abscesses and urgent pain to x-ray consultations, and make sure that you are sent away pain-free and satisfied.
Monday – Thursday 9:30 am to 6 pm
Friday 9:30 am to 4 pm
Every other Saturday 9:30 am to 3 pm
Sunday – Closed
---
Casa Dental of Santa Ana
Website: casadentalsantaana.com
Address: 1334 West First Street Santa Ana, California 92703
Phone: (714) 541-0837
Description: Casa Dental has a reputation of being the best in the area for pediatric dentistry, making sure that wisdom teeth are coming in properly, and emergency procedures such as extractions. In this state that has such a busy culture, it's great to know that someone is standing by ready to help you, and that they have a proven track record of excellence. Don't let your entire week go by while you are in crippling pain, and pay the folks at Casa Dental a visit today.
Monday 1 pm to 7:30 pm
Tuesday 9 am to 6 pm
Wednesday 9 am to 6 pm
Thursday 7:30 am to 3 pm
Friday – Closed
Saturday 9 am to 3 pm
Sunday – Closed
---
Saddleback Dental Associates (Dr. Alex Eidelstein DDS and Dr. Natalie Eidelstein DDS)
Address: 23166 Los Alisos Blvd. Suite 230 Mission Viejo, CA 92691
Phone: (949) 457-0223
Website: mymissionviejodental.com/
Description:The great staff at Saddleback knows that an excellent dentistry practice is more than just seeing patients quickly and efficiently. You may have extreme dental anxiety, and could feel overwhelmed by the prospect of being examined in the chair. Doctors Alex and Natalie have the best bedside manner around, and are known for being some of the greatest around when it comes to compassion and experience.
Monday 9 am to 6 pm
Tuesday 10 am to 7 pm
Wednesday 9 am to 6 pm
Thursday 9 am to 6 pm
Friday 9 am to 3 pm
Weekends – Closed
---
How To Prepare For Your Santa Ana, California Emergency Dental Clinic Visit
Visiting a local Santa Ana emergency dentist is just like heading into your local general dentist's office. In fact, the only difference will be the new staff and the time at which you are seen. When you head into an emergency dental office, you will need to fill out some paperwork.
This paperwork will include a small section about your dental and medical health, so that the dentist can understand you a bit more. You may be asked to arrive about 15 minutes prior to your appointment time to fill out this paperwork.
Before you head into your emergency dental appointment, you may want to inquire about the estimated cost of the procedure you need to have done. This way, you are prepared to pay it and you know how much it will be. You should also ask what the accepted payment methods are. If you do have dental insurance, now would be the time to let the receptionist know, so that you can receive an updated price quote.
It is important for you to let the dentist know if you are allergic to any medications before the procedure starts. In addition, if you suffer from dental anxiety, you should ask the dentist about the available sedation options.
Quality of Urgent Care Dentists In Santa Ana, California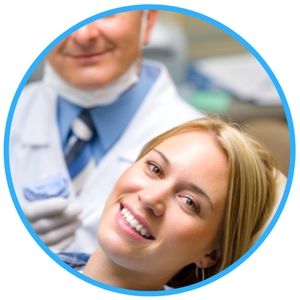 Santa Ana is a city located within California and has an estimated population of 329,000 residents. The city was first founded in 1869 and is part of the collective Greater Los Angeles area, which is known as the second largest metro area in the US with over 18 million residents a part of it. While there are a lot of residents in the area, Santa Ana is considered the fourth safest city with over 250,000 residents in the US.
Santa Ana is known as the headquarters for many large businesses to include Behr Paint and Xerox, among others. There are many interesting places to visit and some of the most well-known and popular include the Main Place Mall and the Bowers Museum.
Located in Orange County, Santa Ana needs to have quality dental and medical available to its residents. Data shows that roughly 90 percent of children in Orange County and 75 percent of adults in Orange County have received dental care within the past 12 months.
Coastal Communities Hospital is located in Santa Ana and is home to just 178 beds. The hospital does not have a trauma center, but does see over 20,000 patients in the emergency room yearly. Overall, the hospital is rated average in terms of care and has not been nationally or regionally ranked.
Western Medical Center Santa Ana is a medium-sized hospital with 282 beds on site. The hospital receives over 12,000 admissions yearly. This facility is considered to rank average.
University of California, Irvine Medical Center is located in Orange, CA, which is about 20 minutes from Santa Ana. This facility is home to 411 beds and has a trauma center on site. Over 39,000 emergency room visits take place per year. This hospital is regionally ranked number ten in California. In addition, this facility is nationally ranked in two adult specialties and rated high-performing in five adult procedures and conditions.
St. Joseph Hospital is also in Orange, CA and is home to 379 beds, but not a trauma center. The hospital sees 57,000 emergency room visits a year. This facility is regionally ranked number 17 in California and is rated high-performing in nine adult conditions and procedures.
If you are experiencing a dental emergency and cannot reach a 24-hour emergency dentist, you should visit your local Santa Ana emergency room. The physicians on staff will be able to look over your mouth and provide you with the relief you need until you can see your dentist.
Common 24 Hour Dental Emergencies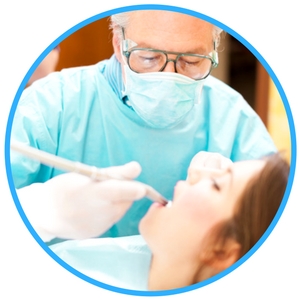 If you are experiencing any type of tooth or mouth pain, you may have one of the common dental emergencies below. There are a number of dental conditions that may present themselves throughout your life, but not all of them require emergency care and not all of them develop overnight.
For example, tooth decay takes a long time to form and while you may experience a toothache all of the sudden, the cavity has been forming for weeks, months, or longer. An example of immediate dental pain is the formation of an abscess, which can occur overnight.
Dental emergencies need to be looked at and treated immediately to prevent them from spreading or becoming worse. Allowing a condition to persist can be detrimental to your oral health.
It is no surprise that dental pain can knock you down, so it is vital that you receive emergency dental care now and not later. Emergency dentists in Santa Ana, CA are available to see you and they can provide you with the treatment you need.
Reading any of the advice provided to you below is for informational purposes only. All information on emergencydentistusa.com should not be used to replace professional medical advice from a trained and licensed provider. Every situation is unique and you should see your local Santa Ana emergency dentist for any of the conditions below.
Loose or Lost Crown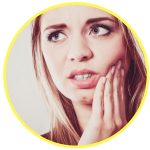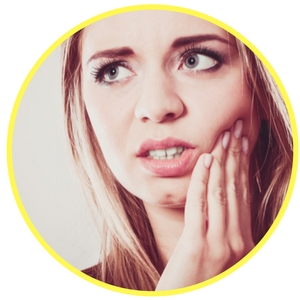 A loose or lost crown can become a problem and leave you in a lot of pain. A loose crown often occurs when there has been damage to the area or when a sticky substance was consumed and pulled the crown loose. If you have lost your crown and you experience pain, you should apply clove oil to the affected tooth.
If you have the crown in hand, you can apply a dental cement to it and place it back over the tooth. You should do this when possible, but do not force the cap on. If you have a lost or loose crown, you should visit your local Santa Ana urgent dental clinic.
Broken or Loose Braces & Wires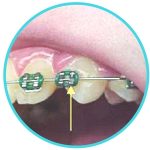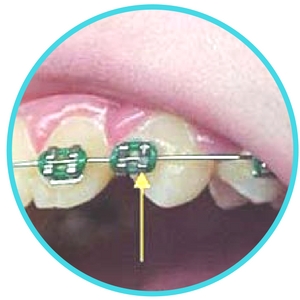 Broken or loose braces and wires can occur from eating a sticky food down to trauma to the mouth. If you do have loose braces, you do not want to simply pull them off, as you may cause problems to your other teeth. You also do not want to cut any loose wires, as you may inhale the piece of metal on accident.
You should place a piece of dental wax over an exposed wire.
If you have broken or loose wires or braces, you should not hesitate and you should visit your local Santa Ana urgent dental office right away.
Knocked Out Teeth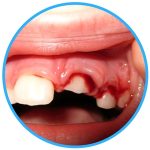 If your tooth is knocked out, you will need to follow a few steps and then head to your local emergency dentist. A knocked-out tooth can be caused from trauma to the mouth such as a fall or accident. If your tooth is knocked out, you need to try to recover it. You can rinse it off, but do make sure you only hold it by the crown and not the root.
Place the tooth into its socket.
If it will not go into the socket, do not force it and place it into a container of milk or saltwater. Head straight to your local Santa Ana emergency dental clinic to receive care. A tooth has the best chances of being saved, once knocked out, if care is administered in the first hour.
Tooth Trauma Caused by an Accident
If you have experienced any type of tooth trauma caused from an accident such as an automobile crash, fall, or sports injury, it is important that you seek immediate dental care. The type of treatment you need will depend on the exact cause of the trauma. The most commonly seen tooth trauma includes broken teeth, knocked out teeth, severe cuts, and even broken jaws.
If you are in pain after the trauma, you should avoid touching the area, consider taking an over-the-counter pain killer, and place a cold compress on the side of your mouth. You should head into your local Santa Ana urgent dental care office to receive treatment.
Do You Need an Emergency Tooth Extraction?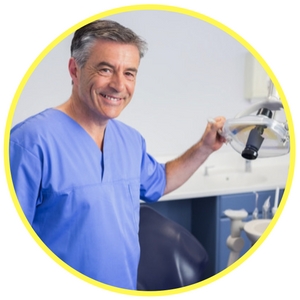 Emergency tooth extractions are often needed in certain situations where the integrity of your tooth may be compromised or when your teeth cannot be saved. While many dentists try to save your tooth first, there are some instances when it simply needs to be extracted to protect the other teeth and provide you with pain relief.
Not all tooth-related problems will require a tooth extraction and only in certain circumstances will it be recommended. A trained and professional emergency dentist in Santa Ana is the only one who should make that decision and extract the tooth for you. Some conditions that require an emergency tooth extraction include:
Trauma
Impacted or crowded teeth
Broken or fractured tooth
Periodontitis
Infections
Severe tooth decay
If you need to have an extraction, but you wait to have it performed, you may actually cause more damage to your tooth or the surrounding teeth. Delayed care can lead to some serious dental complications.
After an emergency extraction is performed, the recovery time will only take about a day or two. You will receive some aftercare instructions from your emergency dentist, but here are some tips to help alleviate the discomfort you may feel:
Limit physical activity for the first 24 hours
Do not use a sucking force for 24 hours (i.e. do not suck on a straw)
Prop your head up for the first 24 hours when you lie down
Take all prescribed medications
Apply a cold compress to the exterior of your cheek where the extraction was performed
Eat soft foods
Emergency Room Versus Emergency Dentist


If you think that you have a dental emergency, you may want to head to the emergency room. It seems like the right place to be, but it actually may not be. The number of patients that head to the ER yearly for dental problems continues to increase. The problem is that the ER does not know how to treat dental problems. They can look over your mouth and prescribe you with medication until you can head into your general dentist's office, but they cannot perform procedures for you.
You would be best served by an emergency dentist in Santa Ana. Emergency dentists are equipped with the tools and equipment needed to ensure you receive the procedure needed and that all of your dental or tooth pain is eliminated.
Of course, there are some occasions when it makes sense for you to head to the emergency room, dental problem or not. Some of the times you should go to the ER include when you fall, there is head trauma, you have sustained any type of trauma, or you have been hurt in a sports accident.
FAQ
What are my options for replacing a missing tooth?
If you want to replace a missing tooth, you do have a few options available to you. The first and most common option is a dental implant. Not all patients are a candidate for this procedure, so you may not be able to choose this option. Other replacement options include dentures and bridges.
What should I do if I can't get ahold of my normal dentist after hours and I have an emergency?
If you cannot get ahold of your dentist after hours and you have an emergency, you should call a local Santa Ana emergency dentist. If there is not one available near you, head to your local emergency room for care.
My child's baby teeth have cavities. Why should they be filled if they're just going to fall out in a few years?
Your child's baby teeth will not fall out for a while, especially if it is their molar that has the cavity. While you may think an extraction is the best option, it is not. In fact, an extraction can lead to more problems when it is time for the permanent tooth to come in. A filling is the best option to protect the tooth and ensure a healthy permanent tooth.
How much radiation do I get from a dental x-ray and how does it compare to other medical procedures?
Radiation is measured in mrem or millirems. For a routine x-ray at your dentist office, you are exposed to .5 to 3 millirems. Compared to other medical procedures, this is very low. In fact, a head scan exposes you to 200 millirems and a chest x-ray to 10 millirems.
What should I do if I have a dental emergency and can't get a hold of a dentist?
If you have a dental emergency and you cannot get ahold of a dentist, you should call 911 to receive immediate attention or you should head to your local Santa Ana emergency room.
24 Hour Dentist Santa Ana Options
The office of 7 Day Dental Orange County is available to provide you with emergency dental services Monday through Friday until 8:00 pm and on Saturday and Sunday until 5:30 pm. This office specializes in providing you with the dental care and procedures you need to relieve your pain.
They provide each of their patients with a caring and relaxed atmosphere. The dentist on call will listen to and address all patient concerns and answer any questions you may have. You can expect to receive the best Santa Ana emergency dental care here.
If you are experiencing dental pain and you cannot find an emergency Santa Ana dentist near you, it is important that you head to your local emergency room to receive care.
The ER is not able to perform dental procedures, but they are able to look over your mouth and determine if you need any type of medication until you can get into your dentist's office.
Tooth pain can debilitate even the strongest of people and may leave you in a heap on your bed. Instead of missing out on your social events and commitments, find a Santa Ana emergency dentist that can help you. You should seek out care now and avoid waiting as the problem may become worse.
This Emergency Dentists USA portal should be used for informational purposes only and is intended as such. You should not use this information to replace that of a medical professional. If you are experiencing a dental emergency and cannot reach a dentist, call 911 to ensure immediate attention.
We do recommend that you look up all new dentists and verify their credentials and licenses for your own protection. You should check the Dental Board of California and the California Department of Consumer Affairs. You can also verify the license and credentials of a dentist by asking to view their certifications or degrees.
If you are experiencing a dental emergency and you cannot find 24-hour emergency dental care, you should head to your local emergency room for care. The longer you allow the condition to persist, the worse it will get. You can also call 911 to ensure immediate attention.
Emergency Dentists USA is a website that is intended to be used for information purposes only. Never use the information found on this site to replace that of a medical professional.