Helping Thousands of People Each Year Find Dental Services
Emergency dental surgery, cavities, general dental care.
Find immediate help, no insurance required.
Get relief from chipped, cracked or lost teeth, abscesses or toothaches.
Sedation Dentist Brooklyn, NY – Find a Sedation Dentist in Brooklyn
For many people, the fear of going to the dentist is very real and can make it hard for them to schedule and keep appointments. They may have an unrealistic fear or perhaps have had a bad experience at a dentist in the past that keeps them from maintaining their dental care. It's also a reality that many people are scared of needles, and that reason alone can keep them from receiving the dental procedures that they need. If you have a fear of the dentist, there are plenty of places that offer sleep dentistry in Brooklyn and sedation dentistry in Brooklyn. Don't let irrational fears keep you from living life with a beautiful, healthy smile.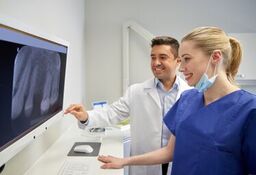 What is Sedation Dentistry?
Sedation dentistry is when a patient is when a patient receives sedative drugs in order to be more relaxed and comfortable during their dentist appointment. The doctor may administer these drugs via oral, via inhalation with nitrous oxide, or in severe cases intravenously. The goal of these sedatives is to have the patient still awake, but with enough anesthesia to remain calm during their procedures.
Sedation dentists in Brooklyn follow these 4 levels of sedation:
Minimal sedation: relaxed, yet still fully awake and aware of your surroundings.

Moderate sedation: you will remember little of the procedure. Experience feels much like a "haze" or cloudiness of the mind.

Deep sedation: you are right at the edge of sleep, but can still walk with help.

General anesthesia: complete unconsciousness until the effects wear off.
Who Can Use the Services of a Sedation Dentistry in Brooklyn?
Sedation dentistry is completely voluntary and is typically a great choice for patients that are fearful of their dentist appointment. It's a way for people that may have been avoiding keeping up with their dental health to make their smile healthy again and begin keeping regular appointments. Most patients that choose sedation dentistry face one or more of these problems:
Scared of the idea that the dental procedure may be painful
Anxiety that makes it impossible for them to sit still for treatment
A gag reflex that will not allow the dentist to complete their dental work
Sensitive teeth
Is Sedation Dentistry in Brooklyn Safe?
Any time that you choose sedation dentistry, you should always be aware of the risks that come with any type of anesthesia. Most dentists do not completely put a patient under when they are going to do general dentist work, but will use a mild form of anesthesia so that the patient is still awake, but in a haze. When you choose a sedation dentist in Brooklyn, make sure to choose one that is experienced and trained. They will know to look at your medical history and can safely use sedation dentistry for your appointment.
Below is a list of the 3 best sedation dentists in Brooklyn to help you find the right office for your Brooklyn sedation dentistry needs.
Dr. Benjamin Solomowitz
Phone Number: (718) 878-4871
Address: 407 9th St, Brooklyn, NY 11215
Website: www.brooklynsedationdentist.com
Doctors: Dr. Benjamin Solomowitz
Description: The office of Benjamin Solomowitz is known for their safe practice of sedation dentistry. He has been thoroughly trained and has owned his own private dentistry since 1993. He and his staff work hard to make sure that every patient is completely comfortable during their appointments and that they always leave with a healthy smile.
Mon 8:00 AM – 6:00 PM
Tue Closed
Wed 8:00 AM – 6:00 PM
Thu 8:00 AM – 6:00 PM
Fri Closed
Dentistry at The Heights
Phone Number: (347) 492-1018
Address: 142 Joralemon St #12C, Brooklyn, NY 11201
Website: www.heightsdentistry.com
Doctors: Dr. Kevin Trotter, Dr. Maiko Tomizawa
Description: If you're looking for a sedation dentist office that can offer you general dentistry, restorative dentistry, and cosmetic dentistry, look no further than Heights Dentistry. The doctors and staff go above and beyond to make sure that each one of their patients feel welcome and are completely comfortable while receiving care. They offer all of the latest technology as well as a friendly staff to ensure patients look forward to each of their appointments.
Mon 8:00 AM – 6:00 PM
Tue 8:00 AM – 6:00 PM
Wed 8:00 AM – 6:00 PM
Thu 8:00 AM – 6:00 PM
Fri 8:00 AM – 4:00 PM
Sat 8:00 AM – 2:00 PM
Hirsch & Schwartz
Phone Number: (718) 531-0300
Address: 2348 Ralph Ave, Brooklyn, NY 11234
Website: http://bklyndds.com/
Doctors: Dr. Jack Hirsch, Dr. Robert Schwartz
Description: The dental office of Hirsch & Schartz offer general dentistry and sedation options for the entire family. Their friendly staff is glad to take care of each patient and ensure that they are completely comfortable during their dental procedures. The office also offers advanced technology in whitening and teaches each of their patients about preventive care to keep their smile bright.
Mon 9:30 AM – 5:45 PM
Tue 9:30 AM – 5:45 PM
Wed 9:30 AM – 5:45 PM
Thu 9:30 AM – 5:45 PM
Fri 9:30 AM – 5:45 PM
Sat 8:30 AM – 2:45 PM
Don't Fear a Trip to the Sedation Dentist's Office
Don't fear your trips to the dentist anymore. If you've been putting off an appointment, choose one of the sedation dentists and get your dental procedure done in a relaxed state of mind. Always check your dentist's credentials when you're visiting a new office. You can ask to see those when you visit the office or you can enter the doctor's name on the New York Dental Association website.
Medically Fact-Checked & Written by Our Dental Editorial Team
You can read more about our editorial guidelines by clicking this link and learn more about the Emergency Dentists USA editorial team here.