Helping Spokane Residents Find IMMEDIATE Dental Services Everyday.
Get relief from chipped, cracked or lost tooth
Abscess, toothache, mouth pain
Emergency dental surgery
24 hour services - Includes weekends, nights and holidays
Find a Dentist 24/7
Near You IMMEDIATELY
Click or Call Toll-Free
1 (855) 909-8885

Emergency Dentist
What are you supposed to do when you face a situation where you need to find an emergency dentist in Spokane, Washington as soon as possible? Allow me to elaborate. I am not at all surprised when I hear from people saying that they have been in such a stressful predicament yet have no ER dental action plan.  So, what do I mean by action plan?  First and foremost, you need to know that while your regular dentist may very well part of the solution they will not always be open to accommodate you when you need them to. Hopefully, a facility with a dentist and a staff accustomed to handling emergencies will be willing to stretch their hours to meet the needs of patients suffering at the oddest times of the day.  Ask yourself what your plan is if you or a family member or friend suffers the mother of all toothaches in the middle of the night.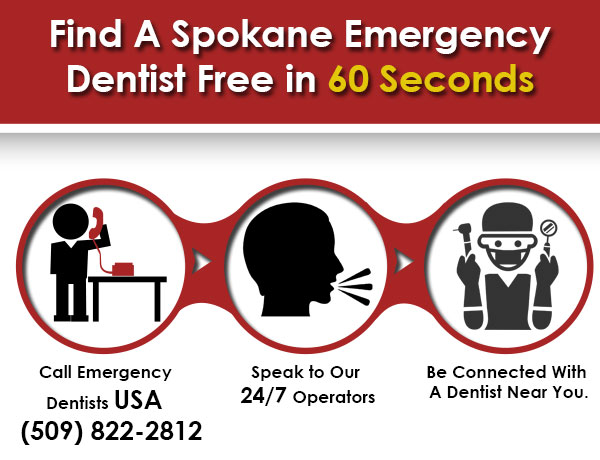 Do you know where the nearest 24 hour dental ER clinic is located?  Is there one in your town and if not, is there a  dentist open on Sunday or during the weekend hours?  How does one find out these things and what can you do to stem the pain while you are in transit?  We hope to help you with these questions and other related concerns.  Feel free to bookmark and explore our website.  You will find that we have done research on many cities throughout the United States and things are looking up if you need an urgent care dentist. Now, lets help you find a Spokane emergency dentist!
24 Hour Dentists in Spokane, Washington
Help could literally be around the corner.  Our oral health is an important part of our overall health and given that any number of dentistry conditions can unfold in our lives at the least opportune time, you should know that there are certain dentists that cater to those patients that need attention immediately.  We took a close look at what is available for you in your area.
---
Emergency Dentists USA Referral Service Spokane
Phone Number: 1 (877) 507-0879
Address: Referral Service To Various Dental Offices across Spokane
Doctors Multiple
Description Call to be connected with the perfect dentist for you. Spokane is a large city and we have the connections to find a dentist to fit your needs, and can get you an appointment immediately. You can get emergency dental help in Washington fast.
---
Comfort Dental
Website: comfortdental.com
Address: 6411 N Division St, Spokane, WA 99208
Phone Number: (509) 465-1561
Description: Comfort Dental is a clinic in Spokane that can help you and your family with periodic check-ups, emergency needs such as abscessed and aching teeth, and x-ray diagnostics to figure out why your pain level is so high. You can even get an appointment here on Saturdays from 730 AM until 730 PM, which is great for those who have incredibly busy schedules during the week. If you are facing a severely aching tooth or wisdom teeth coming in improperly, the staff at Comfort Dental is here to help.
Office hours:
Monday 7:30 am to 7:30 pm
Tuesday 7:30 am to 7:30 pm
Wednesday 7:30 am to 7:30 pm
Thursday 7:30 am to 7:30 pm
Friday 7:30 am to 7:30 pm
Saturday 7:30 am to 7:30 pm
Sunday – Closed
---
Evergreen Cosmetic Family Dentistry
Website: evergreencosmeticfamily.com
Address: 1005 N Evergreen Rd, Spokane Valley, WA 99216
Phone Number: (509) 928-4191
Description:
Know one will take a back seat when they visit Evergreen Dentistry. With an aim to prevent problems before they emerge, you may want to give this family oriented clinic a close look as your regular dentist or of course your stand by, emergency dentist that is very willing to address individual ER dental needs. It safe to say that with their range of services such as cosmetic treatments, restorative procedures, endodontics, emergency extractions, and implants, you won't find any treatment gaps.
Office hours:
Monday 7 am to 5 pm
Tuesday 7 am to 5 pm
Wednesday 7 am to 5 pm
Thursday 7 am to 5 pm
Friday 7 am to 3 pm
Saturday – Closed
Sunday – Closed
---
Premier Dental of Spokane: Scott D. Davis DDS
Website: scottdavisdentist.com
Address: 123 W Francis Ave #103, Spokane, WA 99205
Phone Number: (509) 497-3165
Description: Premiere Dental is Spokane's clinic known for listening intently to every patient's need, providing very quick and stellar service, and having the knowledge to remedy any situation quickly. You may be needing urgent help such as the need for a root canal, or just a standard check-up to make sure that your dental health is alright: this is the staff that can handle it for you.
Office hours:
Monday 8 am to 6 pm
Tuesday 8 am to 6 pm
Wednesday 8 am to 6 pm
Thursday 6 am to 4 pm
Friday 6 am to 12 pm
Saturday 6 am to 12 pm
Sunday – Closed
---
Summit Dentistry Dr.Lopez DDS
Website: summitdentistryspokane.com
Address: 7307 N Division St #212, Spokane, WA 99208
Phone Number: (509) 466-1200
Description: You can drop in on the folks at Summit Dentistry and schedule an appointment on Tuesdays later into the evening, as they are open until 7PM. They are currently not open on the weekends, but provide a great dental service for any age member of your family. You may need help with an abscess, continuously aching tooth, or need for x-ray therapy to make sure that stay healthy.
Office hours:
Monday 8 am to 5 pm
Tuesday 10 am to 7 pm
Wednesday 8 am to 5 pm
Thursday 8 am to 5 pm
Friday 8 am to 4 pm
Saturday – Closed
Sunday – Closed
---
Who's the best 24 hour emergency dentist in Tacoma, Washington?